*This is a partnered post. Opinions are my own.
Every parent has asked this same question: "How Do I Keep My Baby Safe From Germs?". As a parent we all want to ensure the safety of our kids and that includes those yucky germs, too.

I remember when my babies were all newborn. I did not want ANYONE with a cold or sickness to come near them. Of course that is always the best way, to keep germs at bay. But, what if those germs got to your baby/kid anyways? Then they get sick and there is doctor visits, medicine, disinfectants to clean and more! Oh how I hate those germs!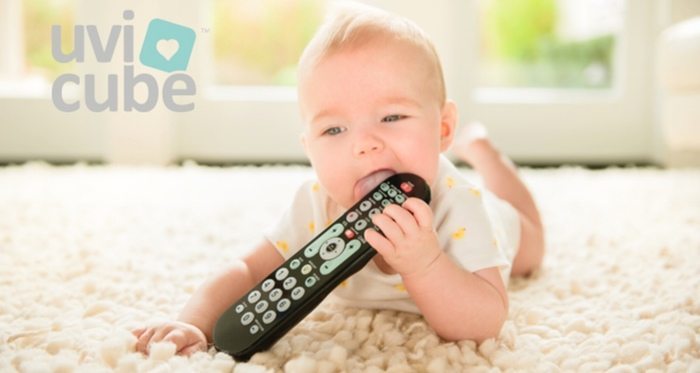 According to the National Institutes of Health (NIH), "Neonates and young infants are more vulnerable to infectious agents than older children and adults." Source: April 2006 Public Health Report PMC.

UviCube
When it comes to germs, UviCube wants to make it easier and modernize the way we keep our babies safe with the power of ultraviolet (UV) light.  The future is here and so is peace of mind for parents of little ones!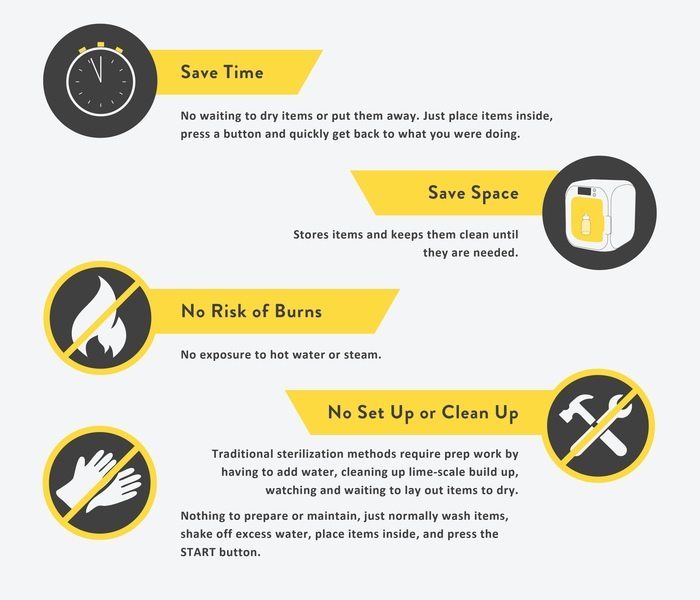 Disinfecting bottles and pacifiers the old-fashioned way (boiling them in water, etc.), takes a lot of time parents just don't have. And, it can potentially expose you to the risk of burns (when dealing with hot water/steam). Plus, after all that hard work of sterilizing those items you still have to find a place to lay them all out and hope they stay clean! Too much to think about!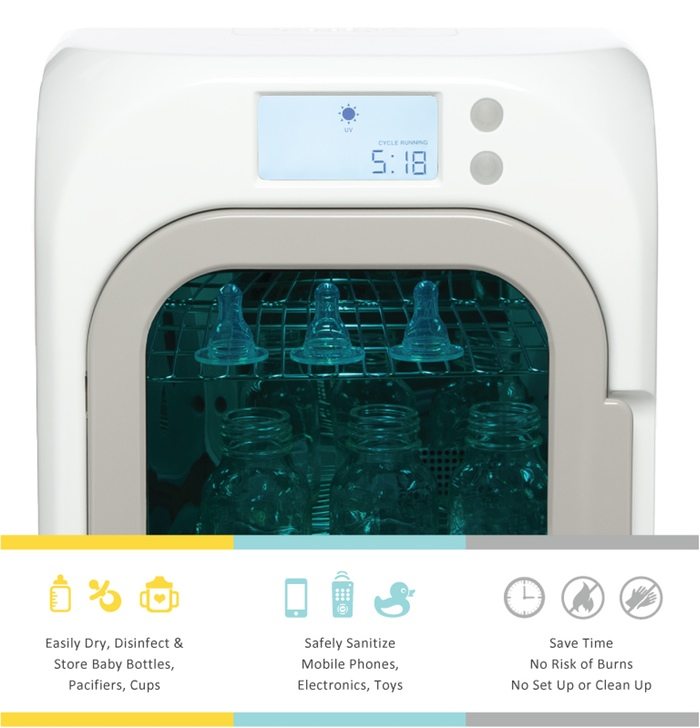 With the UviCube, it easily dries and disinfect wet items with a press of a button, and stores them in a clean, safe enclosure until you need them. Now this is my kind of thing! Oh, you have more than just bottles you want sterilized? Okay, UviCube can also safely sanitize mobile phones, electronics, toys and other household items that cannot be exposed to moisture or heat. Sanitizing electronics and other dry items can be done with a press of a button!

How can UviCube sterilize more than just bottles and pacifiers? It uses UV light! You simply wash the products you want sterilized, shake off access water, load the fill tray with wet or dry items, select cycle and press start! Separately load mobile phones, electronics and other dry items to avoid the low heat of the DRY cycle, and place them inside UviCube. Select the UV cycle and press START.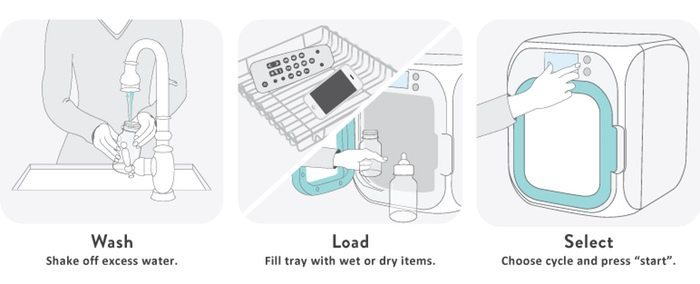 Not only is this an item every parent needs, but it also looks great in just about any room, with its sleek design! This is one product that will not stand out like a sore thumb in your kitchen or bathroom. Instead it will stand out in a good way!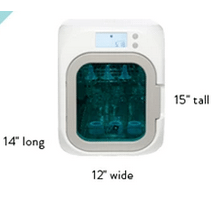 How Big Is UviCube?
UviCube is about the size of a small microwave or toaster oven.  It has the capacity to hold 4-6 bottles and their accessories, depending on their size.  An iPad Mini fits perfectly on the tray, and has plenty of room to hold a mobile phone, a remote control, a watch or other small personal items in one cycle.
UviCube Kills Those Yucky Germs!
UviCube was found to eliminate 99.9% of harmful bacteria by a nationally recognized, third-party ISO 17025 accredited test facility based in the United States, and in compliance with U.S. and international regulatory requirements for independence and impartiality of lab data.
UviCube is also safety tested and is built to follow and pass the appropriate safety standards set by a nationally recognized testing laboratory approved by the Occupational Safety and Health Administration (OSHA), a U.S. federal agency.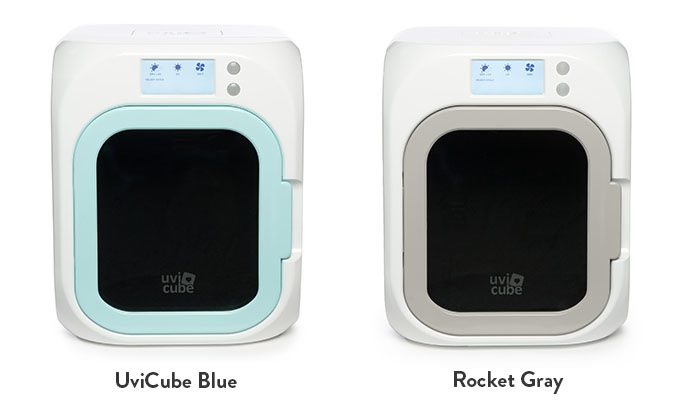 Color Options?
Yes, UviCube even has color options for your taste and style! You can choose between the UviCube Rocket Gray or UviCube Blue. Both are really nice colors!
Help UviCube Become A Household Name!
The Kickstarter for UviCube has seen tremendous success and they have already reached their funding goal. They have raised over $26,000 in 5 days! Isn't that awesome! Obviously MANY parents love the UviCube and want it!
You can help UviCube become a household name, nationwide! How? Simple, just SO easy! Donating as little as $1 would be HUGE to them! You can also tweet out their Kickstarter campaign page, share on your Facebook page or any social media pages you want to share this on. I am sure you have a mom or dad, grandparent or friend who would love to learn more about the UviCube and would not mind donating a $1 or a simple share!
To find out more about UviCube, to make a donation or to simply share it with friends and family, please visit UviCube on their Kickstarter page! There is even a couple of videos showing what UviCube can do! Very neat to watch.
Get A UviCube!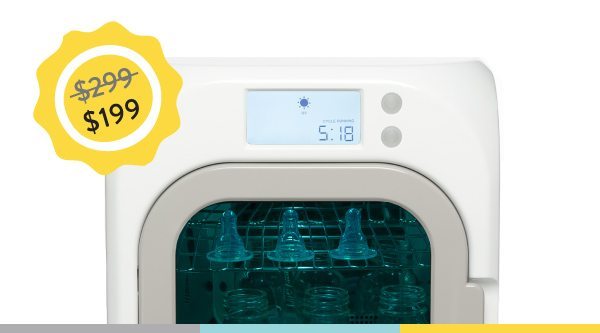 Super Early Bird Pricing
Save up to $100 when you reserve yours now at
What Do You Think Of The UviCube? Would This Be Something You Could Use?