I have been blogging since March of 2008 and love every minute! I have met so many wonderful bloggers who have become great online friends! Introducing Wisconsin Mommy Blogger And Social Media Influencer, Maureen Fitzgerald!
I decided to interview her, so you can get to know her too! You may even already know her. She has been around for a while too! Read below, to get to know her better, and don't forget to visit her blog, and follow her on her social media pages!
*This post includes my affiliate links
---
Introducing Wisconsin Mommy Blogger And Social Media Influencer
Here we go!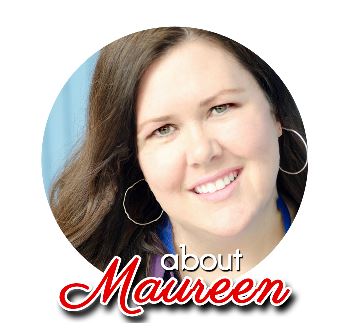 Who Is Maureen Fitzgerald?
My name is Maureen Fitzgerald and I am a digital content creator, blogger, former teacher, mom, wife, transplanted East Coaster, coffee addict, and
rescue dog owner
.
---
Why Did You Start Your Blog?
I was a new mom sitting at home and Googling every question I had about motherhood – and I had a LOT. Mom blogging was just becoming a thing and I had a number of blogs popping up in my search results.
I started reading those blogs and leaving comments on them. They would reply to my comments and those women became my online support system and friends.
They encouraged me to
start my own blog
and I figured it couldn't hurt since no one besides them would ever read it. (
That still makes me laugh when I type it. Last month I had over 100K people read what I've written!
)
How Did You Come Up With Your Blog Name?
I desperately wanted to come up with a clever name. All the blogs I was reading had cute names that referenced coffee or played off of their own names.
I was so bleary-eyed and
exhausted
that Wisconsin Mommy was the only name I could come up with. It actually wound up being a blessing because, before everyone learned about search engine optimization when you typed in "
Wisconsin Mommy Bloggers
" guess who came up first in results? Me!!
---
What Do You Blog About?
Back when I started over a decade ago, there was a lot of narrative around my adventures as a first-time mom. Now that I have a teenager, it has evolved into more of a
lifestyle site
.
I do a lot of recipes, travel,
giveaways
, and reviews of products that I find helpful and think my audience would like to hear about as well.
---
What Is The Best Part Of Blogging?
Back when I started, the blogging community made life as a stay-at-home mom so much better for this first-time mom who felt very overwhelmed. I had
postpartum depression
and my online community shared their experiences and made me feel much less alone.
These days, I love the opportunities that blogging gives me to have experiences I never would otherwise. Our trips with
Disneyland
have been once-in-a-lifetime experiences.
Also, I got to experience the parks while they were "closed" to everyone else, getting to meet some of the people who make the magic happen behind the scenes, and taking my son on a Disney cruise on a ship that was fresh off of an amazing makeover are definitely some highlights.
Last summer, we partnered with a major hotel chain and they flew us out to Boston, put us up in a massive suite, and provided some pretty cool experiences in the city. I love being able to treat my family to those types of fun trips!
---
What Is Your Greatest Achievement From Blogging?
Being able to replace my full-time teaching
income
with a business that I can do from home on my own terms is been my biggest achievement! It didn't happen overnight and it took a lot of work, but it felt perfect when I hit that goal.
---
How Do You Juggle Being A Parent And Working From Home?
I'm not going to lie – it was a bit challenging when my son was younger. When he was a
toddler
, I did most of my work while napping or after he went to bed.
Once he started
school
, those were my work hours and I was pretty strict with myself about using them for getting things done.
Now that he is in high school, he is pretty self-sufficient, but I do love having the freedom to go to his sports events and other activities without having to ask someone for time off.
---
Any Advice For Other People Wanting To Start A Blog?
I have SO much advice for people wanting to start a blog but I'll distill it down into just a few points:
*Don't start a blog for the sole purpose of
getting rich quickly
. It can absolutely happen, but it takes a lot of work and dedication that don't often show when you look at other people's sites.
*Ninety percent of the hard stuff happens behind the scenes and blogging is so much more than just
writing a post
and publishing it.
*Don't be afraid to ask for help or hire someone to do the things you can't do. I stink at design and hired that out within a few months of starting my blog.
---
Where Can We Find Wisconsin Mommy Blogger?
---
Thank you so much, Maureen, the Wisconsin Mommy Blogger, for allowing me to interview you and learn more about you and what you do! It is always so fun to build online relationships with other people!
Feel free to follow Maureen on her social media channels and don't forget to visit her and show her some love, on her blog, Wisconsin Mommy!
Have you ever thought about becoming a blogger? If so, what is stopping you from becoming one? Let me know in the comments below and I will see if I can help you achieve your goal! Bloggers help bloggers! Yay!