*Gift Card Was Received. Opinions are my own.
If you haven't heard of Limeapple you will want to, trust me. If you have a little girl, you will want shop at Limeapple. Such cute clothes!
Limeapple offers a wide variety of feminine and fun girls' clothes in sizes 12 months to 14 years. These clothes move and breath with your little girls. Their style is energetic, bright and comfortable.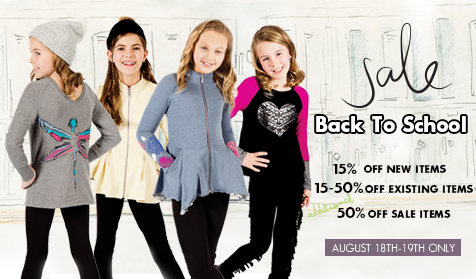 Limeapple clothes lines feature sportswear for school and beyond as well as pretty dresses for special events, dances or everyday dresses. The swim collection is designed for active swimming and are totally cute! Limeapple pretty much has everything your little princess would want to wear! My daughter loves their clothes.
Limeapple Huge Back-To-School 2-Day Sale!
I promise you don't want to miss this sale! If you have a little girl going back-to-school, you must check out this sale! Limeapple always has great sales going on, but this one is awesome!
The Sale Details!
Get 15% off new items
Get 15-50% off new existing items
AND an Additional 50% off sale items!!
It is starting August 18th, and is going until August 19th (2-day sale)
Get Social!
Connect with Limeapple Boutique on Twitter, Facebook, Instagram, Google+ and Pinterest!
Shop The Limeapple Huge Back-To-School 2-Day Sale Now! What Will You Be Buying?