Ovulation Takes Place On Camera! Trying to Conceive And More! I recently came across this VERY cool picture of a human egg coming out of the the ovary. I thought this was truly amazing to actually be able to see it and see it clearly! Take a look for yourselves! Ovulation Takes Place On Camera!
Ovulation Takes Place On Camera! Trying to Conceive And More!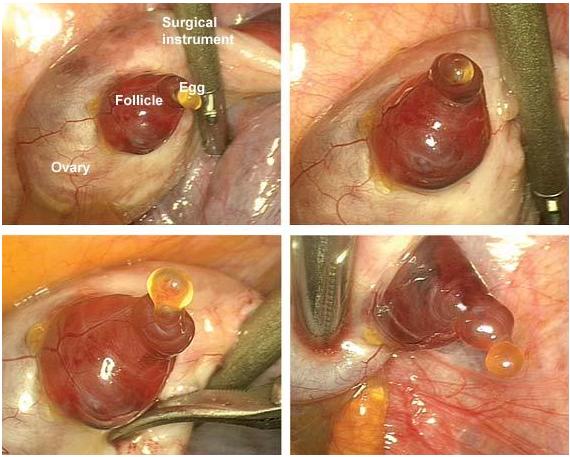 Click the Images above for the Image Source
Isn't this amazing?! Now, if only I could catch my egg this month, ugh! Easier said than done! I am now on month 6 of trying to conceive.
We temp, I do the basal body temperature thing EVERY morning, I take my prenatal vitamins and I exercise and drink plenty of water. That used to be enough, but I guess not anymore 🙁
I also use Preseed. Preseed is a sperm-friendly lubricant that works with the sperm instead of against it attacking it and killing it. It is the only known lubricant that is sperm friendly!
I used it with my pregnancies and now ttc. It usually gave me my BFPs (big fat positives), but this time it is taking us longer, sigh!
I love the website Fertility Friend. That is where I chart my trying to conceive journey, and I have met a lot of wonderful Mamas along the way! If you are trying to conceive, I definitely recommend them.
There are so many ways people will tell you, to get pregnant faster. Some people swear by the Sperm Meets Egg Plan (SMEP).
Or, taking soy or taking Evening Primrose Oil Caplets or grapefruit juice to help with cm (cervical mucus) and sooo many more! Hard to keep up! Whoosh!
Anyway, just wanted to share my journey and the different things I have learned along the way, and of course those awesome pictures above! Wow!
Are you done having kids? Are you Trying to Conceive? What is the wackiest thing you have done to get pregnant? I want to know! Tell me 🙂