Aging is no fun, and if you have read my blog, I am always searching for the best products to help SLOW down the aging process. One brand I have found that not only slows down the signs of aging skin and plumps up fine lines, but also lightens dark spots and exfoliates your skin is Skin Essentials For Aging Skin. They have some great anti-aging skin care products that will help your skin look and feel its very best!
I received the Skin Essentials Kit for normal to oily skin (but it did not come with the retinol cream for some reason) and I use this every single day. I love this skincare because it is good for my skin and WORKS too.
My face already looks healthier and my darker spots are appearing less noticeable. All the ingredients in these products are good for your skin too.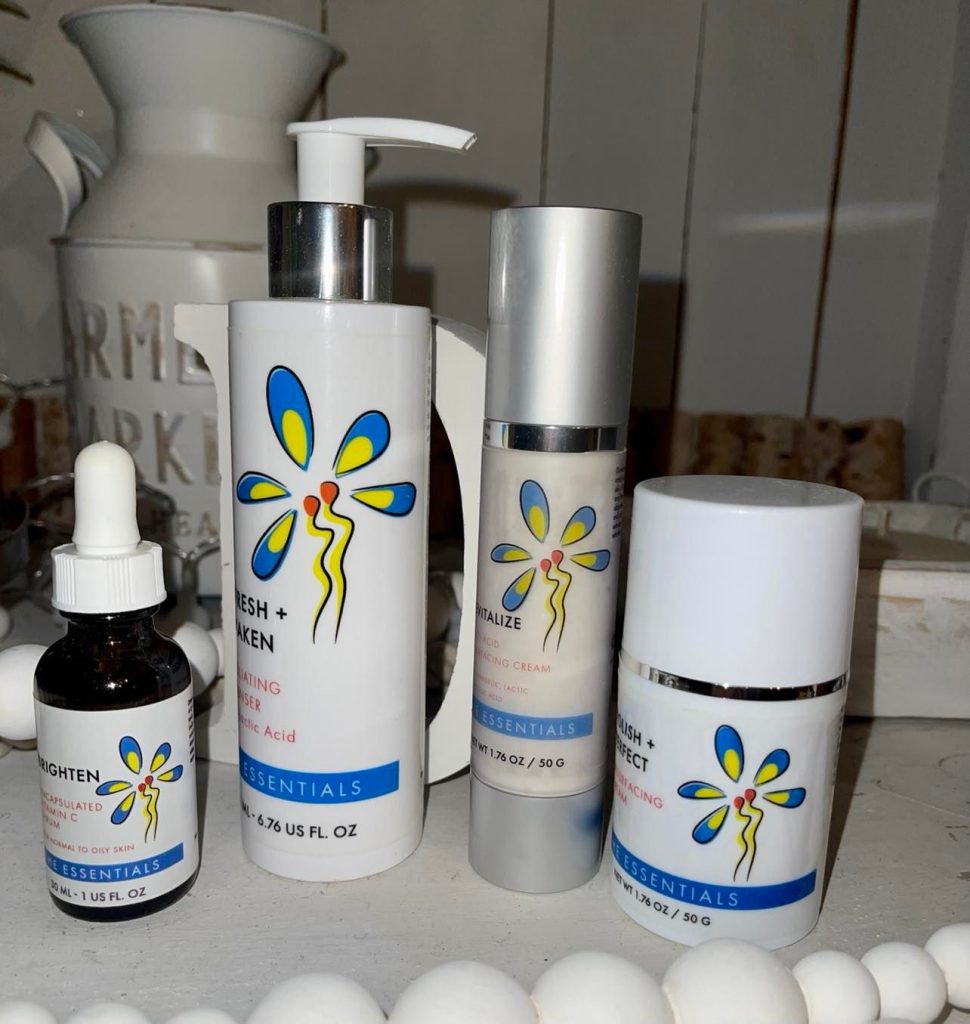 Skin Essentials For Aging Skin
The Skin Essentials Kit that I received to review, contained all these wonderful anti-aging products:
AWAKEN + REFRESH Lactic Acid Cleanser
BRIGHTEN Encapsulated Vitamin C Serum
REPLENISH + REVIVE Day & Night Hydrating Moisturizer
REVITALIZE Exfoliating Polish
I first use the Revitalize Exfoliating Polish (I use this 2-3 times a week). After I use that, I will use the Awaken+Refresh Lactic Acid Cleanser (morning and night).
It leaves my skin so clean feeling and soft! After I use the facial cleanser I then use the Brighten Encapsulated Vitamin C Serum on my face, neck, and even the tops of my hands.
You can't forget the tops of your hands! After that, I will use the Replenish+Revivie Day and Night Hydrating Moisturizer on my face, neck, and top of my hands.
See how good my skin looks in the video?
After I am done using the whole skincare line, my face always feels SO clean, SO soft, and my skin just glows! I love it so much! I have been using this skincare line for about 2 1/2 weeks now and am so pleased with the results so far.
There are so many skin essentials in the world that keep your skin in perfect condition and this is one of them! I highly recommend these products for aging skin.
Skin Essentials also carries an Anti-Aging Starter Kit which would be perfect for those of you who want to start small but still get amazing skincare results! Their Anti-Aging Starter Kit comes with the following:
*Brighten + Smooth
*Revitalize Exfoliating Polish
*Revitalize Multi-Acid Resurfacing Cream
Skincare is so important and I can't stress it enough to start taking care of your skin as early in life as possible! I started taking care of my skin in my early teens and am so thankful that I did!
I was a sun worshipper for YEARS and YEARS and if I did not take care of my skin back then my skin nowadays would have been so wrinkly and horrible looking.
So, I a very thankful my mom taught me early on to take care of y skin with beauty products and lotions. It has helped SO much! And, NEVER forget your temples and tops of your hands!!!!
Other Skin Essentials I Can't Live Without
There are other skin essentials I can't live without like:
*Dermaplanning Tool: helps take off all those baby hairs on your face safely, and leaves your skin super soft.
*Microdermabrasion tool. I love the one from Trophy Skin. I use this one a week (sometimes twice) because it works SO well! It takes off all the dead skin on my face and neck area and leaves it SOOO soft! Plus, when you exfoliate, your serums and lotions penetrate your skin quicker and more efficiently!
Buy
You can purchase the wonderful Skin Essentials skin care products online at https://skinessentialsco.com/. Not only do they sell skin care products but they also offer services because they are a med spa too!
Skin Essentials offers the latest anti-aging, acne, and stress-reducing treatments delivering visible results in a friendly, professional environment.
Skin Essential's philosophy is to help everyone have healthy-looking skin, de-stress, and recharge. This is Skin Essentials' top priority.
Skin Essentials understands and recognizes the unique challenges your skin experiences caused by high altitude and environmental factors.
To deliver extraordinary treatments, they recruit talented experts, use state-of-the-art equipment, and offer products featuring the best of science and nature.
Skin Essentials focuses on providing unique, personalized, and customized experiences to achieve your full potential in beauty and complete body wellness.