When you get into your 30's and 40's you start to notice the signs of aging more and more. It is inevitable! But, there are definitely skincare products that can help to slow down the process, a lot. One of those products is the 10% Glycolic Peel from the Perfect Image. It is literally the best at home chemical peel I have ever tried.
*This post includes my affiliate links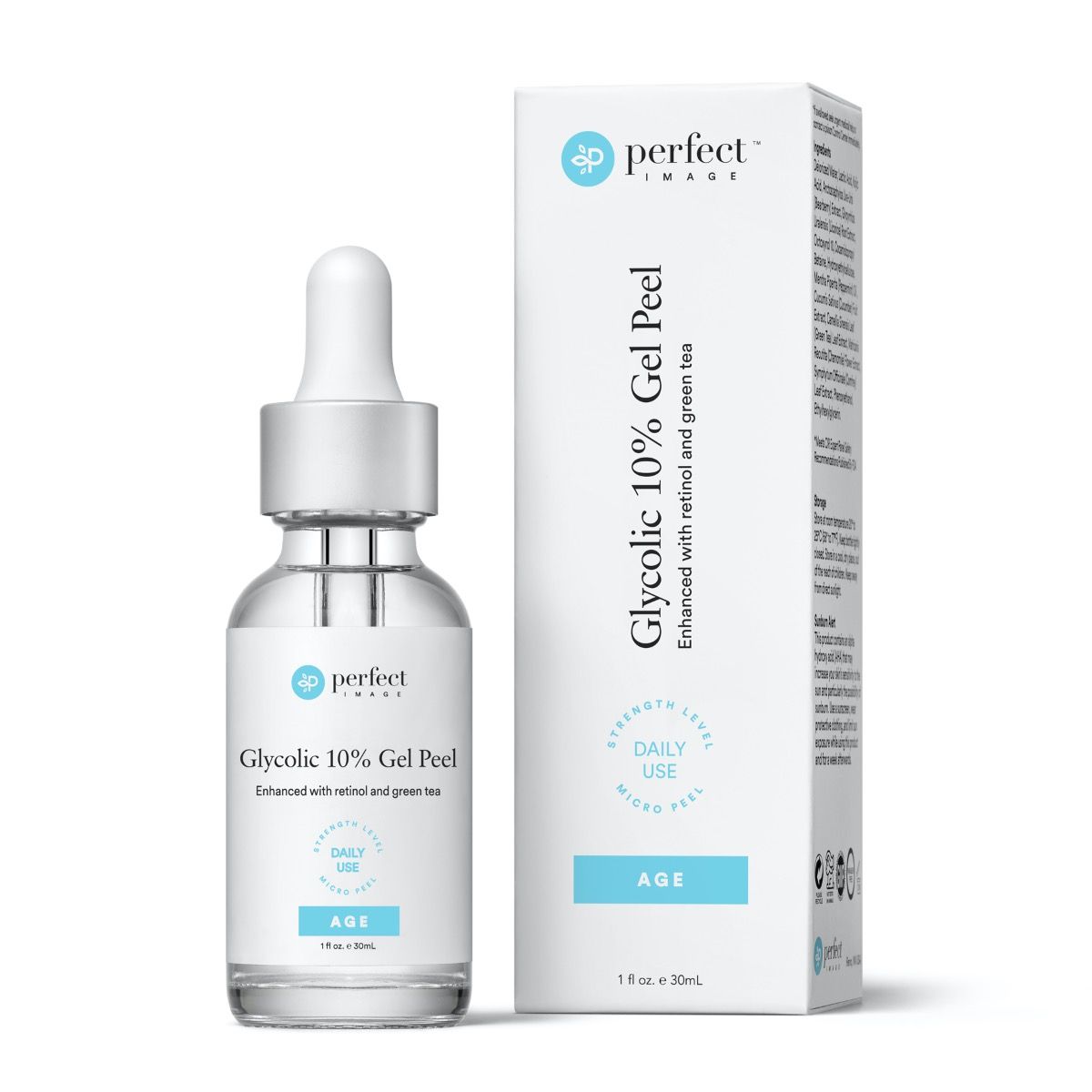 You deserve the right to have a do-it-yourself chemical peel with salon-like results from the comfort of your home at an affordable price! Perfect Image sells different strengths of peels. I chose 10% to start off with because I wasn't sure how my skin would react. The 10% Glycolic Peel ended up being just the strength I needed to see results. My skin is sensitive, so I need to be careful with home chemical peels!
The 10% Glycolic Peel is gentle enough for daily use, tough enough for pesky fine lines and rough skin, this peel penetrates the epidermal layers of the skin to help reduce the appearance of wrinkles, uneven texture, and other signs of aging.
Benefits Of The Best At Home Chemical Peel:
This rejuvenating peel uses green tea and chamomile extracts for powerful antioxidant and anti-inflammatory benefits. Retinol (vitamin A) works behind the scenes on the lower levels of skin to improve elasticity and skin texture by promoting collagen stimulation and removing dead skin cells. Vitamin-rich cucumber extract helps provide added anti-inflammatory and skin-tightening properties.
Improves skin hydration
Stimulates collagen development for plumper, firmer skin
Deep exfoliation reduces the appearance of fine lines
Increases cellular turnover for a more refined appearance
I have been using the best at home chemical peel for about 2 weeks now. I use it every other day. My skin loves this stuff! My skin is so soft and looks SO nice after using this. I love using it at night, right after my bath. I let it sit on my skin and then I rinse with warm water. My skin looks shiny and smooth after using it. It is literally the best product I am using on my face right now.
It does sting a bit when it is first put on my face. But, the sting goes away after a little bit. It still stings a bit, but not as much as when I first put it on. After I rinse it off, it no longer stings (obviously) and my skin is just so soft. I don't get any redness or irritation from using this at home chemical peel.
How To Use:
*Cleanse the skin with warm water or a mild cleanser. Repeat. Allow skin to air dry.
*Optional: Apply an isopropyl alcohol prep pad to the treatment area to degrease the skin and remove any oils, dirt, or impurities.
*Initial application: Apply peel using a gauze or cotton pad evenly across treatment area using circular motions. Allow the peel to work on the skin for 1 min or less.
*Contact time and/or number of layers on subsequent treatments may be increased with tolerance.
*Begin to stop the activity and remove peel by flushing with cool water.
Before the Peel
Avoid using self-tanners, masks, scrubs or exfoliating agents for at least 48 hours prior to the peel.
Stop AHA, BHA, and Vitamin A topical products 2 days before the peel.
Do not wax or shave facial hair for 2 days before the peel.
Notify us or your regular doctor if you have a history of cold sores, fever blisters, or herpes outbreak anywhere on the face prior to the application.
Avoid sun exposure and tanning for at least 1 week prior to the peel and week after. We recommended not to tan at all because your skin will be more sensitive to light and tanning accelerates the aging process.
Full Ingredients
Deionized Water, Glycolic Acid, Octoxynol 10, Hydroxyethylcellulose, Cucumber (Cucumis Sativus), Green Tea Extract (Camellia Sinensis Leaf Extract), Chamomile (Chamomilla Recutita (Matricaria) Extract), Comfrey (Symphytum Officinale), Phenoxyethanol, Ethylhexylglycerin, Retinol Palmitate
As I said above, Perfect Image carries other strengths of this at home chemical peel. You can find all of the strengths and different best at home chemical peels here!
Perfect Image also carries other skincare products like:
*Peels
*Cleansers
*Moisturizers
*Facials
*Accessories
"The most beautiful part of you is confidence."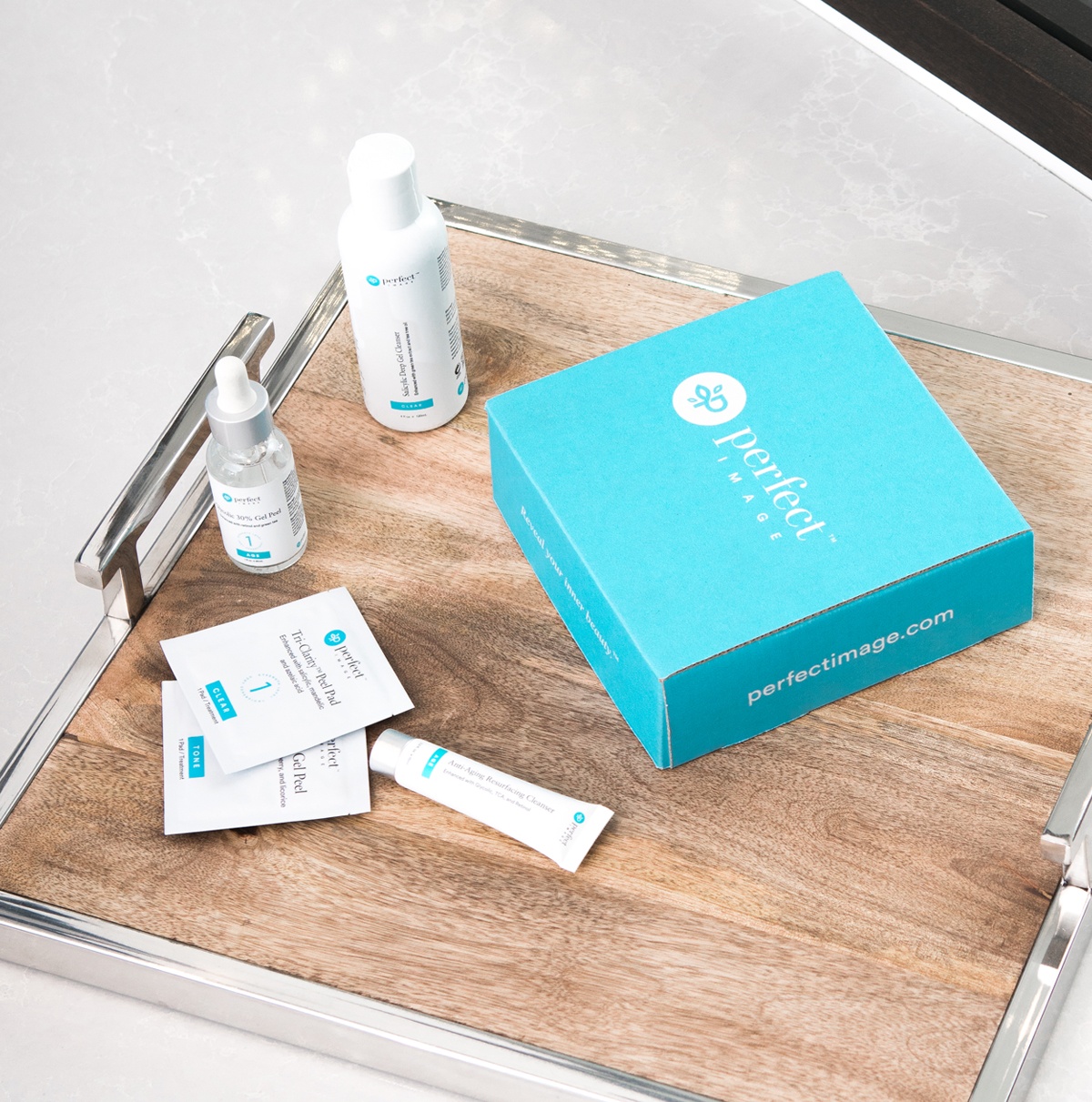 Why Should You Use A Peel?
Peels help to sloth off those dead skin cells and help to reveal new, younger-looking skin. Also, chemical peels are great for helping your skincare products absorb better into your skin! After you do your at-home chemical peel, your skin is new and soft. The new skin is also more porous and will absorb other skincare products much better!
Until Perfect Image, people had just two choices for peels. They could choose between over-the-counter products that weren't strong enough to have any effect or treatments in dermatologists' offices and salons that were effective, but too expensive and inconvenient to do regularly.
Perfect Image gives you the power and tools to confidently improve the health of your skin at home and at a fraction of the cost. They're safe, easy-to-use, and provide noticeable results for all types of skin. And if you're not sure where to start, talk to one of our experts to see what peel suits you best.
How To Select The Perfect Products For Your Face!
Selecting products can be confusing, so Perfect Image created a system based on skin concern, skin type, and product strength. Select your products with confidence. Or go to the Perfect Image Trial Plan page now, and begin your journey towards healthier skin!
SIGN UP FOR 20% OFF – receive discounts, insider info, and access to new products by signing up for Perfect Image's newsletter!
Buy
You can purchase products from Perfect Image by visiting their website HERE!
Win
Say Goodbye to Summer With This Skincare Savior Giveaway!!! One person will win the following: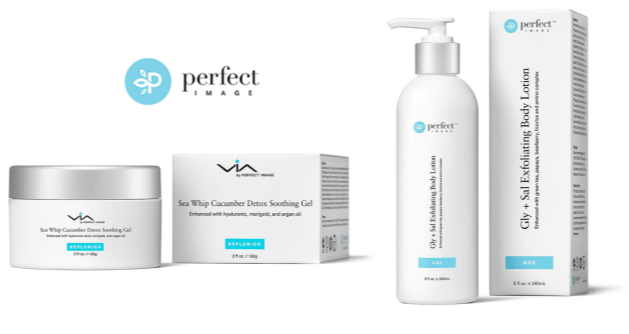 *Sea Whip Cucumber Detox Soothing Gel, $29.95
An array of skin soothing and repairing ingredients help hydrate and calm irritated and sensitive skin in this refreshing moisturizing gel. Excellent after a sunburn, wax, mask, chemical peel, or other facial treatment.
*Gly + Sal Exfoliating Body Lotion, $29.99
With the exfoliating help of salicylic acid and collagen-stimulating glycolic acid, this lotion helps promote healthy pores and cell turnover for smoother, vibrant, and more even skin.
Rules
The contest is open to the US and Canadian residents ages 18+. This giveaway will end on September 13, 2020, at 11:59 pm MT. The winner will have only 48 hours to claim their win or a new winner will be selected. I am NOT responsible for lost or stolen mail (DUH!).