This post is all about The Best Electric Scooter For Kids! Dear heavens, this has been a LONG and cold winter!! We haven't seen our grass outside since November because there is snow covering it still! Gah! So, my kids don't really go outside, unless they are doing their chores! It is just too cold. I am thankful though, that the snow is FINALLY starting to melt and I can finally see grass in some spots on our lawn! Spring will be here before we know it. I know that. But it is just getting through the long, cold winter months that drive us bonkers!
*Scooter was received. This post includes my affiliate links.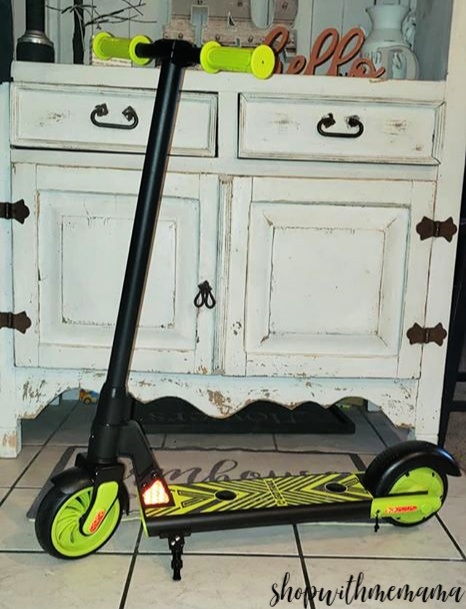 With that said, we have to be creative when it comes to having fun around here! Of course, there are a lot of fun things to do, but if you do them all the time, then they become boring! My kids are constantly looking for fun things to do inside or outside the home. When I was contacted about reviewing the best electric scooter for kids (hey, it really is!!), my kids and I were very excited! Wouldn't you be???
Like I said above, not much to do when it is cold and snowy outside! But, there is plenty to do indoors, we just have to mix it up a bit! With the electric scooter we received from GOTRAX, my kids are finally having a bit of indoor fun! When the weather warms up, you bet they will be gliding outside on their new favorite electric scooter! Outside though, it will be much more fun!!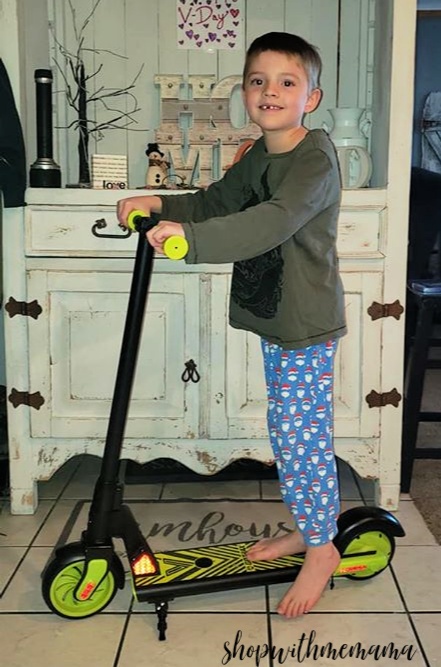 The Best Electric Scooter For Kids!
This electric scooter is super fun and quite speedy! It can go up to 7.5 mph and that allows you to really zoom around! Of course, we can't go that fast indoors, but we have gotten up to a good speed! Haha!
This is a new style of Electric scooter for kids! It is the GKS kids scooter and it features 6″ Solid rubber tires that absorb vibrations making a glide effortlessly on cement or paved roads. The speed of the GKS kids scooter is locked at a safe but fun 7.5mph!
The Compact 25v Battery and 150 Watt electric motor power the GKS for up to 4 miles per charge. Now the whole family can have fun, and remember to always wear a helmet! The scooter is easy to charge. See that little black 'hanging thing' on the far right of the scooter? That is where you charge the scooter.
I meant to push that black thing back in for the picture, but forgot to! It does go back in and isn't supposed to just hang there. Wanted to mention that in case you were wondering what that was 😉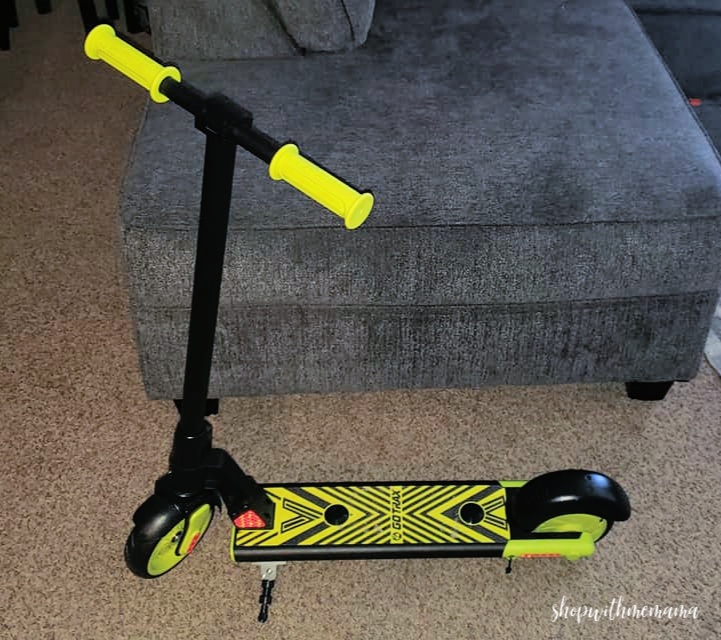 Features:
4 miles per charge
150 Watt Motor & 25.2V Battery
7.5 mph
6″ Solid Rubber Tires
Suggested Rider Height 5ft or less.
The GKS model is for recreational riding and is best for children under 5ft tall. The max rider weight for the GKS scooter is 121 pounds. This electric kids scooter comes in 5 different colors: blue, black, pink, yellow, and green! We received a yellow one! It is sturdy, strong and so fun to ride! GOTRAX completely redesigned kid's scooter has all the features kids want.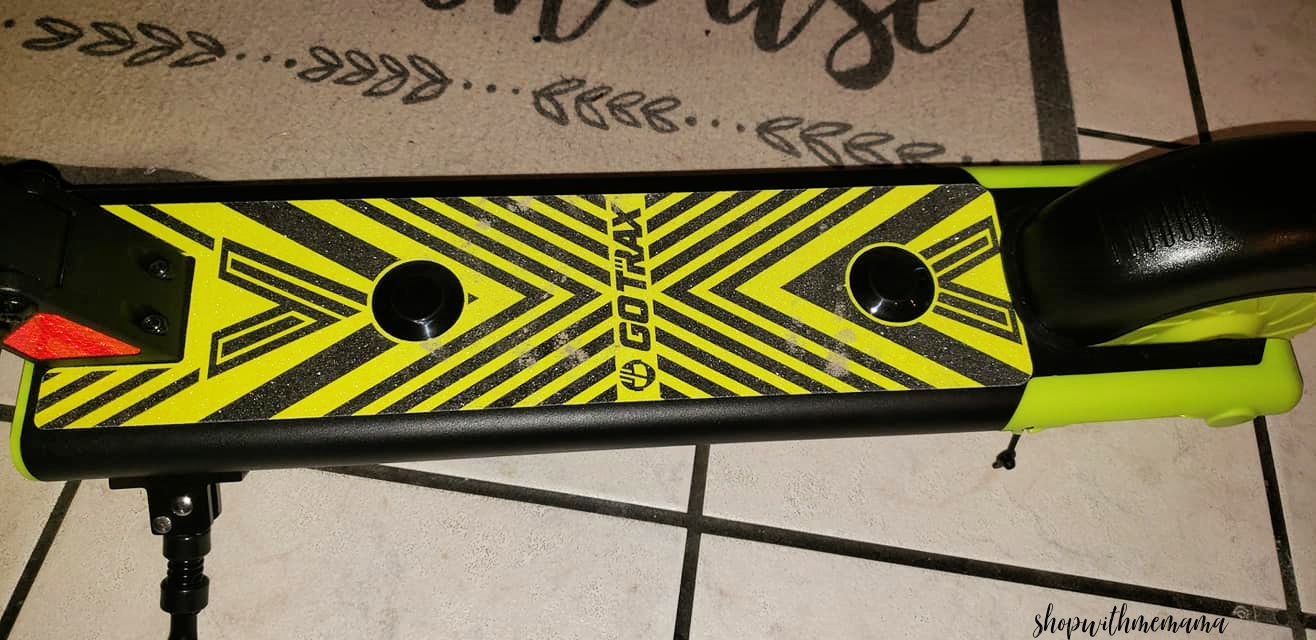 New Safety Start Technology
*Both feet must be placed on the scooter before the motor will engage, giving your child time to position themselves before it the motor kicks in. This takes a second to balance, but once you got it, you got it! Once you are balanced, you are on your way to some serious FUN!
*The durable 6″ wheels are large enough to create a smooth ride on sidewalks and paved areas. My oldest son took it outside on our gravel (where the snow was melting) and it just cruised over the gravel with ease! He was super excited about that because we have grass and tons of gravel, but not a lot of pavement, so now he knows he can still have fun on it outside!
*This electric scooter for kids only weighs 17.8lbs making it easier to carry and maneuver. My youngest who is super tiny (he is 7), ride this scooter with no problem. He does have a bit of an issue turning corners, but he is working on that!
*The GKS features a fun two-tone color scheme making it one of the most unique-looking kid's scooters available! It is really a nice looking scooter and all the features are nice.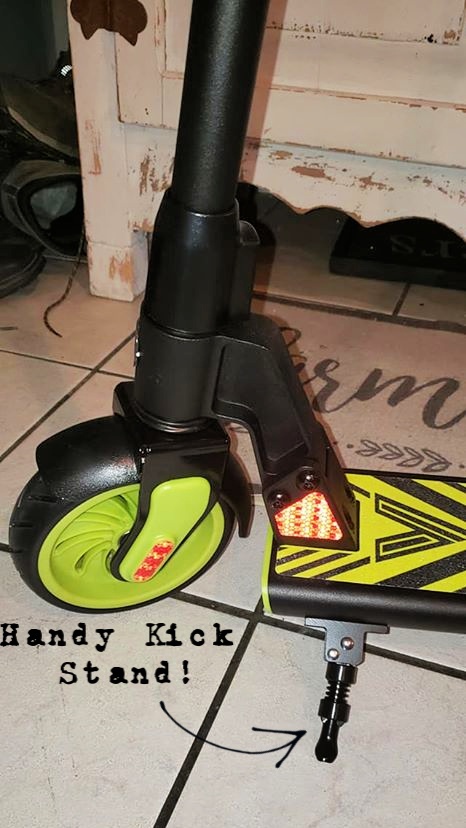 How Do I Ride The GKS Electric Scooter For Kids?
Like everything, you do have to practice and learn before you can really get into it and start feeling confident. But, it is pretty easy! All three of my kids caught on within minutes (if not less).
*First, you must place your foot on the front button and kick the scooter along to start.
*Once you have the scooter moving, you then place your second foot on the back button to engage the electric motor to accelerate
*The motor will completely shut off once you remove your back foot from the button. That way, the rider is always ready and in position before the motor starts.
See? Super easy to get started and once you get going you don't want to stop because it is such fun!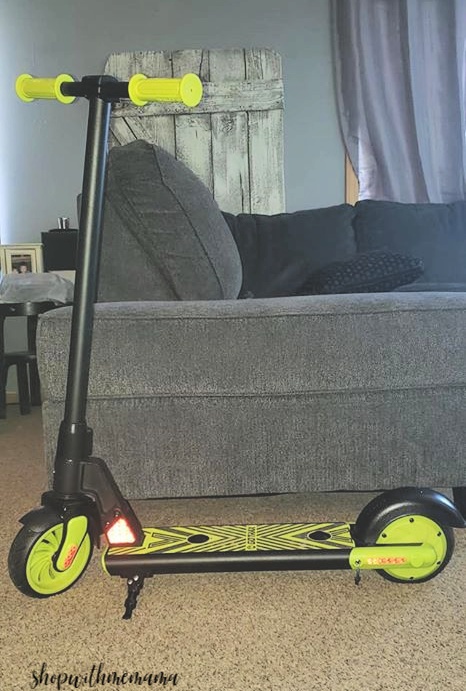 Can I Ride My Electric Scooter In The Rain Or Snow?
Though this electric scooter for kids is water-resistant, it is not waterproof. Keep in mind there is a battery within the product so you do not want to short circuit that piece of equipment. GOTRAX doesn't recommend riding in puddles or prolonged exposure to wet conditions.
Riding in colder temperatures can affect the performance of the scooter. One key thing is to make sure the scooter is always being stored inside. Keeping your scooter in the cold can cause damage to your tires, motor, and battery.
For obvious reasons, GOTRAX doesn't recommend riding your electric scooter in the snow as the moisture can damage the electronics in the scooter. They also advise not riding in the snow due to slick conditions the scooter may slide from under your feet causing injury and that is never a good thing!
You can easily keep your scooter clean by wiping it down with a wet cloth or rag, then storing it inside your garage, shop or mudroom.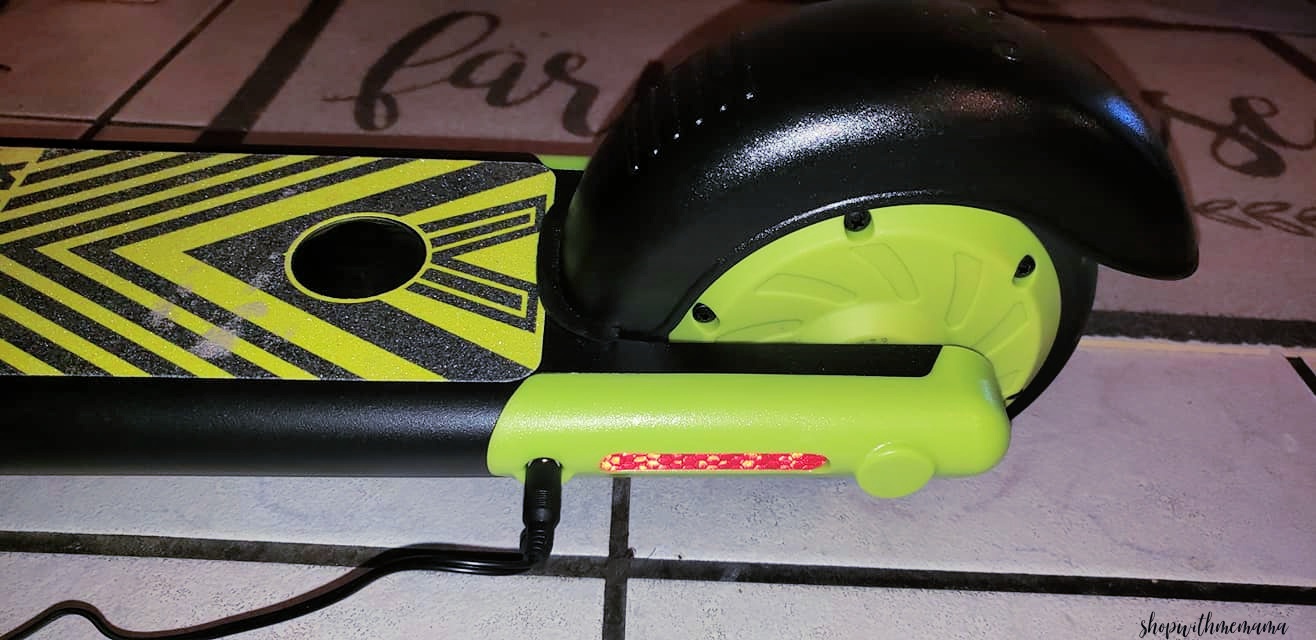 Where To Buy The GKS Electric Scooter For Kids
You can purchase this either on Amazon.com.