Congrats to Tearsa D Keith
*product was received. Opinions are my own.
I had to say it, I really did. I have finally found the softest blanket in the world!!! It is the Luster Loft™ Fleece Blanket from the American Blanket Company and I must be wrapped in it every night, in order to sleep.
This blanket is not only super soft, but looks fantastic on my king size bed too. I use it to cover my bed, most days, so when I go and sit on my bed, my bed is SOFT and inviting! I end up curling up on my bed for a bit, you know, because the baby HAS to take that dang nap 😉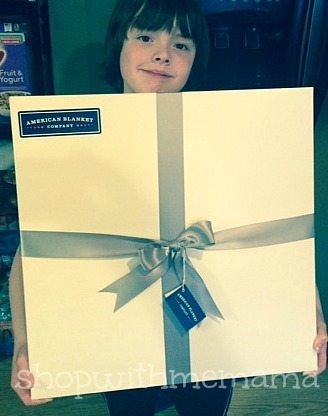 But, I am going to back track here a bit and let you know about the whole experience of receiving this blanket…
When this blanket arrived, it was packaged beautifully. Inside of the cardboard box was a big white box with a ribbon tied on it. So pretty!!! When the white box was opened up, the blanket was wrapped in tissue paper. Even my husband said I need to mention how well it was packaged, in my review 🙂 See, he noticed too! It was just a really thoughtful gesture, on the companies part, to ensure that their products are sent out, wrapped up nicely! We were impressed!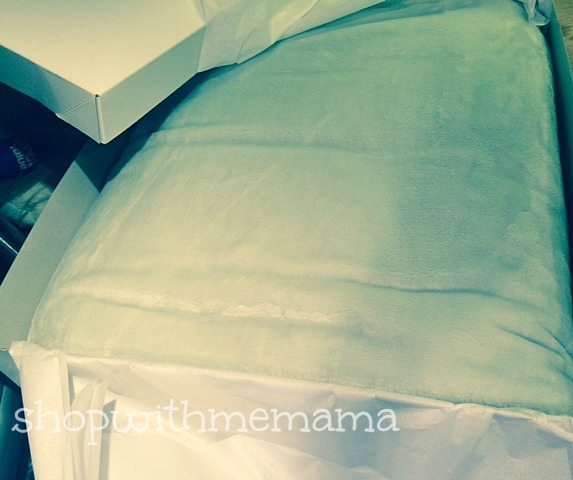 Now, I let my husband open this blanket. And, I went to go do something and when I turned around my new SOFT blanket was GONE!!!! Say what?! I went down the hallway and immediately heard giggling coming from my room. I walked in my room and there were three bumps under that new, soft blanket of mine! My daughter, toddler and hubby were cuddled under my new blanket and they were trying to steal it from me!!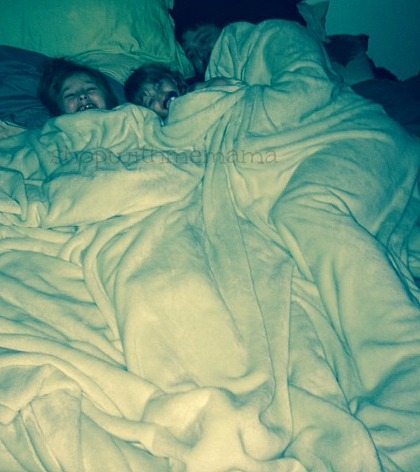 See what I mean? I had to convince them that I was making cupcakes in the kitchen, so I could get back my blanket!
The Luster Loft Fleece Blanket is seriously, the softest and best fleece blanket made in America. It comes in 10 beautiful colors to choose from and these blankets can be ordered as customized bedding blankets! You can order these blankets in twin, queen, king and oversized, extra large blankets!
I received the Luster Loft Fleece Blanket in the pretty color of Sea Mist Green. I want all the other colors too, for everyone in my family! That way I do not have to share anymore, even though it is ginormous!!!
Buy
You can purchase the Luster Loft Fleece Blanket online at http://www.americanblanketcompany.com/. The one I received retails for $89.00.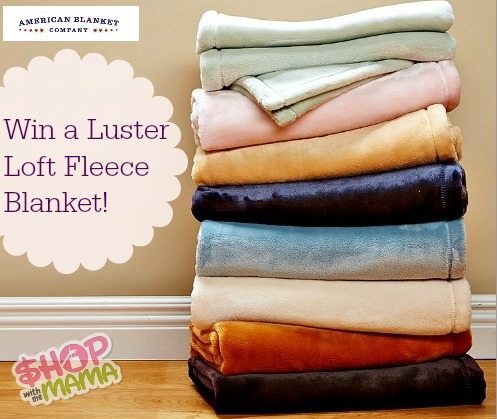 Win!
One person is going to win a Luster Loft Fleece Blanket in their choice of size and color! Yay!
How?
Easy! Just use the Rafflecopter form below! Good luck to you all!
Rules:
Contest is open to US 18+. Giveaway will end on April 13, 2015 at 12 am PST. Winner will have 48 hours to confirm their win, after I email them, or a new winner will be chosen. Sponsor is responsible for sending out prizes. I am not responsible for lost or stolen mail.