Congrats to Karen Glatt
*This is a partnered post. Opinions are my own.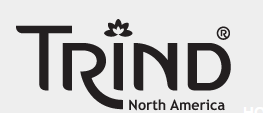 Do you care what your nails look like? Are you always painting them different colors for the seasons or making them look different for each holiday? How about caring for them and keeping them at their best? If you answered yes, then this blog post and contest is for you!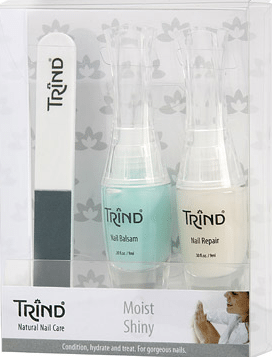 First, A Bit About Trind:
Trind is Europe's most trusted and respected line of hand and nail care products. They are known globally as experts with 25 years of expertise. Founded in the Netherlands, Trind is an expert in the natural care of nails, hands, and feet. Their unique products are made from high quality ingredients, which nourish and strengthen the nails as well as stimulate growth. They provide visibly better condition of nails and cuticle, resulting in stronger and more beautiful nails.

Nail Care Tips To Keep Your Nails In Tip Top Shape!
*If you are removing and reapplying polish more than once or twice a week, be sure to apply Trind Moisturizing Nail Balsam first. Using too much polish remover too often can dry out your nails. Always use acetone free polish remover!
*Getting a hand massage will increase circulation and stimulate quicker nail growth
*To push back the cuticles, first soak your hands in warm water for a few minutes. Pushing back your cuticles should never be painful.

*Never ever cut your cuticle with scissors! Hang nails, on the other hand, can be snipped away
*While filing your nails, you can check your progress by running them down a pair of old nylons. If your nails snag on the nylons, you have some additional buffing to do.
*Give your nail polish at least 1 to 3 minutes drying time between coats when doing your nails at home. This will give you a nice even sheen and lasting finish.
*Apply many thin coats of your polish rather than one thick coat. It will dry quicker and last longer

I love my nails painted and the above nail tips are really going to help me out, when I do paint and care for my nails again. I try to do my nails at least once a week, but sometimes it turns into two weeks because I get SO busy. Lately I have been loving the basic bare manicure. Check out the video below, of Trind's Bare Manicure! Great tutorial!
Buy
You can purchase Trind Nail Care products online at http://trind.ca/.
Win
One person is going to win the following products from Trind with a retail value of $90:
Trind Moist & Shiny Kit (Nail Magic Buffer, Moisturizing Nail Balsam, and Nail Repair)
3 Caring Colors nail polishes in a gorgeous fall color lineup – Red Shimmer, Dark Tan, and Deep Blue Shimmer
A beautiful black patent leather look makeup bag
How?
Giveaway Rules:
This giveaway will be offered on multiple blogs.  There is a limit of 1 prize per winner across all the blogs participating in this giveaway, ie. a person can only win 1 prize package. This giveaway is open to US and Canada 18+. Contest ends on November 12 at 12 am PST. Sponsor is responsible for shipping out the prizes.