Hey, it is Christmas in July, didn't you now that? It is! Now I know that the very last thing anyone would like to think about is the holidays, however, I wanted to let you know about the Basic Invite holiday cards!
Basic Invite holiday cards are fun to browse, they have a huge selection AND they are having a sale right now so it is perfect for designing and ordering your holiday cards early! Beat the rush or last-minute purchasing, save yourself the headache of ordering your holiday cards at the last minute! No one enjoys that! That is why it is important to do some holiday planning.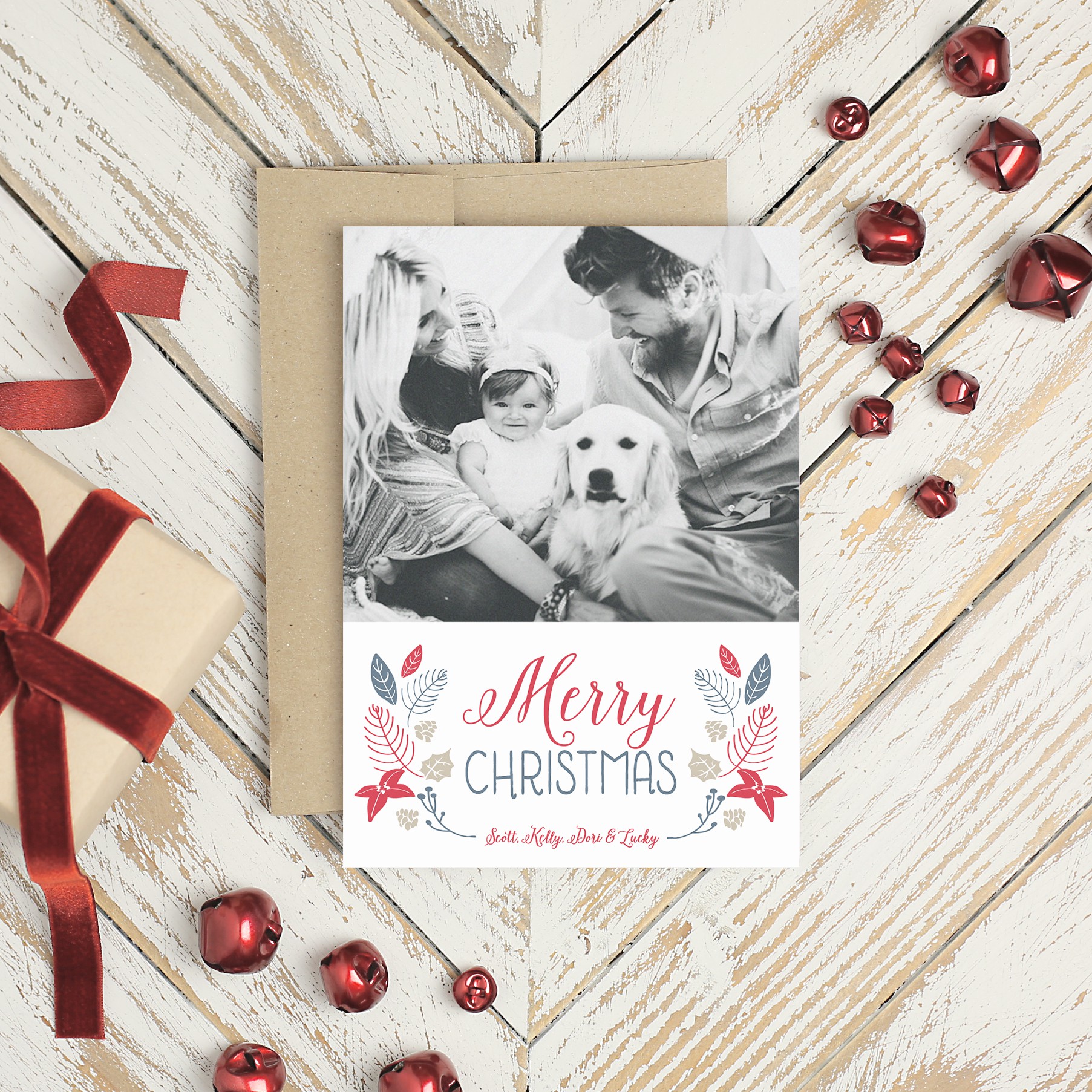 What Sets Basic Invite Holiday Cards Aside From The Others?
Unlimited Colors– Basic Invite is one of the few websites that allows customers almost unlimited color options with instant previews online. Once you select a design you can change the color of each element on the card to over 180 different color options so you can make sure the card is exactly how you want it down to the littlest detail. This is what sets them apart from almost any other online stationery company.
Custom Samples – Basic Invite allows customers the ability to order a printed sample of their actual invitation so they can see exactly how it will print as well as the paper quality before they ever have to place their final order. That is why it is important to order your holiday cards or Christmas cards early! Make sure your holiday cards are everything you hoped for them to be and more!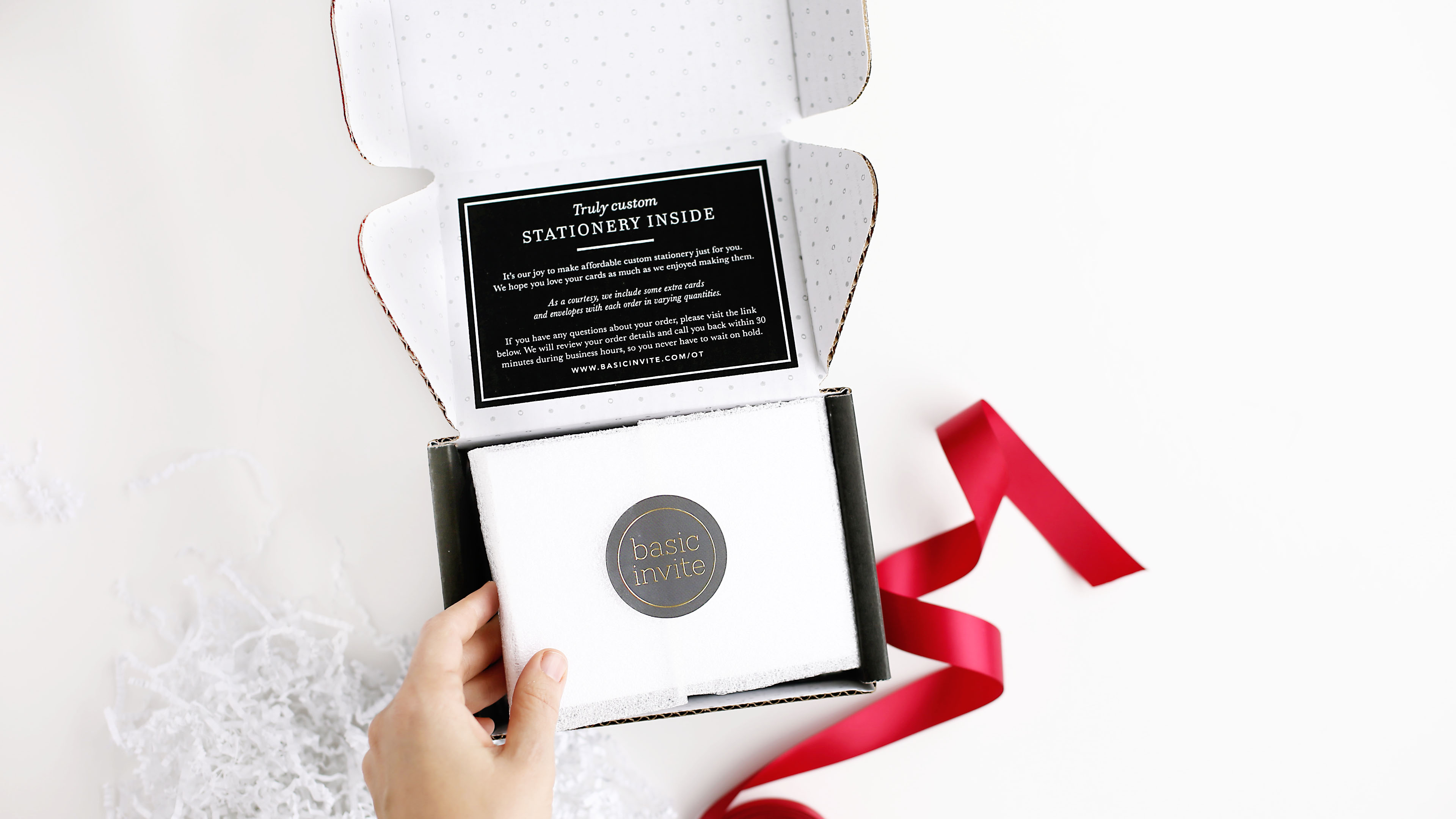 Over 40 Different Colors of Envelopes – Basic Invite is just as colorful with their envelopes as they are with their invitations! Customers can choose from over 40 different colors when it comes to their envelopes so that they can make their invitation stand out even before it is opened. All of the Basic Invite envelopes are peel and seal so the envelopes can be quickly and securely closed. No more licking a million envelopes, I hate that!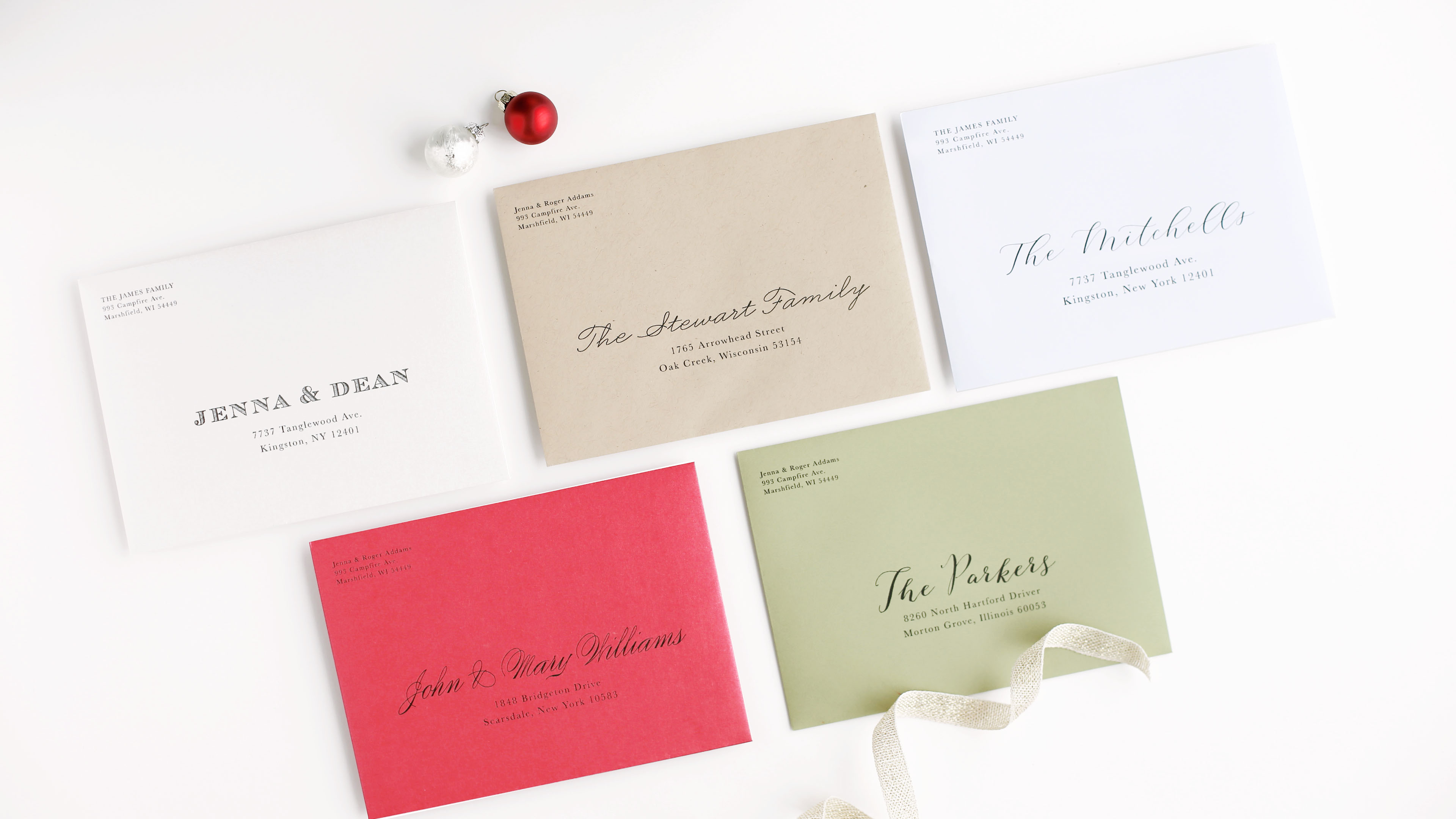 Address Capturing Service – Basic Invite offers an address capturing service that allows customers to simply share a link on Facebook, Twitter, Instagram, or any other form of social media to request their friends and family's addresses which will be stored in the customer's account and can then be selected during the design process. Basic Invite offers recipient address printing at no cost on all card orders. I think this is BRILLIANT!
Foil – Foil cards are available in gold, silver, and rose gold. Customers can choose flat or raised foil on all of Basic Invite's foil designs.
A few of Basic Invite Christmas Cards that caught my attention:
For The Newly Married Couple: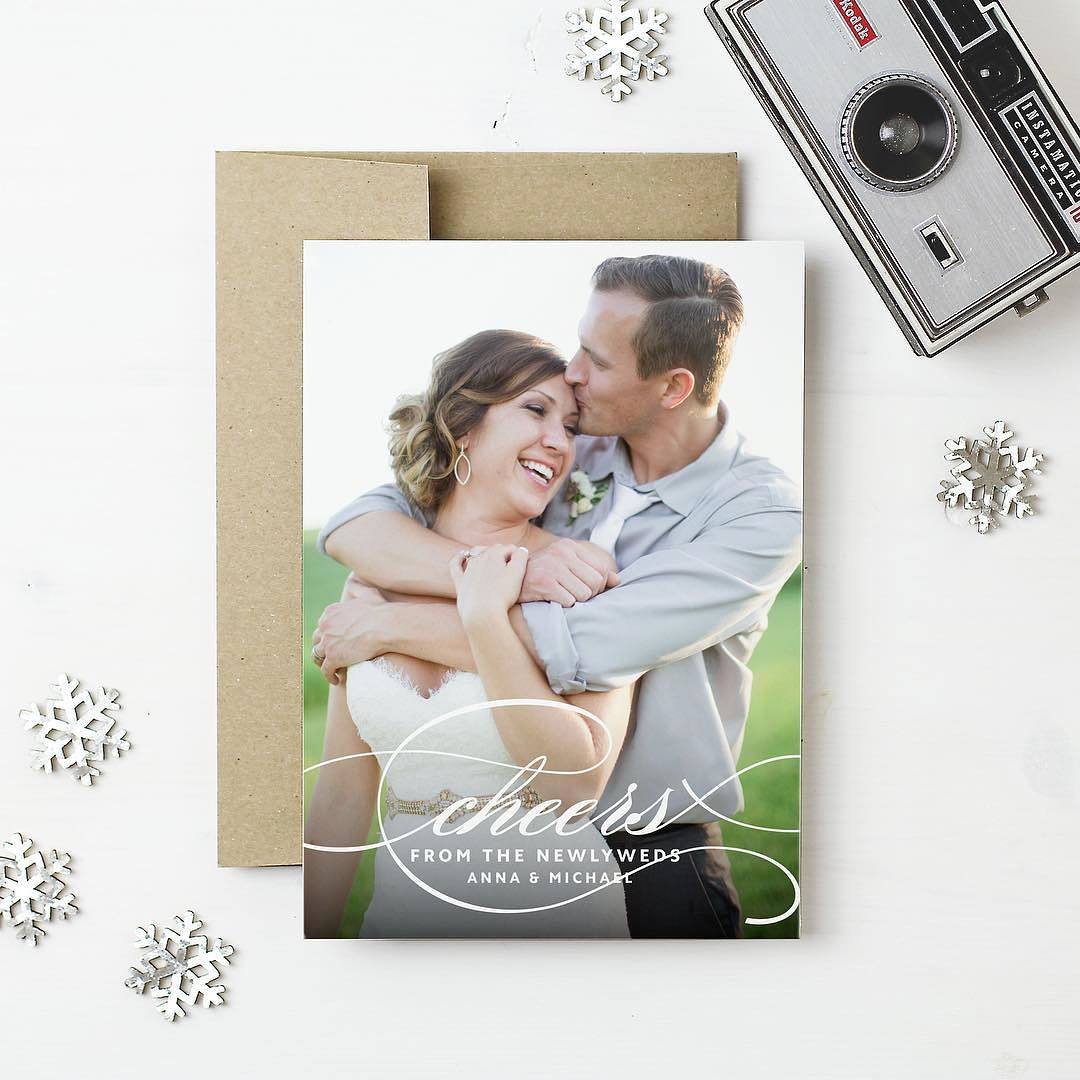 The Script Cheers holiday cards are a simple yet elegant design with plenty of space for a gorgeous photo as the entire background is a photo with subtle text overlaid at the bottom.
For The Newly Pregnant Couple: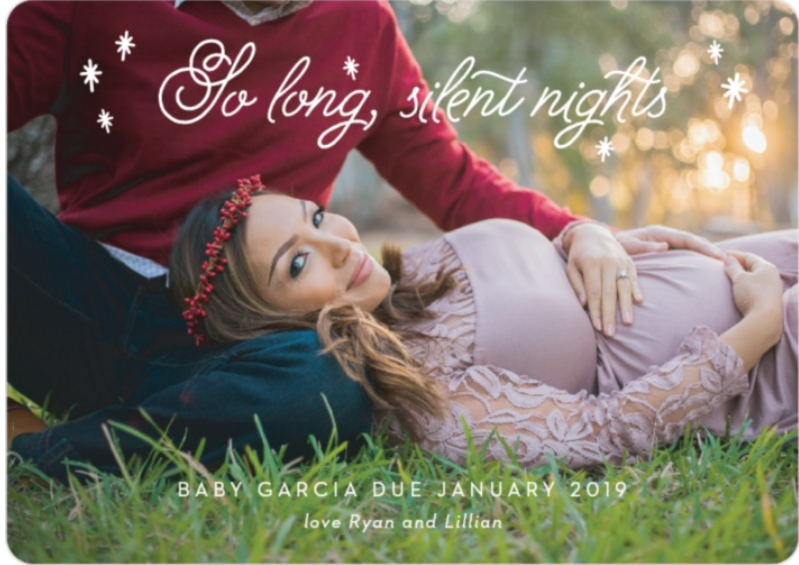 The Peacefully Pregnant Christmas Cards perfectly sums up the gift of being a new parent. With thin penned lettering and star illustrations, your name and details of the baby on the bottom, and your picture set as the background.
Baby Announcement Christmas Card: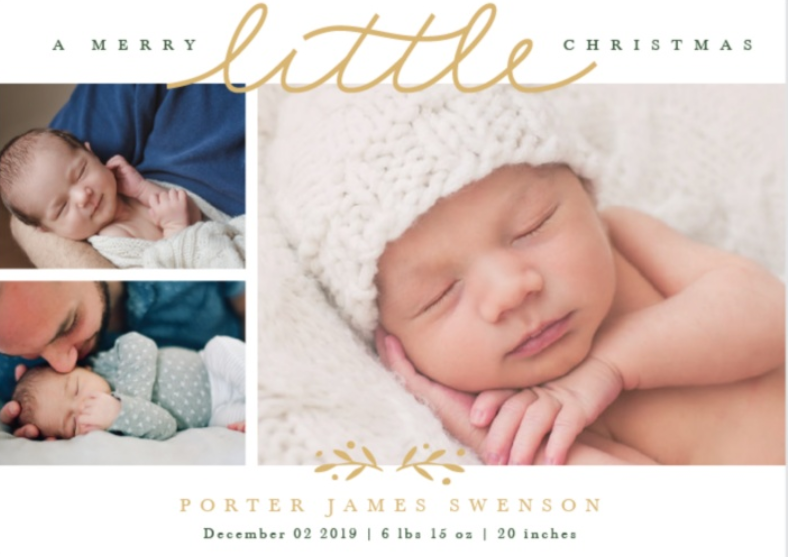 Little Present Christmas Cards are the perfect way to announce your newest little present this Christmas season! Your friends and family's hearts will burst with love at the reveal of your babies first portraits! Add three of your most cherished photos amidst gold foiled adornments and warm wishes for these darling greeting cards.
For The Family: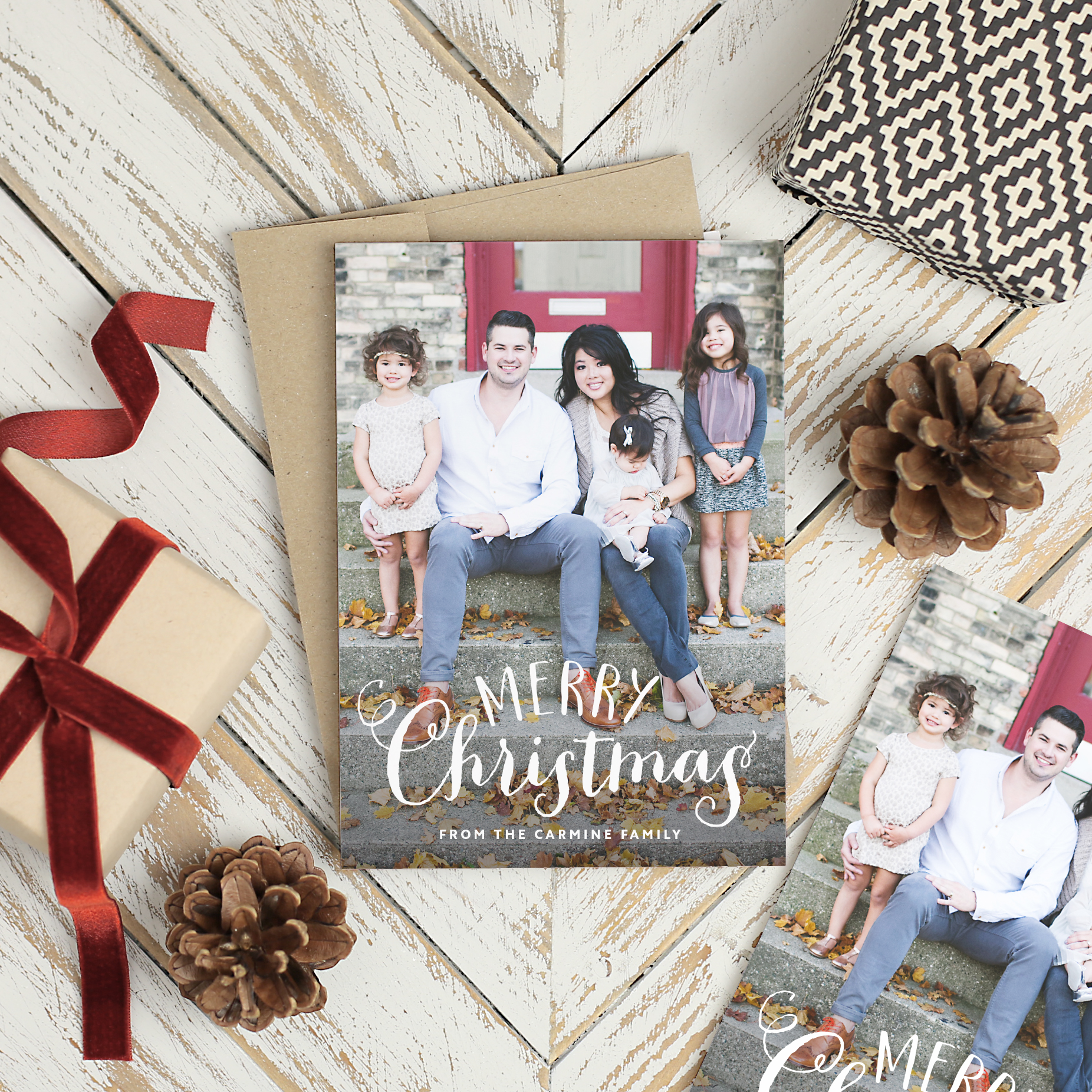 The Happy Hand-Lettered Christmas Cards allow your photo to be the main focus while embellishing it with a handmade Christmas graphic which can be customized to perfectly match your photo. Choose from our wide variety of fonts and colors to add your own personal, family signature.
For Just The Kids: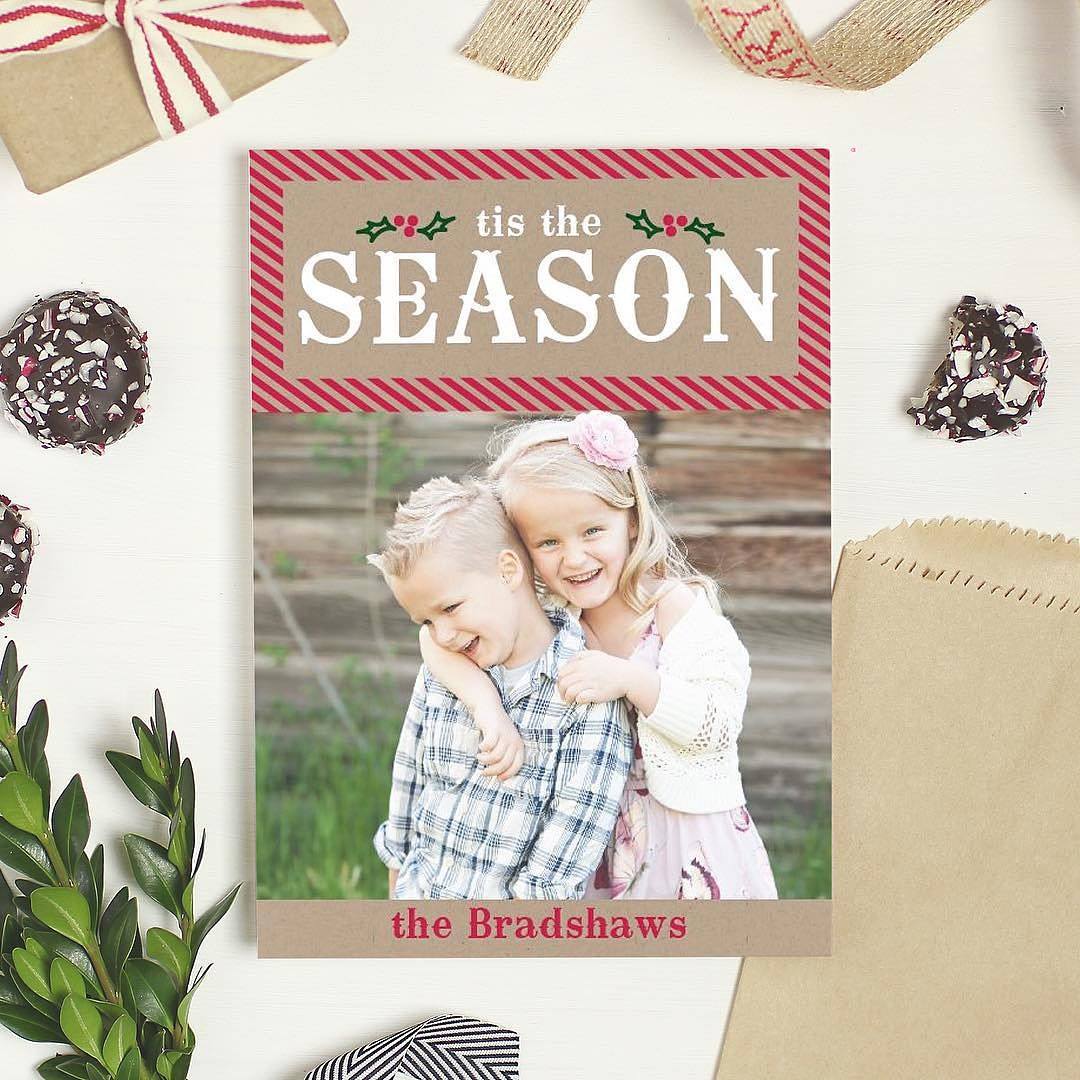 The Bright Stripes holiday card has the perfect spot for almost any photo right below a beautifully done title surrounded by holly. Instantly personalize the design with your color choices and photo.
Fur Babies Only!:
Your furry cutie sits at the forefront of our Pawsome Holiday Cards! Pick your favorite picture of your pet and feature it front and center. The top corner of the photo playfully asks your holiday card recipients whether they think your little one has been naughty or nice this year and the bottom leaves space for you to put when they were adopted. You customize your message of holiday cheer at the bottom, pick your colors, and send them along! Your loved ones will find these holiday cards "pawsitively" adorable!
Multiple Pictures: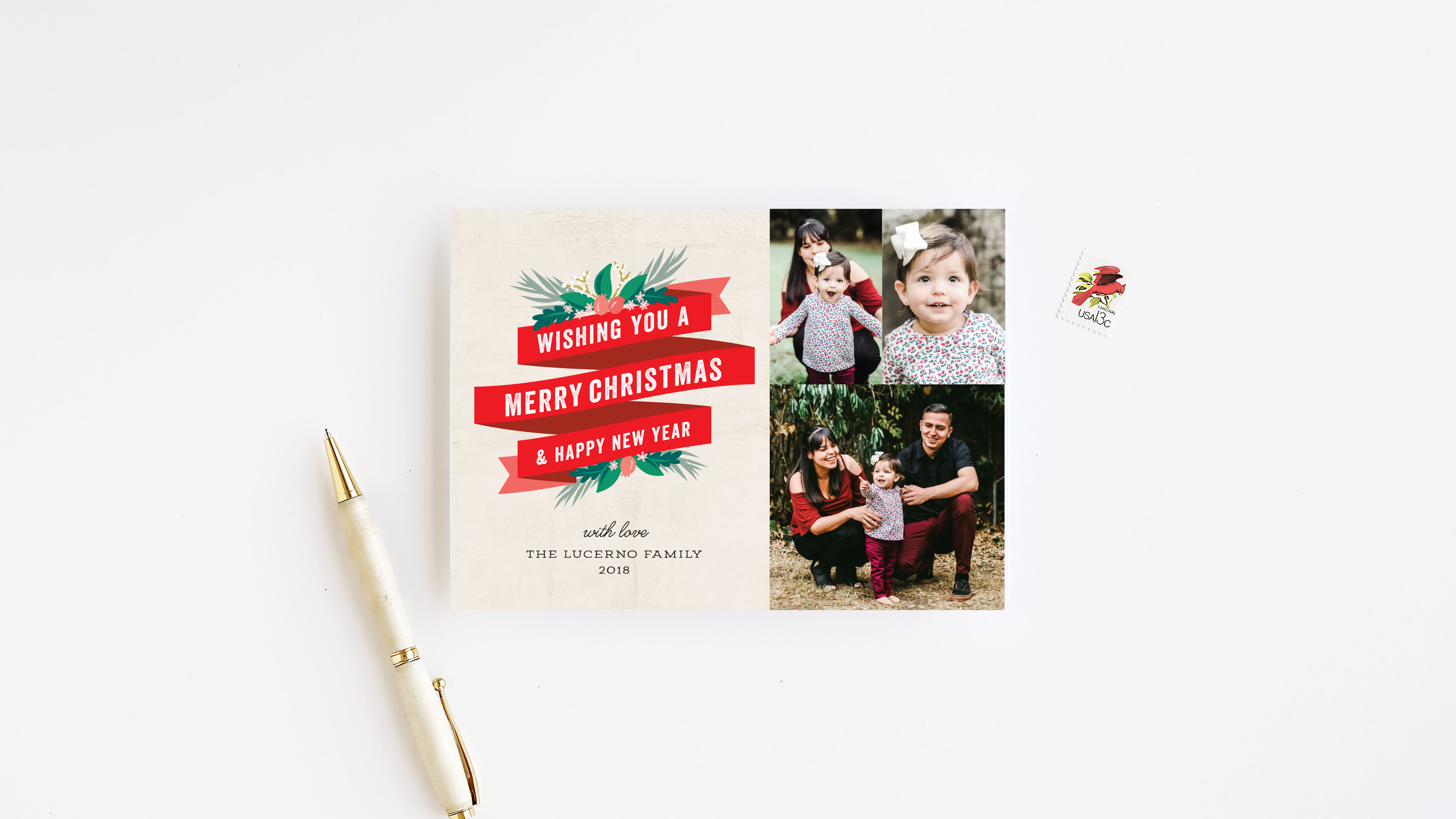 Vintage Banner Christmas Cards capture the old fashion spirit of perfectly. With a vintage banner with a hand-painted look on the left, and three places for your photos on the right.
No Picture Necessary: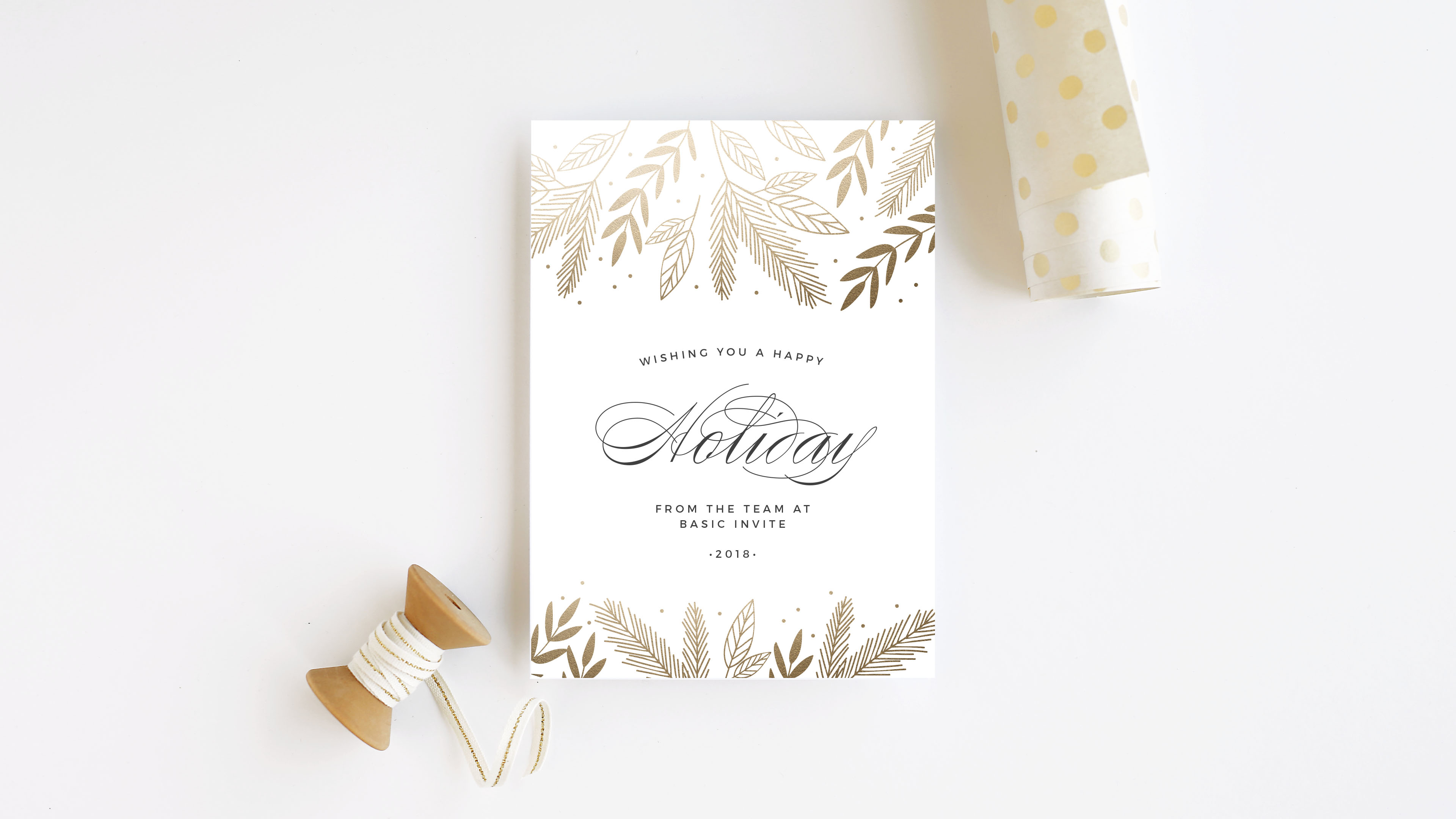 I love all of the Basic Invite Holiday picture Cards and Christmas Cards, but the ones above caught my eye! So fun and there are so many to choose from! I love how easy it is to personalize them too!
Basic Invite also does cute name tags! Perfect for putting the finishing touches on your holiday gifts! Great for gift giving and letting that special someone know how much you care about them!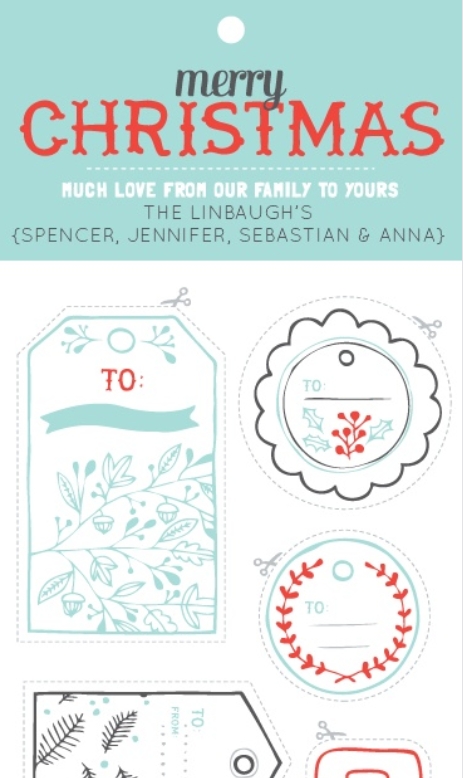 If you are hosting a holiday party, Basic Invite has some really fun and festive holiday party invites to choose from! I really miss going to company Christmas parties, maybe this year my husband's work will host one for us to attend!
Finding cheap Christmas cards is not an easy task! However, Basic Invite has you covered for all of your holiday and Christmas card needs at affordable prices.
Coupon Code!
Right now Basic Invite is offering 15% off with coupon code: 15FF51
Shop!
Check out Basic Invite Holiday Cards and Christmas cards online at https://www.basicinvite.com.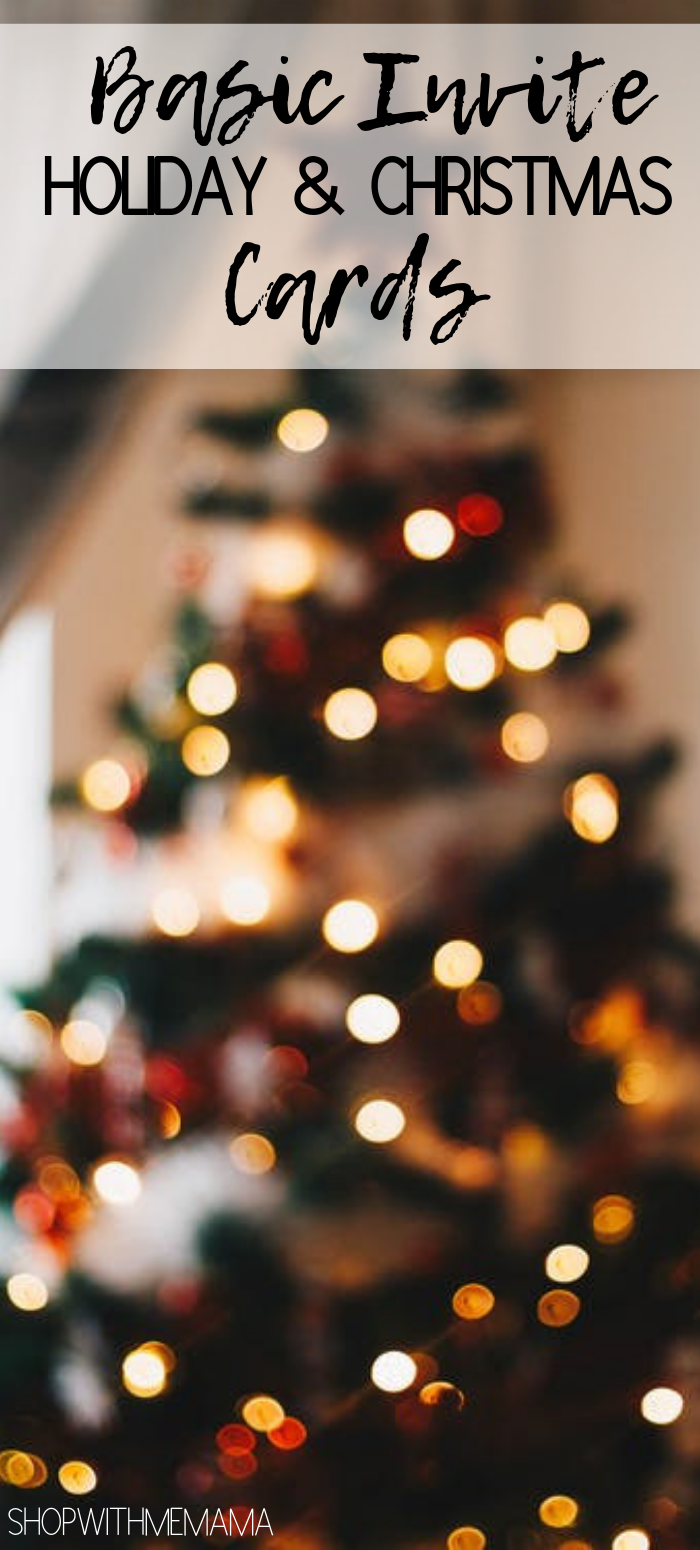 Get Social!
Connect with Basic Invite on Twitter, Instagram, Facebook, and Pinterest!
How Soon Do You Usually Order Your Holiday Cards? Have You Ever Ordered Basic Invite Holiday Cards?