This post is all about the best Products To Update Your Bathroom! One thing I love doing is updating our bedrooms, and rooms in our home. The bathroom is the one that gets updated the most because I am always finding fun things to decorate it with! The main bathroom in our home gets a lot of traffic to it. So, keeping it fresh, clean, and tidy is very important to me.
Freshening up your bathroom can be fun! I received a few bathroom organizing products from Superio and I love them all! They look great in my main bathroom and now my bathroom is not only a comfy feeling but tidy and refreshed too!
Superio's latest Ribbed Collection provides the ultimate organization gadgets from various-sized bins, laundry hampers, and bathroom accessories!
Just a few of these products are guaranteed to make a big difference in the look and feel of your bathroom no matter how big or small it is!
*This post includes my affiliate links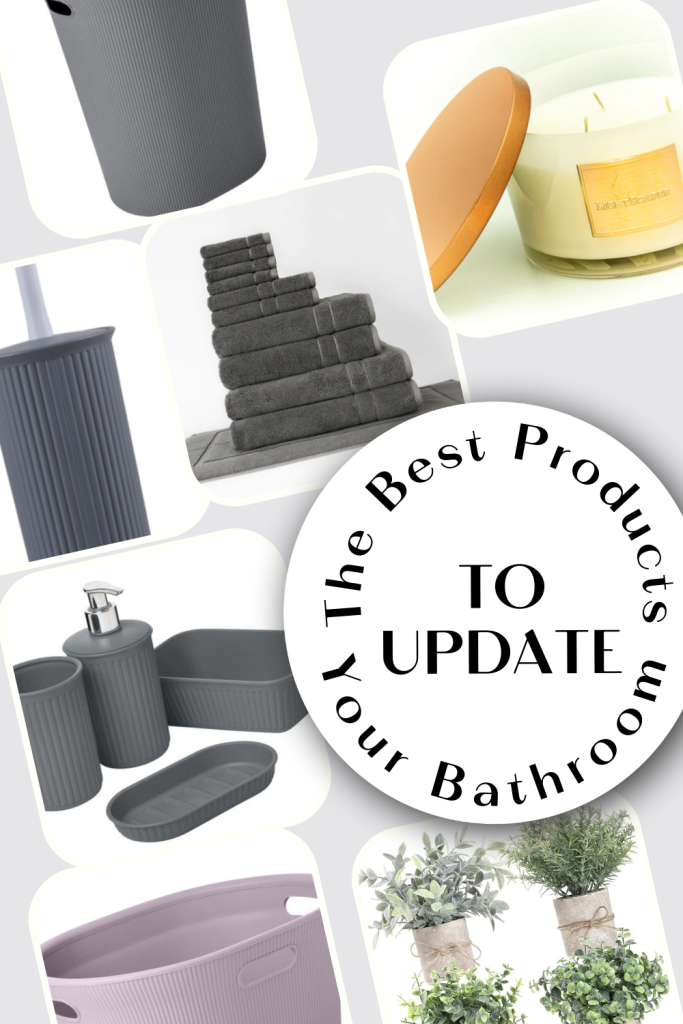 The Best Products To Update Your Bathroom!
Shopping for products to update your bathroom and make it more accessible is so necessary! Let's check out the Products To Update Your Bathroom, below!
1. Refresh under your bathroom sink with a Ribbed Storage Bin from Superio. I have an array of things under my sink and this storage bin has helped me organize under the sink nicely. Now everything has its place and that makes me happy! These storage bins are sturdy and durable and I love that they have handles on the sides so I can easily move the bin around without any trouble. These storage bins come in a few different sizes and colors to choose from. They start at $7.99 and go up from there.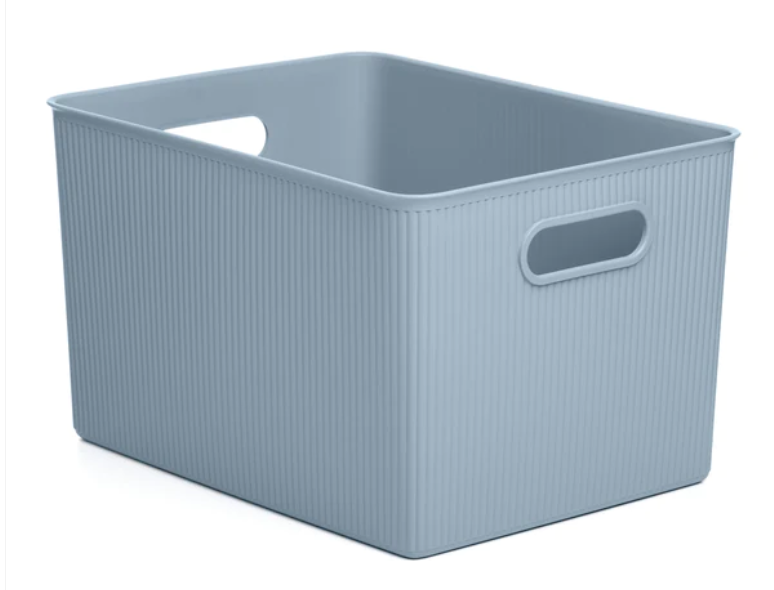 2. Now that the cupboard under your sink is organized, it is time to spruce up the counters and organize them by the sink! Who wouldn't love a complete bathroom accessory set that equips everything you need to organize your toiletries? This set of 4 bathroom accessory set has everything you need to organize your countertop in your bathroom. It has a soap dish, soap dispenser, toothbrush holder, and handy bathroom organizer tray for your trinkets. I like to put homemade soap in the soap dish too! It makes the bathroom look so nice when you add touches like that!
I got the gray colored set but it also comes in different colors like taupe, white, and root beer brown. The set retails for only $9.99. Having a clean and organized countertop is probably the first thing people see when they walk into your bathroom. Having it all organized and pretty is a must and these products can help you do just that!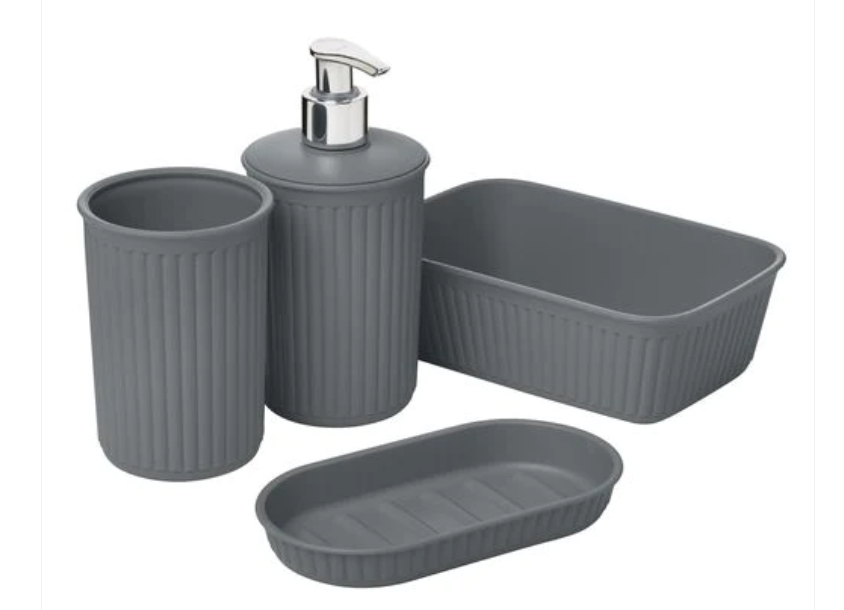 3. Okay, so now your countertop is organized and under your bathroom sink is organized, what next? How about a nice-looking and sturdy hamper for those dirty clothes and towels? I love the 40-Liter Ribbed Laundry Hamper from Superio.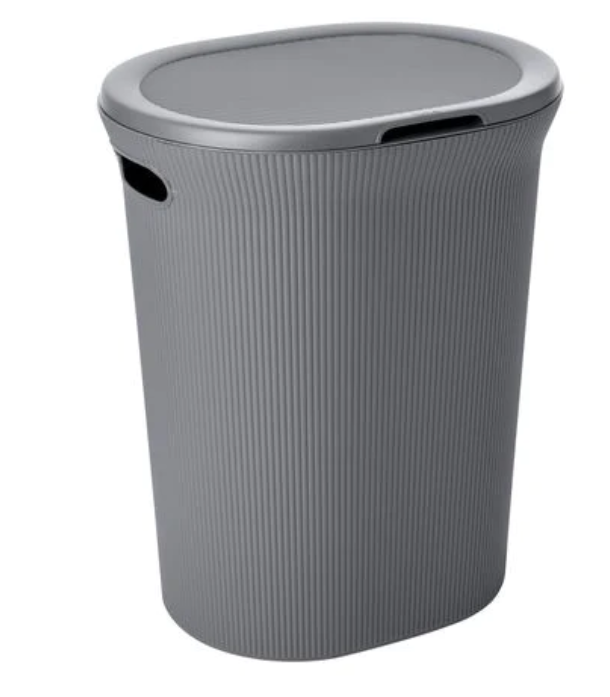 This superio laundry hamper is made to store dirty clothes, laundry, or anything else you decide, its large size accommodates plenty of laundries. Make laundry time less of a chore with this lightweight yet durable plastic hamper with a lid. This hamper comes in several different colors: White Smoke, Grey, Brown, Stone Blue, Lilac, Taupe, and White, It retails for $39.99.
4. It is important to have a toilet brush for your toilet so why not get a nice-looking one? The Ribbed Toilet Bowl Brush and Holder is the perfect toilet brush and holder to store next to your toilet. It looks cute and cleans toilets wonderfully.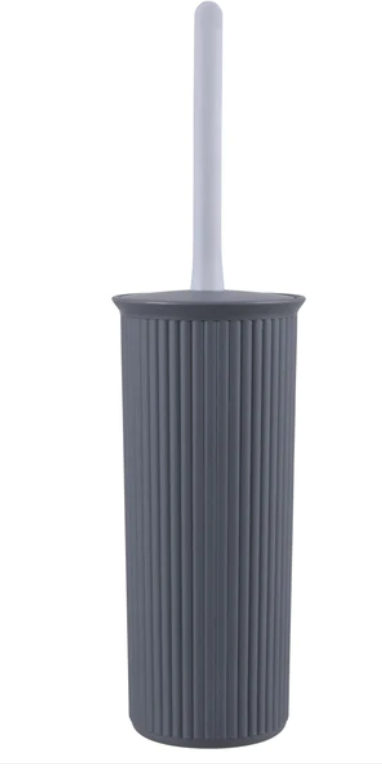 This innovative and stylish toilet bowl brush provides the ultimate hygiene and power cleaning for your bathroom. The stiff bristles of the toilet brush take on dirt and grime with ease and leave your toilet sparkling clean! It comes in several different colors: White Smoke, Grey, Brown, Stone Blue, Lilac, Taupe, and White. It retails for $9.99.
5. Another great product that will not only help spruce up your bathroom but can look super cute on the floor filled with soft towels for bathtime, is the 35-Liter Ribbed Laundry Basket! I love rolling up a few towels and washcloths and putting them neatly in this laundry basket and putting it next to the shower and tub. This way, the person taking a bath doesn't have to get water all over the floor because the towels are right next to them. It also looks nice!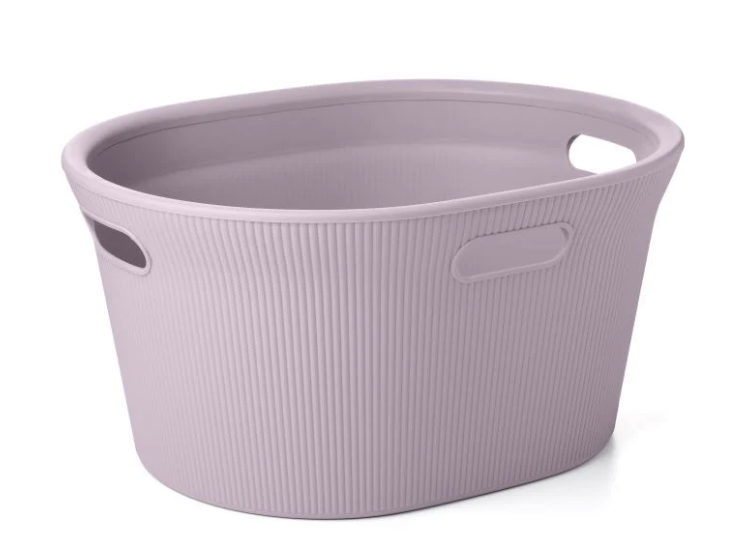 This superio laundry basket is made to store laundry or anything else you decide, its large size accommodates plenty of laundry (or towels!). This laundry basket comes in these different colors: White Smoke, Grey, Brown, Stone Blue, Lilac, Taupe, and White.
6. Cozy Earth has some amazingly SOFT bath towels, mats, and more that need to be on my list of products to update your bathroom! I LOVE these towels SO much. They are not only BIG but just so soft and absorbing! Turn your bathroom into the sanctuary of your dreams with the Cozy Earth Plush Bath Collection.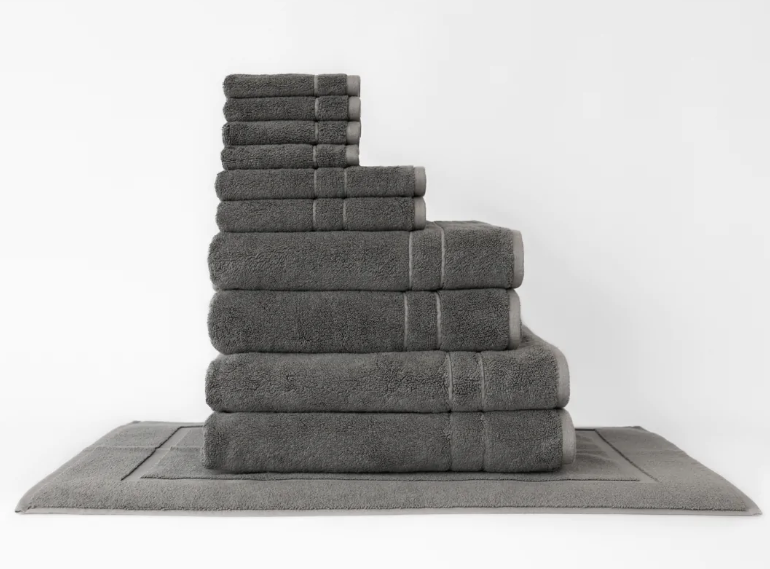 The Premium Plush Bath Towels are luxurious to the touch and ultra-absorbent. The bath towels come in a pack of two and are made Made from 40% Premium Viscose from Bamboo fabric and 60% cotton. I have these rolled up inside of that laundry basket I was telling you about, above! These towels come in several different colors: charcoal, creme, white, and light grey. You can check out the Cozy Earth Premium Plush Collection by clicking that link! Don't forget to check out their Premium Plush Bundle and their Premium Plush Deluxe Bundle and save!
7. Add a candle to your bathroom! I absolutely LOVE candles and I have one or two in every room in my home! I always have a lit candle and I just love the way it makes my home and every room feel… SO COZY!!! Now that fall is here and winter is not too far behind, I love having my home feel cozy and warm! LightScapes is one of my favorite brands of candles.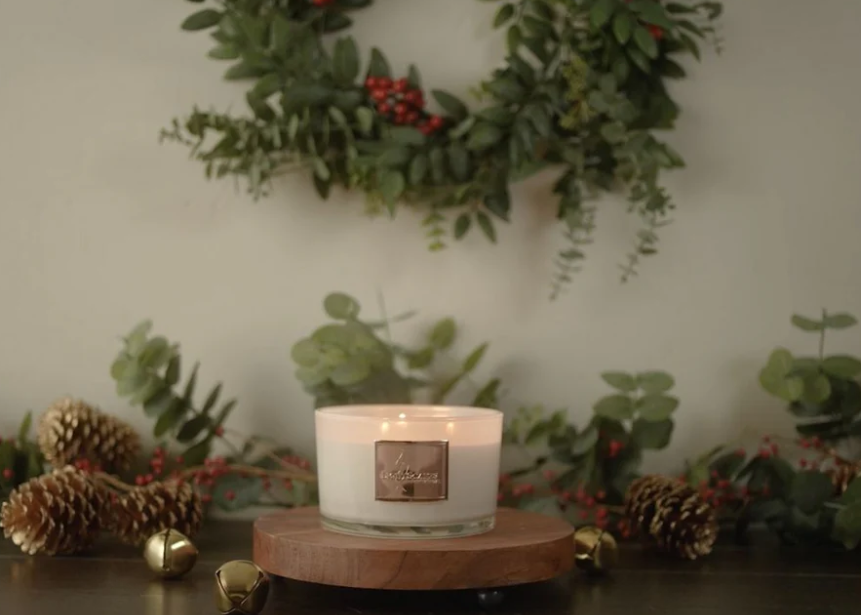 They sent me their Winter Forest and Harvest Pumpkin scented candles and you better believe I have one burning in my main bathroom on the countertop! It makes my bathroom so cozy and inviting! I love it! And, now my bathroom always smells amazingly good! These candles burn between 30-50 hours. They retail for $29 each.
Simple Ways To Freshen Up Your Bathroom
Below, are a few more suggestions on ways you can easily and inexpensively freshen up your bathroom in no time!
*Use a garbage can liner with a light scent, to ensure your bathroom stays smelling fresh! Just make sure to take the garbage out regularly so the scent doesn't become overwhelming! Duh!
*Put a scented candle from LightScapes on the back of your toilet. This way every time you flush, your bathroom will have a little boost of freshness!
* Hang fresh, plush towels like the Cozy Earth bath towels I talked about above, to give your bathroom a spa-like feel.
*Clean the sink, counters, and tub with fresh lemon for a nice, citrusy clean scent that lasts. Just squeeze fresh lemon in a spray bottle with water and spray on countertops, bathtubs, faucets, etc. and wipe clean with a cloth.
*Add some greenery! A plant or two (or even faux plants!) can really brighten up any space. We love these Faux Plants from Amazon – they look so real but don't require any upkeep!
Are you looking to update your bathroom? If you are, I hope my post about The Best Products To Update Your Bathroom has inspired you in some way!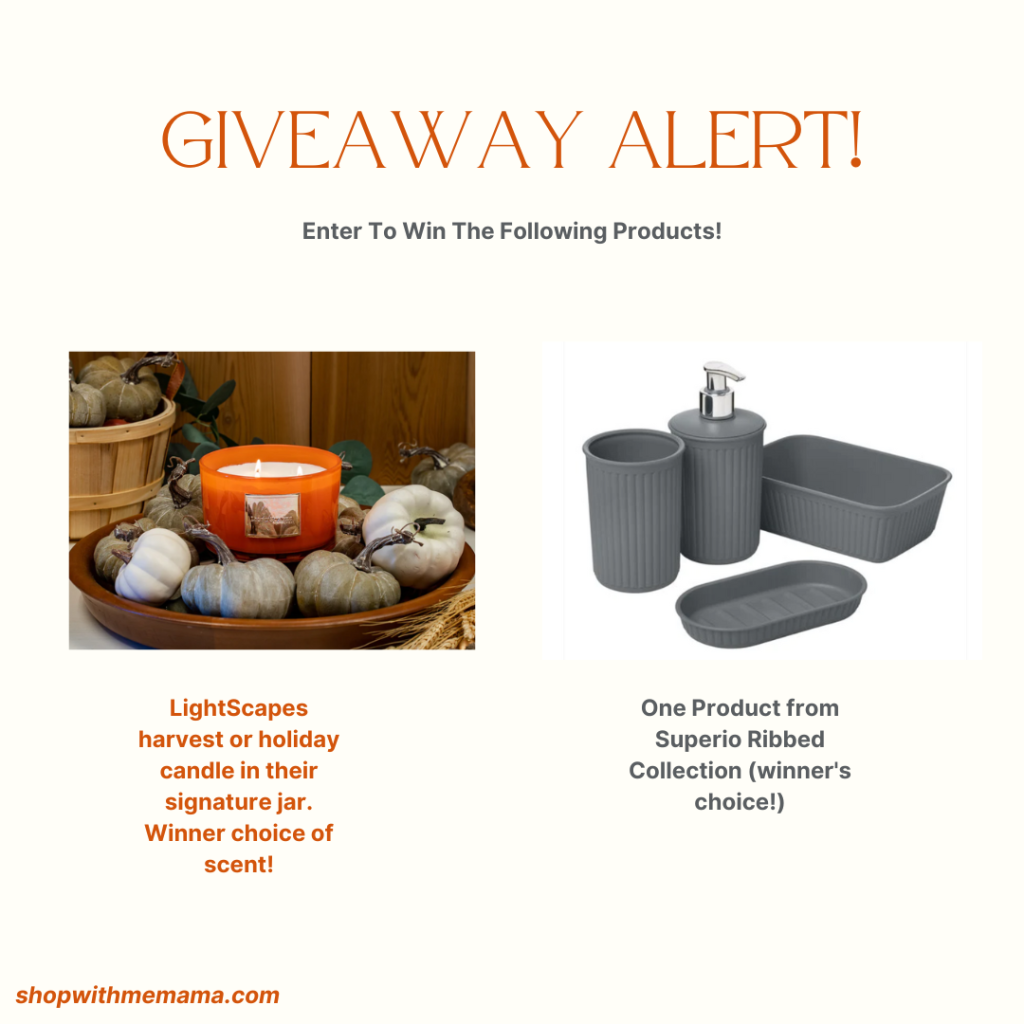 Giveaway Time! Yay!
Now, it is giveaway time! You know me, I always have to add a giveaway or two! One person is going to win the following products:
*LightScapes harvest or holiday candle in their signature jar. The winner can choose the scent!
*Product of the winner's choice from Superio Ribbed Collection!
Rules
The contest is open to US 18+. The giveaway will end on November 15, 2022, at 11:59 PM MT. The winner will have 48 hours to confirm their win after I email them, or a new winner will be chosen. I am not responsible for lost or stolen mail.