In this blog post, I will be talking to you about the Best Thanksgiving Plates! Thanksgiving is that time of the year to gather with friends and family to celebrate our blessings. And what better way to show your gratitude than with a beautiful table setting for your feast this holiday season (or any special occasions!)? It takes a lot of holiday planning, but you can absolutely pull off the best Thanksgiving dinner anyone has ever had! These dishes make it totally possible!
*This post includes my Amazon Affiliate Links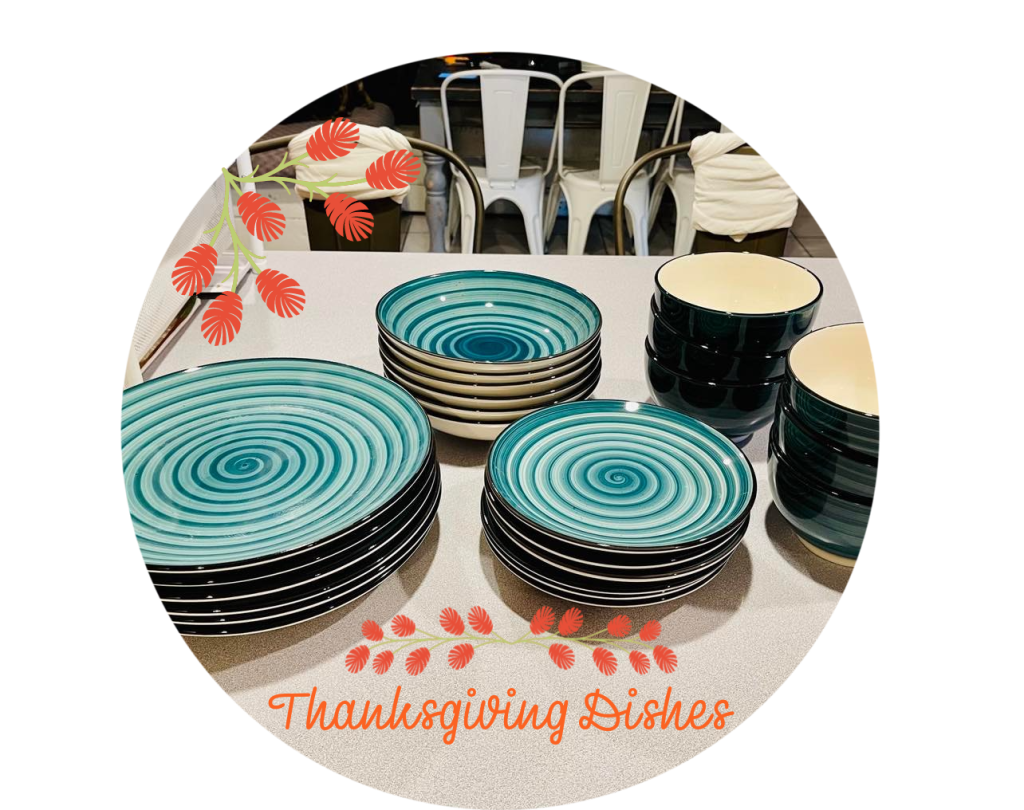 The Best Thanksgiving Plates For Your Table
This blog post will explore the Vancasso Bonbon Green Dinnerware Set, which features a full set with 24 pieces of handpainted porcelain stoneware that are perfect for creating an unforgettable Thanksgiving table setting that will surely take center stage so you can enjoy your turkey dinner in style!
Design & Quality
The Bonbon Green Dinnerware Set is made from high-quality porcelain stoneware with gorgeous fall colors (I love that green!). The set comes in a lovely green color with handpainted spirals that add a touch of elegance to any dining room table. No more drab and boring white plates! Spruce up the dining room table with this gorgeous tableware.
It's also strong and durable enough to withstand everyday use, so it won't easily break or chip over time. Plus, it contains no lead, making it safe for you and your family and a great option for a set of gorgeous dishes! Pair the thanksgiving plates with gold flatware and place cards, and a little white wine (a welcome addition!), and you got yourself a beautiful table setting for the whole family!
YUM!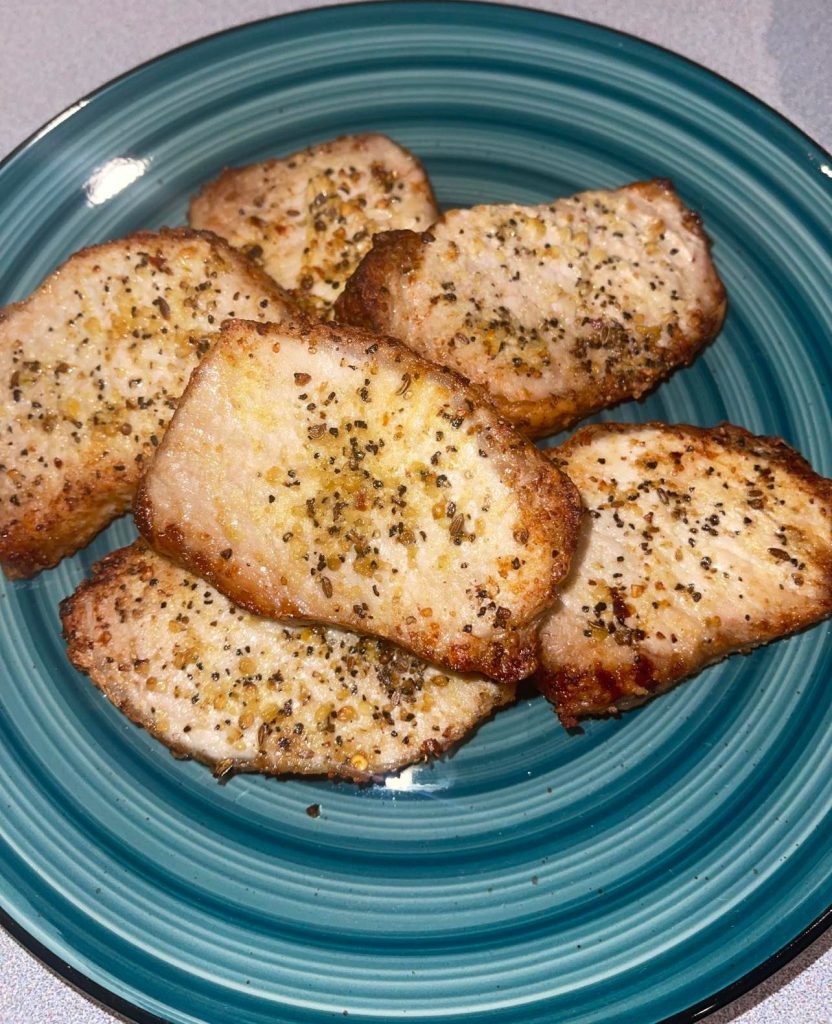 Convenience & Safety
The Bonbon Green Dinnerware Set is also very convenient and safe to use. It can safely be used in the microwave, freezer, and dishwasher, so there's no need to worry about cleaning up after each meal. Plus, it can hold up to 400 degrees Fahrenheit in the oven, making it perfect for baking holiday treats like pies or casseroles. You can also stack the plates and bowls on top of each other in order to save space when storing them away after each use.
Versatility & Style: Best Thanksgiving Plates
This set includes 6 dinner plates set of plates, 6 dessert plates, 6 snack plates, and 6 bowls – perfect for serving up all kinds of delicious dishes at your next Thanksgiving gatherings like cranberry sauce, sweet potatoes, green bean casserole, cornbread stuffing, sweet potato mash, garlicky green beans, (you know, comfort food!), and more!! The timeless style of this set will fit any home decor while adding a touch of sophistication and class. The Vancasso Bonbon Green Dinnerware Set is made from strong and durable porcelain stoneware that is both safe and stylish.
The thanksgiving dinnerware set's unique design and versatility make it an excellent choice for casual family dinners, as well as more formal occasions such as holiday gatherings and dinner parties. You can also mix and match the pieces with other sets in the Vancasso Bonbon collection to create a personalized and unique table setting.
Whether you're hosting a formal event or just having a casual get-together with family, this set will make sure that everything looks great on your table! I love the elegant plates! So beautiful!
When hosting your traditional Thanksgiving meal this year with your family members favorite dishes, it is a good idea to make sure you have the right tableware to make your guests feel special for your traditional thanksgiving feast. And certainly do not forget to plan that thanksgiving menu!
With 24 pieces that are easy to clean in the microwave and dishwasher, this set is perfect for creating an unforgettable dining table where everyone can enjoy their thanksgiving day turkey, oven-roasted turkey, best thanksgiving side dishes, (or whatever!). So don't wait – get your Vancasso Bonbon Green Dinnerware Set today! (See the price below!)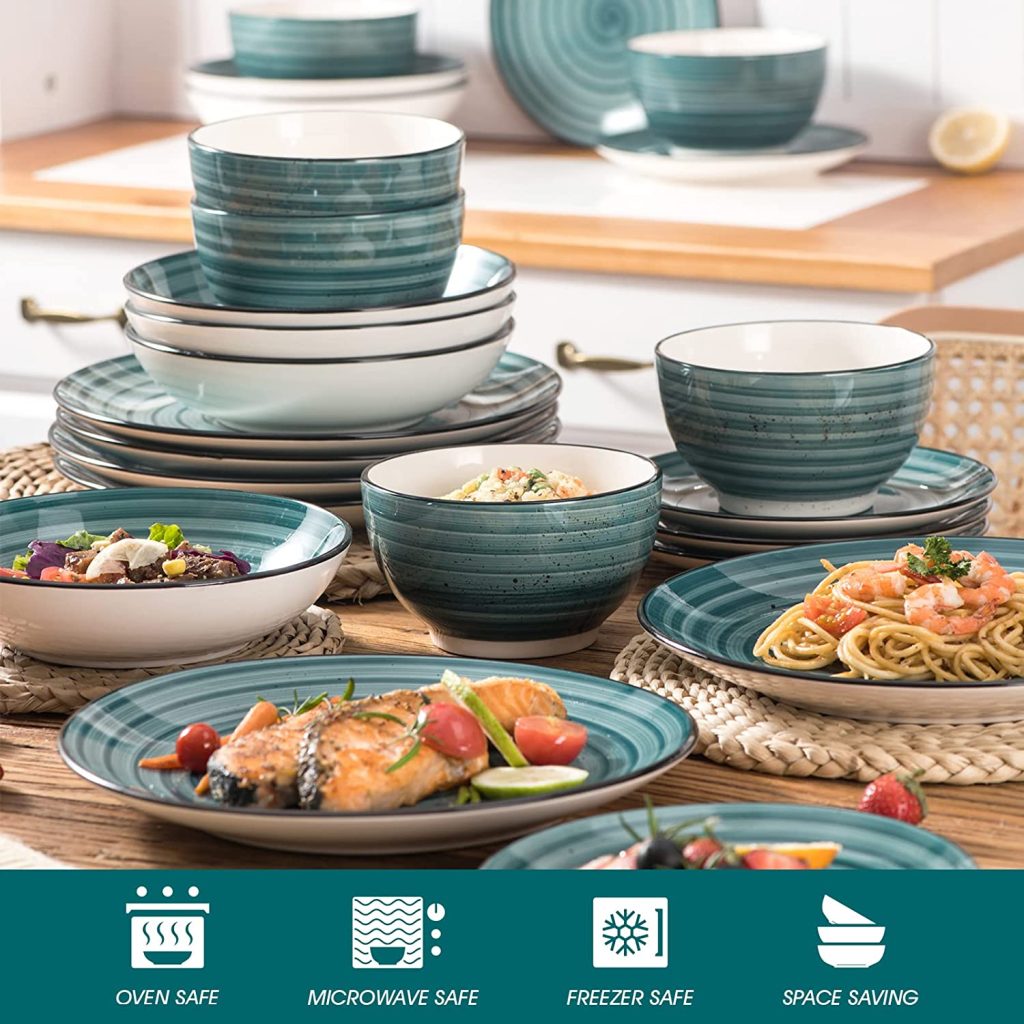 Price/Buy/Coupon!
The Vancasso Bonbon Green Dinnerware Set is an excellent value for the price at only $115.99 (pro tip is: don't forget to click the box for the $8 off coupon on Amazon!!). The set includes 24 pieces, making it a great investment for families and individuals who are looking for high-quality dinnerware that is both functional and stylish for meal time. The set's unique design and quality make it a great addition to any kitchen, and its durability ensures that it will last for many years.
If you do end up buying this dish set, do not forget to let me know in the comments below, AND don't forget to take pictures for social media! Everyone LOVES a good food pic on pretty dishes!