If you're looking for a handcrafted block print tablecloth for fall that's both beautiful and durable, you need to check out Saffron Marigold. Their Vanilla Glace ~ White Gold tablecloth is perfect for the fall season and is a stunning example of traditional Indian block printing techniques.
This sugar-white cotton tablecloth with its elegant shimmering gold veining is a stand out amongst classic white tablecloths.
*This post includes my affiliate links
Handcrafted Block Print Tablecloth from Saffron Marigold
Lavishly pair it with rich chocolate, caramel, latte, gold, or white dining accessories, and light some scented candles and fill your home with fall scents to really set the mood for a dreamy, romantic meal.
Made from 100% cotton, this tablecloth is both lightweight and sturdy. You won't have to worry about it tearing or wearing out after just a few uses. Plus, the cotton material makes it easy to clean and care for (which I LOVE).
The tablecloth design is a unique and eye-catching combination of white and gold. The intricate pattern on this printed cotton tablecloth is reminiscent of the beautiful mosaics found in Mediterranean architecture, adding a touch of elegance and sophistication to any dining room table setting.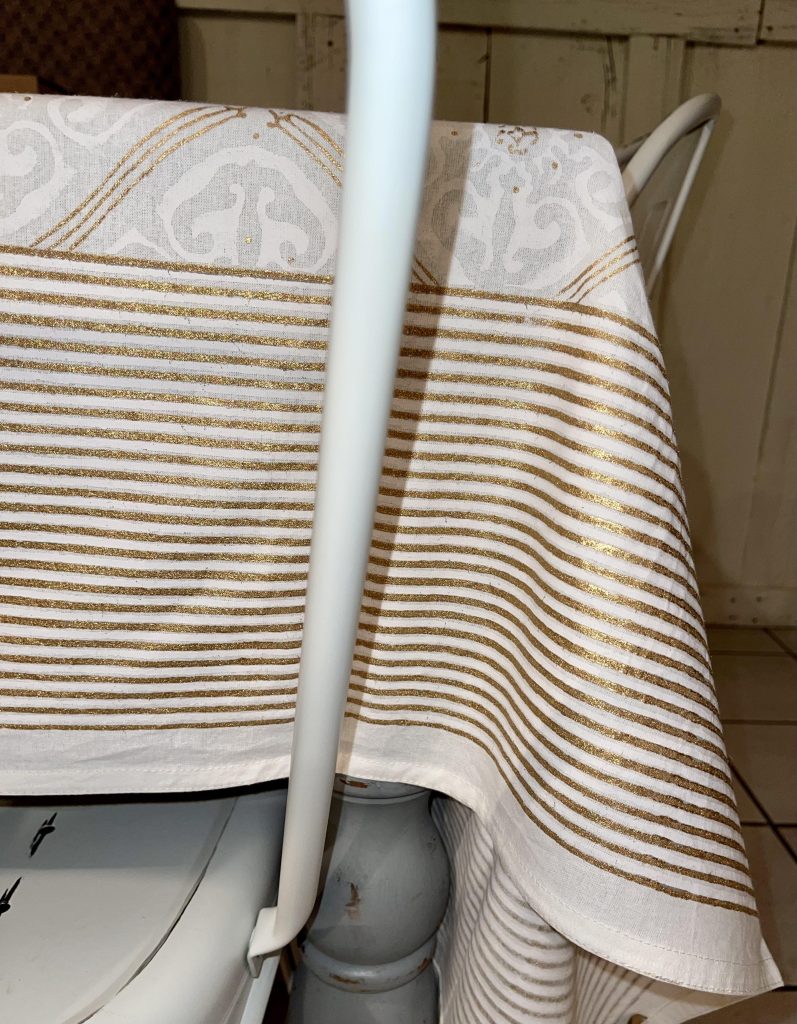 One of the best things about Saffron Marigold's tablecloths is that they're all handcrafted by skilled artisans in India. This means that each piece is unique and has its own character.
You won't find mass-produced, cookie-cutter designs here. Instead, you'll get a one-of-a-kind piece that's sure to impress your guests.
I absolutely love my hand block printed tablecloth from Saffron Marigold. It looks SO nice on my dining room table and it really makes the whole room look so fall-ish and cozy! It is quality made and I can tell it is going to last me a long time.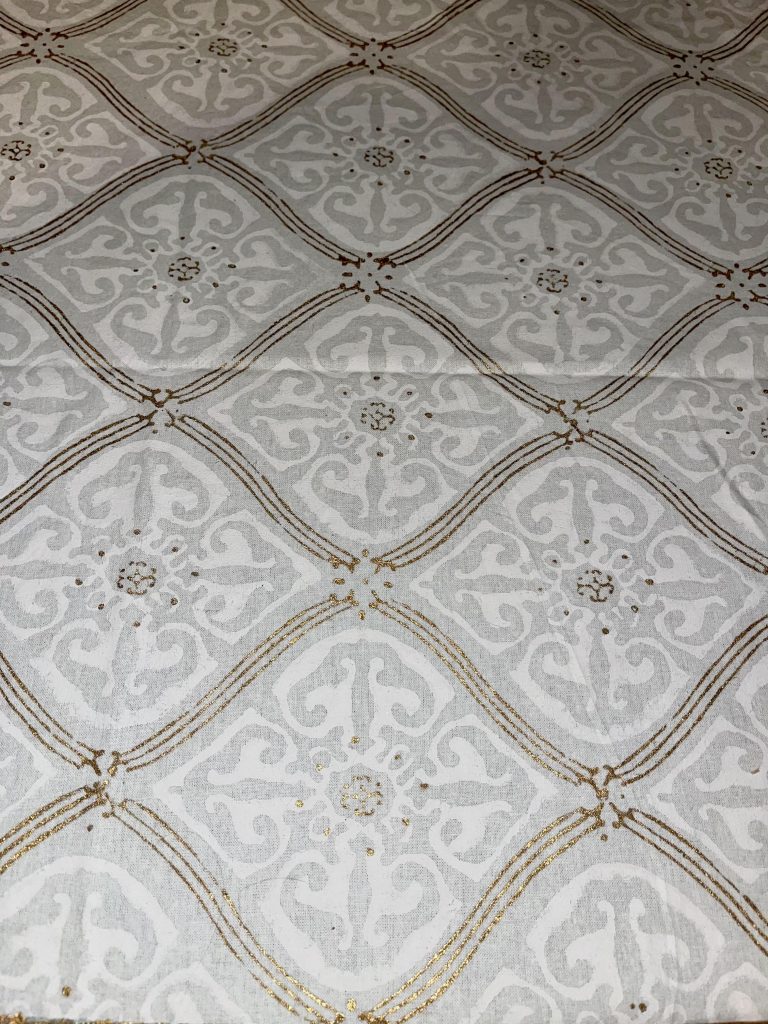 Handcrafted Block Print Tablecloth Product Description
*An ethereal white-on-white ogee print, with pristine white snowflake-like motifs elegantly ensconced within delicate strands of gold piping.
*Beautiful one-of-a-kind tablecloth, yet utilitarian.
*Washes stains well (spot cleaning advised for repeated use) and offers a stunning canvas for many memorable meals. This is also machine washable making it easy to clean and maintain. After washing it, hang it over a banister and pull on the edges to get any creases out. No need to ever iron it!
*Printed on preshrunk, superior grade, soft cotton, and finished with neat double-stitched hems.
*Hand-printed using intricately carved wooden blocks.
(Metal chairs you see below, are from Amazon.com)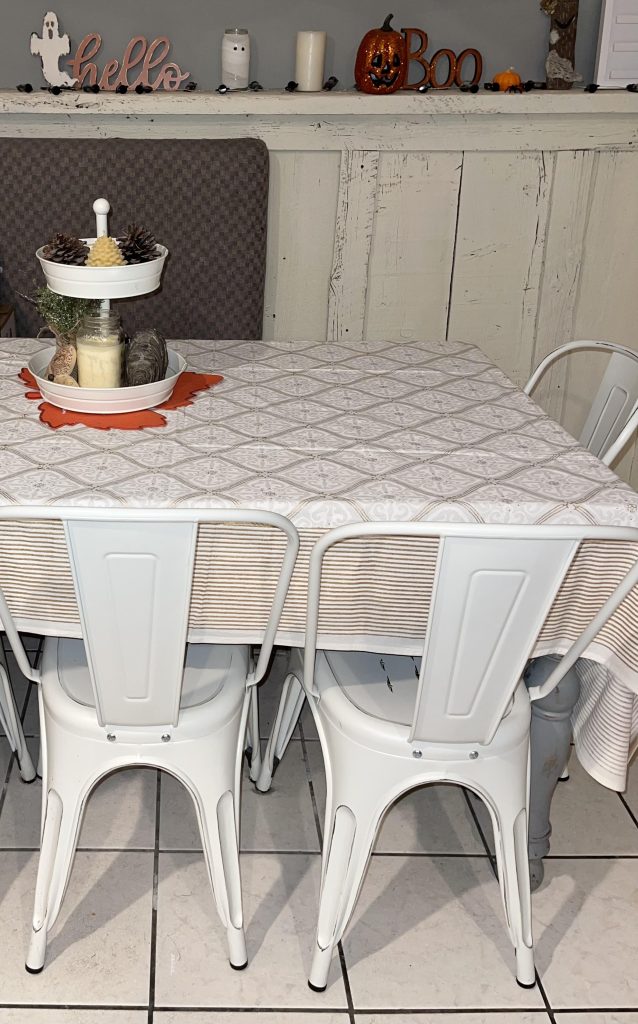 Why Do You Need A Printed Table Cloth For Fall?
Well, with fall here, I think that every table needs a beautiful print tablecloth! It not only adds so much to your table but it also makes the whole room more homey and comfortable.
A fall tablecloth is a great way to add warmth and coziness to your dining room or table setting during the autumn season. It can help create a festive and inviting atmosphere for family gatherings, holiday dinners using your best Thanksgiving plates, or even just a cozy night of playing board games.
A fall tablecloth can also protect your table from spills and stains, making it easier to clean up after meals. A fall table cover can be a fun and easy way to update your home decor for the season, without having to make major changes or spend a ton of money.
Why Buy A Table Linen From Saffron Marigold?
There are several reasons why you should consider buying block print tablecloths from Saffron Marigold:
1. Handcrafted: All of Saffron Marigold's tablecloths are handcrafted by skilled artisans in India. This means that each piece is unique and has its own character, making it a one-of-a-kind addition to your home.
Although minor variations may arise, connoisseurs of this craft view them as evidence of the human hand, imparting a distinctive character and charm to each creation.
2. High-Quality Materials: Saffron Marigold uses high-quality materials, such as 100% cotton, to create their tablecloths and table linens. This ensures that they are both durable and easy to care for, so you can enjoy them for years to come.
3. Unique Designs: Saffron Marigold's tablecloths feature unique and beautiful designs that are inspired by Indian art and culture. From intricate block prints to bold colors, patterns, and floral block print, there's something for every style and taste.
4. Versatility: Saffron Marigold's tablecloths are versatile and can be used for a variety of occasions, from casual family dinners to formal events. They can also be used both indoors and outdoors, making them a great investment piece for your home.
5. Ethical and Sustainable: Saffron Marigold is committed to ethical and sustainable practices, from using eco-friendly dyes to supporting fair trade and empowering women in India.
There are so many wonderful and positive reasons why you should purchase a gorgeous one-of-a-kind block printed cotton tablecloth from Saffron Marigold! We sure love ours! And I love the story of how these block print cotton tablecloths are made!
The tablecloth I received comes in different sizes; 70 x 90, 70 x 108, and 70 x 120.
Matching Linens In This Collection
They have so many different MATCHING things in this gorgeous collection! Check out the block print linens below! I NEED them ALL…

Window Valance
Curtain Panel
Kitchen Curtains
Dinner Napkins
Table Placemats
Table Runner
Round Table Cover
Duvet Cover (so pretty!)
Luxury Euro Sham
Jaipuri Razai Quilt (gorgeous!)
Bedspread
Pillow Sham
Throw Pillow
Shower Curtain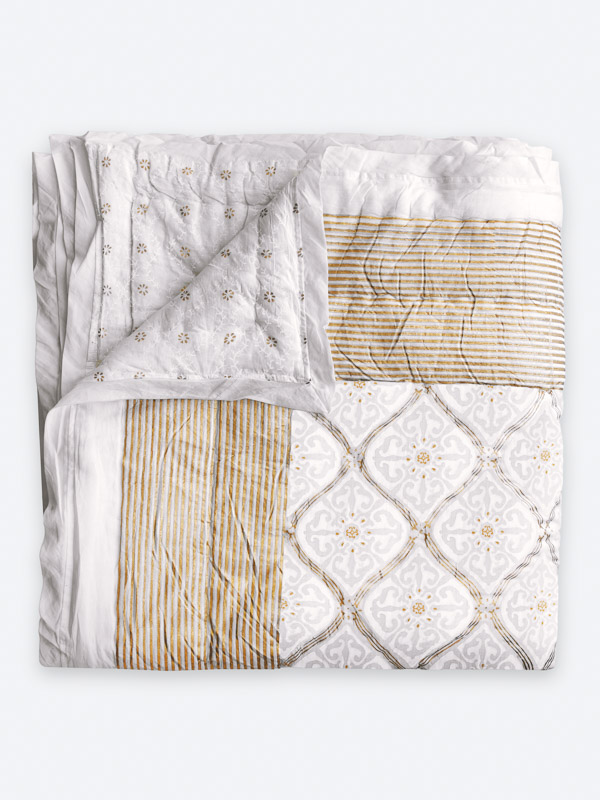 A Video Of The Making of Block Printed Linens
Explore the inspiring journey their artisans must make to bring these collections to life. Watch the video below to see it in action! So inspiring!
Learn About Block Printing
Every Saffron Marigold block print comes to life thanks to this heritage craft. Their collections of fair trade block printed linens have stories to tell within their folds. Journey with Saffron Marigold to the origins of block printing in India and see how they create a block print on fabric!
Block printing refers to the printing technique of pressing and stamping fabric with carved wooden blocks filled with color. "Hand blocked" or "hand block printing" are other terms that refer to block printing. Learn more about block printing and the steps it takes to do this by visiting their page about block printing, here!
It is really interesting to learn all about how it is done and the steps they take (there are SO many steps!) to make these gorgeous block-printed linens!!!
Buy
You can purchase this gorgeous one-of-a-kind handcrafted block print tablecloth on their website OR on Amazon.com. The price starts at $100 and goes up from there (depending on the size you need for your table, duh!).
Win!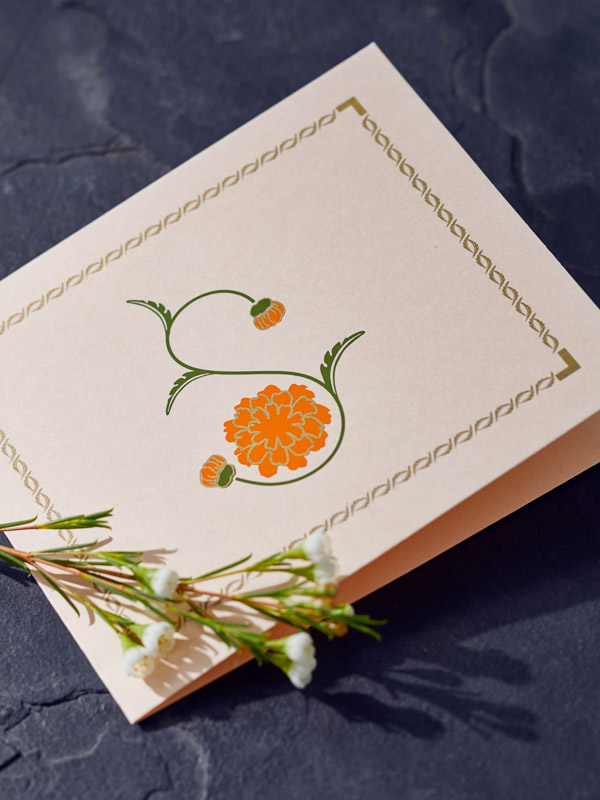 One lucky person is going to win a $100 eGift Card to Saffron Marigold so they can buy a gorgeous one-of-a-kind tablecloth or linens too! Yay!
Rules
The contest is open to US and Canada, 18+. The giveaway will end on October 16, 2023, at 11:59 PM. I am not responsible for lost or stolen mail.