Congrats to Jill Myrick
*Product will be received. 

One way you can spruce up your home and add great, personal touches, is with picture frames. I like picture frames that say something on them, like the Family Collage Wall Decor, from Family Comforts.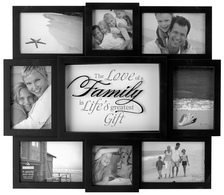 It says "The Love of a Family is Life's Greatest Gift" in the center and around it, you can add photos of your family! How wonderful is that? And, every time you look at it, you will remember how important your family is to you and the good memories you have all shared!
Family Comforts also has many other great products to choose from. Stuff for your family game room, pets, baby, electronics and much more. You will just have to take a peek for yourself!
Buy
You can purchase the Family Collage Wall Decor online at http://www.familycomforts.com. It retails for $49.99.
Win
One person is going to win the Family Collage Wall Decor! Yay!
How?
Easy! Just use the RC form below. GL!