Picking out the perfectly sized and high-quality furniture for your child's bedroom is never an easy task. Think about what type of wood will match your flooring, what furniture color is the best for your bedroom and what furniture pieces are kid-friendly. All kids love colors, so don't forget to add some colorful accessories which will inject personality into the bedroom. It is not impossible to transform your bedroom into an oasis for relaxing and a source of fun activities for the kids. Spice up the process of furnishing the bedroom with our Family Shopping Guide For A Fun Kids Bedroom.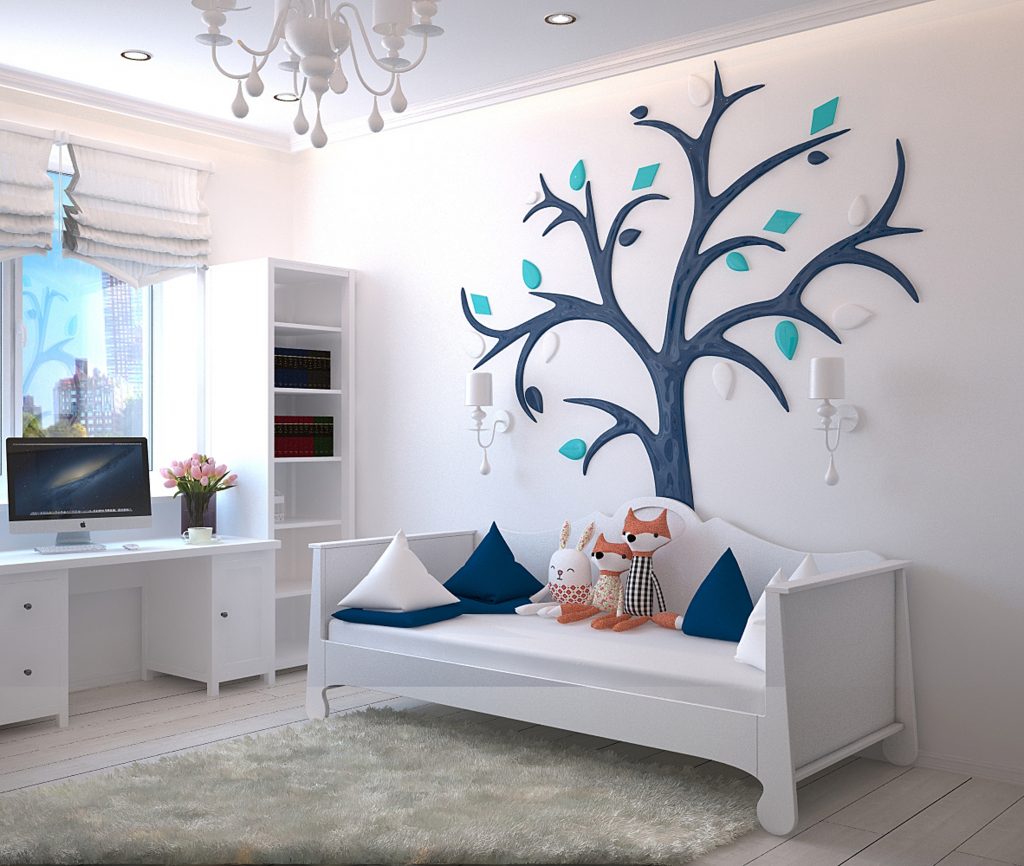 Family Shopping Guide For A Fun Kids Bedroom
Fluffy Pillows
Your kids and you will adore the softness and the modern look of these pillows. You can put them on your bed or on the sofa in your bedroom and style them in numerous ways. Choose the color that goes well with your bedsheets, carpet or bed base. If your bedroom is full of vibrant colors, the kids will love spending time there.
When it comes to games you can play with your kids, you can all spend some quality time together as a family and make a pillow fort or engage in a pillow fight.
Shaggy Rugs
These rugs are easy on the eyes and are a great complement to modern bedroom aesthetics. If you already have fluffy pillows, a fuzzy rug is a great addition which enhances the overall bedroom look.
Its design goes well with industrial bedroom design and wooden furniture pieces. Your kids will snuggle into the softness of the carpet and make it their favorite spot for relaxing. Just know that if the rug color is white, it will get dirty two or three times faster than a colored one.
Wake Up and Make-Up
Makeup tables are a perfect mixture of a useful and aesthetically pleasing furniture piece. Not only do they contain extra storage space, but they also have a mirror and provide extra seating. You can use it on a daily basis and store your bedroom and makeup essentials in the drawers. Furthermore, you and the kids can play dress up games in front of the mirror or have a blast trying out pretend makeup kits.
Ecosa Bed Base
You also have to think about the comfort of your bed. To ensure quality sleep for you and your kids, bed features that will satisfy your needs are definitely a combination of a premium, enhanced version of the Koala bed base and a mattress topper. After a tiring day at school and playing all day, softer mattress and a stable and supported Ecosa bed base will help your kids fall asleep faster and wake up refreshed.
Daring Lava Lamps
Lava lamps are a perfect example of contemporary lighting which is a great way to bring your bedroom to life. Shape-changing lamps are like art and design combined. For instance, a minimalistic chrome lava lamp with a golden glow can fit into the industrial bedroom decor. It can look both luxurious and casual and your kids will love their hourglass shape and sleek design. You can also get one of these for the kids' room. It will most likely be the highlight of their bedrooms.
The great characteristic of these furniture pieces is that when your kids are all grown up, you can still make use of them. This Family Shopping Guide For A Fun Kids Bedroom contains furniture that blends into a modern bedroom for families that have kids.
What are the best ways to make your room more fun? Is it possible to make a bedroom kid-friendly? Tell us all about your experience in the comment section below.