In this post, we will discuss a few must-have Fashion Essentials for Spring and Summer! As we gear up for spring and summer, we're taking note of what's in the forecast. And, lucky for us, the forecast calls for plenty of fresh air, sunshine, and more time outside. With that in mind, we're looking ahead to spring and summer 2023 with a fresh set of ideas. We're sharing our top outfit ideas for spring and summer, from the latest trends to must-have items.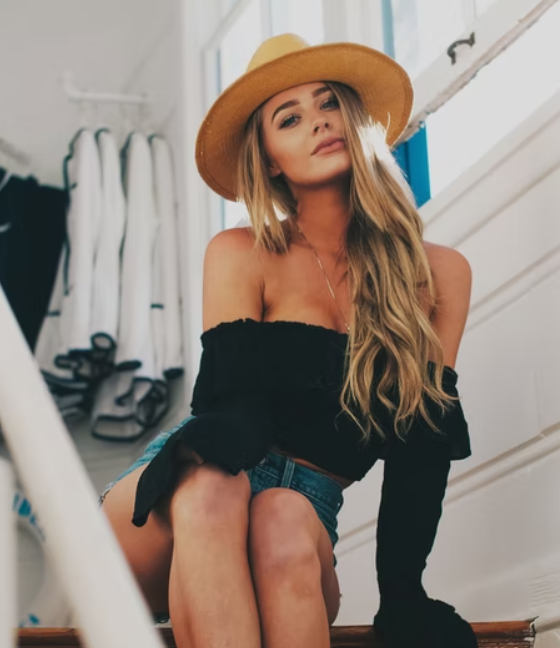 Fashion Essentials for Spring and Summer 2023
From chic sundresses and breezy cardigans to maxi dresses and cropped trousers. After all, what's better than dressing for the season? Check out these outfit ideas for spring and summer below for more inspiration.
Bandeau Necklines
With the weather being more comfortable, we're seeing more and more people wearing bandeau necklines. And with its effortless style, it's a great way to stay cool during warmer months. Bandeau necklines also make great layering pieces. Wear a bandeau top under a blazer or a shirt dress for a casual look.
Or layer it with another bandeau top and jeans for an easygoing day look. We love a good bandeau top that is easy to wear and looks great with any outfit this spring and summer.
Knee-High Socks
I have to say I absolutely LOVE knee-high socks! They look SO dang cute peeking out of the top of boots or just to wear with a cute mini skirt or skirt! LOVE. Over at Love Classic, they have some seriously cute socks!!
When it comes to adding a unique flair of style and sparkle, Love Classic knows just the way! Step into their signature collection for any season with eye-catching knee-high socks. These fashion essentials are not only seen in Bella Hadid's effortless wardrobe but can also be paired up with trendy sweaters and cardigans from its emerging apparel line – perfect against cooler temperatures during winter or summer days.
Get creative as you accentuate your moods & occasions – no matter if it is thigh-high or athletic – this selection has something special for everyone! You can check out the Love Classic collection of adorable and stylish knee-high socks on their site!
I received some really cute knee-high socks from Love Classic and couldn't be happier with them!
Waistcoats
We love this new trend of wearing a waistcoat. And we're seeing it everywhere. Whether worn under a blazer or tucked into a suit, we think it makes a great addition to any outfit. We love the idea of wearing a waistcoat with tailored jeans and simply tucking in your shirt for an easygoing look. It's also perfect for the summer months when you want to keep cool but don't want to dress in layers and layers of clothing.
Crochet Bags
We're loving this spring and summer trend of wearing crochet bags. A great way to add a bit of a pop of color to your outfit, these bags are easy to wear and come in various styles. Whether you opt for a classic cross-body or one with a shoulder strap, you can easily carry it with you all day long. We love the idea of wearing one during the day or bringing it along when you're on the go. Crochet Bags also make great gifts for any occasion.
Vintage-Style Shades
The seventies were all about pastel colors and big hair, but there's no reason not to embrace the bright palette when it comes to summer. Whether you want to go retro or glam, we've got shades. Try a bright coral shirtdress with a popsicle-pink skirt for a fresh take on the 70s look. Even if the 70s isn't your scene, a nice new pair of sunglasses of any style will prove essential. Just make sure to buy a pair that provides adequate UV protection.
Colorful (Faux) Leather Jackets
So many of our favorite fashion bloggers are wearing these trendy faux leather jackets. Now, you can get the same look without shelling out the cash for a real one! We love this trend because it's easy to wear and goes with anything. We love pairing our leather jackets with denim, but they can even work with certain dresses. They're also great for layering during the summer months when you want to stay cool but don't want to dress in layers and layers of clothing.
Cutouts
We love this trend of wearing cutouts. It makes a great fashion statement and is so easy to wear. Whether you go for a full-on cutout or just a bit of a peekaboo, it's still super flattering and easy to wear. We love the idea of pairing your cutout with some fun accessories like statement earrings, a cute belt, or even some stylish sandals. Cutouts also make great gifts for any occasion.
Easy, Breezy Linen
Linen is a great way to add a bit of texture to your outfit. It's light and breezy, making it easy to wear. We love the idea of pairing a linen dress with some colorful sandals or wedges for an easy look that's perfect for the warmer months. Linen also always works as a great cover-up when you're going out or want to dress up in the evening. Pairing linen with a statement necklace or bracelet is a great way to add some color and texture.
There were so many new trends during this era, so we can't possibly cover them all here. However, we hope that these trends will inspire you to add some fun and unique pieces to your wardrobe. I hope you enjoyed my post about Fashion Essentials for Spring and Summer 2023! Leave me a comment below, if you have anything you want to add! Thank you!
Win!
One lucky person is going to win a pair of Love Classic Socks (winner's choice of style/color!). Yay!
Rules
The contest is open to US 18+. The giveaway will end on February 14, 2023, at 11:59 PM MT. The winner will have 48 hours to confirm their win after I email them, or a new winner will be chosen. I am not responsible for lost or stolen mail.