In this blog post, I will show you 11 cute and affordable Shein outfits under $65! If you have shopped at Shein before then you KNOW they have very affordable clothes, trendy clothing, and accessories! We really like this clothing brand!
My daughter and ALL my nieces (I have quite a few!) are constantly getting their 'Shein haul' and love them! And, I do not ever have to feel bad for buying my daughter stuff from Shein because it is SO inexpensive! It is so much fun to shop online at Shein and we always find the cutest fashions for dirt cheap! And, we are really good at finding the best shein finds! See what I mean below! There are plenty of good choices on my list.
*This post includes my affiliate links
Scroll All The Way Down This Post To See My Nieces, Jenna & Macey, Model Their Top Shein Outfits!
(Pssst…You don't want to miss them!!)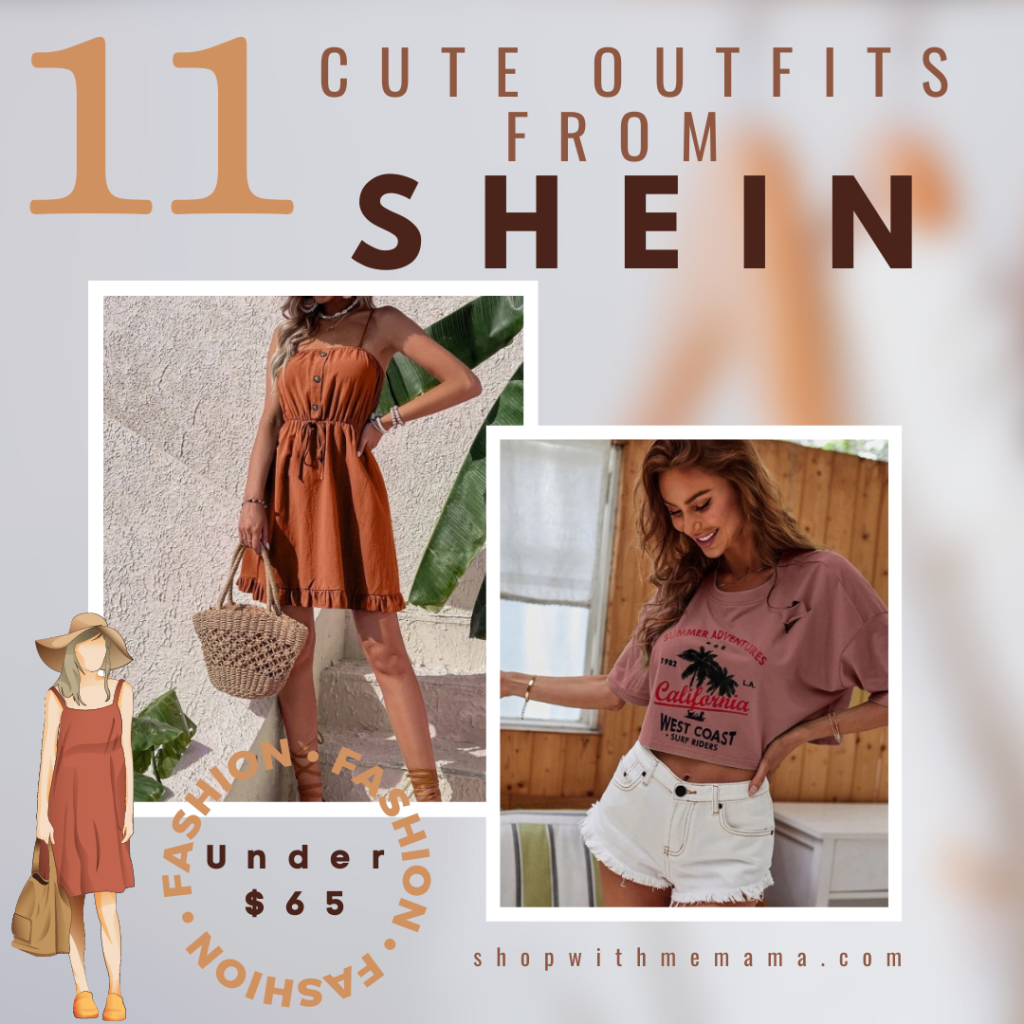 Take A Peek At 11 Cute And Affordable Shein Outfits Under $65!
Talk about a mother-and-daughter bonding time! Ha! We both love shopping the different outfits and we both love cute clothes from Shein. It is definitely a win/wins for us! We will usually shop a big shopping haul once a month or whenever there is a special occasion! The most important part of our bonding time is the thrill we get from shopping TOGETHER!
My daughter LOVES a cute crop top, floral dress with cute patterns (they have so many cute dresses!), and denim jackets while I love their tank tops, shein dresses, white tee, and affordable fashion! You know, casual mom clothes that are comfy! Shein has so many outfit ideas it is crazy! I think that their stuff has been, for the most part, good quality pieces. The fit type of the clothes has always been good for us.
Okay, so let's check out those cute and affordable Shein outfits I found for under $65!! I think there are ONLY actually TWO outfits below that are around the $65 mark. The rest are around $45! So crazy because these outfits are CUTE and include EVERYTHING to make a complete outfit including Shein shoes! So many affordable options to choose from.
Cute Shein Outfits, Here We Go!!!
1. Oversized t-shirt, black denim shorts, and skater tennis shoes! This outfit screams 'come on warmer weather'!!!! And I scream it too! Yes, let's bring out those warmer days! I love this casual outfit for spring or summer!
Tee Shirt: $10.49
Black Denim Jean Shorts: $15.99
Hat: $3.50
Shoes: $20.87
Total for Outfit below: $47.35 (minus sunglasses and handbag)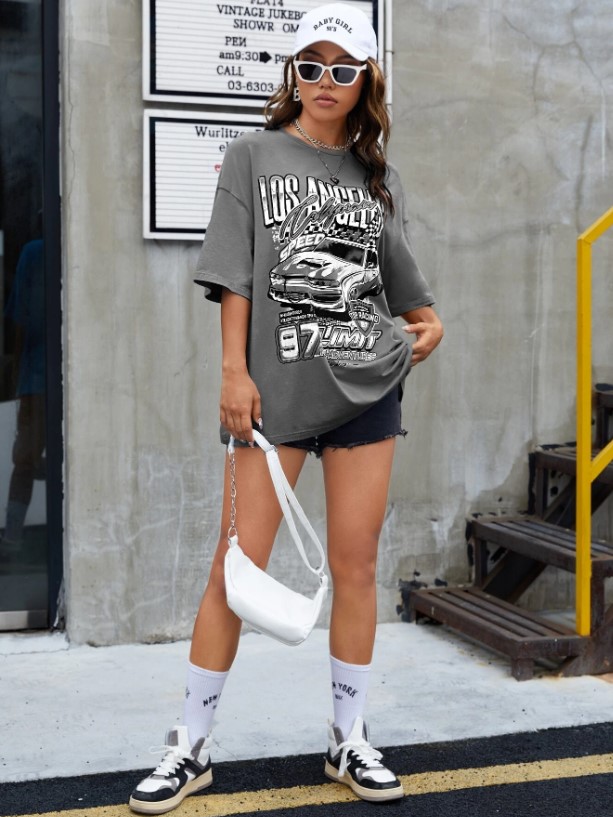 2. This comfy sweater, black skinny pair of jeans, and leopard mules are to die for! You can easily wear this cute shein outfit during the day to work, school, or a date night! So many places to wear this cute and stylish outfit! I LOVE this lantern sleeve drawstring ruched front sweater! Of course, I don't love it for ME but I love it for my daughter and she loves it too! Now she wants this, sigh! I should not have shown her this outfit!
Sweater: $14.99
Black Skinny Jeans: $19.49
Leopard Print Mules: $17.10
Total for Outfit below: $51.58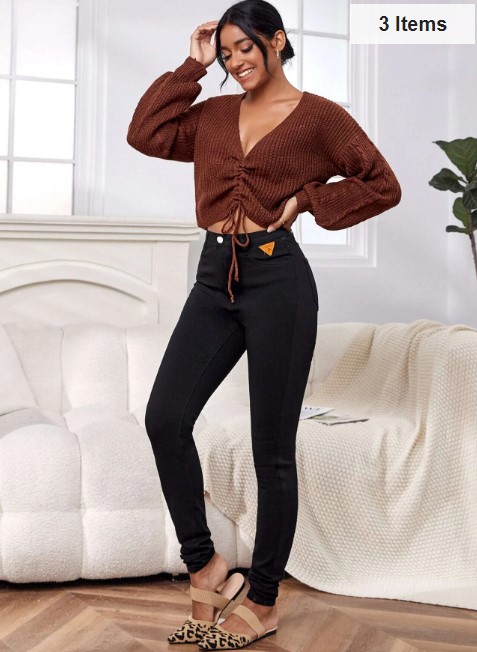 3. Long sleeve drop shoulder sweater, tie-dye skinny jeans, and combat boots are totally MY style! I really love this look! You could wear this look out to dinner, work, out with friends, or whatever! So comfy looking (comfort is a must for me!) and so stylish! LOVE. This would be great for your fall fashion wardrobe too! You could even add a trench coat to this look in the colder months!
Drop Shoulder Sweater: $14.99
Tie Dye Skinny Jeans: $23.49
Black Combat Boots: $23.48
Total for Outfit below: $61.96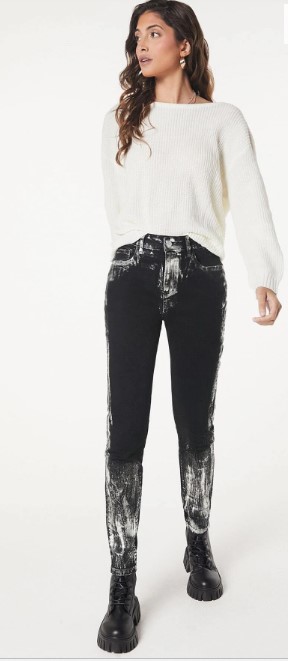 4. Lettuce trim tank top, belted shorts, and sneakers! Can it get any more basic than this?! And, look how STYLISH this whole outfit is! I know I wouldn't wear it but my daughter sure as heck would! And, she approves of it! You can't go wrong with an outfit THIS cute.
Tank top and shorts: $16.99
Sneakers: $18.78
Sunglasses: $4.80 (for TWO pairs!!)
Total for Outfit below: $40.57!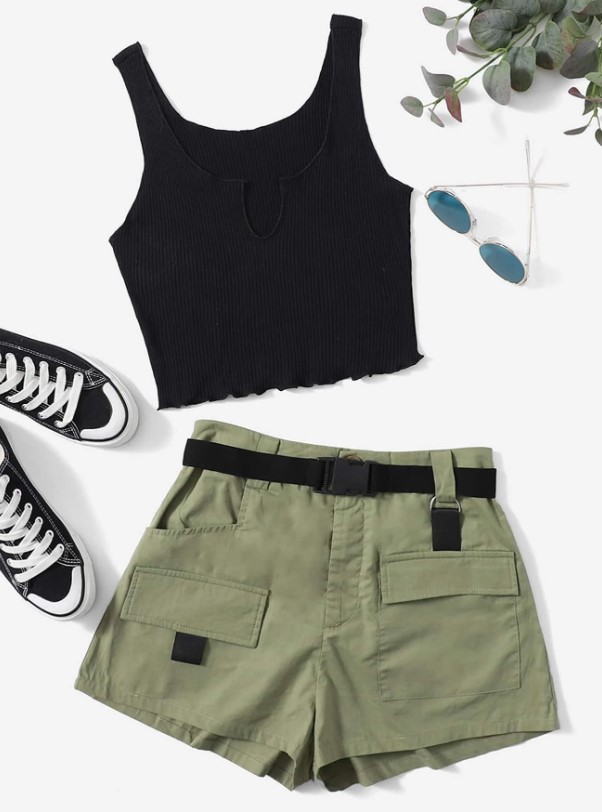 5. Crop top and joggers! Talk about wanting to wear comfort because this outfit is ALL about comfort! It comes in 14 different colors! I wish the tank wasn't cropped or I would definitely be wearing this ASAP! My daughter LOVES this whole outfit and I see it in her closet in the very near future… It is so sporty and would also be a great outfit to wear while working out at home or in the gym!
Cropped tank top and joggers: $18.99
Shoes: $28.50
Total for Outfit below: $47.49!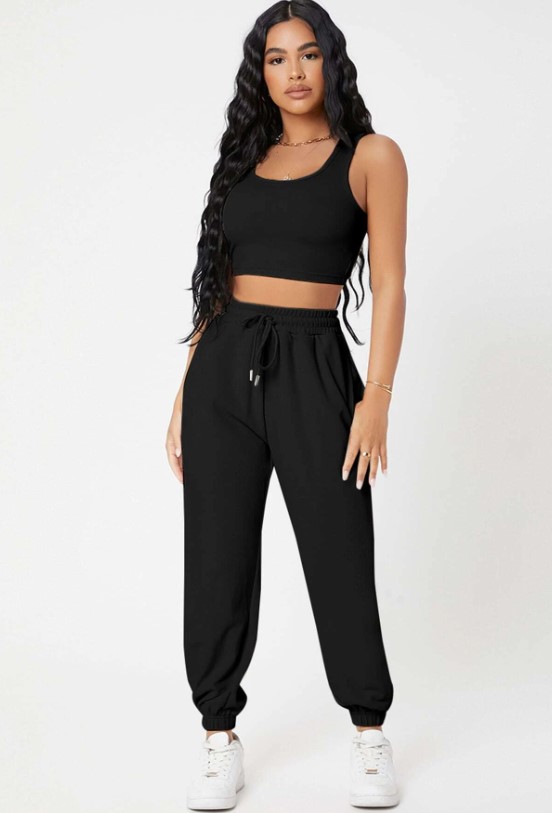 6. Graphic tee, blue denim shorts, sporty bag, tennis shoes, and sunglasses! Ya, baby! Sign me up because I WANT it ALL. Super cute and really stylish outfit for this coming spring (if it would EVER get here!) and/or summertime!
Graphic motorcycle tee: $5.49
Blue denim shorts: $13.49
Sporty bag: $6.00
Tennis shoes: $18.80
Sunglasses: $3.80
Total for Outfit below: $47.58!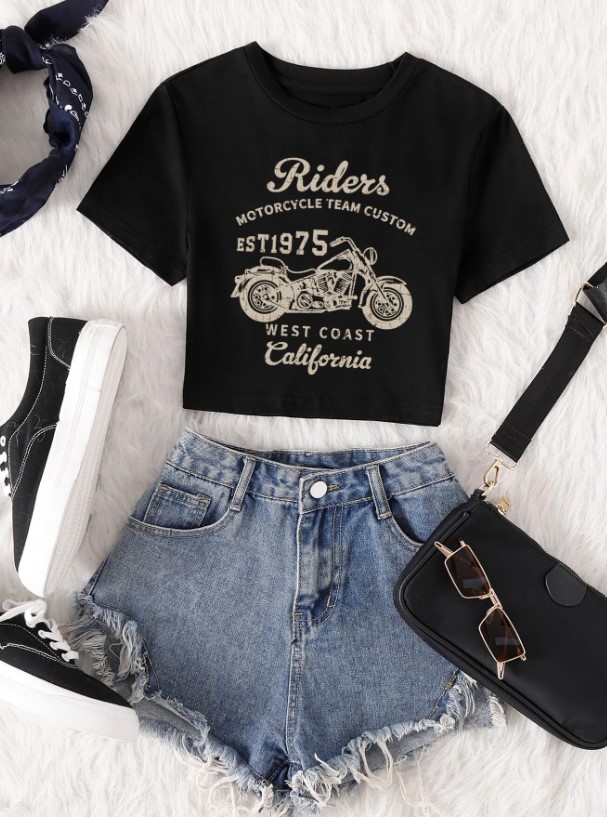 7. One-shoulder tank with striped shorts, a straw bag, cute sandals, and sunglasses! Talk about a cute summer outfit! My daughter has her eyes on this WHOLE outfit and I just can't even!
One-shoulder rib-knit tank top with striped shorts: $14.49
Straw bag: $12.40
Heeled strappy sandals: $15.50
Sunglasses: $3.80
Total for Outfit below: $46.19!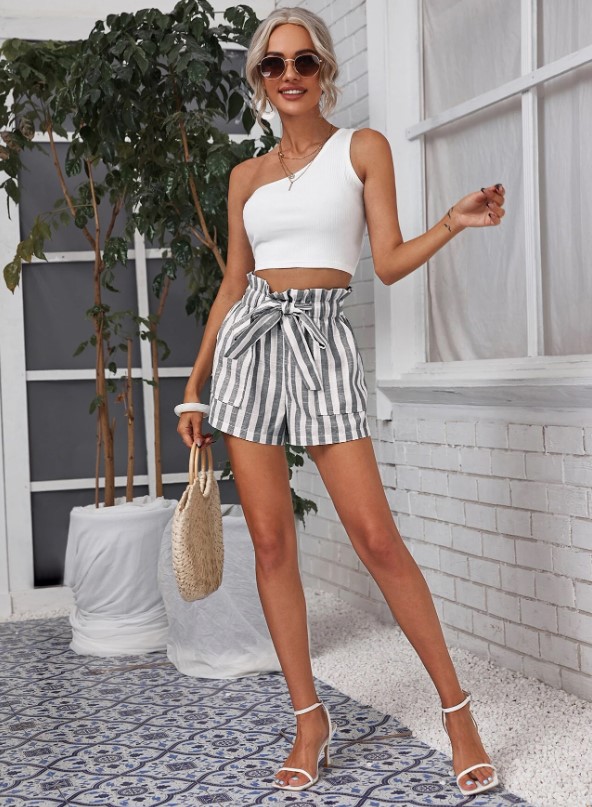 8. Ditsy floral print split-thigh cami dress with sandals is adorable! You could literally wear this summer dress anywhere! It is flowy and lightweight and perfect for the hot weather!
Cami dress: $13.49
Chunky heeled sandals: $22.40
Layered necklace: $1.00
Total for Outfit below: $36.89!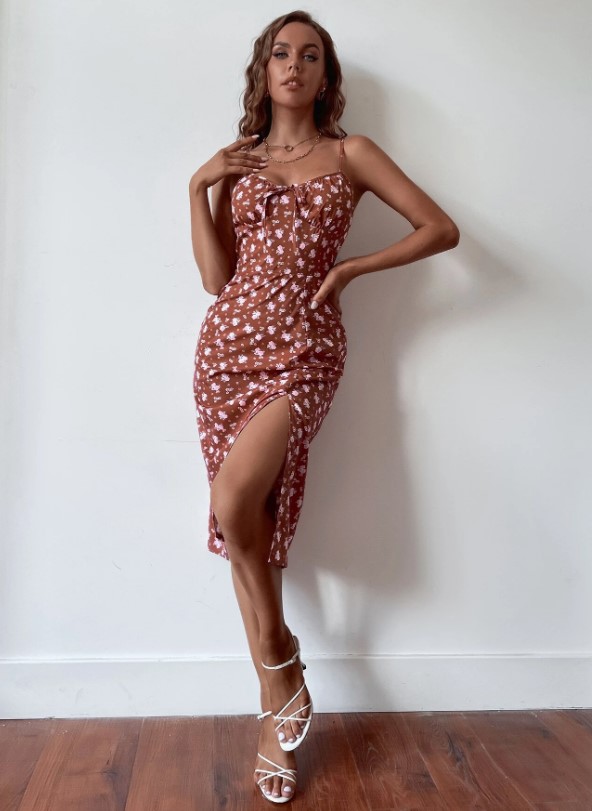 9. Drawstring jumpsuit! I couldn't post this roundup without featuring a cute jumpsuit! These are so trendy and I can see why! You can dress them up or down and pair this jumpsuit with some jewelry, a bag, and a fun hat! LOVE.
Drawstring Jumpsuit: $16.99
Wide brim hat: $6.40
Bag: $19.90
Shoes: $21.10
Total for Outfit below: $64.39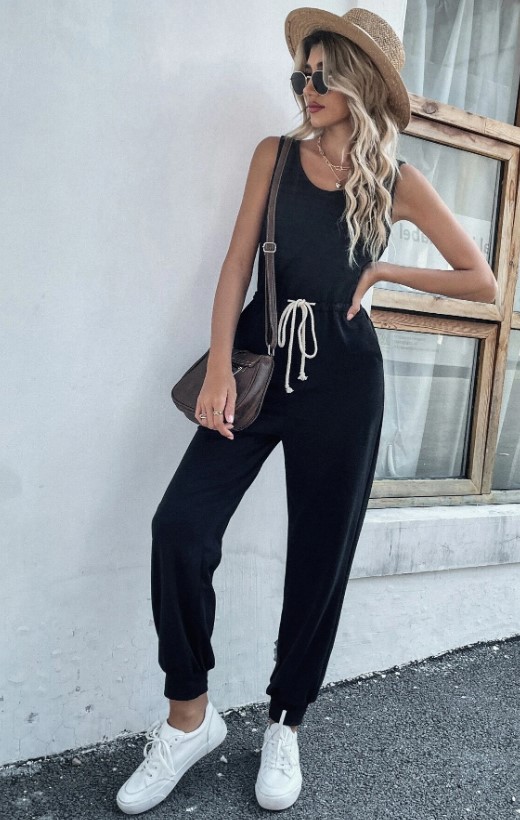 10. Graphic letter crop tee, white denim frayed shorts, shoes, and bracelets! This would be my comfortable outfit to wear. My daughter OR I would love this cute summery outfit from Shein! However, I would have to get this graphic tee in an extra large so that it wasn't cropped on me. I love the little holes in this tee too! Makes it 'punk' looking! Plus, you can wear it anywhere!
Graphic letter cropped tee: $8.00
White denim shorts: $11.99
White sneakers: $26.80
Bracelets: $2.30 (for FOUR)
Total for Outfit below: $49.09!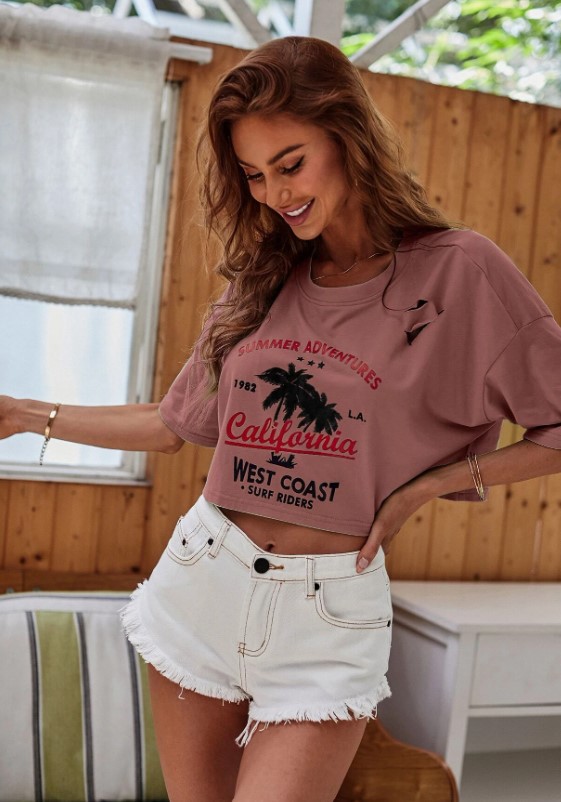 11. Knot front cami dress! This one I saved this one for last because it is SO cute! I absolutely LOVE this cami dress so very much and NEED it desperately in my closet so that I can wear it anytime I, please! Even if it is below zero here still! I do not care! I just need it. Wear it with some cute sandals or tennis shoes, a nice necklace, dangle earrings, and some fun bracelets and you will be ROCKING this look! Who will purchase this for me?
Solid ruffle hem knot front cami dress: $12.99
Straw hat: $6.10
Straw bag: $12.60
Strappy sandals: $11.18
Bracelets: $2.30 (four pc bracelet)
Shell necklace: $2.20 (2 pc. necklaces)
Beachy earrings: $1.90
Total for Outfit below: $49.27!! Say WHAT?!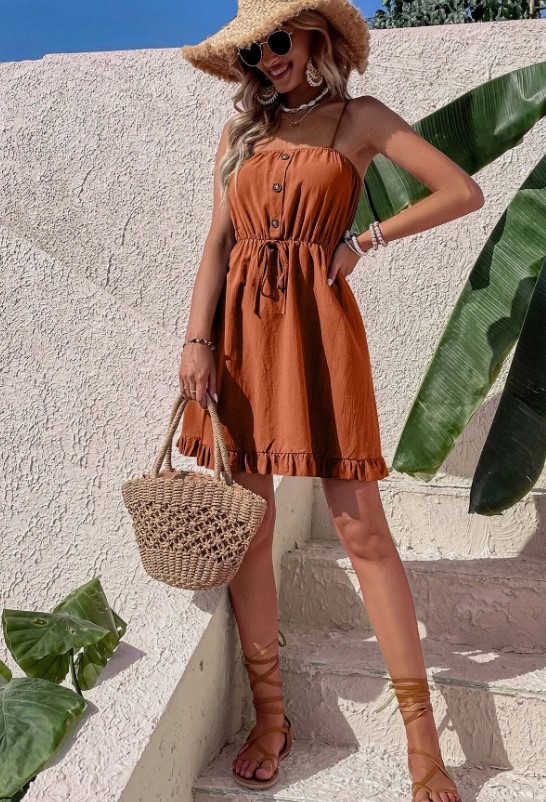 ---
Jenna's Top Shein Outfits!
Now, here are the clothes that my beautiful little nieces, Jenna and Macey, bought from Shein and they are modeling them below!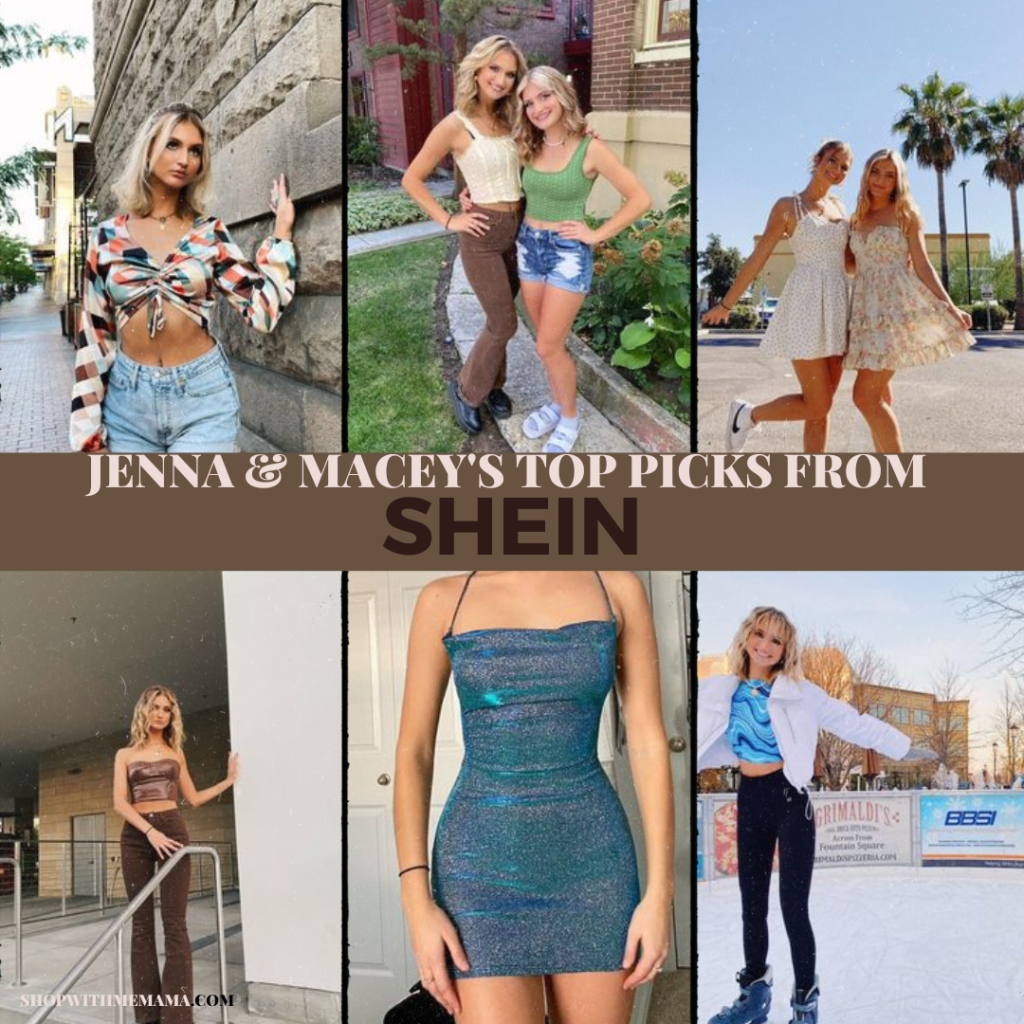 ---
All of the outfits I chose from Shein above are good options! You can mix and match any of them and come up with new outfits too! So much fun! I sure love fashion! Whatever your personal style is, you will find something on Shein!
I think there were only one or two times when we ordered a shirt and it was way too small for either of us (we are basically the same size in clothing!). So, sometimes their sizing guide might be a little off so be sure to read the reviews! They help SO much. That is my only complaint though! Our first return (I think it was a sweater vest??) was super easy and there were no hassles at all. Our shopping experience on Shein has always been positive.
Of course, you will always get that one shirt or pair of leggings (or whatever!) that did not work for you quality-wise but isn't that anywhere you shop? I have had plenty of issues ordering on Amazon! I know there have been some negative reviews online, but every online store deals with negative customer reviews, I mean this is real life! It is just how it is! However, there are a TON of positive reviews too, on Shein!
Another great thing about Shein is that the more you order the more you save! We are constantly getting discounts, discount code, and promo codes because we shop shein so much! Every time we log in and shop, there is always a deal waiting for us to grab!
It is also important to make a Shein account so you can get all of these awesome discounts! It is free to get an account and super worth it! Today my daughter bought something from Shein and only ended up paying $6.89 (it was originally $18!) just because we had so many discounts waiting for us in our account! Woot!
Their clothing is so much better than pricey designer pieces and is a fraction of the price. I mean who can afford expensive things right now anyway with the way the economy is?? Ugh! So, Shein, it is! YAY!
We absolutely cannot WAIT until the spring and summertime when we can dress cute again! The warmer weather couldn't get here soon enough! I say this as we are experiencing yet ANOTHER downpour of snow! We literally have 8 FEET snow drifts EVERYWHERE in our front yard and the side of our home! It is insane! So, we are craving the warm weather so badly right now!
I wanted to share with you, this adorable vlogger's newest Shein haul for spring 2023! Take a peek:
I know a lot of people shop online and I really wanted to show them the right place to shop for deep discounts, lower prices, and super cute fashion and accessories! Shein really is a great place to shop online! They are always coming out with new products and the selection is huge. From winter outfits to that perfect dress, Shein has everything you could want and more.
Happy shopping!
PIN IT