*I am a Biz Ambassador. This is a sponsored post. Opinions are my own. 
Having little kids means lots and lots of laundry to do! Seems like I am washing their clothes ALL the time. All parents can relate, I am sure! Some days I feel as though that pile of laundry is growing, not downsizing. It is crazy! The never ending battle of dirty clothes, gah!
I loved that I was contacted to be a Biz Ambassador because I seriously needed Biz in my life! Up until now, all my kid's clothes had stains on them even AFTER I washed them. I finally gave up on it and let them have stains on their clothes! Now that I have tried Biz, things have changed a bit around here.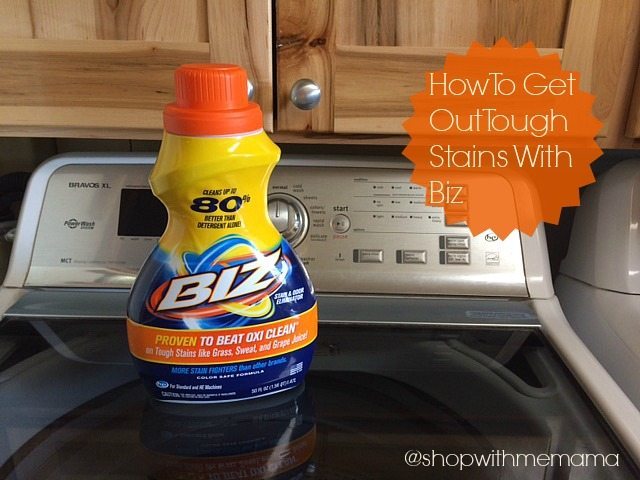 Getting stains out of my kid's clothes is no longer a battle I can't win. Now all I do is put Biz in my wash, just like I would laundry detergent, and then I add my regular laundry detergent on top of that and set the washer. That is it. You can also just use Biz as a stain remover and laundry detergent. It works great and removes those hideous stains from grass, sweat, chocolate and more.
How To Get Out Tough Stains With Biz
Biz is proven to beat Oxy Clean and  BIZ not only cleans up to 80% better than detergent alone but… Biz has more stain fighters than other brands! Biz has some great tips and tricks and find out How To Get Out Tough Stains With Biz!
I am excited to be a Biz Brand Ambassador and be able to share my experiences with this brand/product. Stay tuned for some posts about Biz and our never ending battle of dirty clothes!
Buy
Not sure where you can find Biz? Never fear! Just visit Biz online and locate a store nearest you!
Get Social!
Connect with Biz on Twitter, Facebook, and Pinterest!
Have You Ever Used Biz? Why Or Why Not?