If you have ever been on the fence about trying CBD, I would not hold off any longer. It can help you with pain management and has a whole slew of benefits for you. Hemp Fusion sent me some products to try out and I love CBD even more now. Of course, always ask your doctor or health care provider before starting anything AND this doesn't promise to heal any ailment you may have. I just think it is a better option over using over-the-counter aids.
*Products received.
I used to NEVER talk about using CBD to anyone. I always thought that it would make people think I was into drugs or something. That is until I did my research and found out it is a NATURAL way to help with any pain, sleep issues, health problems you may be dealing with.
I had been suffering from migraines my WHOLE life. I would get migraines at least 24 days out of a month. It was bad. I was at my wits end with them. I really was. In December I got the Daith piercing because so many people swore by it. Since getting that done, my migraines have almost vanished. However, when I do get a migraine anymore, I use the Hemp Fusion Liquid 5mg CBD Full Spectrum Hemp Extract, daily, to help with those.
Hemp Fusion Organic Full Spectrum CBD
The Hemp Fusion Liquid CBD Full Spectrum Hemp Extract doesn't give you the high (so no worries!!) but it does help with my migraines that I do get now and again and it just helps me on a daily basis. This product features a unique Hemp One-Pass Extraction™ process to deliver oil with CBD + a wider array of cannabinoids. It not only helps with my migraine but helps me just feel better too. I take this daily like I would any daily vitamins.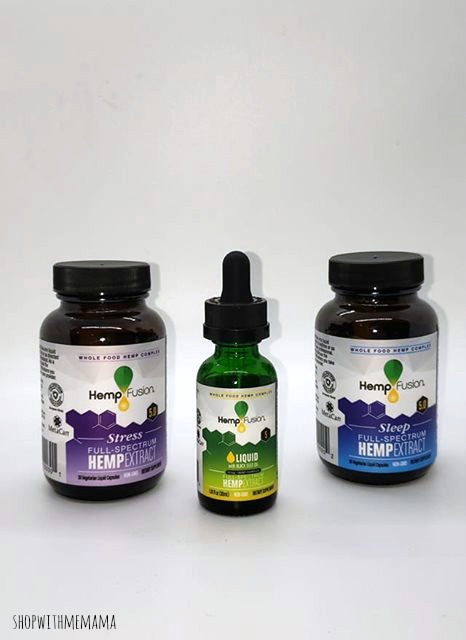 HempFusion® Liquid CBD Full Spectrum Hemp Extract can be purchased as 5mg., 10mg., or 20mg. I think next time, I would like to try the 20mg., just to have it on hand. It is always nice to have this on hand and ready to go in your medicine cabinet. I am slowly trying to get our medicine cabinet filled with natural products and trying to eliminate all the unnatural and/or harsher products.
More About The HempFusion® Liquid CBD Full Spectrum Hemp Extract:
HempFusion infuses even more plant-based omegas and terpenes via Hemp Oil, Black Pepper, Clove, and Black Cumin Seed Oil to enhance the Entourage Effect via their Whole Food Hemp Complex. With 1000% more terpenes than other leading brands and featured in all of their products, their Whole Food Hemp Complex™ = Full Spectrum Hemp Extract CBD + Terpenes + Omegas in order to deliver Total ECS Support™.
Some other products I received from HempFusion are:
*HempFusion® CBD HempExtract Balm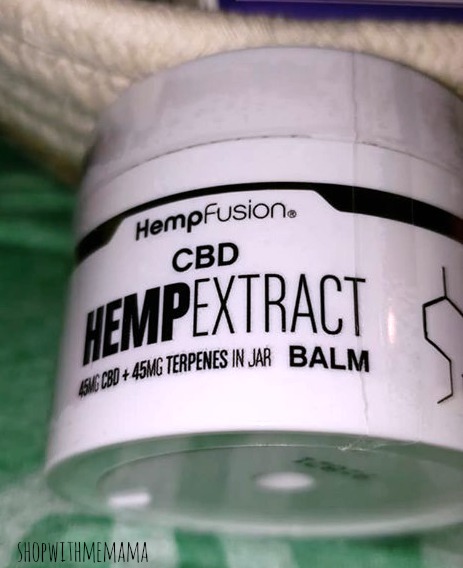 The HempFusion® CBD HempExtract Balm is great to use for sore muscles. I use this actually for my tennis elbow. Whenever my arm is achy from typing too much, I will apply this balm to that area and rub it in really well. Within a few minutes, my arm is already feeling much better. This is a soothing mint topical balm that helps so much. This has 45mg of CBD and 45mg of Terpenes per jar. Lots of good stuff packed in that little jar!
Key Ingredients:
CBD
B-Caryophyllene (+other Terpenes)
Jojoba + Sunflower Oil
Carnauba Wax
Peppermint Oil
Rosemary
Organic Coconut Oil
*HempFusion® CBD HempExtract Cream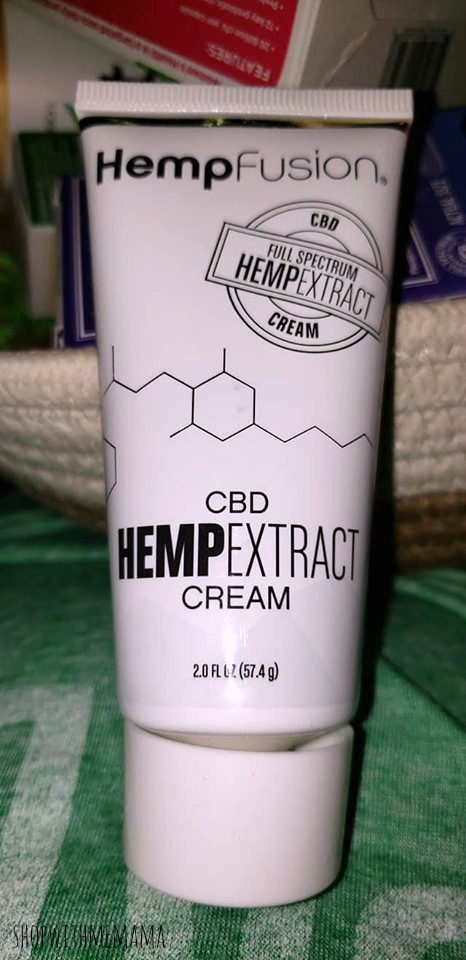 The Hemp Fusion CBD HempExtract Cream is sort of like the balm, except this is a cream rather than a balm. However, it is a bit more 'powerful'. It also has magnesium in it and I LOVE that!
HempFusion® CBD HempExtract Cream is in an aloe vera base with premium hemp extract CBD (60mg per tube) + terpenes (60mg per tube), with soothing peppermint oil, and powerful MSM & magnesium oil.
This is awesome to use for pulled muscles and other aches and pains you may have. Massage this into the area of your body that aches and it will almost instantly alleviate that ache.
Key Ingredients
CBD
B-Caryophyllene + Other Terpenes
Aloe Vera
MSM and Magnesium Oil
*HempFusion® Twist Key Lime CBD Hemp Extract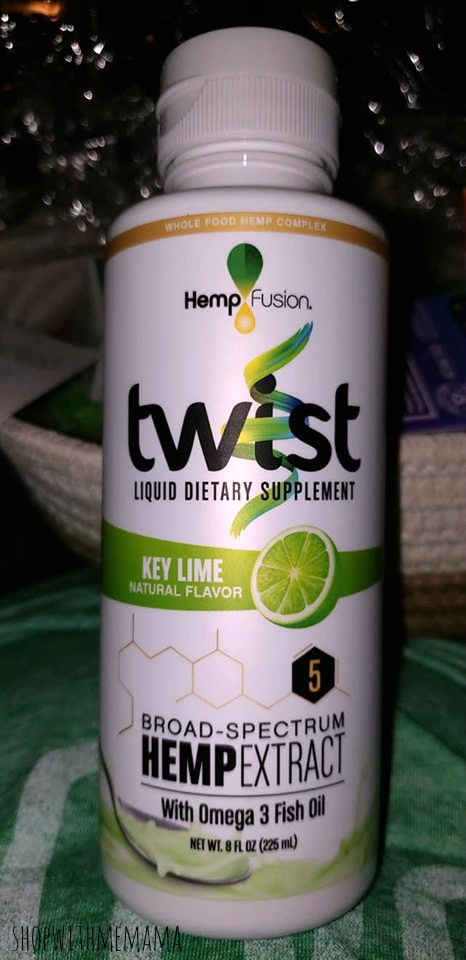 Now, this was very new to me. I had never seen anything like this product before so I was excited to try it. The Hemp Fusion Twist Key Lime CBD Hemp Extract features a full daily serving of Omegas in a great tasting, water-soluble liquid. It is a thick liquid and it doesn't really taste all that bad. You just have to get used to it. With all the benefits of taking this daily, I got used to it quite quickly. (This is a 30 day supply for one person.) I take 1 1/2 teaspoons a day of this. Since taking this daily, my mind feels less 'foggy'. This comes in 3 different flavors: Key Lime, Mango Peach, and Citrus Ginger.
Key Ingredients
CBD (+ other phytocannabinoids)
B-Caryophyllene (+ other Terpenes)
Omega 3, 6, & 9
*HempFusion® Sleep CBD Full Spectrum Hemp Extract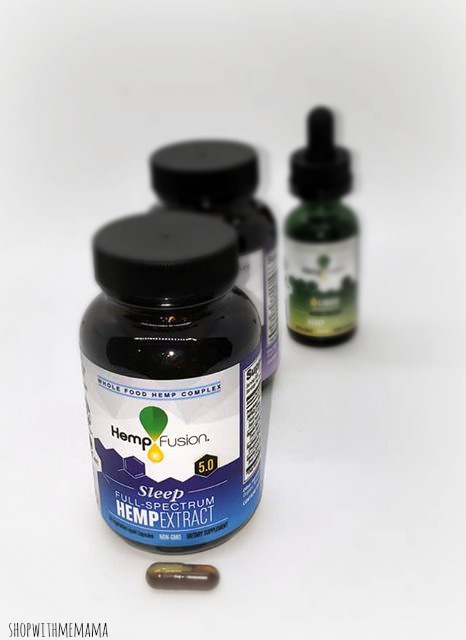 Hemp Fusion Sleep CBD Full Spectrum Hemp Extract features PharmaGABA, a more natural form of the amino acid GABA. Clinical studies have demonstrated that it can play an important role in reducing occasional stress and promoting relaxation, which may promote restful sleep.
I take one of these at night when I KNOW I will not be able to fall asleep anytime soon but have to go to bed. One capsule works pretty quickly for me and is about as equivalent to taking one Kirkland brand sleeping pill. It relaxes me in no time and allows me to fall asleep and pretty much stay asleep most of the night. I am extremely pleased with how well they work for me.
Key Ingredients
CBD (+ Other Phytocannabinoids)
B-Caryophyllene (+ Other Terpenes)
Omega 3, 6, and 8 (Hemp Oil)
PharmaGABA
*HempFusion® Stress CBD Full Spectrum Hemp Extract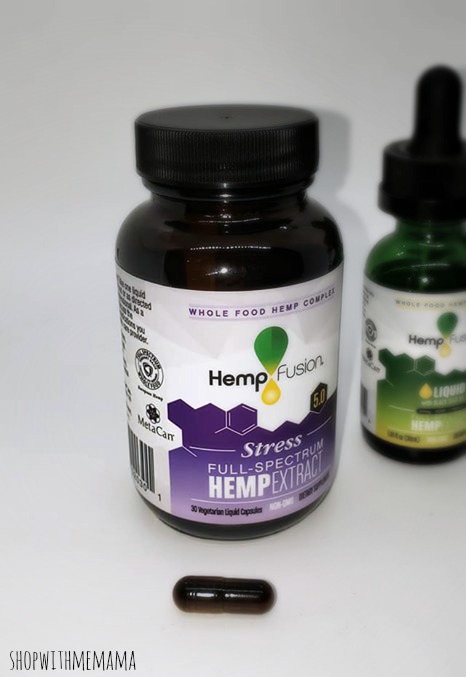 HempFusion® Stress CBD Full Spectrum Hemp Extract features a scientifically studied and patented form of Ashwagandha, which has been demonstrated to possess potent stress and mood supporting properties.
If you have any anxiety or stress in your life, I highly recommend this product. If you know me, you know I have high anxiety all the time, that is just how I am! So, by taking this, I can be calmer and not so anxiety-ridden all the time. This is in capsule form, so they are easy to take when needed.
Key Ingredients
CBD (+ Other Phytocannabinoids)
B-Caryophyllene (+ Other Terpenes)
Omega 3, 6, and 9 (Hemp Oil)
Sensoril (Ashwagandha)
So, Why Hemp Fusion?
Why is Hemp Fusion® CBD better than others? Because making the ECS work is about more than CBD. Just as nature made an Orange rather than a Vitamin C tablet, it made the Hemp plant rather than isolated CBD. Evidence of the "Entourage Effect" suggests that CBD + a wider array of cannabinoids works better.
Packaging
I absolutely have to talk about the beautiful packaging all of these products were nestled into. They came in a nice, reusable, 100% Hemp and cotton woven basket (without any chemicals). And, the paper that came with my basket (see below), can be planted! You can compost it or plant it and watch flowers bloom. My kids are very excited to plant this next spring!

*NOTE: These statements have not been evaluated by the Food and Drug Administration. This product is not intended to diagnose, treat, cure, or prevent any disease.
**There is a vast amount of published research available on the health benefits of dietary hemp phytocompounds that can be found in places like Pubmed.gov and nih.gov. We encourage you to do your own research and work with your healthcare professional to gain a greater understanding. We believe that more research still needs to be done and this is happening every day. As with all dietary supplements, you should consult with your healthcare provider before adding anything new.
Shop
To purchase any of the wonderful HempFusion products listed above, please visit them online at https://hempfusion.com.
Get Social
Connect with HempFusion on Twitter, Instagram, and Facebook!
Have you ever used Hemp Fusion or CBD for anything?
PIN IT!
Pin it for later!