In this post, we will discuss How to Choose Your Best Ceiling Fan. Does your home have ceiling fans? If not, you're missing out on the chance to cut your energy costs and reduce your carbon footprint while still staying comfortable. A ceiling fan can make a room feel as many as four degrees cooler, which can allow you to turn your thermostat up and save money on climate control without feeling too warm.
In the winter, you can reverse the direction of your fan blades to push warm air back down from the ceiling. You can save up to 40 percent on your summer cooling costs and 10 percent on your winter heating costs.
But how do you choose the best ceiling fan for your home? You need to make sure it's the right size for the space it will be in, and that it has all the features you want and need from a new ceiling fan.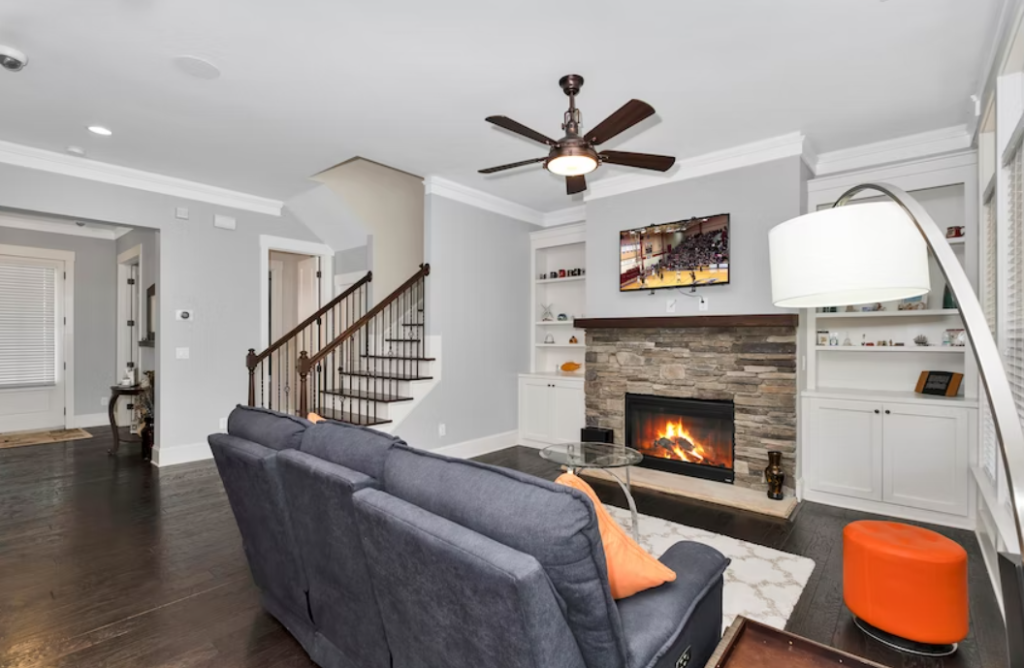 How to Choose Your Best Ceiling Fan
Choose the right fan profile so your new fan doesn't hang too low or too high. Know when it's appropriate to buy an indoor fan versus an indoor/outdoor fan or an outdoor fan. And, finally, choose a fan design that will complement your home decor.
Learn to Size Ceiling Fans
Ceiling fans are sized based on the width of their sweep, or the circle the fan blades make when they're in motion. Fans with an even number of blades are typically measured from the tip of one blade, across the center of the fan to the tip of the corresponding blade. Fans with an odd number of blades are measured from the tip of a blade to the center of the motor housing, and then that measurement is doubled to arrive at the full size of the sweep.
You should buy the right size ceiling fan for your room. A fan that is too small for the space won't produce enough airflow, while a fan that is too big will produce too much – and may look overpowering in the space. Size your ceiling fan by measuring the room for its square footage. If the room is under 100 square feet, choose a fan with a 29- to 36-inch sweep.
If the room is 100-200 square feet, choose a fan with a 36- to 42-inch sweep. If the room is 200-300 square feet, choose a fan with a 44- to 50-inch sweep. If the room is 300-400 square feet, choose a fan with a 50- to 54-inch sweep. If the room is bigger than that, you will need to choose a fan with a 60-inch or larger sweep.
Familiarize Yourself with Fan Features
Whether you shop online for ceiling fans or visit your local home store, you'll find that there is a wide range of features available on today's ceiling fans. If you want a lot of features, go with a smart fan that can connect to your home wireless network. You can control smart fans using an app on your smartphone or using your voice via a smart home device.
You can turn your fan off and on, program it to operate at specific times, and maybe even set it to start operating when the temperature in the room reaches a certain threshold.
Choose the Right Fan Profile
Depending on the height of your ceiling, you might need a low-profile or flush-mount fan that hugs that ceiling, or a downrod fan that hangs down one or more feet from the ceiling. High-profile fans are appropriate for vaulted ceilings or ceilings over nine feet.
They might come with a long downrod, or you can buy a downrod extension kit to lower your fan to the recommended height, about seven to nine feet off the floor. Low-profile fans don't have a downrod. They're best for low ceilings where you might not have as much room to hang a fan eight feet from the floor.
Know Whether You Need an Indoor or Outdoor Fan
The moisture and humidity conditions in the area in which you plan to hang the fan determine whether you need a wet-, damp-, or dry-rated fan. Dry-rated or indoor-use-only fans should only be installed in rooms where they won't encounter any moisture at all.
Damp-rated fans are appropriate for use in kitchens and bathrooms, where some humidity might occur. Wet-rated or outdoor ceiling fans are appropriate for use on porches and other covered outdoor areas, where they might encounter wet weather conditions.
Select a Ceiling Fan Design You Love
Choosing a fan design is probably the most fun part of buying a new ceiling fan. There are all kinds of fan styles out there: traditional, coastal, industrial, steampunk, contemporary, modern, post-modern, rococo, and so forth. Think about the decorating statement you're trying to make in your home and choose a fan that complements your decor – or even one that can stand out and function as a focal point in your room.
Choosing a ceiling fan isn't always easy, but it's worth putting some time into. You'll be living with your new ceiling fan for a long time, so make sure you choose one that truly meets your needs.