*This post includes my affiliate links.
My fingers don't usually have a mood. I mean I suppose they could be a bit slow and sluggish at times, especially when I am pluggin' out these blog posts, but generally they don't have a "mood" they get in.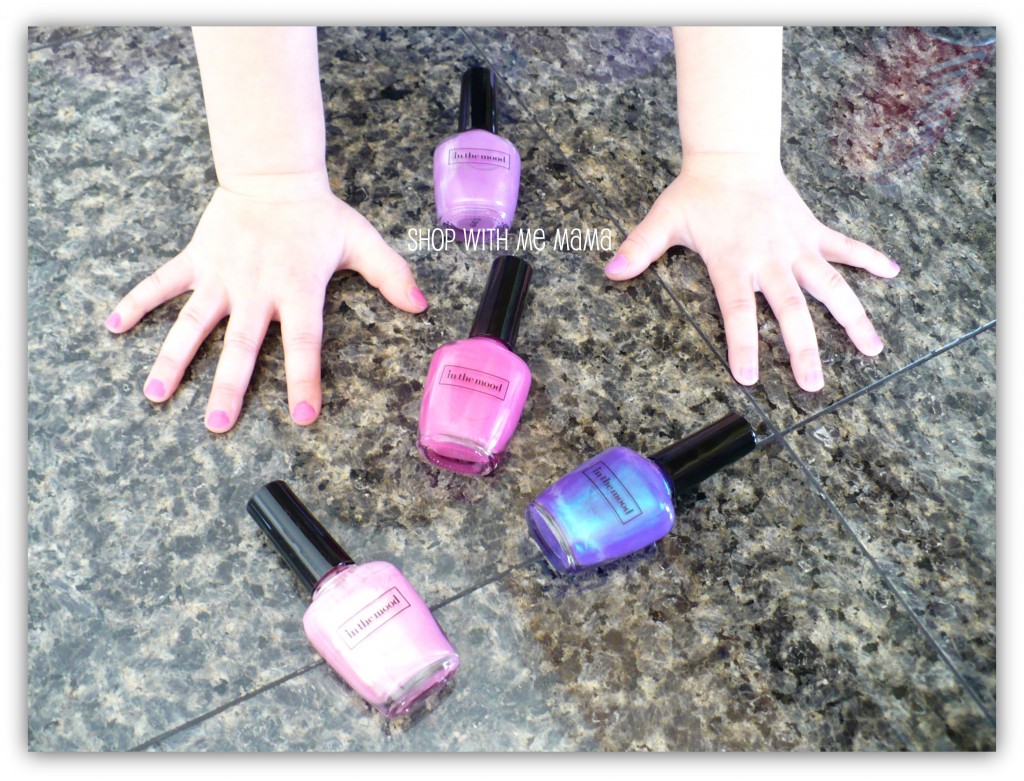 But me on the other hand, ya, I get into "those" moods, like once a month, sometimes a bit more. And when I do, a cute polish that can tell others to LOOK OUT is just plain genius!
In this picture, we used Guilty…Me and my daughter are wearing the SAME polish!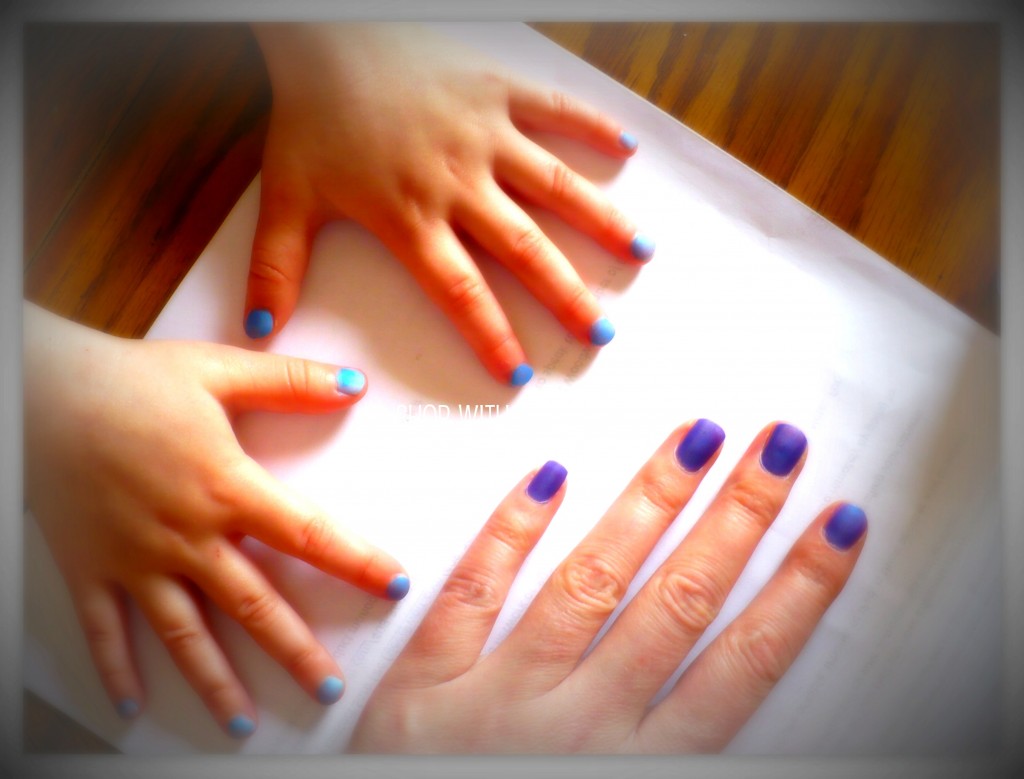 I had to look into to these polishes before agreeing to review them, after all my nails would be showing whether or not I was in a good mood or not, by changing colors on me, so I HAD to research it a bit..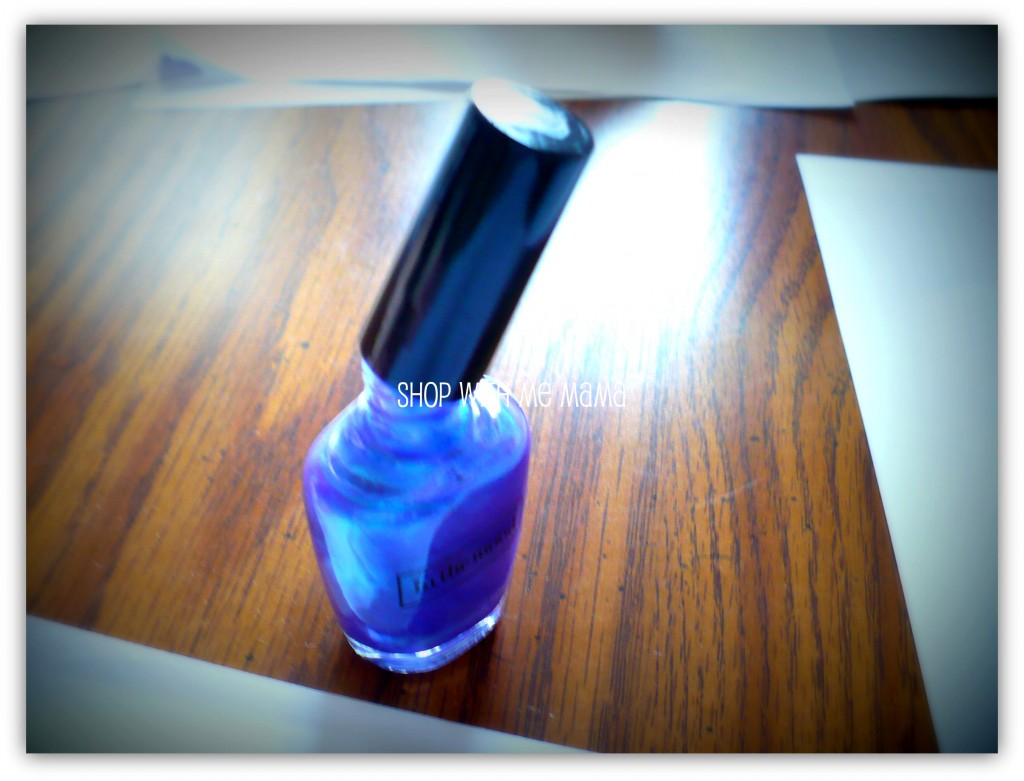 And after researching In The Mood Color Changing Nail Polish,  I so wanted to try these out with my little girl! I received  a few shades to try out. I painted my nails, toes and my daughters nails and toes. They come in some gorgeous colors, wow. My favorite is the Guilty color. but all of them are so dang pretty, they really are.
The color below is Ditzy…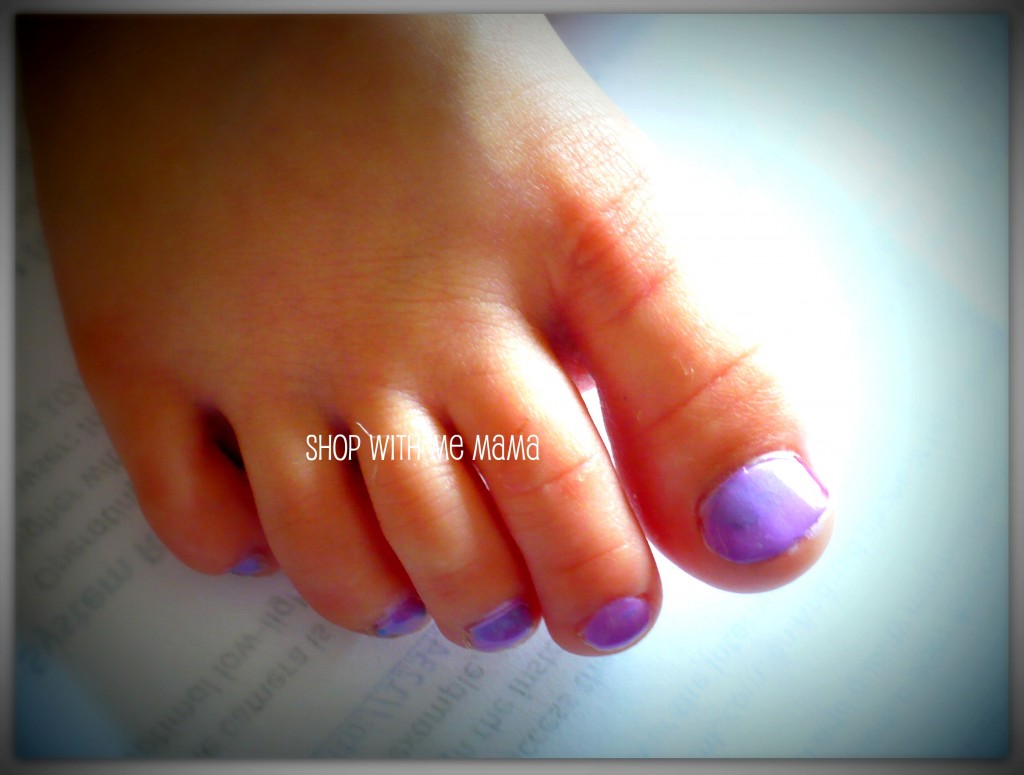 What is neat about these polishes, is not just the colors, but how the colors change when you have them on your nails. They change color based on your body's temperature, your mood or what you are holding (cup of coffee, iced tea, etc..). Since your normal body temperature is 98.6 degrees, the polish will change color when it is 91 degrees, your fingertips are always cooler than your hand.

For example: running your hands under warm/hot water, going outside in hot weather, or even mood changes, will cause the nail polish color to change. Cool right?!

All you do is apply two coats of the polish to your natural nails. Then apply a top coat for a nice glossy finish. You can use any topcoat or In The Mood's topcoat: Super Shiny Topcoat.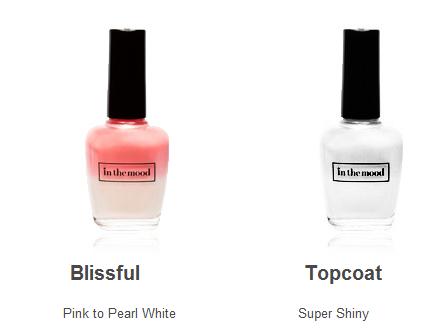 Still not convinced? Then watch the video here:

Ya, told you! Now my thoughts on this Mood Color Changing Nail Polish
. I love it! It goes on shiny and does dry matte, so if you do want shiny nails, definitely add a shiny top coat, like mentioned above. I personally love matte, so I am good! It takes while for my nail color to change because my fingers/hands are ALWAYS freezing, same with my feet. I think I have what my mom has, her fingers actually turn BLUE, she has bad circulation, and I *think* I will be inheriting that from her, if it is inheritable.. my finger nails are always purplish, the nails, so the nail polish does not work so well on me. As you can see in the picture above, with my nails and my daughters, her nail colored changed to blue, super quickly, mine did not. I still LOVE the color!!
One thing I have noticed is that these polishes do seem to chip or come off easily, so I do recommend the top coat!!!!
So, I really like these. They are totally neat and would be a very cool gift for anyone this holiday season, whether you stick them in a stocking or gift them under the tree, they are sure to make any tween, teen or mama happy! Did I mention they are ONLY $8 each?! Ya, they are!
A Quick Bit About Mood Polishes:
Welcome to the fun whimsical world of mood changing nail polish. Don't worry – you're not crazy, but your nail polish, on the other hand may be described as …..unstable. Finally, a nail polish that will reflect your inner hysteria. Amuse yourself by guessing what shade your nail polish will be at any given moment.
In The Mood has been featured in many publications, including Glamour, Instyle Magazine and Boston Herald.
Take advantage of our flat rate shipping special with only $7 shipping for up to 8 bottles and only $12 for up to 10 bottles. In The Mood, makes a great gift. We ship to the USA and Canada only.
Buy
You can purchase In The Mood Color Changing Nail Polish
 by visiting them online at http://themoodpolish.com/!
Disclosure:
I was sent some nail polish to review, these are my own honest opinions, thanks!