I love love love making and devouring black-eyed peas! They are SO delicious and quite easy to make! Below, I have a yummy recipe for black-eyed peas in the slow cooker! Now they are even easier to make! Yay!
This is a Southern recipe. The Black Eyed Peas Recipe (or Hoppin' John) is a hearty, flavorful, and delicious meal. This recipe is full of flavor, is super filling and easy to make. Everyone in your family will be asking for seconds, promise!
*This post includes my Amazon affiliate links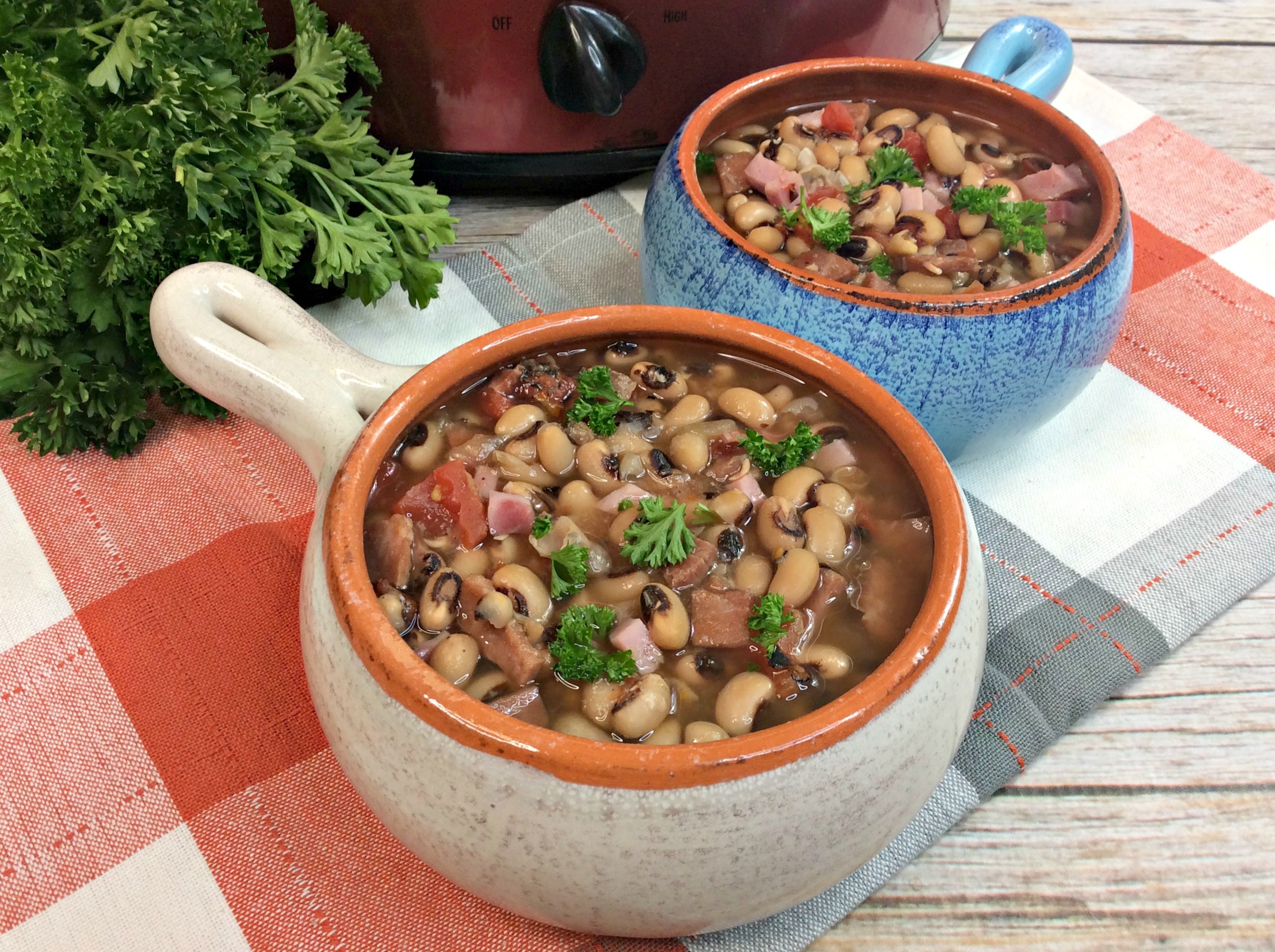 Why Do People Eat Black-Eyed Peas on New Year's?
I am sure you heard of a lot of people preparing this good-for-you dish for the New Year. I never make it on New Year Day, but I always make it for St. Patrick's Day! Why? Because St. Patrick's Day just seems more 'luckier' to me!
Many people make Black-Eyed Peas on New Year's because it is supposed to bring luck to you! It is the Southern tradition that this is the very first food you should eat on New Year's Day. It is for luck and prosperity.
The South's association with peas and good luck dates back to the American Civil War. One pea for each day of the year to bring you luck! Hey, we could all use a bit of luck, right??
Why Cook Black-Eyed Peas In A Slow Cooker?
Well, when you are super busy, the slow cooker is ideal for cooking your black-eyed peas! Of course, you can also cook this on the stovetop, but I prefer my slow cooker only because it not only cooks and simmers all day long, but it also gives my black-eyed peas a REALLY yummy flavor! Nothing like a good, flavorful meal! However, you can also cook it in Tagine, like this one from UnoCasa.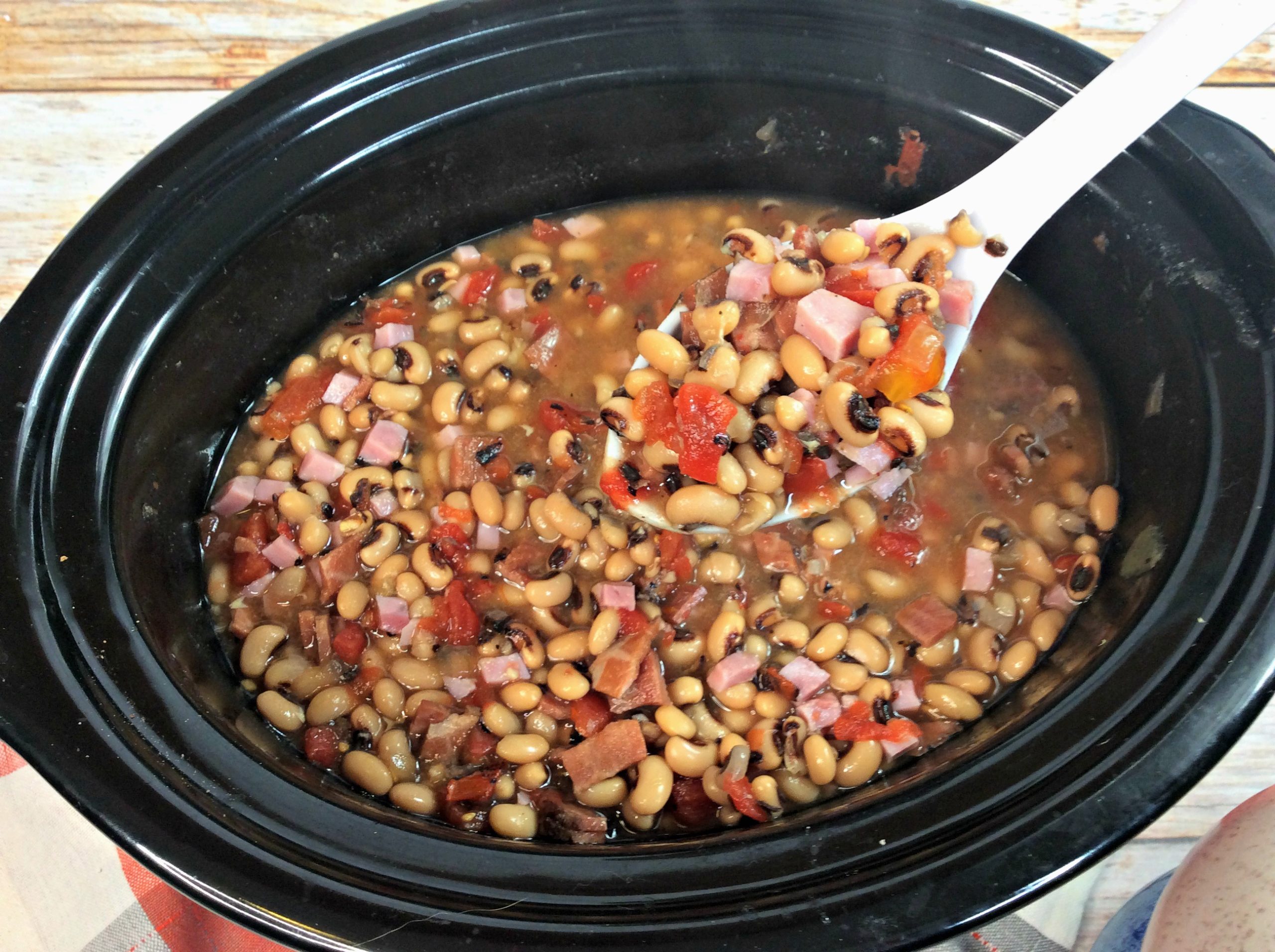 Do Black-Eyed Peas Need To Be Soaked If I Cook In A Slow Cooker?
Yes. They do if you want your cooking time to be cut in half. Otherwise, no. It is really up to you. I soak the black-eyed peas for at least 4 hours prior to cooking. I soak them in HOT water.
Just place the dried black-eyed peas in a pot of water, and bring to a boil for 2-3 minutes. Then cover the pot and let sit for 4 hours. After four hours, you are ready to put them into your slow cooker with the other ingredients (see recipe/directions below).
Of course, you can always use canned black-eyed peas too. But, they just don't taste the same as using the regular dried black-eyed peas and letting them soak. But, as I said, it is up to you!
Are Black-Eyed Peas Healthy?
Yes, they are! They are not only yummy but so good for your health too (like other beans!). Of course, you will get the gas from eating them and may pass gas a bit more than usual (haha!) but they are good for you!
Black-Eyed Peas are loaded with lots of vitamins and minerals like Magnesium, Calcium, Potassium, Iron, and Folate (which is GOOD for fertility!). And, they carry 11 grams of fiber per serving (which is about 1 cup).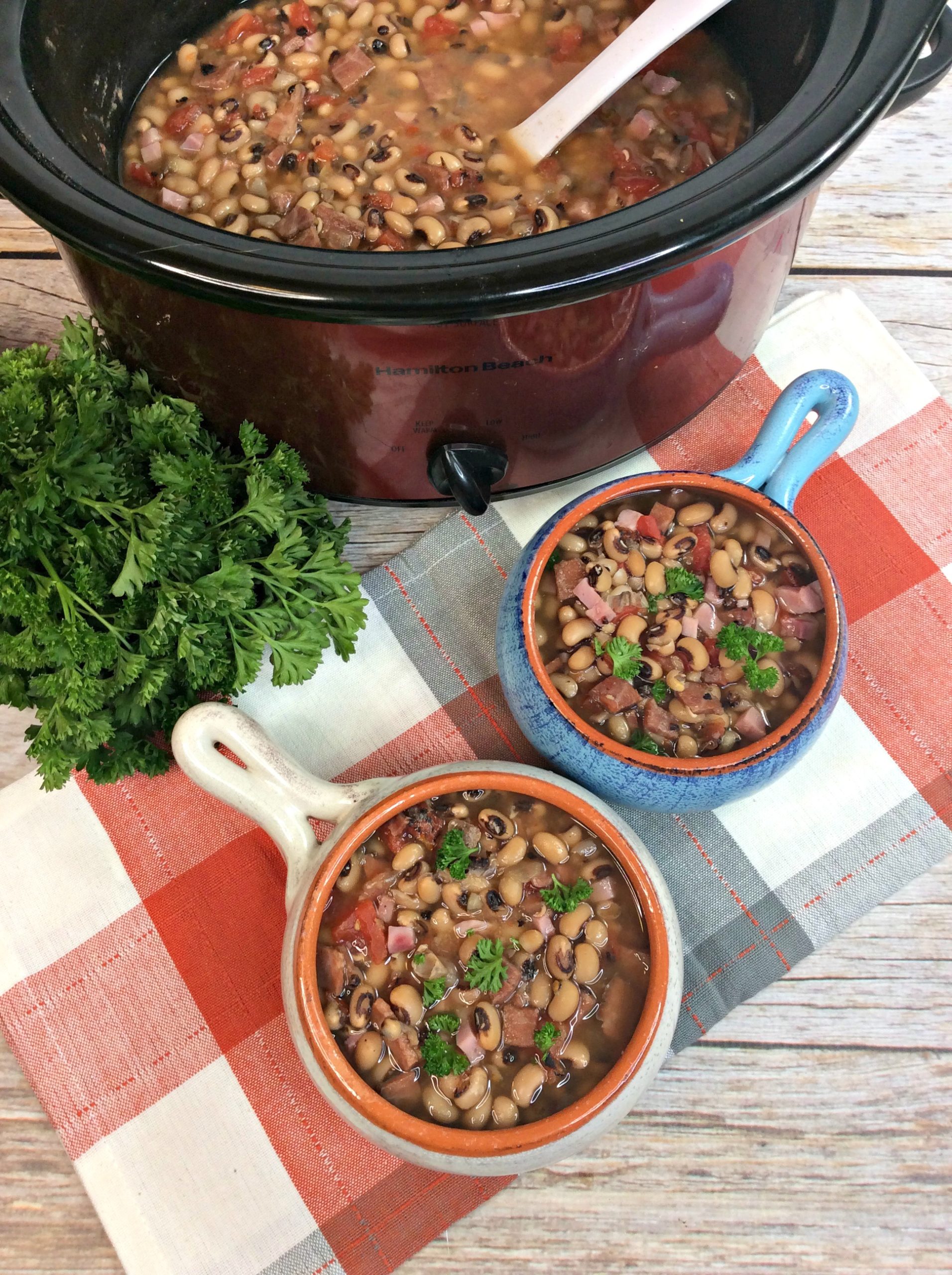 Recipe For Black-Eyed Peas In The Slow Cooker
I bet you are ready for the recipe for black-eyed peas in the slow cooker now, aren't you? Ha! You can find the yummy recipe below!
Prep: 10 mins
Cook:6 hrs
Total: 6 hrs 10 mins
Makes: 8 servings
Ingredients:
1 yellow onion, diced
1 Tbsp. minced garlic
1 lb dried black-eyed peas
2 C chopped ham
2 cans fire-roasted tomatoes
5 C chicken broth
1/2 tsp salt
1/2 tsp pepper
2 TBSP fresh parsley
Slow cooker
Cooking spray
Knife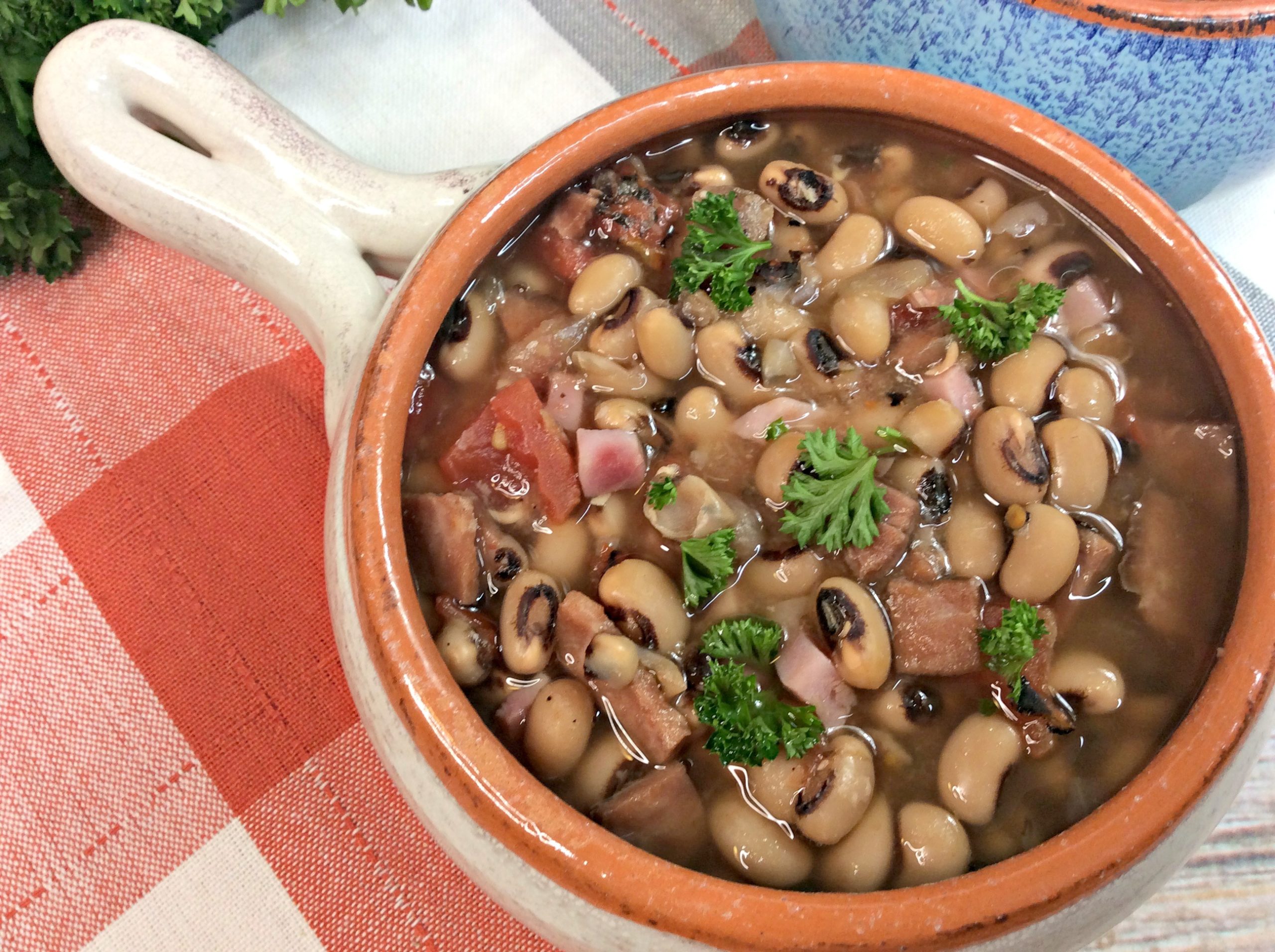 Directions:
Soak black eye peas (At least 4 hrs)
Rinse off the beans
Dice onion, set to the side
Chop ham, set aside
Prep the slow cooker with a coat of non-stick cooking spray
Add the onion, garlic, black eye peas, ham and chicken broth in the slow cooker
Put the lid on the slow cooker
Cook on HIGH for about 5 hours
Add your fire-roasted tomatoes and cook for an additional 30 minutes
Salt and pepper to taste
Check to see if fully cooked by tasting it
If not cook on HIGH for 1 more hour
Garnish with parsley!
That is it! Get it ready, set it and leave it! Not only will your home smell SO good, but dinner will be ready without having to do much more than the directions above! Easy!
Please let me know if you make my recipe for Black-Eyed Peas In The Slow Cooker. I would love to hear how you liked it! And, of course, please share this recipe with your friends and family, thank you!
Pin It!