Use TouchPoints If You Want A Stressless Day! Are you a stressed person? Are there any natural ways you can de-stress and relax? Sure there are! Some destressing products are better than others, but I have two products that will allow you to have a stressless day. It is not pills or CBD Oil, these are devices! Can CBD help with stress too though? Of course, it can, but I have these devices for you, check them out below!
*This post includes my affiliate links
Use TouchPoints If You Want A Stressless Day
Is that even a word? Stressless? I seem to think so. It is the most useful word I could think of when trying to explain these devices. The devices I am talking about are called TouchPoints.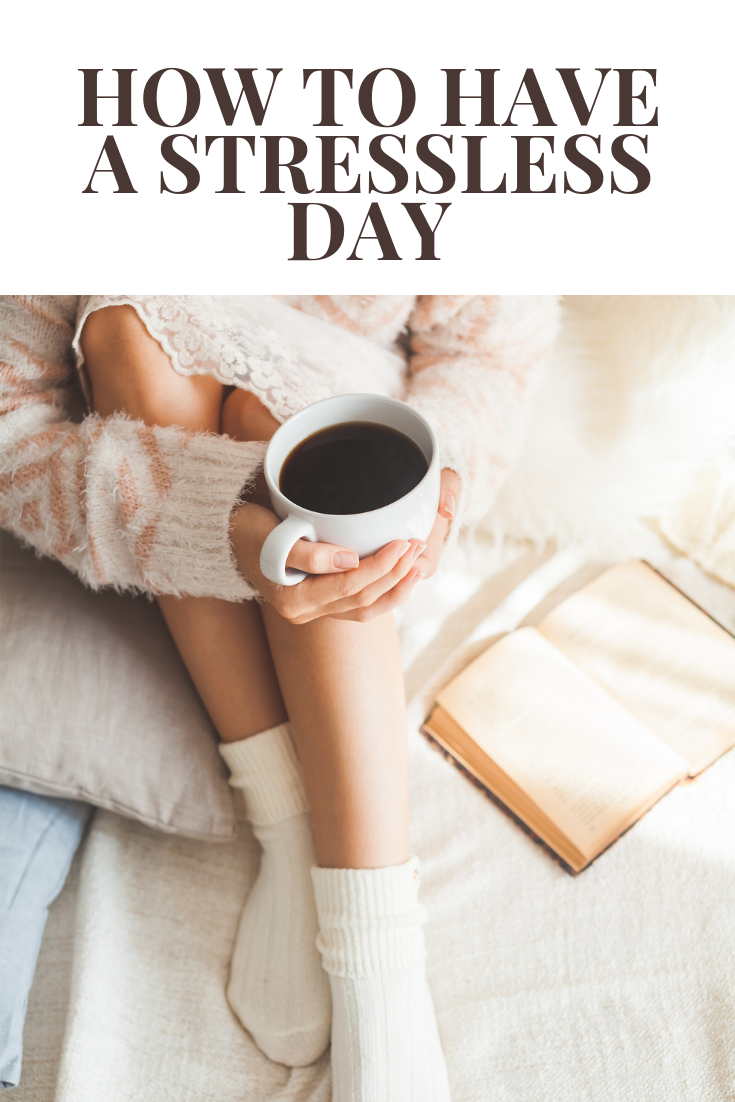 How Do TouchPoints Work?
Everyone can benefit from using TouchPoints because everyone at some point or another has had to deal with stress! TouchPoints are twin neuroscientific wearables that were designed to provide fast relief from stress at the push of a button. They use gentle, micro-haptic vibrations to alter your body's natural stress response and keep you in a calm state of mind.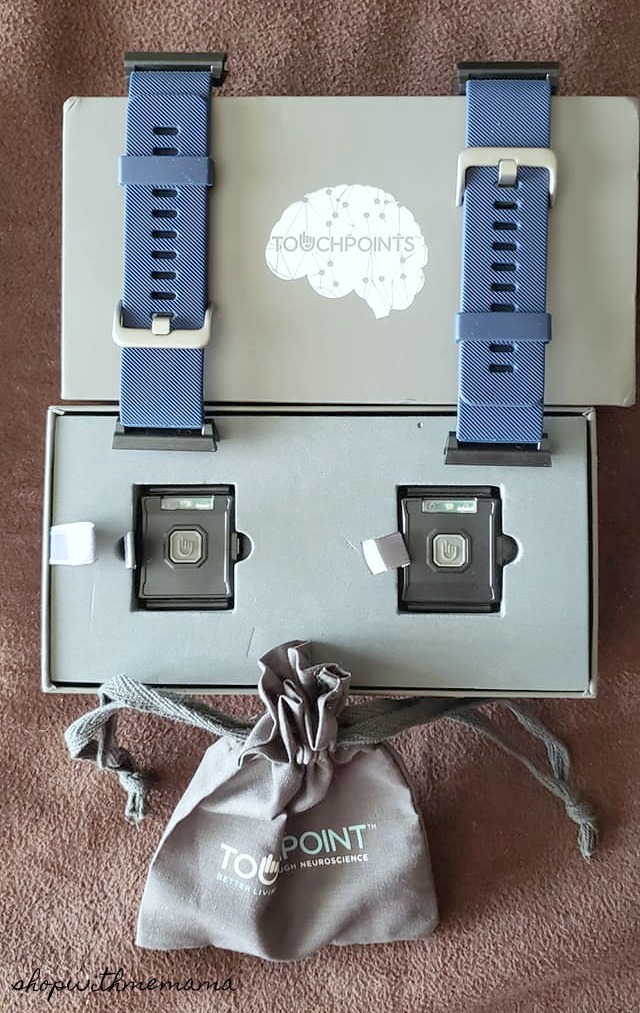 Many people use TouchPoints for 15 minutes in the morning to start their day off calm and leveled and for 15 minutes before bedtime to improve their sleep.
Some people also like using their TouchPoints for 15-20 minutes when they are feeling stressed or anticipate being in a stressful situation. Others, like those with sensory issues such as Autism, wear TouchPoints for hours at a time to stay calm and focused.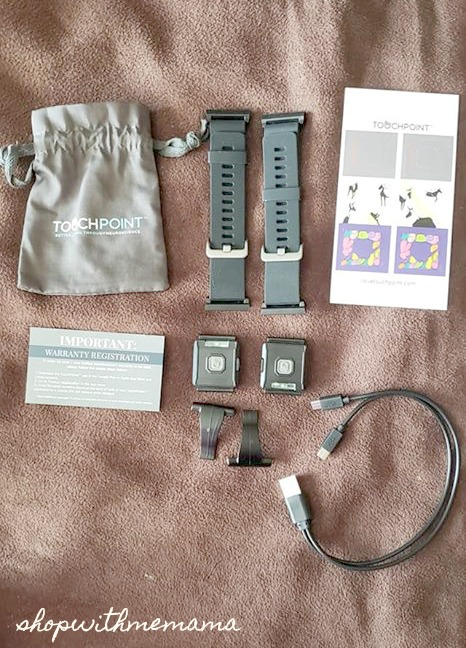 My oldest son has some tics and they have been really noticeable. He will put the TouchPoints on each night before bed and just relax with them on for about 15-20 minutes. He then takes them off and falls asleep easily.
My oldest son said that the TouchPoints definitely help him to relax before bed and help his tics calm down so that he can relax. He has been using these every night for the past 2 weeks.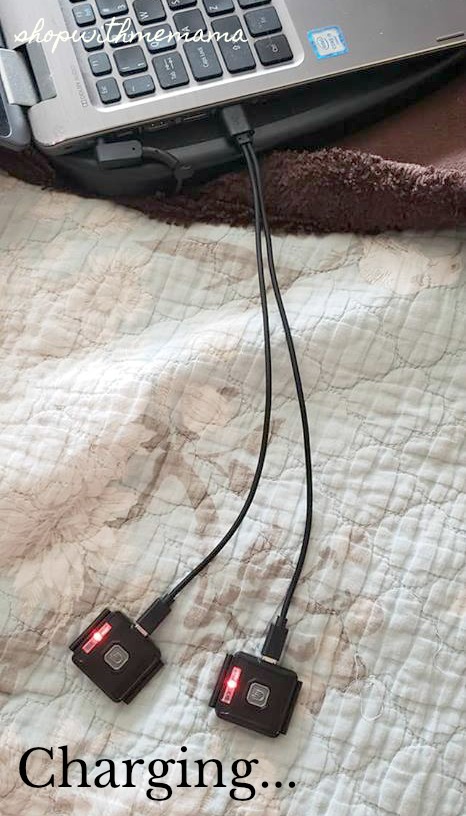 Set-Up
These are pretty simple to charge, set up, and use. Two TouchPoints come in a box with two bands. You charge to TouchPoints with the cord provided. Once the TouchPoints are fully charged, you attach them to the bands they came with.
1. Press the button on one TouchPoint to turn it on and then press again to choose between the three settings: blue (sleep), yellow (calm), purple (anger).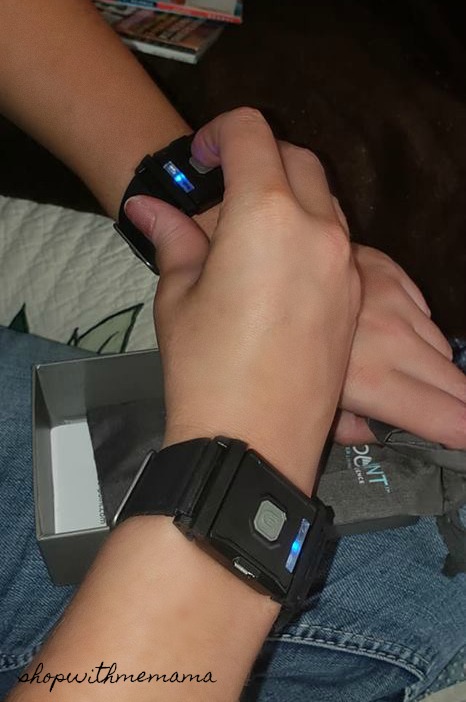 2. Immediately, turn the other TouchPoint on to the green light and face the lights of both TouchPoints to each other. The second device should change to match the same color as the first and it will begin vibrating in an alternating pattern.
3. Put one TouchPoint on each side of the body. The first time you use your TouchPoints, try each setting for one minute, starting with the blue (sleep) setting. See which setting works best to relieve your stress.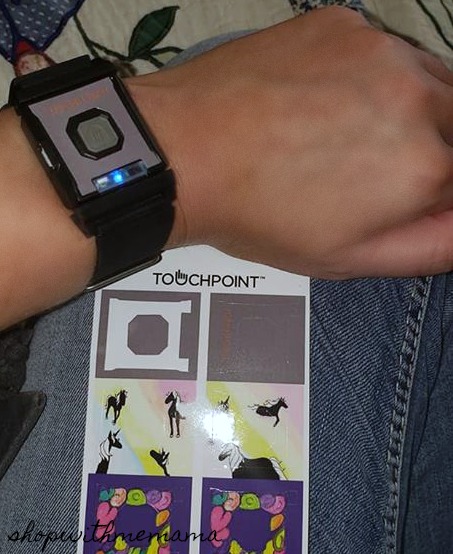 4. To turn off your TouchPoints, hold them apart from each other and press the button on each until you see the green light, which will turn off when the TouchPoints are off.
See? Easy to use them!
When I wear these, it is usually in the morning, before I get out of bed, so I can prepare myself for the day. I usually start off my day in a grumpy way, but since using the TouchPoints, I find that my days are stressless and more manageable.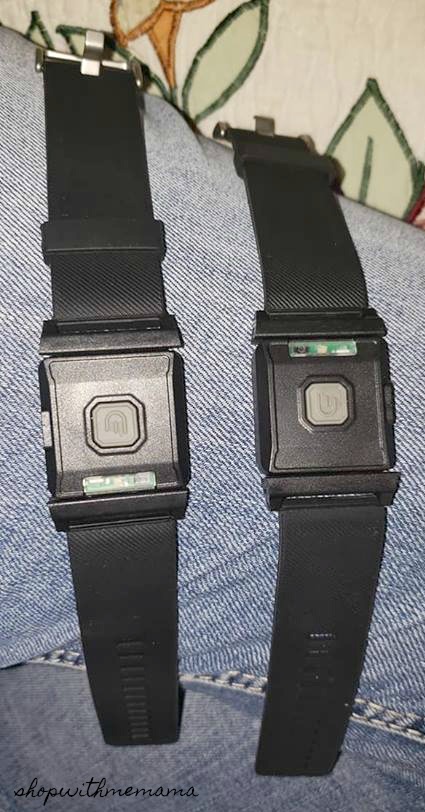 Somedays I will have my TouchPoints on more than others. It just depends on the day. Depends on how I feel and if want a stressless day or not. I opt for the stressless day, please!
How Do They Look/Feel?
I really like the way TouchPoints look on my wrists. You wear one on each wrist and they are very comfortable, just like your favorite watch (but you have one on each wrist). You can select which method you want by pressing the buttons to the feature you need.
Once on, they just give gentle vibrations. It kind of feels like holding an electric, vibrating shaver, just to give you an idea! Soon you will be having a stressless day!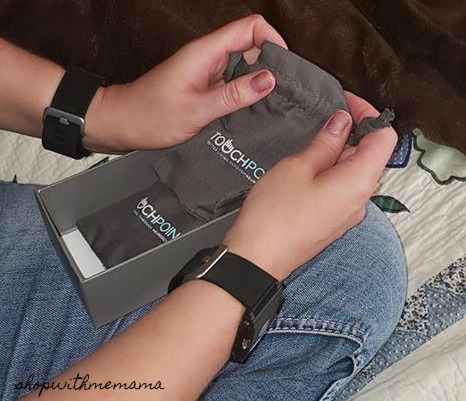 You only need to wear them for up to 20 minutes a day (or as needed for stress/sleep issues/anxiety/etc.). They are stylish to wear outdoors, out shopping, or anywhere. The bands come in black, blue and pink! They come with stickers too that you can put on your TouchPoints to give it a different look or looks.
Take The Challenge for Stressless Days Ahead!
The TouchPoint Challenge simulates a stressful event so that you can quickly experience stress reduction and understand how TouchPoints are affecting your body's stress response. Time to have a stressless day!
If using TouchPoints Original, the TouchPoint Challenge is built into the app. Simply click the trophy icon in the app menu. (Download the TouchPoints App in the Google Play or Apple App Store).
If you have TouchPoints Basic, here's how you can take the challenge:
1. Think of an event that was particularly stressful for you. On a scale of 0-10, rate the stress level you feel now when thinking of the event.
2. While thinking about the event, notice your body sensations. Where in your body do you feel the stress (i.e. upset stomach, chest tightness)?
3. Turn your TouchPoints on. If using TouchPoints™ Original, use the calm pre-setting. If using TouchPoints Basic, we suggest using the blue setting.
4. Continue to focus on the stressful event while your TouchPoints are on.
5. After 30 seconds, turn the TouchPoints off rate the stress of the event and rate the intensity of the body sensations using a 1-10 scale.
If you did not feel a significant reduction in stress, turn the TouchPoints again, and repeat the challenge until you feel stress relief.

Worth Mentioning: Use TouchPoints If You Want A Stressless Day
Of course, you should ALWAYS consult your doctor before starting or using anything. TouchPoints™ are neuroscientific lifestyle devices. They are not a substitute for medical treatment nor are they intended to cure any medical conditions. There are also alternative stress-busting products out there that you can try! Chamomile tea, products from Remedy Review, and other alternatives could make all the difference!