Today we will be talking about Azelaic acid vs. Niacinamide skincare products, what they are, and the benefits of using them together or separately. And, I also wanted to talk about the trending Niacinamide Dew Drops that you are seeing everywhere and how I incorporate it all into my nightly skincare routine.
PLUS, you will find my full skincare routine below, with the products I use nightly all linked to where you can purchase them! But first…
*This post includes my affiliate links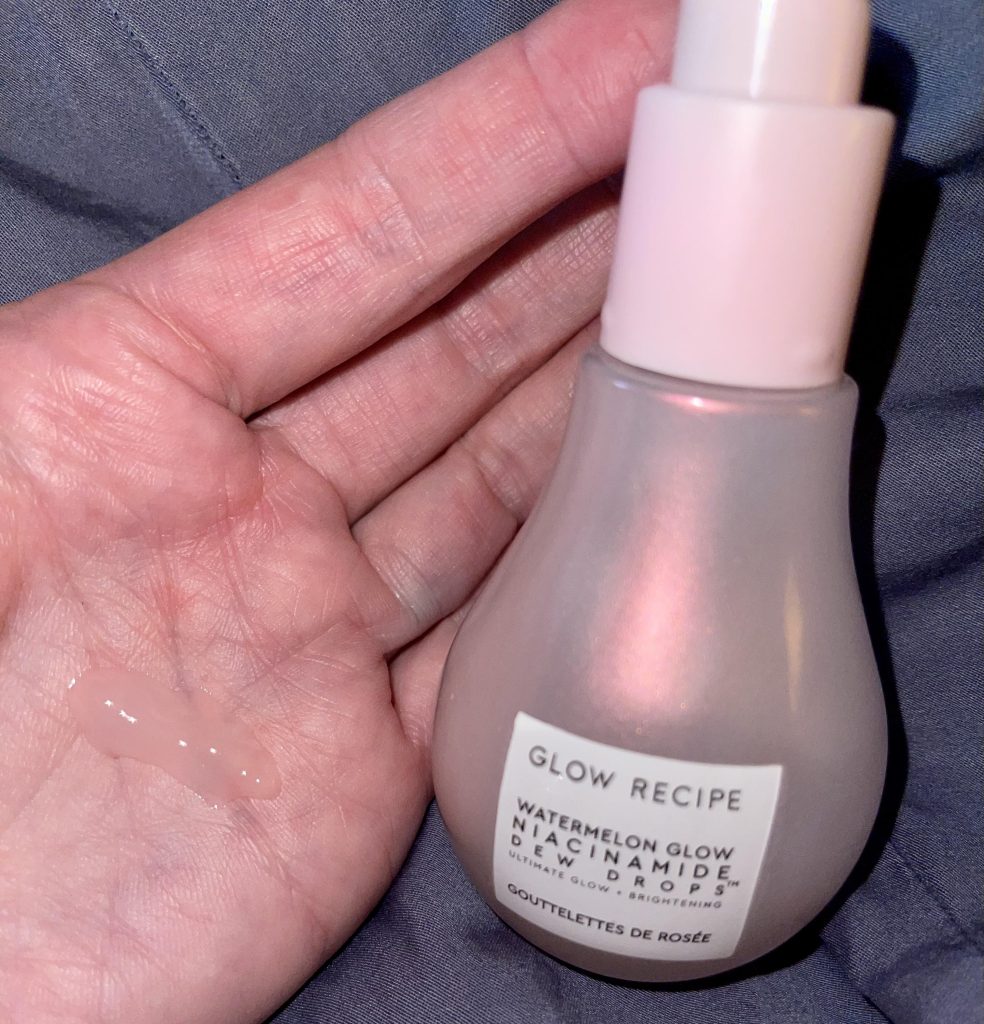 Azelaic Acid vs. Niacinamide
Azelaic Acid vs. Niacinamide? While both niacinamide and azelaic acid are antioxidants with skin tone-improving benefits and are both popular skincare ingredients, they have distinct properties that work differently on the skin and can be used to achieve different results.
Niacinamide, also known as Vitamin B3 (a form of vitamin B), not only offers antioxidant benefits but also has pore-minimizing and barrier-repairing properties. Azelaic acid, on the other hand, is a naturally occurring acid derived from grains and is more effective at calming sensitivity (anti-inflammatory properties) and reducing post-blemish marks.
Both ingredients are effective in treating acne (acne-prone skin) and reducing the appearance of blemishes. However, azelaic acid is more specifically used for acne and has antibacterial properties that can reduce the number of acne lesions on the skin by unclogging pores, getting rid of dead skin cells, and preventing acne from forming in the first place while helping to rid you of the acne-causing bacteria.
Niacinamide benefits the skin in multiple ways but is gentler on the skin. It can also be used for acne but is more versatile and has more documentation to support its effects on the skin.
Azelaic acid is a naturally occurring acid derived from grains and the benefits of azelaic acid are it is more effective at calming sensitivity, reducing post-blemish marks, and the appearance of acne scars.
Can Azelaic Acid And Niacinamide Be Used Together?
Yes, azelaic acid serum and niacinamide can be used together. Both ingredients can help treat acne, rosacea, and uneven skin tone, and can be used together in the same skincare routine. These are a winning combination if used correctly and together!
However, it's best to use them separately to avoid canceling each other out. It's also recommended to start with a small amount and gradually increase if needed to avoid irritation, skin sensitivity, and dry skin.
Azelaic Acid vs. Niacinamide: Which One Should I Use First?
The combination of azelaic acid and niacinamide in your skincare routine is generally recommended to apply niacinamide first, followed by azelaic acid.
Niacinamide is water-soluble and has a smaller molecular weight, which allows it to penetrate the skin more easily. Applying it first can help it absorb better and more effectively.
Azelaic acid products, on the other hand, are oil-soluble and have a larger molecular weight, which makes it more difficult to penetrate the skin.
Applying it after niacinamide can help it penetrate the skin more effectively and provide better results. It also acts as a protective barrier on your skin.
The Trendig Niacinamide Dew Drops
I actually first received the Glow Recipe Watermelon Niacinamide Dew Drops in my Allure Beauty Box that I subscribe to. I think it was in my August box. I was SO excited to try it out because I heard such amazing things about these Niacinamide Dew Drops!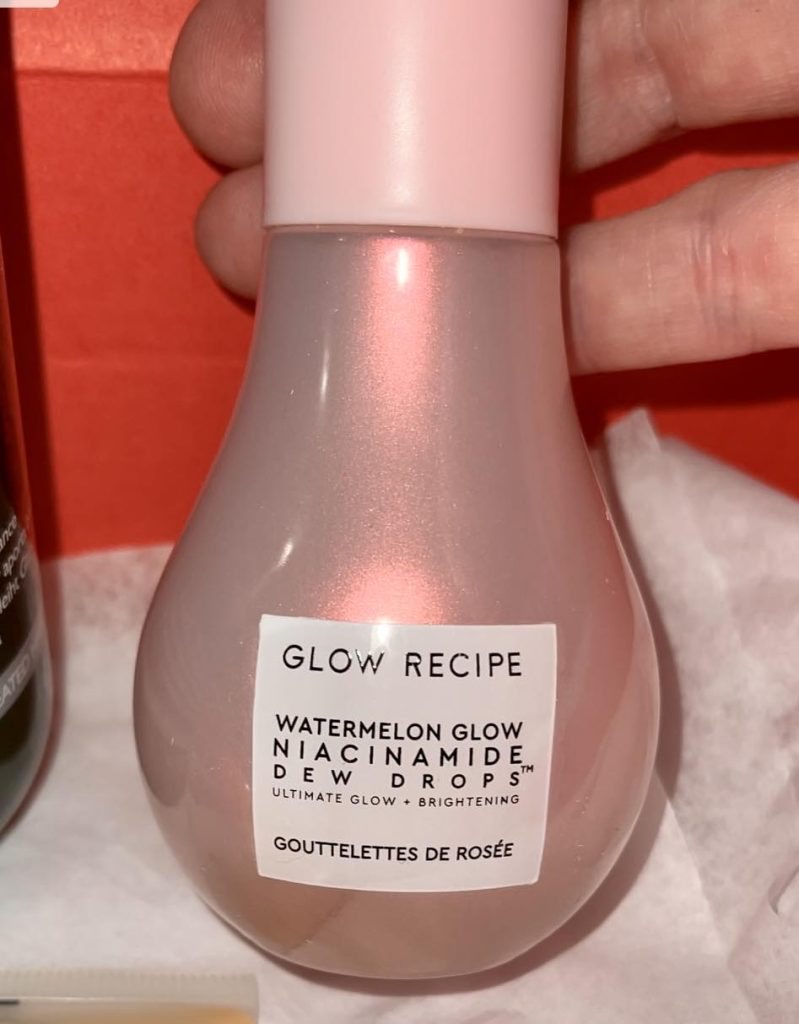 I heard they are magical… At first glance, I absolutely LOVED the bottle it comes in. It is an iridescent pink glass bottle and it is just so pretty! However, the magic is INSIDE this pink bottle!
Glow Recipe Watermelon Glow Niacinamide Dew Drops is a super and intensely hydrating serum with hyaluronic acid, moringa oil, and vitamin E.
It is a lightweight facial serum and priming liquid highlighter and it is AMAZING!! I am almost out of it and I NEED more! It is no wonder this Glow Recipe Watermelon Niacinamide Dew Drops are trending in the beauty and skincare communities right now!
Not only does this smell like FRESH watermelons, but it works and it works well! My face has never ever felt THIS soft and look this dewy!!
This glow recipe is everything I want in a skincare and more! It is literally the best skincare serum I have ever tried so far in my life. My skin texture is just so much nicer looking and feeling.
When I use this serum I instantly have a dewy, glossy finish on my face like I just stepped out of a dermatologist's office. My face is so fresh and glowy!
This serum is a super lightweight and buildable serum without the nasties like mica, glitter, or pearly stuff. Only the good stuff in this serum all while helping with skin dullness, hyperpigmentation, and skin brightening! No dull skin after using this holy grail of skincare serum!
I am now having to open the bottle up and get out every last drop because I will not waste any of it! Haha! And? I need more! This niacinamide serum is great for all skin types (even sensitive skin) and it helps with hyperpigmentation.
The great thing I found out is that they sell the Glow Recipe Watermelon Glow Niacinamide Dew Drops on Amazon! I love seeing things I use all the time being sold on Amazon because let's face it, I shop on Amazon A LOT.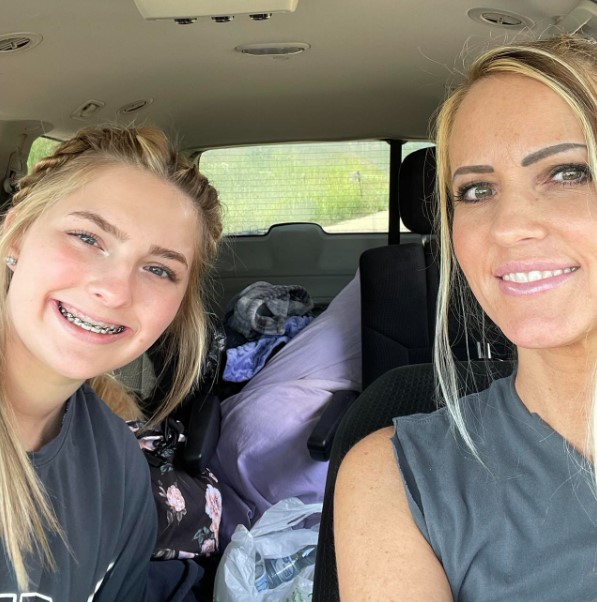 What Does The Glow Recipe Watermelon Glow Niacinamide Serum Do?
It will instantly give your skin a dewy glow! If used over time, your skin will look renewed. It will brighten your skin, absorb quickly, and leave your face feeling and looking youthful kind of like a skin barrier. This glow serum creates a lightweight, buildable texture making it suitable for all skin types.
*Skin Quenching Hydrating Serum – This amino acid and vitamin C-packed watermelon glow intensely hydrates while fighting against free radical damage.
*Has a combination of hyaluronic acid, vitamin E, and moringa oil, which soothes skin and intensely moisturizes your skin
How to Use The Watermelon Glow Recipe Niacinamide Serum – This multi-purpose brightening serum can be used before moisturizer for a lasting natural glow. Apply two pumps as the last step in your skincare routine.
About Glow Recipe
Glow Recipe creates clean, fruit-forward clinically effective skincare for glowing skin. It was co-founded by Sarah Lee and Christine Chang and is a cruelty-free Korean beauty-inspired skincare line.
A skincare line that pairs antioxidant-rich fruits with gentle yet very powerful actives to treat your skin based on its daily changing needs.
Cruelty-Free
Free of Parabens, Mineral Oil, Sulfates, Phthalates, Drying Alcohols, and Synthetic Dyes. It is also Vegan and of course, Cruelty-free. Patch test this facial serum on a small area first before using it to ensure it works for you and doesn't irritate your skin (fewer side effects if they should pop up).
Active Ingredients/Effective Ingredients:
*Watermelon (duh!): Amino acids moisturize and help to treat fine lines and wrinkles
*Niacinamide: Even skin tone and brightens those dark spots while evening out that yucky dullness we tend to get
*Hyaluronic Acid: this is a naturally occurring substance that is found in our skin and connective tissues. It is known for its ability to hold up to 1000 times its weight in water, making it an excellent hydrating agent that will deeply hydrate your skin for a plump, softer, more youthful look
*Moringa Seed Oil: Moringa seed face oils are a natural oil derived from the seeds of the Moringa Oleifera tree. It is rich in antioxidants, vitamins, and fatty acids.
Moringa seed oil can help moisturize and nourish the skin, reduce inflammation, and improve the appearance of fine lines and wrinkles.
It also has antibacterial and antimicrobial properties that can help prevent acne and other skin infections. Moringa seed oil can also help protect the skin from environmental stressors such as pollution and UV radiation, and it may even help promote wound healing. It is such an effective treatment and I love that it is natural too.
My Nightly Skincare Routine
​Now, below are 7 steps I do every night to ensure my skin stays hydrated, healthy-looking, and younger-looking! I am 48 after all, so I NEED to do these things each night!
However, I did add a few other things I do a few times a week/month too, to help my skin stay healthy and young too! But yes, I literally do all these steps every single night! I have to!
Do you have a skincare routine that you swear by? Well, so do I! That is why I am sharing with you my nightly/weekly/monthly skincare routine and linked below are the products I really use and love (and the best ways to use them):
Step 1: Wash your face with a mild cleanser. I love using the City Beauty Youth Rejuvenating Cleanser
Step 2: Exfoliate my lips. I use Lick Your Lips Watermelon Sugar Scrub for dry, cracked lips and I LOVE it!
Step 3: NIRA Skincare Laser on my face, neck, chest and hands. I usually use this twice a day on my face and neck and three times a week on my hands!
Step 4: Use a toner. I use Snail Rescue Blemish Busting Toner that hydrates and balances my skin. (Yes, it has snail stuff in it...). This helps with any oil production I have going on while moisturizing my skin.
Step 5: Under eye cream. I love using the Wolf Project Under Eye Roller with Caffeine, Vitamin C, and Peptides OR Bel Essence Skin Firming Eye Serum Duo.
Step 6: Serum! I use (obviously!) the Watermelon Glow Recipe Niacinamide Serum and LOVE LOVE LOVE it!
Step 7: Moisturize! I love using City Beauty Multi-Action Sculpting Cream on my face and neck area
Here Are The Extra Things I Do:
Eyelash Serum
​I will also use my Grande LASHMD eyelash serum every night because man oh man that stuff makes my eyelashes SOOOOO long! I am not lying when I say I always go back to this lash serum because it works SO dang quickly!
I was literally losing my eyelashes and they were SO brittle and SHORT about a month ago. I started using the Grande LASHMD about 3 1/2 weeks ago and my lashes are soooo long and thick! OMG, I love this lash serum so much!
Sheet Mask
About twice a week I will also use a sheet mask. I love the City Beauty (can you tell I love City Beauty??? It is my other go-to beauty brand!) sheet masks.
They are called Line-Smoothing HydroMask. These are bio-cellulose sheet masks designed to support the look of skin's elasticity and reduce the look of fine lines and wrinkles.
It works by infusing the skin with a "plumping" serum made with free-radical fighting antioxidants, collagen-supporting peptides, and skin-nourishing ingredients! So good for your skin!
Exfoliate!!!
​And, of course, I do a deep exfoliation about 3 times a month. That is when I pull out my Trophy Skin Microdermabrasion MicrodermMD!
Sure, you can exfoliate with facial exfoliators BUT by using the Microdermabrasion from Trophy Skin, I kid you not, SO MUCH STUFF comes off my face!!!
I do exfoliate nightly when I wash my face by using my washcloth in a circular motion but NOTHING and I mean NOTHING exfoliates your face like this device, I promise!
I did a test and exfoliated with a facial exfoliator sponge and then I exfoliated my face with the Trophy Skin device and there were still SO much dead skin cells coming off it was insane!
Every time I use this device, my skin is soooooooooo soft and healthy looking. And, the good news is after you use the Trophy Skin Microdermabrasion device your beauty products absorb much better.
It is TRUE. So, if you are in the market for a good product that deeply exfoliates your face, you NEED this Trophy Skin device. You just do. Go ahead and read my review for the Trophy Skin device here!
Red Light Therapy
For reals!!! Red light therapy is proven to help your skin repair itself and heal! I use my Trophy Skin red light therapy lamp once or twice a month (depending on how much time I have!). I love it and it is simple to use it. However, Trophy Skin doesn't sell the red light device anymore that I use. But, they do sell a handheld one!
As you can see from my post, azelaic acid vs. niacinamide isn't so hard to understand. They can both be used together just be sure to use Niacinamide moisturizer first and Azelaic acid second.
Always do a test area to ensure these products are okay to use on your skin and don't give you any skin irritation. The benefits of niacinamide are amazing if you stay consistent in your skincare routine for optimal results. Always wear sunscreen when going outdoors to protect your skin from harmful UV rays and any sun exposure.
If you do use azelaic acid and niacinamide together, be prepared for some awesome skin benefits and a clearer complexion!
I love using these two products together and I love using all the other products I listed above, to help my skin stay young and supple. Hey, I need all the help I can get at this ripe old age I am!
As you get older, you tend to suffer from a variety of skin conditions and issues. The key difference is using the products above. I haven't really had any bad skin problems. The great news is my skin feels really soft and I think it doesn't look as old as it could (Thank heavens!).
New Product Testing Alert!
Soon, you will all see me posting about the newest skincare device I received to review. It is called the AMIRO R1 PRO Facial RF Skin Tightening Device! So, stay tuned for that review coming in a bit because I have to try it out first, duh!
I hope after reading my post about Azelaic Acid vs. Niacinamide, you now know what they are and how you can use them in your skincare routine.
I would love to know your skincare routine, what your favorite skincare products are, and how you try to stay young-looking! Let me know in the comments below!
Feel free to check out my Amazon Storefront for other products I love, use, and recommend!