With the new school year approaching and kids and parents already thinking about back-to-school supplies, I thought I would talk to you all about the best convertible backpack purse for the school-aged girl in your life. This backpack purse is roomy, stylish and can double as a backpack and a purse. What more could you need??
We were sent the Blossom Backpack Purse from Pixie Mood and are thrilled to talk about it today with you all! In this post, we'll take a closer look at some of the key features that make this bag a must-have for any fashion-forward student going back to school or college this fall.
*This post includes my affiliate links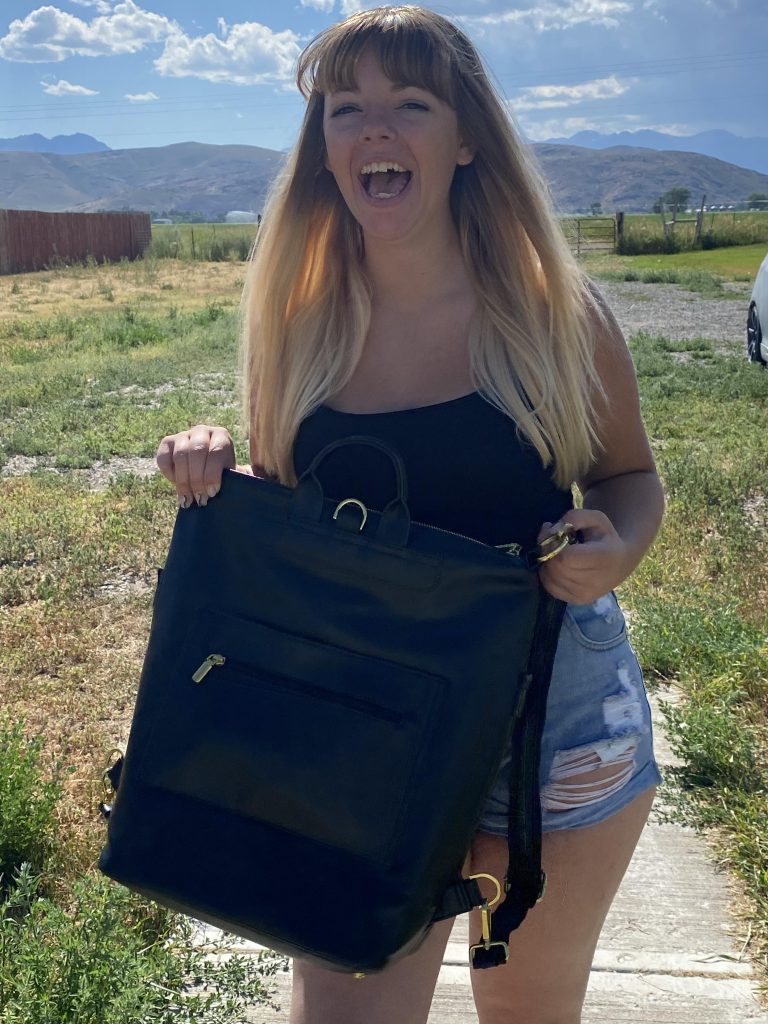 Best Convertible Backpack Purse
This bag is made from recycled vegan leather and features a bottle lining, making it an eco-friendly and ethically made choice which we thought was really cool!
This innovative bag design offers the best of both worlds, combining the convenience and comfort of a backpack with the chic and sophisticated look of a purse! So fun!
The Blossom Backpack can be worn as a backpack with adjustable backpack straps, or it can be converted into a shoulder bag or tote with dual-handled straps. It also has side pockets for easy access to your essentials and a trolley sleeve for easy travel.
With its sleek and modern design, durable materials, and ample storage space, this vegan leather convertible backpack purse is the perfect choice for any student (or anyone!) who wants to stay organized and fashionable on the go.
It has a spacious main compartment with a laptop compartment that can fit a 15″ MacBook Pro, as well as multiple pockets for organization.
Video Of The Best Convertible Backpack Purse!!!
Key Features of the Blossom Backpack:
Material: Recycled vegan leather
Laptop compartment: Fits 15″ MacBook Pro
Convertible: Can be worn as a backpack, shoulder bag, or tote
Side pockets: For easy access to essentials
Trolley sleeve: For easy travel
Organization pockets: Multiple pockets for organization (with zippers)
Eco-friendly: Made from recycled materials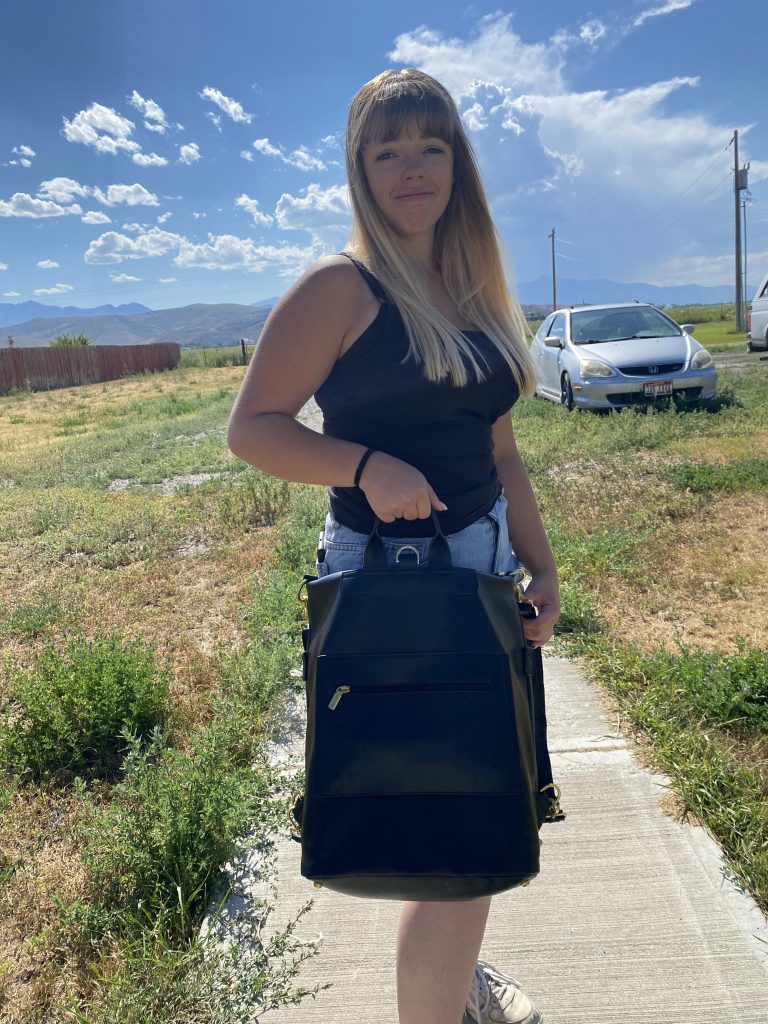 More Features:
*Top handle
*Top zip closure
*Front and back zip pocket
*Four metal purse feets
*2 detachable, adjustable woven shoulder straps
*Interior key chain strap
*Interior zip mesh pocket
*Two interior elastic pockets
Our Review Of The Blossom Backpack
We received the faux leather tote backpack to review and we love it. I gifted it to my daughter's BFF for her new school year and she is thrilled with it! She loves how it looks, how spacious it is inside! There is a spot for everything including her water bottle, laptop and so much more!
It is black (it comes in three different colors: black, sand, and chestnut), so it will go with every outfit she wears and it is so stylish!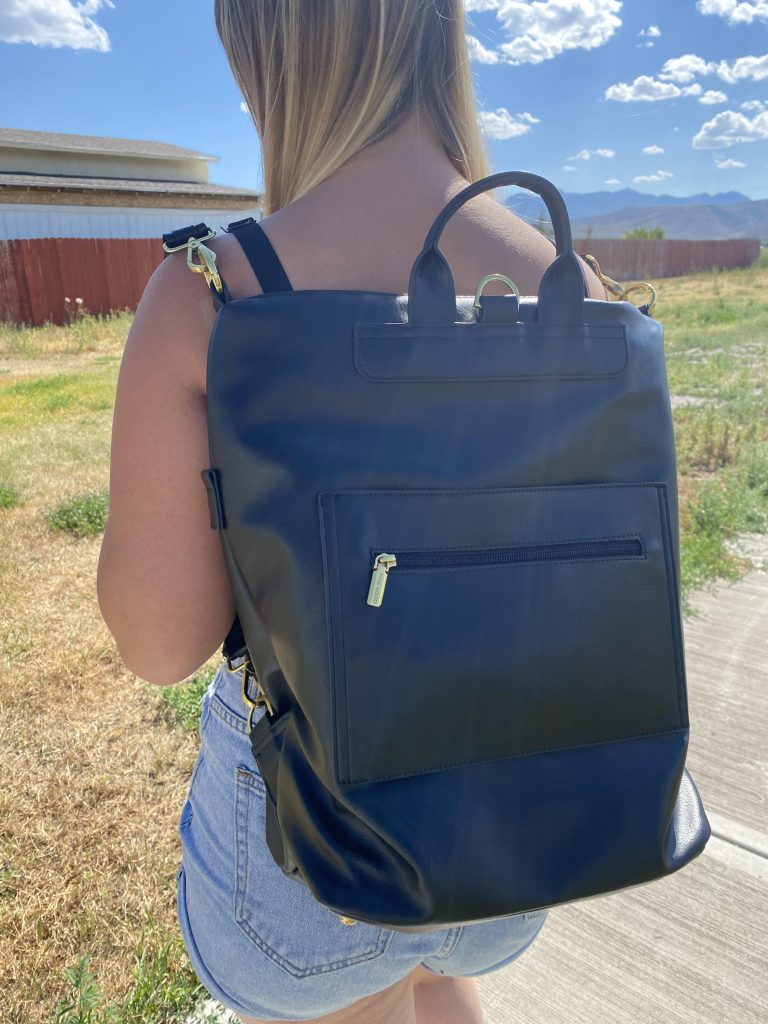 She loves the gold accents on it and is really excited to use it for her new school year! She also really likes that she can use it as a handbag OR a backpack. This convertible bag has so many great features (see above!)!
Overall, the Blossom Backpack from Pixie Mood is a practical and stylish choice for anyone looking for a convertible backpack purse. It's versatile, spacious, and eco-friendly, making it a great option for students, travelers, and commuters alike!
Who Is Pixie Mood???
Pixie Mood is a brand committed to creating cruelty-free and environmentally sustainable products. They have a collection of vegan leather bags, backpacks, handbags, wallets, crossbody bags, tote bags, and more! They have a huge selection and plenty of options to choose from.
Their collection features a range of sizes and styles, from sleek and minimalist designs to different colors of bags and accessories.
Each bag and product they sell is crafted with attention to detail and made with high-quality vegan leather, ensuring both durability and style. If you're looking for a practical everyday bag, wallet, or whatever, Pixie Mood has them.
Pixie Mood believes that fashion and sustainability can go hand in hand. That's why their products are not only stylish and versatile, but also ethically made and environmentally conscious. I love that about them!
They are proud to offer a collection of products that are both fashionable and responsible, and they can't wait for you to try them out for yourself so you can see why like we did!
Pixie Mood is a proud member of 1% for the Planet and Terrapass to give back and support social and environmental causes. They also partner with One Tree Planted and the Humane Society to drive positive change for our planet!
Frequently Asked Questions (FAQs)
What are the top features to look for in a convertible backpack shoulder bag?
When choosing a convertible backpack shoulder bag, there are a few key features to look for. First, make sure the bag is made from high-quality materials that are durable and long-lasting.
Second, look for a bag that has plenty of pockets and compartments to keep your belongings organized. Finally, make sure the bag is comfortable to wear, with comfy straps that can be adjusted according to your preference.
What are some key factors to consider when choosing a convertible backpack for travel?
When choosing a convertible backpack for travel, there are a few key factors to consider. First, make sure the bag is large enough to hold all of your travel essentials, but not so large that it becomes cumbersome to carry.
Second, look for a bag that has plenty of pockets and compartments to keep your belongings organized. Finally, make sure the bag is comfortable to wear for extended periods of time, with padded straps and a breathable back panel.
How Is Pixie Mood Animal-Friendly Or Cruelty-Free?
They don't use any animal skins or by-products to produce the bags. They love animals and they believe fashion would be even more awesome without harming any animals. They strive to provide a cruelty-free option to those who love fashion and fun accessories!
Buy
You can purchase the Blossom Convertible Backpack/Purse on the Pixie Mood website!
Win!
One lucky person is going to win a $100 Gift Card to Pixie Mood!! Yay! They have SO many cute and stylish bags, purses, backpacks, and more!
Rules (Cuz we gotta have 'em!)
The contest is open to US and Canada, 18+. The giveaway will end on August 12, 2023, at 11:59 PM. I am not responsible for lost or stolen mail.
---
PIN IT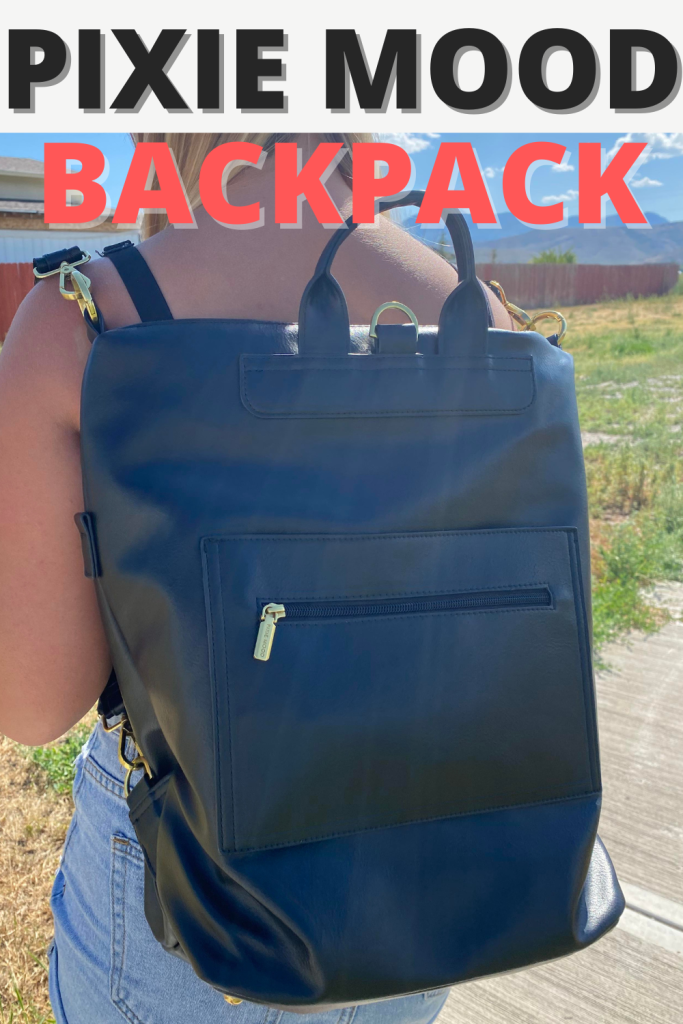 More Back To School And College Posts, You Might Be Interested In:
*Best College Trunks For Dorm Rooms
*Best Gift For College Students