I recently had the opportunity to try out the Circle DNA Premium tests. My whole family got one so that we can all find out everything about our DNA. I think it is so important to find out everything about our DNA so that we can be prepared for everything. Though it is a little bit scary, it is also necessary so that we as a family can stay ahead of the 'what ifs'.
Circle DNA Premium Tests allow you to take full control of your health by understanding your genetic blueprint. Circle DNA Premium is the world's most comprehensive DNA test so you can make informed decisions about your health with full confidence.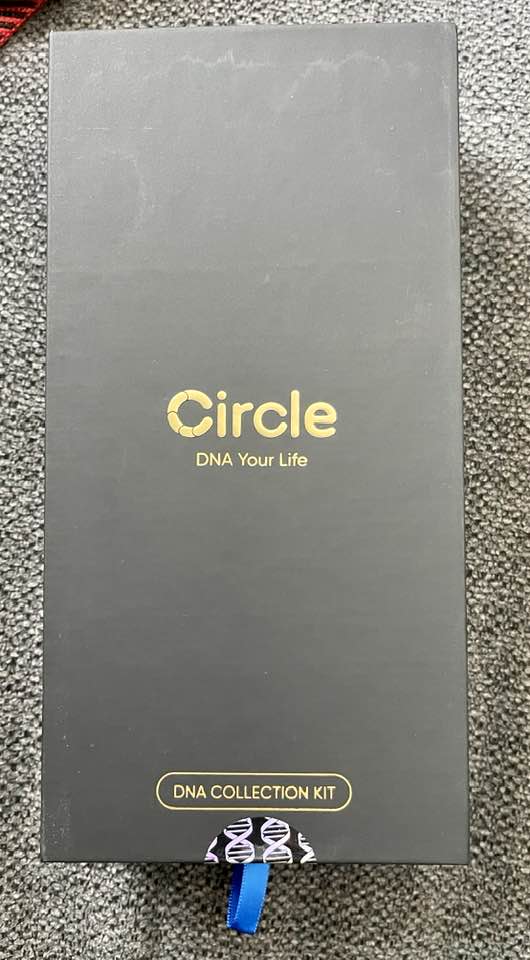 Circle DNA Premium Test Kit
Validated 99.9% Analytical Accuracy
Powered by the world's most advanced DNA technology you will get Whole Exome Sequencing. CircleDNA's WES technology conducts a full scan of all your protein-coding genes, providing you with comprehensive and accurate results.

You get 500+ reports that help you understand the following things:
Your risk level of inherited cancers & disease
Insights about your optimal diet, fitness, and wellness
Carrier conditions that may affect your future family
Prescription drugs response
Ancestry breakdown
The circle report categories are:
Circle Report Categories (20 Categories, 500+ Reports):
*Diet
*Cancer Screening
*Common Health Risks
*Family Planning
*Nutrition
*Dementia and Brain Health
*Disease Risk
*Drug Response
*Sports and Fitness
*Stress and Sleep
*Ancestry
*Skin
*Physical Traits
*Personality Traits
*Behavioral Traits
*Well-Being
*Pollution
*Music and Dance
*Gender Traits
*Success Traits
Your genetic Diet report includes the following:
Your unique dietary profile
Learn your weight regain response, which food groups you're sensitive to, and find your optimal diet type.
Which genes were tested
We break down the mutations analyzed and detected in your DNA and explain how we determined your result.
Information about your results
Dive deeper into your nutrigenetic profile with easy-to-understand explanations to help you achieve your physical goals.
Valuable insights
Explore simple and actionable recommendations to improve your diet, based on your DNA results.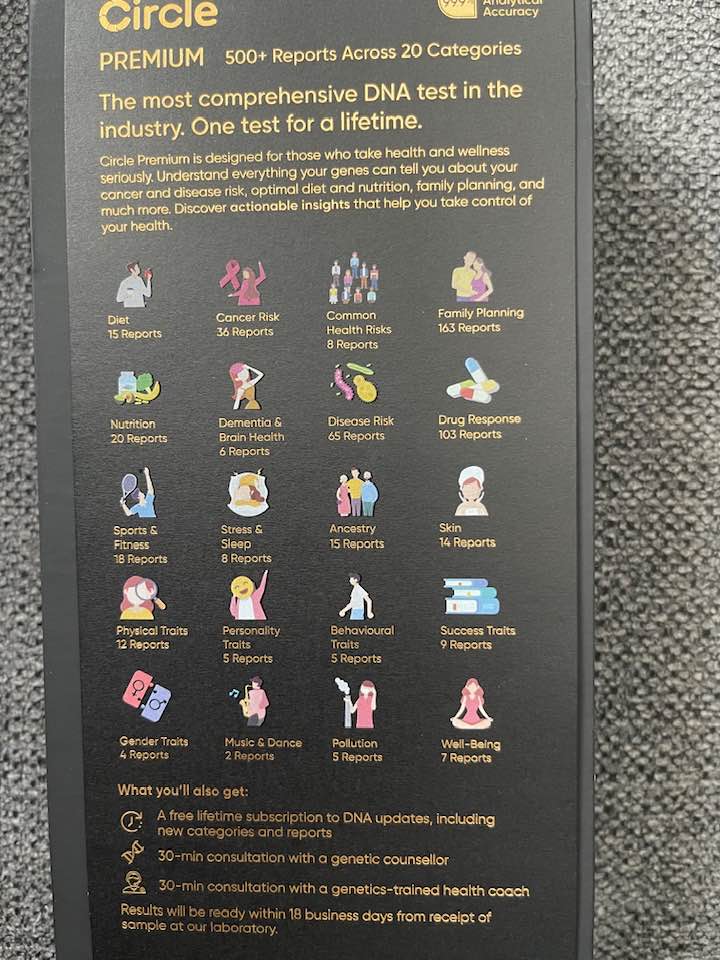 Applicable to Premium DNA Tests only, you can unlock 15 dietary test items:
*Alcohol Sensitivity
*Salt Sensitivity
*Sweet tooth
*Caffeine Sensitivity
*Spice Sensitivity
*Weight regain
*Theophylline Sensitivity
*Taste Sensitivity
*Detox: cruciferous vegetable need
*Fat Sensitivity
*Alcohol Flush Reaction*
*Detox: toxin generation speed
*Carbohydrate Sensitivity
*Lactose intolerance
*Your Optimal Diet Type
You will get valuable results personalized only for you!
Simple and Convenient Saliva Collection
I love how easy it is to collect your DNA sample and ship it back to the company for testing. All kits include a non-invasive, FDA-approved saliva collection swab and test tube, with free delivery both ways! Collect your sample at home with their easy-to-use saliva swab and return it to their accredited labs. That is it!
How It Works
There are only 4 simple steps to kickstart your CircleDNA journey:
*Order your kit
*Collect your sample and ship it back
*Recieve your report via the Circle app within 18 business days
*Book your 1 on 1 consultation with their healthcare professional and genetic professionals (you will get TWO complimentary 1 on 1 consultation when you purchase the Circle DNA Premium kit)
I can't believe how much the Circle DNA Premium Kit covers! When I get back my family and I's test results, I will add our thoughts about them to this blog post! Stay tuned! Hopefully, everything comes back well!
Note: Your privacy and data security is their top priority. They do not sell, lease, or rent your data to any third party. They adhere to leading international security standard ISO-27001.
Buy
Start your Circle DNA journey now! They sell several different DNA kits:
*Premium DNA Test: 500+ Reports, 20 Categories covering every test CircleDNA has to offer
*Vital DNA Test: 135+ Reports, 14 Categories including Diet, Exercise, and Lifestyle
*Health DNA Test: 115+ Reports, 14 Categories including Cancer, Common Health, and Disease Risk
*Family Planning DNA Test (Set of 2): 160+ Reports including screens for all major carrier conditions
PIN IT