Ever wonder how you are going to store all the fresh food you just bought? How about a way to stop food waste and keep food fresh longer? I have always fought this and failed miserably until I found out about the FoodSaver Food Preservation System. Plus, don't forget my yummy recipe below for Creamy Tortellini Spinach & Sausage Soup!
*This post includes my affiliate links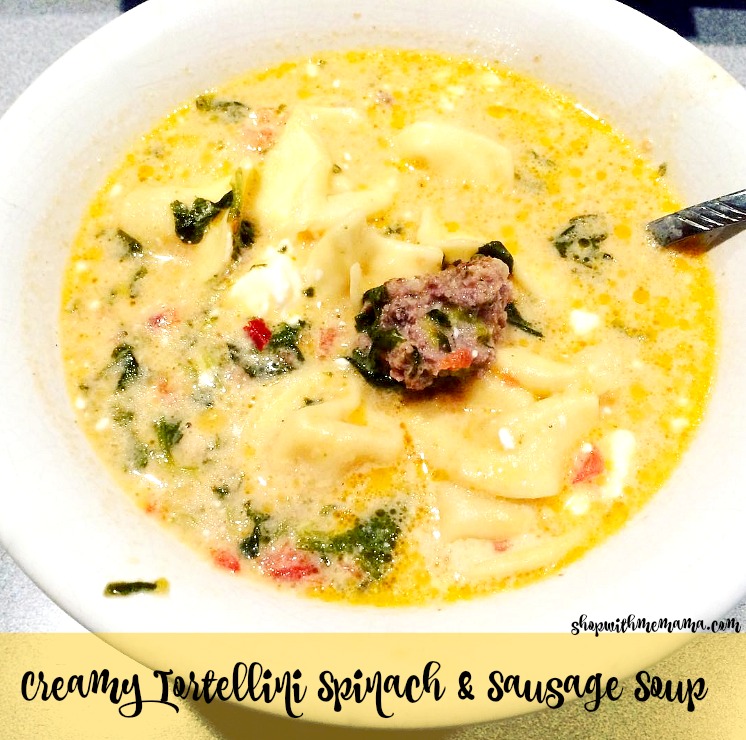 Now, this is one food preservation system you do not want to do without. If you are like me and buy a lot of groceries at one time, and need the food to last a while, then you NEED this food preservation system.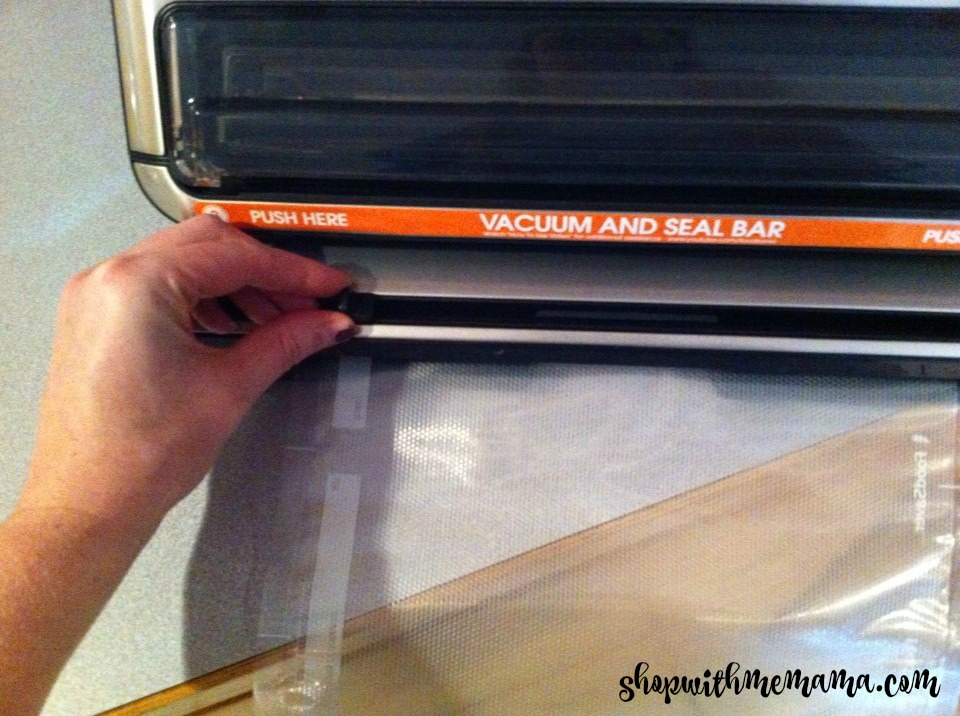 The FoodSaver Food Preservation System is awesome. I love that this will help keep my food fresh longer! We live out in the country, like WAY out in the middle of nowhere, country. We have about 189 people in our town, so that will tell you how tiny our town is! So, when we go grocery shopping (we go twice a month), we buy a lot of stuff. Those groceries HAVE to last! So, I was so thankful to be able to check out and review this wonderful FoodSaver System!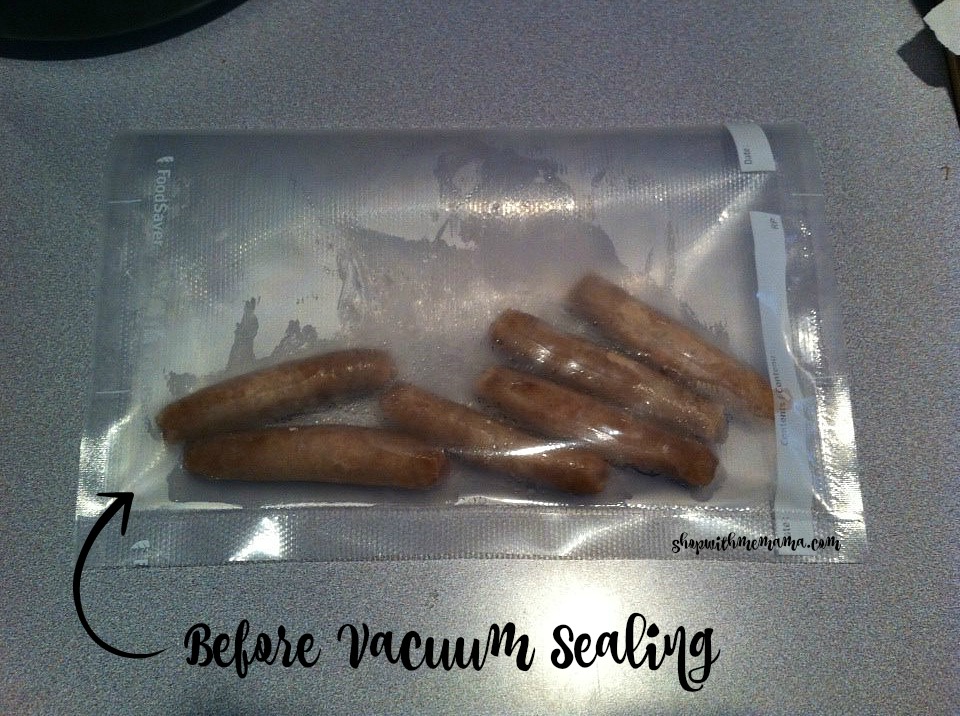 When we get home from shopping, my counter is usually filled with meats I have to separate and cut and put into other bags then into the freezer. Well usually, those meats get freezer burned and I hate it. Now that I have the FoodSaver Food Preservation System, it is no longer a worry of mine. Do you know how good this feels?! GOOD.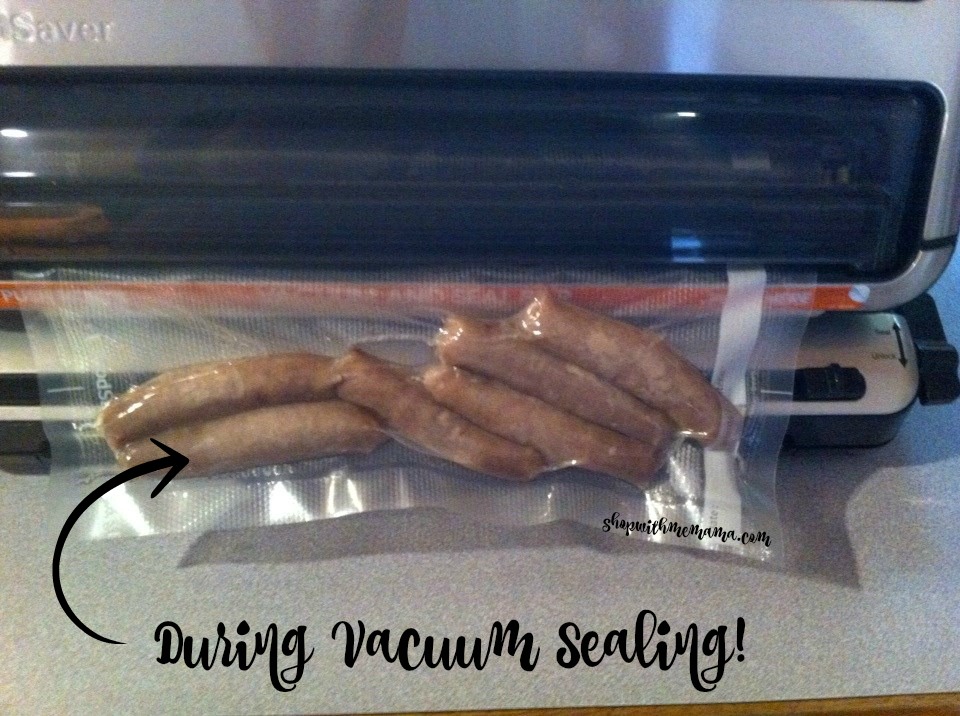 I was given a challenge by the people over at FoodSaver, to find an ingredient to freeze and a few weeks later, pull out of the freezer and then use it in a recipe of my choice. I agreed and eagerly awaited the arrival of my precious new BFF! Now I can Keep Food Fresh Longer!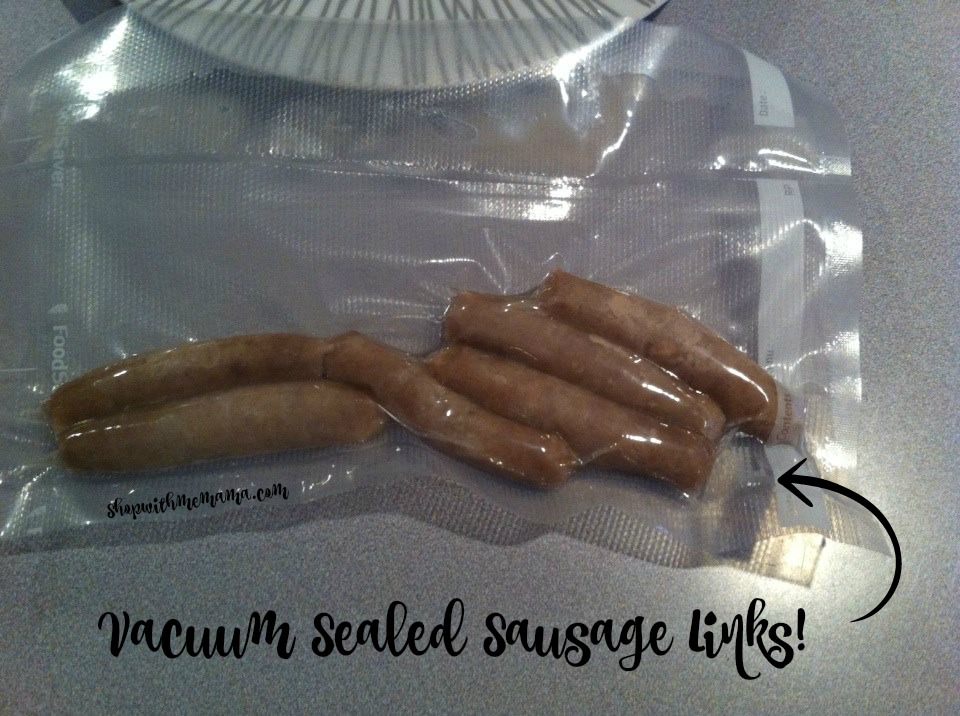 The FoodSaver Food Preservation System comes with everything I needed to get started immediately!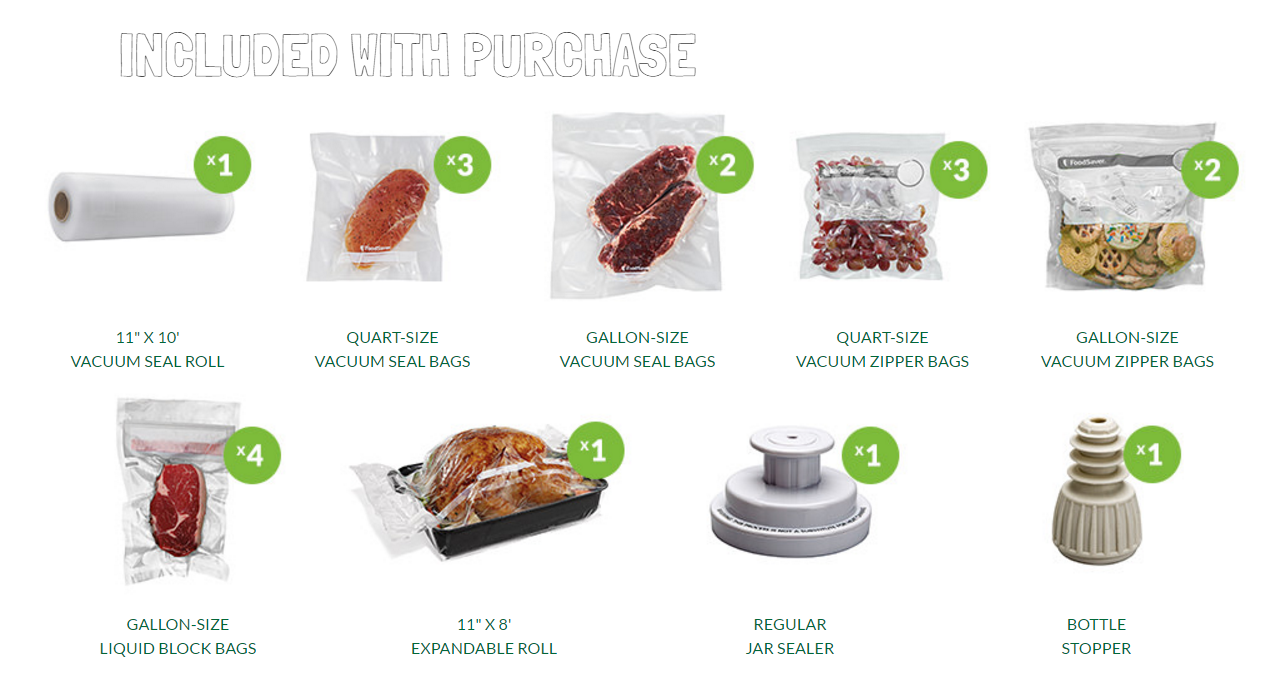 Once I had this out of the box and on my counter I then made sure the stickers were off and the roll of vacuum seal bags was installed correctly. I read the directions and was soon sealing off the bag I was going to use for the ingredient I was supposed to freeze for a few weeks. I chose sausage links!
I took the fresh sausage links and put them in the premeasured, sealed, and cut bag that I prepared for them. When they were placed into the bag I then carefully pushed the top of the bag into the 'vacuum and seal' spot. Since this was a 'moist/wet' product, I made sure the top of the bag was inside of the 'spill tray' so any juices that came out would collect in there instead of going all over the place.
When I had the bag where I wanted it and it has enough room at the top of the FoodSaver bag, I then pressed the 'moist food' settings on the top of the machine, then I pressed down with both hands, on either side of the bar, to vacuum and seal the food/bag.
The machine immediately went to work, sucking all the air out of the bag and then sealing it. The machine knows what to do! So easy! I was/am so impressed with this machine and how easy the setup and use of it is.
But, that is not all folks! If you have delicate foods (like muffins and baked goods), that you want to vacuum seal and save for later, you can! Just use the PulseVac Button. This will control the vacuum function to seal delicate foods without crushing them!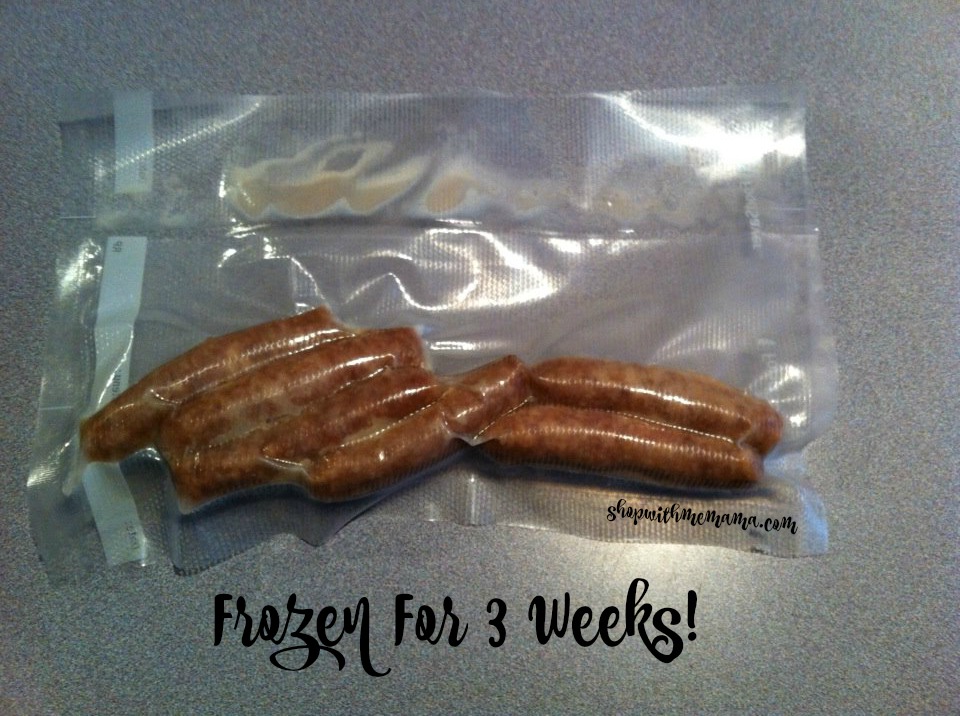 The FoodSaver machine can do SO much, but this is as far as I have personally gone with the FoodSaver System. I still have so much to learn about it and its uses and am looking forward to that! But for now, I will focus on my sausage links and recipe!
Three weeks later, I decided to check out how my sausage links were doing. They were still vacuum sealed and no ice was seen inside the package. So far so good! The sausages looked great! When I opened them to add them to my recipe, I was happy to see that they had no ice on them and they were perfectly preserved! A very happy woman here!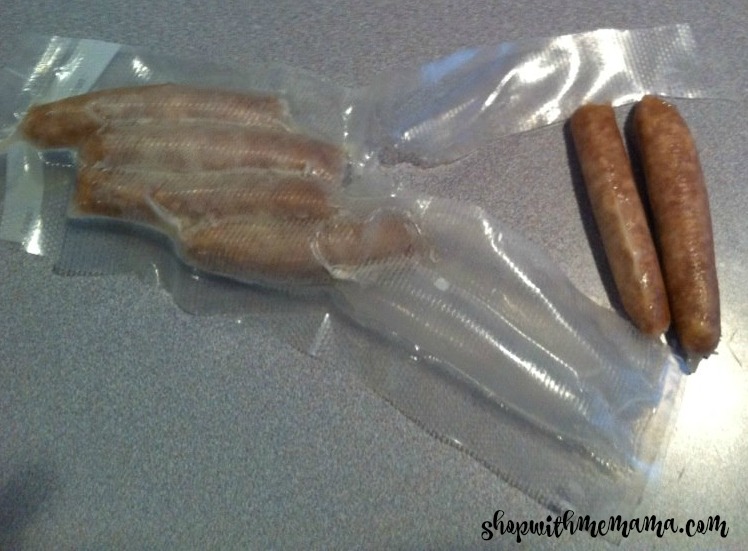 The recipe I decided to go with is a favorite in our home, on those long cold winter days. It is called 'Creamy Tortellini Spinach & Sausage Soup' and it is SO delicious!!!!
I first had this at my church. I loved it so much that I had to grab the recipe from one of the ladies there. They were kind enough to print out the recipe for me and then I made the soup for my family a few nights later. Ever since, it has become a favorite soup and one that my family asks me to make, often.
Creamy Tortellini Spinach & Sausage Soup
The Creamy Tortellini Spinach & Sausage Soup is simple to make in the slow cooker and doesn't take long at all. It is creamy, cheesy, and oh-so-perfect!
Creamy Tortellini Spinach & Sausage Soup
Author:
Delicious and creamy soup in the slow cooker, your whole family will enjoy! There are never any leftovers at our when I make this for dinner!
Ingredients
1 19 oz. Bag Of Frozen Cheese Tortellini
1 Small Bag Of Fresh/Frozen Spinach
2 14.5 oz. Cans Of Italian Style Diced Tomatoes, Drained
4 Cups Of Chicken Broth (Less if you like a thicker soup)
1 Package of Cream Cheese (soften it in the microwave)
6 Sausage Links
Instructions
Slice up sausage and brown in a pan and then put it into the slow cooker along with all the other ingredients.
Cook on low in the slow cooker for 6 hours on low.
I am so excited about how well the sausage links were preserved. I cannot wait to use the FoodSaver FM5000 Series Food Preservation System on more foods! We are doing a big shopping on Friday, so this machine will be used quite a bit this weekend! And, I will definitely be making more Creamy Tortellini Spinach & Sausage Soup because my family LOVES it!
More Information About This FoodSaver System:
This new food preservation system is designed to help eliminate food waste and keep food fresh up to 5x longer than traditional storage methods! Using specially-designed bags not only preserve food and flavor, but this new system also incorporates new features like the Express Bag Maker which reduces vacuum sealing steps in half.
Here's why the FoodSaver Is A Must-Have:
· Buying in Bulk & Save Money: Whether you're purchasing fruits, vegetables, or meats, bulk buying in season and preserving food with a vacuum sealer can save up to $2,700 a year.
· Prep Ahead Meals & Save Time: Save time during the week, by prepping and portioning healthy meals for you and your family ahead of time so all you have to do is grab and go or reheat.
· Preserve Flavor & Love Leftovers: Eliminate food waste by preserving your leftovers and reimagining them into new and delicious meals.
Air Is The Enemy!
Yes, you heard me right! Air is the enemy of freshness and the number one cause of freezer burn and dehydration in food stored in the freezer, refrigerator, and pantry. Ordinary storage methods trap air inside, causing food to lose its flavor and nutrition over time. But the FoodSaver Food Preservation System combats the enemy with an air-tight seal.
Why Is It Important To Preserve Food?
Now more than ever, it is so important to preserve and save food for as long as possible. With meat becoming more scarce to find (thanks, Coronavirus!), it is important to freeze it, especially if you bought a bunch of meat. The best way to freeze your meats is with the FoodSaver machine.
We went to Costco and bought a bunch of different meats and I cut it up and put it in my FoodSaver bags and then sucked the air out of them, put a date on the bag, and stuck them in my freezer. We are good to go for a while now thanks to our FoodSaver.
Where Can I Buy The FoodSaver System?
You can purchase the FoodSaver Food Preservation System HERE!
Make a grocery list and cook on a budget, use the FoodSaver Food Preservation System and you are good to go! Nothing feels better than saving money and preserving your food, especially in trying times like these!
What Foods Would You Preserve If You Had The FoodSaver Food Preservation System? What do you think of my recipe?
PIN IT!