Summer is nearly here and it is already hot outside. With summer and the heat, my skin needs some extra love. That is why I went on a search for some of the best skincare products for summer. These summer skincare products are beauty products you need to have NOW!
I have reviewed City Beauty products in the past, and I am obsessed with them and how they make my skin feel. Recently, I was sent a few more City Beauty products that I have not tried yet and I gave them a good test drive on my skin. Let me tell you, I absolutely LOVE them, all of them!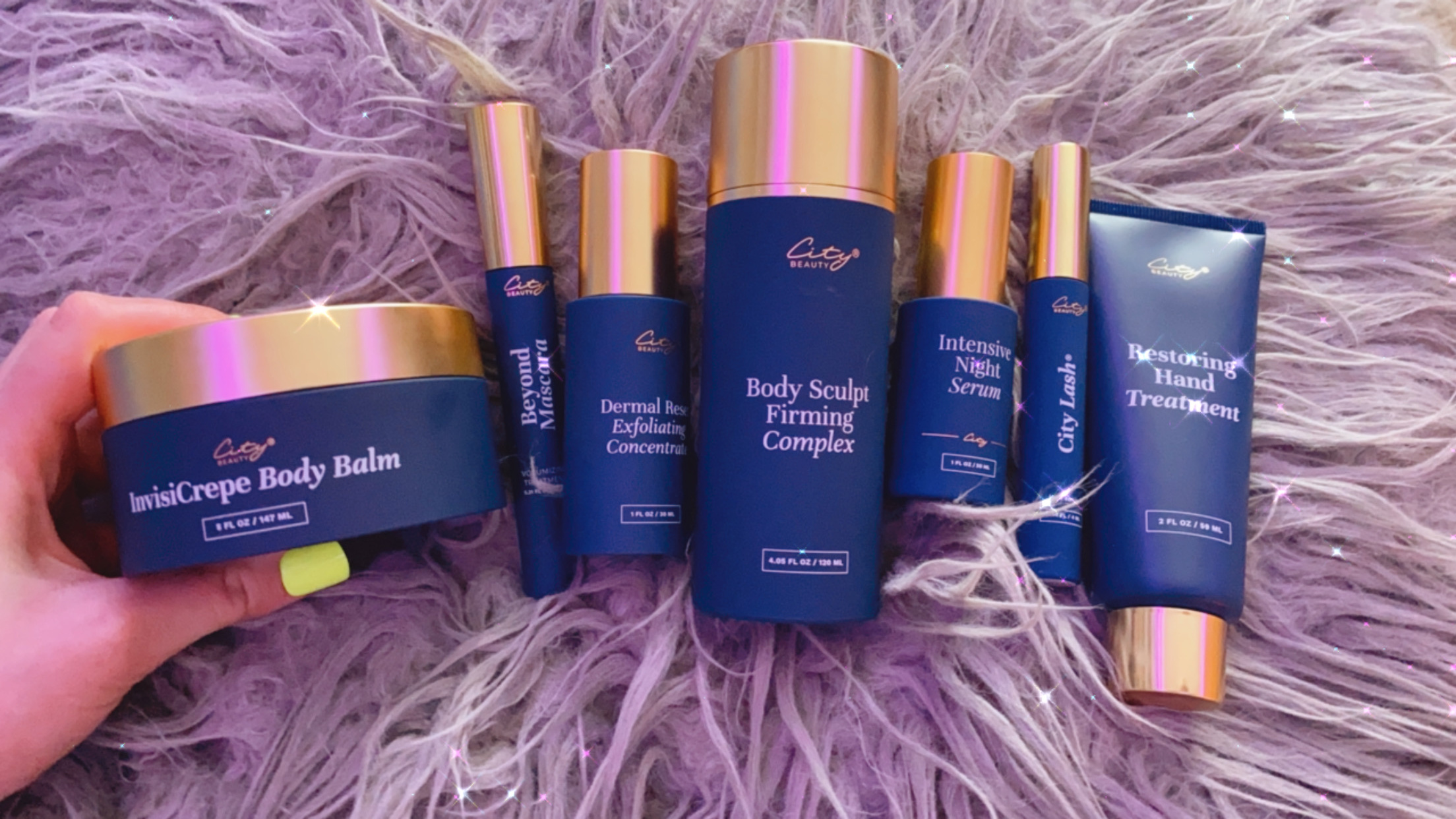 Summer Skincare Products You Need Right Now!
City Beauty Products I Received Are:
*Body Sculpt Firming Complex (NEW PRODUCT! Click HERE to get 40% off this new product!!!)
*City Lash
*Intensive Night Serum
*Restoring Hand Treatment
*Beyond Mascara
*InvisiCrepe Body Balm
*Dermal Reset Exfoliating Concentrate
Oh, SO many wonderful products, where do I start???
*Body Sculpt Firming Complex (NEW Product!!)
The Body Sculpt Firming Complex is NEW!!!! It is a wonderful firming cream that helps with the appearance of cellulite and stretch marks. It also minimizes the look of loose, saggy skin.
It helps to increase the skin's appearance and helps with elasticity and thickness, taking care of those 'thin-skinned' areas on your body. It also boosts your skin's hydration.
It helps in dermal repair too. You can find Dermal Repair Complex ingredients by visiting that link. It is really a great body cream and it helps with so many things!
It is kind of cool when I first put this on, which I really like. A little goes a long way. As you rub it into your skin, massage it until it is absorbed, that is how I do it! It blends in REALLY well and doesn't leave ANY greasy or sticky feeling.
I started working out in February of 2020 and have been working out ever since. Now that I am fit and feel more healthy, I still have those pesky cellulite dimples on my butt.
I HATE that, but I also know that it is NORMAL to have cellulite. So, though I do not like it, I know that most women have it, so I am not alone. That makes me feel a bit better!
How To Use
Gently exfoliate before using this. Apply to damp skin for better absorption and to help lock in all the moisture. You can warm up this product by rubbing it between your hands for 10-15 seconds for an even smoother application and absorption.
The Body Sculpt Firming Complex retails for $89 BUT, right now, since it is a new product, you can SAVE 40% off by using the code: SCULPT40 at checkout! TOTALLY worth it!
*City Lash
City Lash is a lash treatment that helps to enhance naturally thin, short, and sparse lashes. It is proven to increase lash thickness by 40%, extend the lash length by 43%, and significantly decrease the numbers of lashes you shed.
I JUST started using this, so I can't show any results just yet, but I will come back to this post and update it in about 4 weeks with some pictures. They say it takes about 4 weeks to start seeing anything, so that is why I said 4 weeks from now!
How To Use City Lash
Apply twice daily onto clean, dry skin by sweeping the applicator tip along the upper eyelash line. Allow the product to absorb into the skin before applying additional products.
City Lash retails for $90
*Intensive Night Serum (Summer Skincare Products You Need Right Now!)
Next up is the Intensive Night Serum. I know I just received this a week ago, but I seriously have no clue what I did before having this. This stuff makes my face SOOOOO soft, no lie.
I don't think I will be able to ever be without (for real). I don't think I have ever had a serum make my face feel like this.
It helps to make my fine lines less visible (makes them plump up quickly!). I can't stop touching my face after I use this magical stuff!
Not only does the Intensive Night Serum help with the look of fine lines and wrinkles, but it also helps to firm up your skin too. It firms the skin by supporting cell turnover and collagen production.
Its concentrated formula penetrates deep into your skin for an intense burst of hydration and a springy, plumped-from-within appearance! Love this stuff! This is DEFINITELY a Summer Skincare Product You Need Right Now!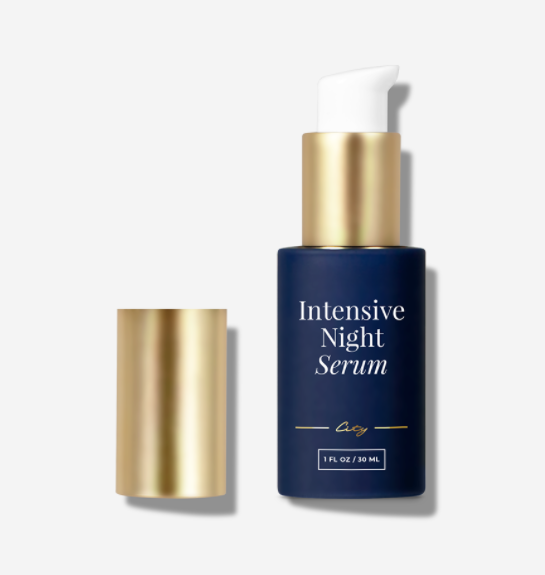 How To Use The Intensive Night Serum
Massage a small amount onto clean skin using an upward motion before bed, focusing on wrinkle "problem areas." Allow to fully absorb.
The Intensive Night Serum retails for $87
*Restoring Hand Treatment
Your hands indeed are one of the very first places to start aging and it really sucks! I am 46 years old and though my face and neck are nice and smooth, my hands ALWAYS give my age away and I hate it!
I am glad that there are products out there like City Beauty's Restoring Hand Treatment to help me keep aging at bay for at least a bit longer!
Restoring Hand Treatment targets obvious signs of aging hands with a potent formula that lasts all day. Micro-algae helps smooth the look of wrinkles, and a botanical extract blend deeply hydrates while brightening the look of dark spots. And, this leaves my hands SOOO soft! I love this hand treatment lotion!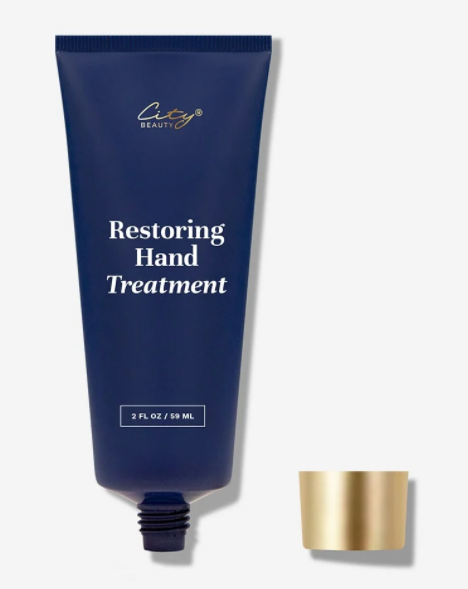 How To Use
Apply a dime-sized amount to the hands, focusing on the tops of the hands, and massage in until fully absorbed. For best results, apply at least twice a day or as needed.
The Restoring Hand Treatment retails for $68
*Beyond Mascara
I love it when I find really good mascaras! The Beyond Mascara is perfect for coating my lashes completely and extending them to unbelievable lengths! So pretty!
This is a buildable, ultra-pigmented formula that instantly adds visible length, volume, and definition to your lashes. The active ingredients help to strengthen, lengthen and condition your lashes for naturally longer, fuller, thicker-looking lashes!
How To Use

Holding the wand horizontally, apply the mascara from the root of the lashes towards the tips for instant volume and length. Add additional coats for thicker, more volumized-looking lashes. For best results, use daily.
The Beyond Mascara retails for $35
*InvisiCrepe Body Balm
We all start to get a bit 'crepey' as we age, unfortunately 🙁 But, there are ways to SLOW down that dang process! The InvisiCrepe Body Balm can help you slow down that process and in the meantime, help your crepey areas look more smooth and younger-looking.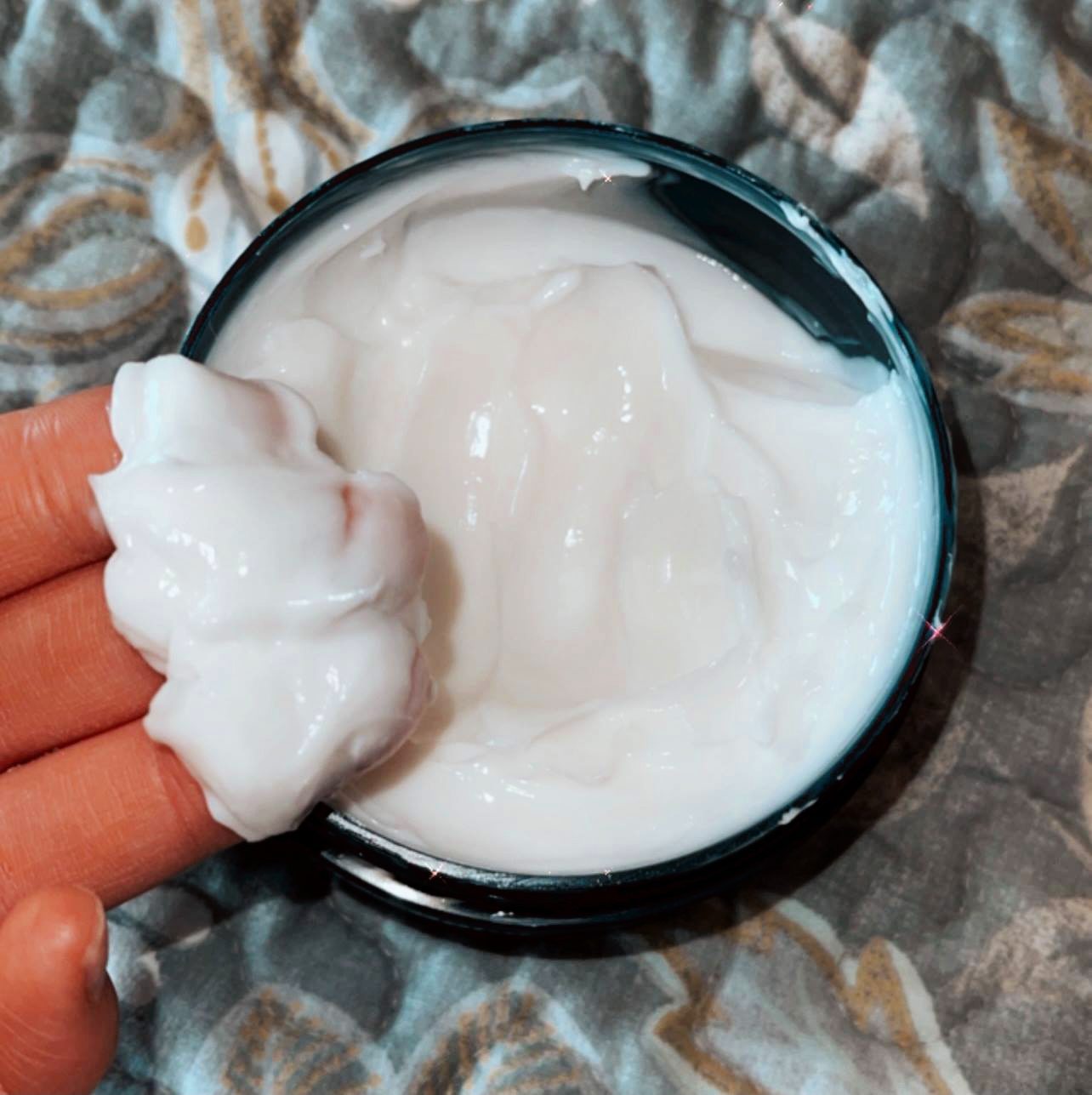 InvisiCrepe Body Balm reduces the appearance of thin, wrinkled, crepey skin by supporting the skin's barrier function, boosting hydration, and supporting the skin's protein structures for a smoother, firmer, and more supple look. I use this all over my body and my skin is really soft after using it.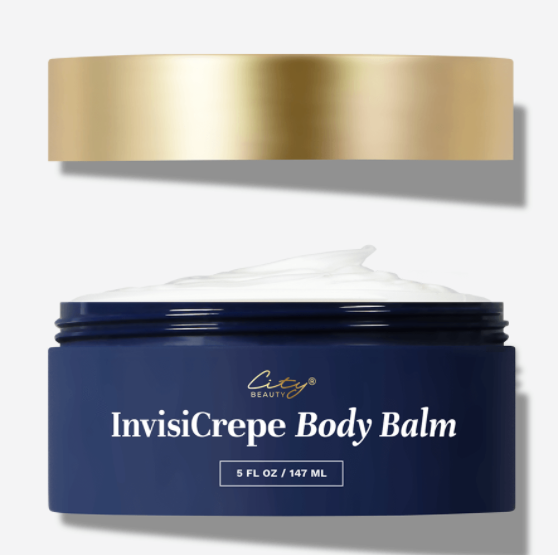 How To Use
For best results, apply daily to clean, dry skin. Place a quarter-sized amount onto areas of concern such as the neck, chest, arms, and legs. Massage in a circular, upward motion until the product is fully absorbed.
The InvisiCrepe Body Balm retails for $60
*Dermal Reset Exfoliating Concentrate
This is a wonderful skincare product to use. You apply it to dry skin (works best on dry skin!) on your face and neck area. Massage it in and you will feel a tingle, at least that is what I feel whenever I apply it!
After using this, my skin feels so soft and smooth. I used this twice a week at first, but now I am up to 3-4 times a week. Start with one or two times a week, then go up from there as your skin gets used to it.
Dermal Reset Exfoliating Concentrate helps resurface skin for a younger look and feel. Gentle exfoliating acids clear away dead skin cells while powerful extracts combat the appearance of dullness, discoloration, and wrinkles — for skin that looks radiant, smooth, and firm.
How To Use
Morning or night, apply 1-2 pumps per day to clean, dry skin. If using during the day, follow with a broad-spectrum sunscreen.
If new to alpha-hydroxy acids (AHAs) start by using 1-2 times a week. Add a day each week to build up the skin's tolerance
The Dermal Reset Exfoliating Concentrate retails for $80
Join City Beauty's Text Club and Get Member-Only Discounts!
Sign up for exclusive access to major sales (up to 70% off), product releases & insider tips. All you need to do is go to their home page, scroll to the bottom, and enter your email! It is that easy!
About City Beauty (Taken From Their Site)
The City Beauty line is designed with skin-rejuvenating and collagen-supporting actives such as Hyaluronic Acid, Oligopeptides, Resveratrol, and Vitamin C, just to name a few.
Each product is formulated to target specific concerns — whether it's to volumize thinning lips, brighten dark spots, improve the appearance of wrinkles and fine lines, or smooth skin texture.
They pride themselves on being a cruelty-free company — and always ensure their products go through the most rigorous quality testing.
Discount Codes!
The first discount code is for the brand-new Body Sculpt Firming Complex! Use the coupon code: SCULPT40 at checkout for 40% off this holy grail of a beauty product!
The second discount code is for 15% off City Beauty products! Just use the coupon code: CITYPARTNERS15 at checkout! Yay!
Buy
You can easily purchase the Summer Skincare Products You Need Right Now by visiting City Beauty online! They offer FREE shipping on orders $50 or more! Don't forget to sign up for their text club too, so you can get member-only discounts (see info on this, above!)!