CONTEST IS OVER! CONGRATS TO
Amy Delong #159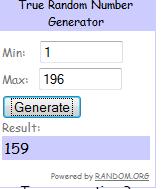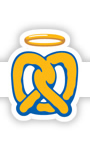 Ever tried Auntie Anne's Pretzels, you know, the ones that are at the mall? I have, a lot in the past,
and I absolutely love them. My favorite is the salty pretzels with mustard to dip it in, Mmmmmmmm!!! I
had the chance to try out Auntie Anne's pretzel kit, to make the pretzels at home! Oh, how excited I
was to be able to make those delicious pretzels in my own kitchen!!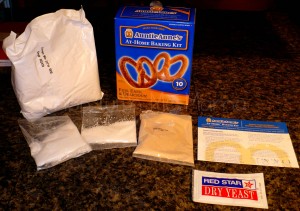 Me and my daughter made them together. It was fairly easy to make, just a lot of kneading, but simple
to put together. You have to let the dough rise in a warm place for about 30 minutes, then you just start
doing your pretzel making! It is suppose to make about 10 pretzels but ours only made about 6

We
made them fat and big! I made half cinnamon and sugar and the other half I made salty. The kit comes
with EVERYTHING you need to make these pretzels, all in one little kit! So much fun and great to make
on rainy days with your kids! What a treat for everyone

The only thing I disliked about this, is that
they were gone way too fast!!! Oh they were good straight from the oven!!! Now I want more…
Auntie Anne's has a delicious website with recipes and yummy things to learn about! You can follow them
on Twitter or connect with them on Facebook, or both!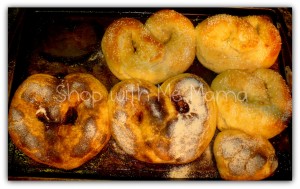 Where to Buy!
Auntie Anne's stores (participating locations)
Specialty Retailers:
Reading China & Glass and Kitchen & Company
Club Store:
Regional Grocery Chains:
Demoulas Supermarkets
Win One!
One person is going to win their own Baking Kit!!
How?
Easy! Just visit Auntie Anne's and let me know something you learned, in a comment below! MANDATORY ENTRY!
Extra Entries!
Follow Auntie Anne's on Twitter
Like Auntie Anne's on Facebook
Subscribe to my NEW blog (see box at top of page on right hand side, just enter your email address and confirm!) let me know you did
"Like" Shop with Me Mama on Facebook
Follow Shop with Me Mama on Twitter
Grab my NEW site button, seen in my sidebar and let me know where I can find it on your site!!
Comment on one of my NON giveaway posts, let me know which one! (If you commented on a post for another contest, please comment on a new one, for this to count!)
Interact on Shop with Me Mama's Facebook page and let me know you did!
Tweet this giveaway, can be done 3 times a day, come back with tweet links
Blog about this giveaway and come back with blog link (2 entries!)
*Lots of great ways to enter, so use them all! Contest is open to US and Canada and will end on November 10th, 10PM, PST. 1 person will be chosen by using random.org. to win an Auntie Anne's Baking Kit! Winner will have 48 hours to confirm their win or a new person will be chosen. Good luck and follow the rules!*
Disclosure:
I was sent an Auntie Anne's Baking Kit to review. These are my own honest opinions about this prouduct,
thanks!!