In this post, I will give you an Easy Dinner Idea Tuna PENNE RIGATE. It is SO good! During the warmer months of the year, I like to try to not spend forever in the kitchen. It gets too hot in there and I get cranky! So, I like to find easy recipes I can whip up in a flash, for my family. One dish I came up with is a great easy dinner idea Tuna PENNE RIGATE. It is not only delicious and healthy but super easy to make and everyone in my family loved it!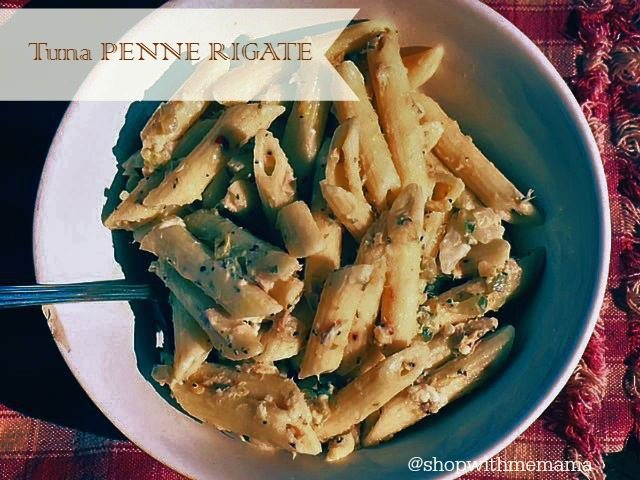 Easy Dinner Idea Tuna PENNE RIGATE
A Healthy And Delicious Summer Meal the Whole Family Will Love!
Author: Kim Delatorre
Serves: 6 servings
Ingredients
1 box Dreamfields Penne Rigate
1 can (5 ounces) chunk light water ­packed tuna, drained
½ cup mayonnaise
1 small onion, chopped
3 tablespoons sweet pickle relish
2 tablespoons chopped fresh parsley
1 tablespoon prepared mustard
2 cloves garlic, chopped
1 teaspoon crushed red pepper flakes (optional)
Salt
Pepper
Steps
Prepare pasta according to package directions. Place in a large bowl, and refrigerate until chilled, about 1 hour.
Add tuna, mayonnaise, onion, relish, parsley, mustard, garlic, and red pepper flakes, if desired to chilled pasta.
Toss until well combined. Add salt and pepper, as desired.
Notes
Nutrition information
(1/6 of recipe): 370 calories; 12 g protein; 50 g carbohydrates; 15 g total fat; 2 g saturated fat; 14 mg cholesterol; 270 mg sodium; 6 g total dietary fiber.
I love feeding my family Dreamfields Pasta in any recipe. It is not only a healthier pasta but it still also has the taste and texture of traditional pasta. I notice no difference in the taste at all. Each serving of Dreamfields pasta includes 5 grams of fiber and 7 grams of protein!
I like that Dreamfields Pasta also helps me and my family feel full longer with a balance of fibers and plant proteins. So my kids and hubby aren't asking to eat an hour or so later. Dreamfields is available at most major grocery stores and online. Look for the black box in the pasta aisle.
Are You Going To Be Making This Easy Dinner Idea Tuna PENNE RIGATE? Let Me Know If You Do! If you loved this recipe then you will love my soup recipe! or my tuna melt recipe! YUM!