In this post, we will talk about comfy, cozy sweaters to wear with leggings! When it comes to comfortable and cozy outfits, nothing beats the combination of leggings and a sweater. Leggings are stretchy and form-fitting, while sweaters are warm and soft, making them the perfect pairing for a casual yet stylish fall or winter look!
Of course, there are SO many different kinds of sweaters to choose from, and most of them I adore. But there are also a lot of uncomfortable or weirdly made sweaters with awful cuts that I do not like.
And, when it comes to being super comfortable in the colder months ahead, I love wearing leggings with my sweaters. LOVE IT. So, how do you know what sweaters will look the best with a pair of leggings? Let's find out, below!
*This post includes my affiliate links
---
Comfortable Sweaters To Wear With Leggings This Fall/Winter
Not all sweaters are created equal when it comes to wearing them with leggings (these are my all-time FAVORITE leggings by the way…). Here are some of the best sweaters to wear with leggings:
1. Oversized Sweaters: One of the most popular sweaters to wear with leggings is an oversized sweater. These sweaters are usually long enough to cover your hips and butt, making them ideal for pairing with leggings.
You can choose from a variety of styles, including chunky knit, cable knit, or even a turtleneck. Oversized sweaters are perfect for a cozy night in or a casual day out.
2. Soft, Knitted Sweaters: These are one of my favorite types of sweaters! Nothing beats a super SOFT sweater, right? And, I love it when the sweater is soft and knitted! So pretty and comfy! Perfect for fall and winter.
3. Cotton Sweaters: I love love love cotton sweaters! I will usually get this with a saying or picture on them (though they are cute plain too)!
These sweaters have been a popular fashion trend for SO long, but they seem to be particularly popular during the fall and winter seasons because, DUH, they keep you warm!
Here is why we love these 3 styles of sweaters
1. Comfort: With more people working from home lately, comfort has become a top priority for many when it comes to fashion. These types of sweaters are cozy and comfortable, making them the perfect choice for lounging at home or running errands.
2. Versatility: These types of sweaters are versatile and can be dressed up or down depending on the occasion. They can be paired with comfy leggings for a chic and extra cozy look!
3. Body Positivity: These types of sweaters are a great choice for people of all body types. They are not form-fitting (though they can be if you want them to be…), which means they can be worn by anyone without worrying about how they will look. There is nothing like body positivity, mental health, and self-love!
---
Here are my favorite sweaters to wear with leggings
Oversized Batwing Sleeve Pullover Sweater
I have already raved about this sweater on my blog and social media (and have it featured in my Amazon Storefront) because this sweater is it!! It is SOOOOOO comfortable, OMG. And, it is oversized too.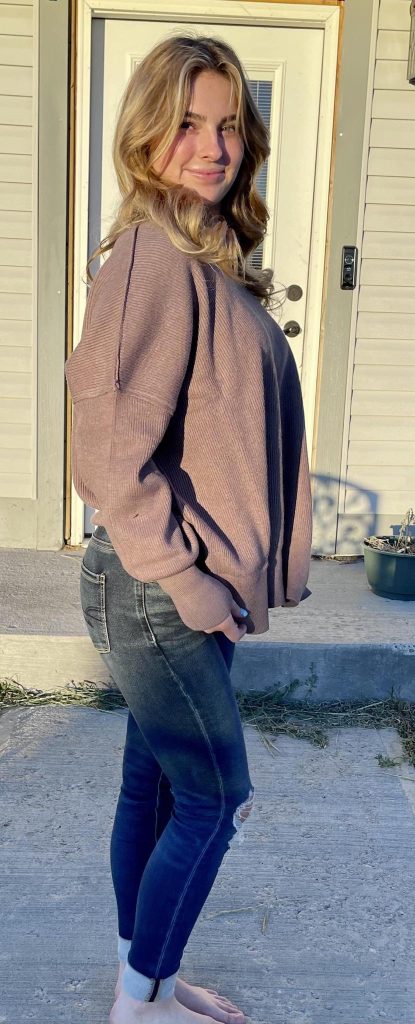 It goes with literally everything I own but I think it looks best with skinny jeans OR a great pair of leggings. This sweater has rave reviews on Amazon too. I bought this sweater in the Gray Coffee color and just love it so much. And???? It comes in 32 different colors!!!
---
Raw Edge Detailed Knitted Sweater Top
I got this in black and LOVE it so much. It is airy (because of the little holes!) and is great to wear on a not-so-freezing day!
However, you can layer a long-sleeved fitted shirt under it to make it extra cozy and warm for those colder days ahead. Or you can wear a fitted tank under it for those warmer (but still cold!) fall/winter days.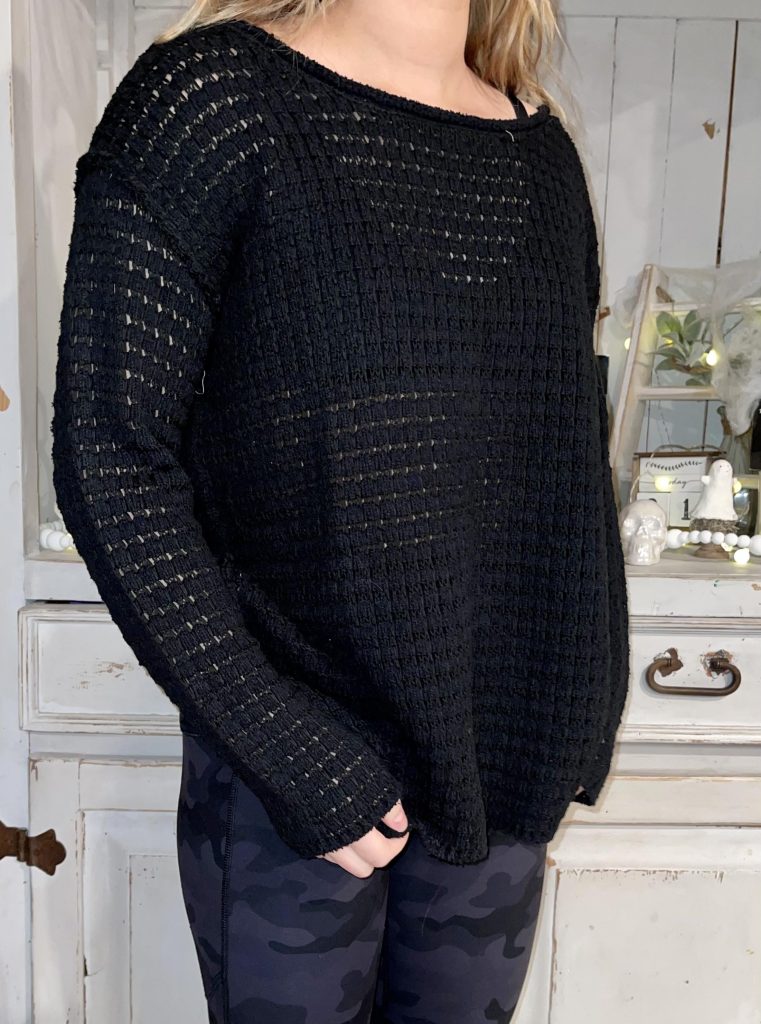 This has a baggy fit but I love that. That is why I got it! I love the oversized, baggier look when I wear sweaters because they just look better to me (and they are more comfier!).
This knitted sweater top features Pointelle knit material, long sleeves that are roomy, a boat neckline, and a high/low hemline which makes this sweater perfect for wearing with leggings! The material is soft and comfy feeling and super lightweight and airy.
You can purchase this lightweight knitted sweater top on June Adel.
---
Easel Multi Color Light Weight Sweater
Talk about a CUTE and fashionable sweater to wear with leggings or skinny jeans this fall and winter! It is not only one of the cutest sweaters I have laid eyes on, but it is also great for layering!
It is lightweight and sheer so you can wear a tank or long-sleeved shirt under it, easily. It is not fitted, but a little oversized, so it is really comfortable and you can move well in it. The color is really pretty too (it is a pretty mint color with a mix of other vibrant colors woven into it).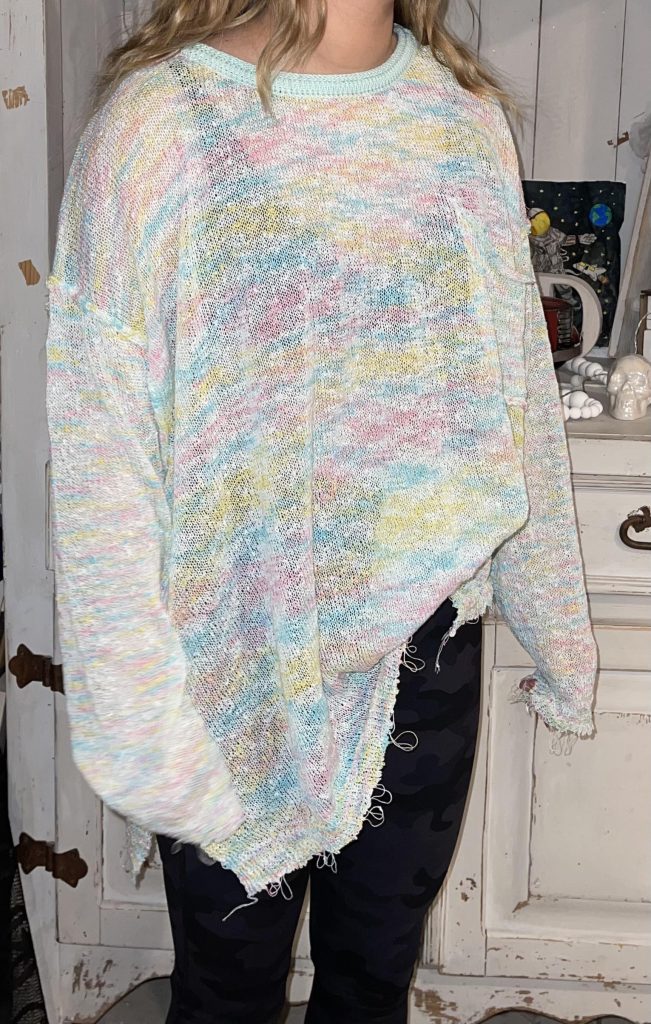 It features a front chest pocket (so you can carry your gum or earbuds in, kidding, not kidding…) and a dropped sleeve design for a fun and unique look!
It is a must-have multi-colored fall sweater that you NEED in your closet for this fall and winter season!! Heavens! You can even wear it in the springtime too! Yay!!
You can purchase this stylish sweater on June Adel.
---
Skull Pattern Distressed Drop Shoulder Sweater
You guys!!!! This is the ultimate SOFTEST sweater yet!!! I know I said that about another sweater already but this one is just as soft!!! It literally feels sooo good. I bought it for Halloween, but I am definitely wearing it ALL winter long!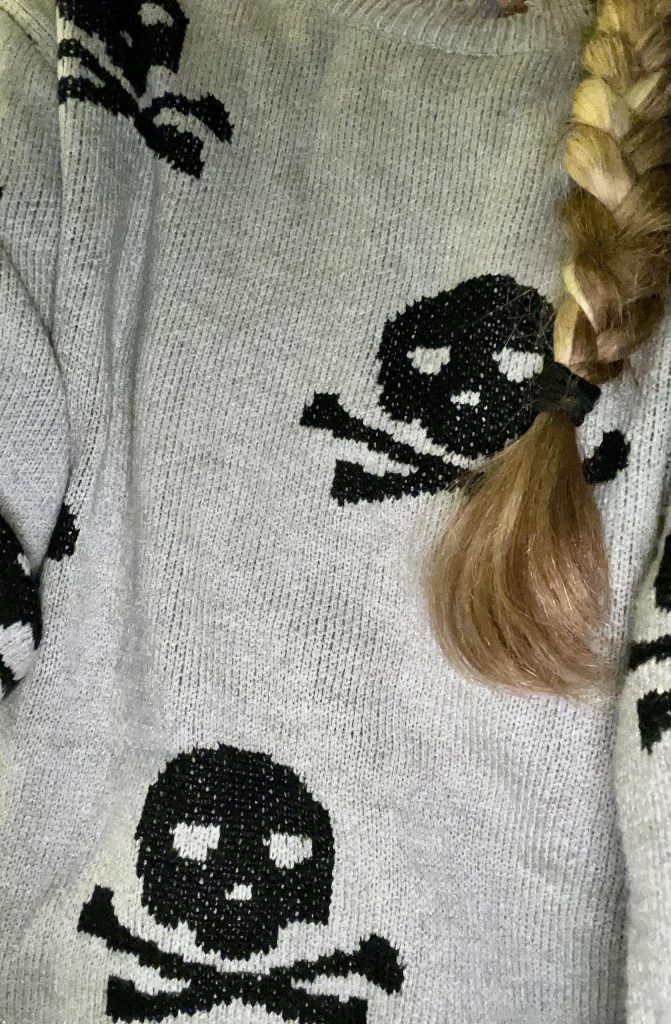 It has a distressed look to it, which is one of the reasons why I bought it. I love the distressed look in clothes! It is a pullover sweater and is a regular fit, but NOT fitted AT ALL. Just a loose-fitted sweater. It is also pretty stretchy.
The hem, neck, and sleeve ends all have this 'distressed' look: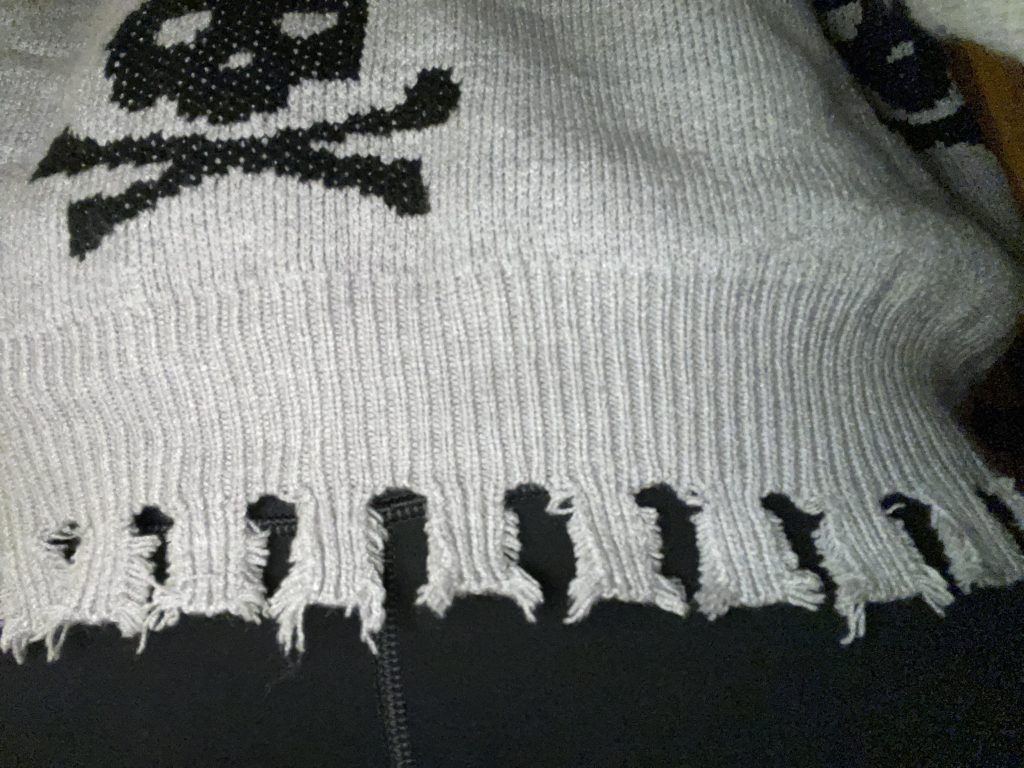 The sweater goes a little below my hips so it looks SO dang cute with leggings. Talk about a comfortable sweater. I am in love with it!
You can purchase this soft skull sweater on Shein. It is SO cheap too! Go get it!
---
Oversized Leopard Print Mouth Gray Sweatshirt
This sweatshirt is huge (maybe because I ordered a large one and I usually wear a small) Anyway, it is really oversized and is SOOO soft inside.
I love how oversized and comfy it is! It is the perfect sweatshirt to wear with leggings and a perfect sweatshirt to lounge at home!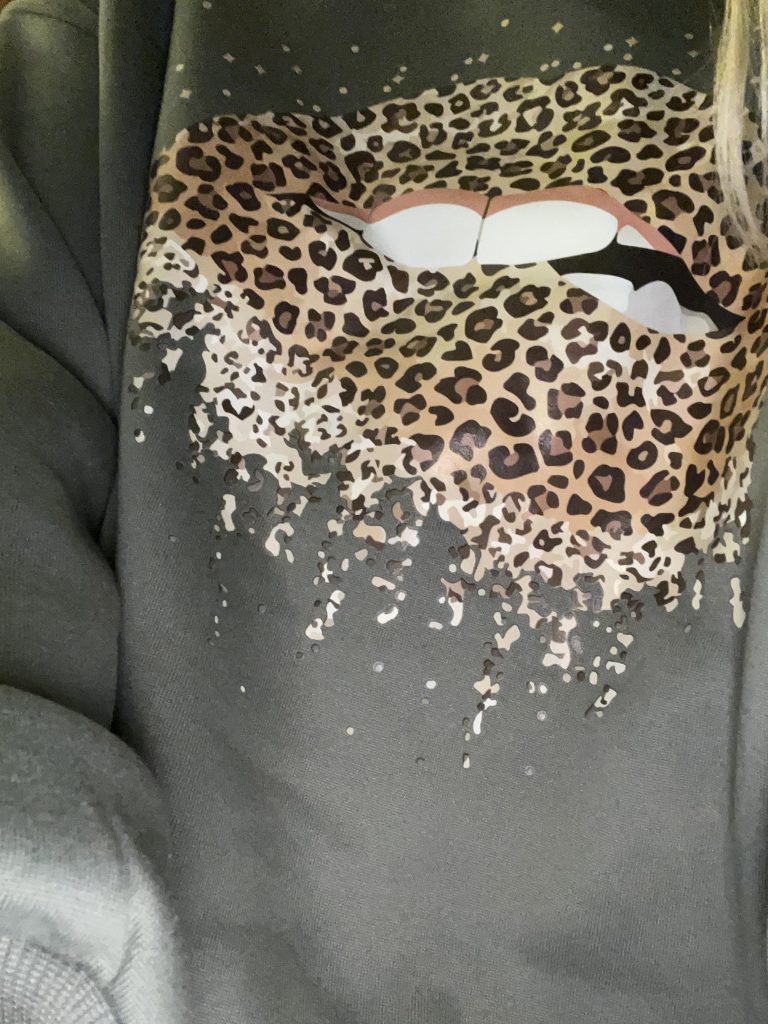 It runs really big, so be sure to get your true size or if you want it REALLY big and oversized then get a size up! I bought this sweatshirt on Shein. It is really inexpensive!
---
Shop The Sweaters
An easy way to shop for your favorite fall/winter sweaters to wear with leggings!
Raw Edge Detailed Knitted Sweater Top

Easel Multi Color Light Weight Sweater in Mint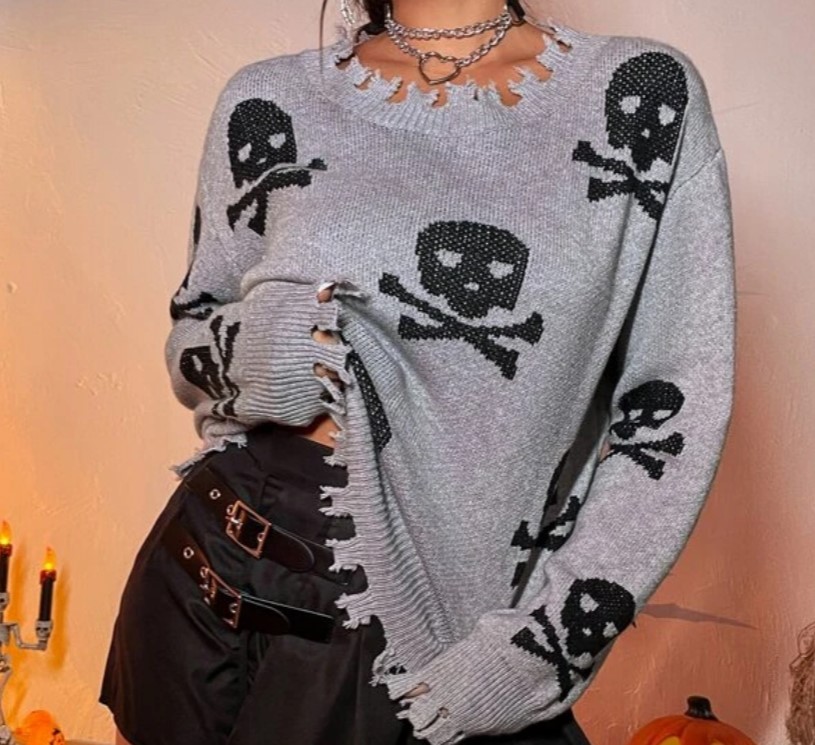 Skull Pattern Distressed Sweater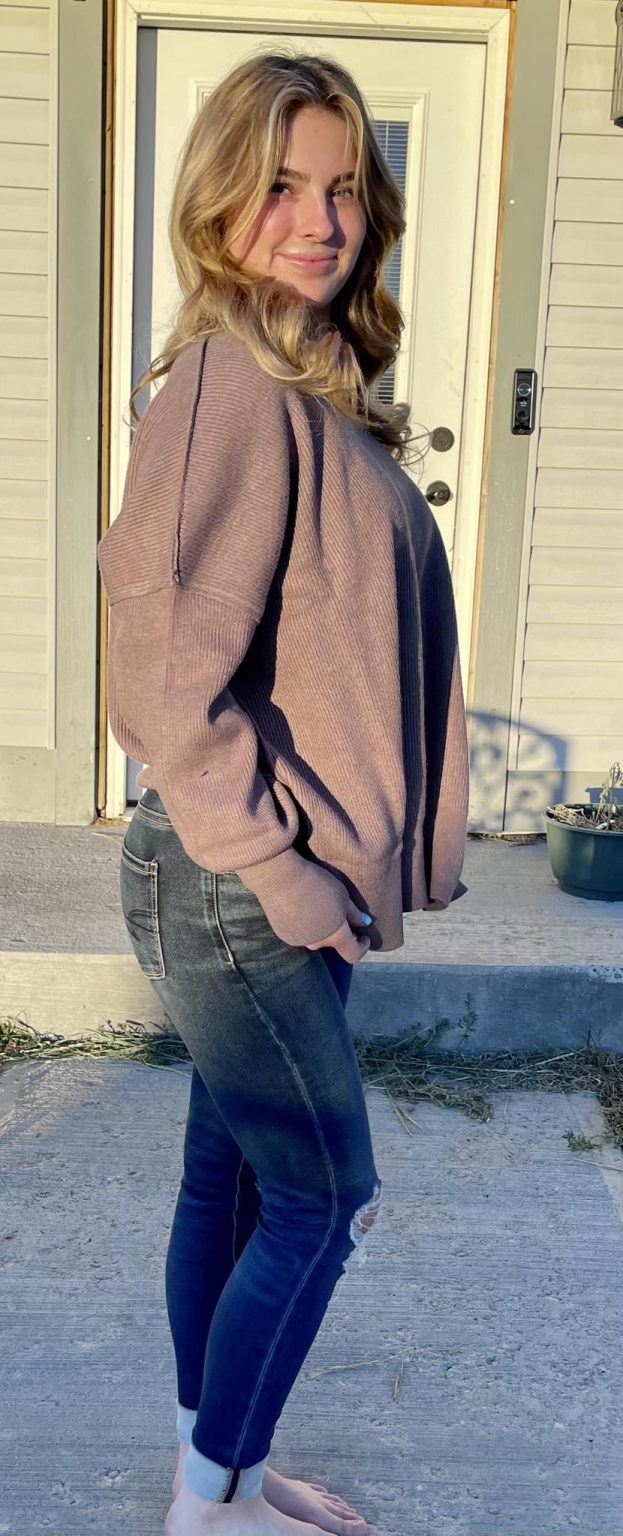 Oversized Batwing Sleeve Pullover Sweater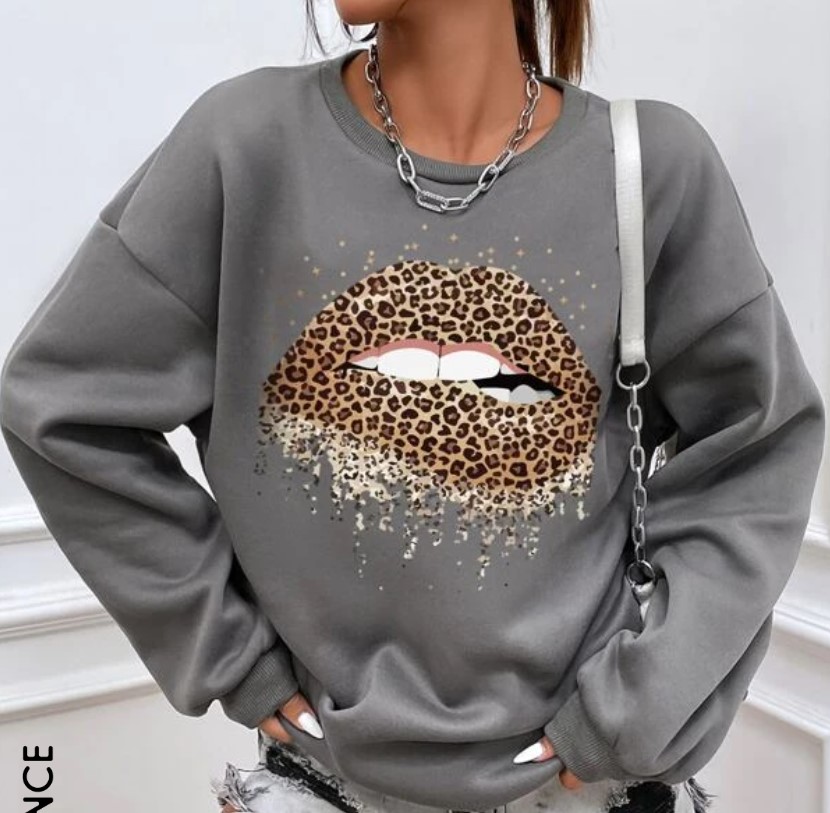 Oversized Gray Sweatshirt with Leopard Lips On The Front

---
There are many great sweaters to wear with leggings. Whether you prefer oversized sweaters, cotton sweaters, or soft-knitted sweaters, there's a style that will fit your personal taste and keep you cozy all fall and winter long!
Win!
One very lucky person is going to win a $100 eGift Card to June Adel!!! They have SO many cute, stylish, and comfy sweaters to wear with leggings and so much more!! Check them out!! YAY!!!
Rules
The contest is open to US and Canada, 18+. The giveaway will end on October 31, 2023, at 11:59 PM. I am not responsible for lost or stolen mail.