Dry air can be a problem in college dorm rooms, especially during the colder months. It can lead to dry skin, chapped lips, and even respiratory problems. That's why it's important to invest in a good humidifier for your dorm room or your home.
In this post, we'll be discussing the best humidifier for college dorm rooms (or your home or office!) and talk about Dreo's new collection of humidifiers!
*This post includes my affiliate links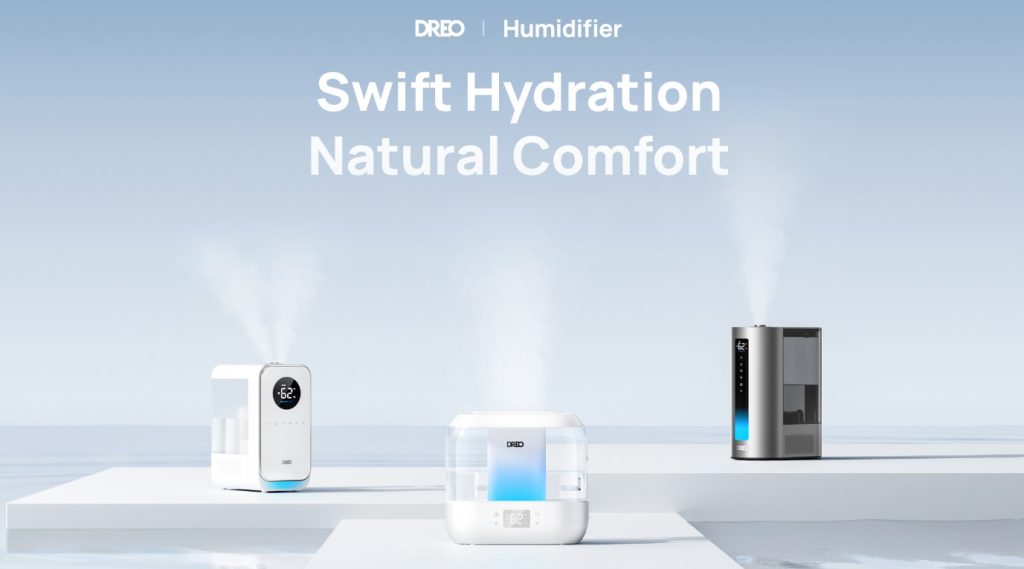 I am SO excited! Dreo now has a new category to add to its collection of great smart home appliances like space heaters, air purifiers, fans, air fryers, etc! Now you will find a collection of humidifiers!
Dreo debuts three new humidifiers just in time for cold and flu season! Designed to promote a healthy home or dorm room environment, Dreo's three new humidifiers are powered by proprietary cutting-edge Mistwave™ technology.
"With cold and flu season right around the corner, we know shoppers are actively seeking methods of combatting illness and seasonal symptoms, which all begins with a clean, comfortable home air environment," said Herman, VP of R&D at Dreo.
The collection includes three models, the HM713S, HM512S, and the HM311S, all of which feature a smart control and monitoring system, accurate humidity detection, and a range of enhanced safety features like the NTC+fuse double protection, water shortage protection, boil dry protection, and overheat protection. This ensures that the humidifiers are safe and reliable for everyday use.
The Best Humidifier For College Dorm Room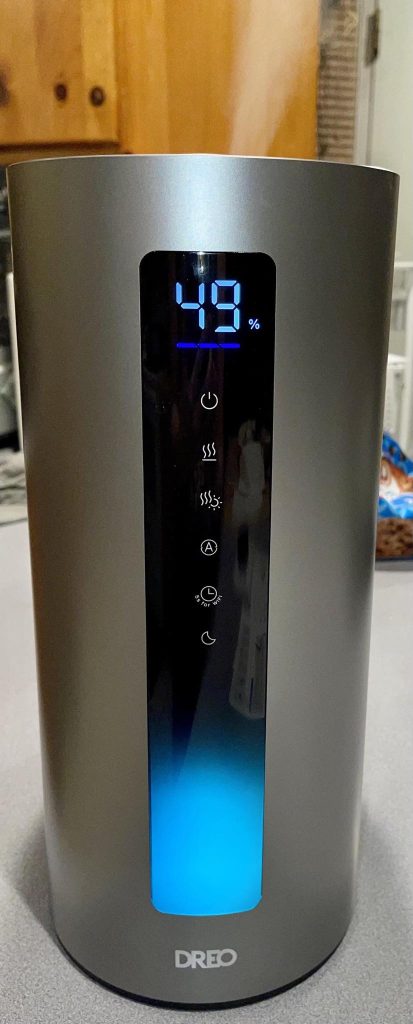 I received the Dreo HM713S to review, so that is the one we will be talking about in this blog post today! It certainly seems to be the best humidifier for a college dorm room, home, or office area! There are SO many wonderful features to play around with and use. Let's talk about them!
The Dreo Smart Humidifier is a versatile and high-quality humidifier that can provide both warm and cool mist. It has a large 6L water tank with a maximum run time of 60 hours, making it perfect for college students who are always in their rooms studying. It is also small enough to move around (if you need to!) making it a portable humidifier.
The Dreo Humidifier 713S offers precise room humidity control with its accurate sensing and compensation algorithm. It allows you to set your target humidity within ±5%, which is twice more precise than traditional humidifiers. The humidity indicator light lets you easily check your living room humidity from far away.
The humidifier has 3 modes that you can customize according to your lifestyle. The Manual Mode includes 3 levels of mist, the Auto Mode lets you set your target humidity anywhere between 30 to 90%, and the Sleep Mode automatically turns off the light and reduces noise for a peaceful sleep.
One of the best features of the Dreo Smart Humidifier is its compatibility with smart home devices. You can connect the humidifier to your Alexa or Google Home device and control it with your voice.
This feature is especially useful for college students who are always on their phones or laptops and don't want to get up to adjust the humidifier manually.
The Dreo Smart Humidifier is also easy to clean and maintain (see instructions below). It has a removable water tank and a wide opening that makes it easy to clean the inside of the humidifier.
In terms of design, the Dreo Smart Humidifier has a sleek and modern look that will fit in with any dorm room decor. It's also compact and portable, making it easy to move around your room or take with you when you travel.
It is really quiet so there is no noise level to worry about. It is great for small rooms (dorm rooms in close quarters) or large rooms too (home!).
Personal Video Using The Dreo Humidifier
Quick Start Guide To Using The Dreo HM713S Smart Humidifier
When using your humidifier for the very first time, you must remove the wraps on it. Then, follow the instructions below:
*Make sure the water filter is installed correctly and the yellow label has been removed
*Detach the cover and water tank from the humidifier and clean it thoroughly by hand
*Fill the tank with water (distilled water or filtered water is best to avoid white powder residue from forming on the machine) making sure not to overfill the tank (don't pass the max line!)
*Put the water tank back in place and close the top cover
*Place the humidifier on a flat, level surface (we put ours on our kitchen countertop), keeping at least 12 inches away from walls or any major obstacles
How To Connect The Dreo App And Your 713S Dreo Humidifier
With the Dreo app, keeping your air fresh and healthy is much easier. You can see real-time humidity readings, track humidity levels for up to 30 days, and receive and customize smart cleaning reminders.
Connecting the app with your Dreo smart humidifier is simple to do. Below, are the steps to set it up!
*Download the Dreo app found in the app store or Google Play store (or you can simply scan the QR code that comes with your humidifier on the booklet).
*Next, create an account (obviously if you don't already have an account) and log in if you already do have an account.
*Then, Hold the timer button for 5 seconds to start the WiFi connection settings (tip: the Wi-Fi icon will keep flashing when pairing)
*After that, tap Add device and select 'HM713S' (tip: enable Bluetooth on your mobile device and plug in your humidifier)
*Then, follow the in-app instructions to complete the WiFi connection
You are now ready to control your new Dreo HM713S Smart Humidifier on your app/phone. That is it! Easy easy easy!
Use Essential Oils In The Dreo 713S Humidifier
You can also use essential oils with the Dreo 713S Humidifier. I LOVE this feature! I use essential oils all of the time and to be able to use it with my Dreo smart humidifier makes me so happy! There is a little compartment in the back of the humidifier, an essential oil tray.
The new dual-aroma pad tray design of the Dreo Humidifier HM713S allows you to change your environment in one step. You can move the aroma pad tray cover to switch between scents throughout the day.
You press on the little 'door' and it pops out. You then can add a few drops of your favorite essential oil to the aroma pad that it comes with. You don't need a lot! A little goes a LONGGG way! I promise!
The aroma pad has two sides, so you can easily add two different essential oils to it. Leave the side open on the aroma pad that you want to use/smell the scent of. Then, put the aroma pad back into the Dreo smart humidifier. Then it is ready to go!
***Note: DO NOT add essential oil directly to the water tank (or any other places!) Only add essential oils to the aroma pad on the bottom back of the humidifier.
Also, note that the humidifier is not intended to work as an aroma diffuser and the scent level cannot be adjusted (hence why I said to be careful how much essential oil you put on the aroma pad because a little goes a long way!).
Video Of The Dreo Humidifier Aroma Pad Location
How To Clean Your Dreo HM713S Smart Humidifier
Cleaning this smart humidifier is quite easy. See the simple steps below:
*Never rinse or pour water directly into the base of the humidifier
*Always drain the base in the pour-the-water direction
*Remove the float by pulling upwards from the brackets
*Clean with a soft, damp cloth (or the included brush)
How To Reassemble the Dreo Smart Humidifier After Cleaning It
Float: Align the prongs with the brackets (make sure the float is facing up!). Then press until you hear a 'click'
Mist Tube: Place the noise silencer and the nozzle back in its place. Then place the mist tube over the base
Tank: Place the water tank back in place
Cover: Place the water tank cover back in place
That is it!
Why Is It Important That College Students Use A Humidifier?
It's important for college students to use a humidifier because they spend a lot of time in dorm rooms, which can be dry and uncomfortable.
Dry air can lead to a variety of health problems, including dry skin, flaky skin, chapped lips, respiratory issues, nasal congestion, etc. These problems can be especially problematic for college students who are already under a lot of stress and may not be getting enough sleep or exercise.
Using a humidifier can help alleviate these symptoms and create a more comfortable and healthy living environment. Also, humidifiers can help prevent the spread of viruses and bacteria, which is important in a communal living space like a dorm room. A humidifier is a dorm room essential during the colder months.
The air quality in dorm rooms is not always the best, as we all know. And college kids tend to get sick quicker. So, having a warm mist humidifier that is also a cool-mist humidifiers can help them tremendously. The fine mist helps make moist air so you can get relief quicker.
Benefits of Using A Humidifier
Using a humidifier can help with your health in several ways. Here are some of the benefits:
1. Relieving dry skin: Dry air can cause your skin to become dry, itchy, and flaky. Using a humidifier can add moisture to the air, which can help alleviate these symptoms and keep your skin hydrated.
2. Soothing respiratory problems: Dry air can irritate your nasal passages and throat, leading to respiratory problems such as coughing, congestion, and even nosebleeds. A humidifier can help alleviate these symptoms by adding moisture to the air, which can soothe your respiratory system.
3. Reducing allergy symptoms: Allergens such as dust, pollen, and pet dander thrive in dry air. Using a humidifier can help reduce these allergens by adding moisture to the air, which can make it harder for them to spread and cause allergic reactions.
4. Preventing the spread of viruses: Viruses and bacteria thrive in dry air, which can make it easier for them to spread and cause illness.
Using a humidifier can help prevent the spread of these pathogens by adding moisture to the air, which can make it harder for them to survive and spread.
Overall, the Dreo Smart Humidifier is the best humidifier for college dorm rooms in 2023. Its versatility, smart features, and easy maintenance make it a top choice for college students who want to stay comfortable and healthy in their dorm rooms. It's perfect for anyone who wants to create a comfortable and healthy living environment at home or at college!
Buy
You can purchase the Dreo Smart Humidifier on Amazon or on their website. It retails for $89.99 and when you purchase it on Amazon, you can check the 10% off coupon for 10% off this smart humidifier.
15% Off The Entire Dreo Website!
Use the coupon code: PSNQPMTFKAKQ for a DREO 15% Discount Code on the Whole Site! Yay!
For more information and to shop for Dreo's innovative new line of humidifiers, please visit the Dreo website, Amazon, or connect with them on Facebook.
Win
One person is going to win a Dreo HM713S Smart Humidifier! Yay!
Rules
The contest is open to US 18+. The giveaway will end on October 29, 2023, at 11:59 PM MT. I am not responsible for lost or stolen mail.