This post is all about Ideas For Improving & Upgrading Your Home. You spend a lot of time in your home, and it's a significant investment. Therefore, it makes sense that you want to take good care of it and ensure it stays looking beautiful and attractive.
If you haven't given it any attention in a while, then it may be time to start thinking about ways you can improve and upgrade your home. Review the following list of ideas and then begin a priority list and come up with a budget so you can make these ideas a reality. Have fun with it instead of stressing out about it and take before and after pictures so you can see what a difference it makes.
Ideas For Improving & Upgrading Your Home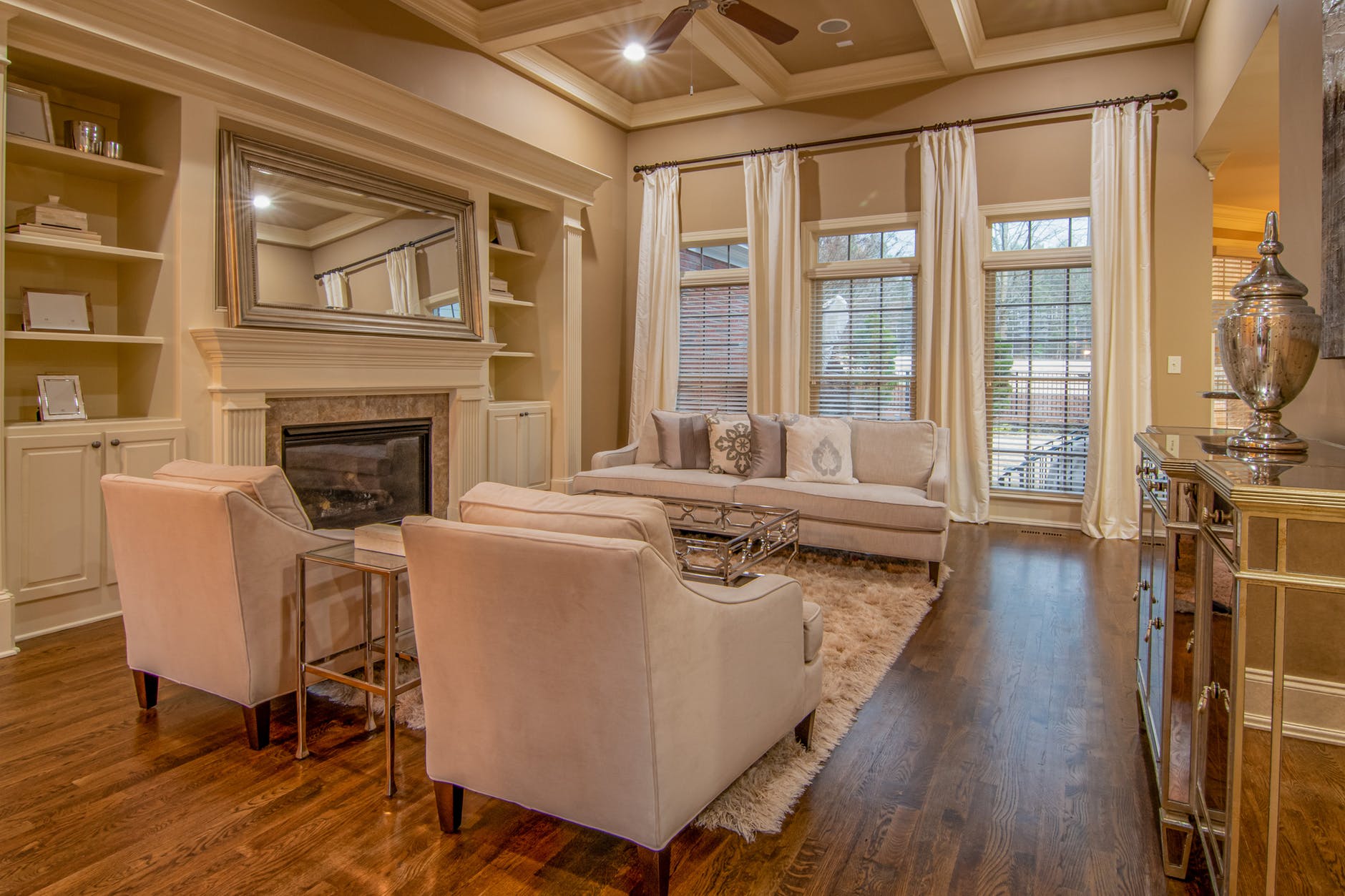 Enhance Your Lighting
Improve and update your home by enhancing your lighting. Better lighting will instantly make your home feel brighter and cozier. Good lighting can change the entire mood and vibe in your space. Go around and replace old light covers that are dingy and yellow and get rid of old fixtures that are outdated and no longer appealing.
Make sure you have a variety of lighting options in each room to set the right tone and mood depending on the occasion and time of day. Include lamps, candles, recessed lights, and sconces to help you achieve this goal.
Redecorate Your Rooms
Improve and upgrade your home by taking the time to redecorate your rooms. It doesn't have to cost you a fortune either. You can gather decoration ideas on a budget that will quickly make your home more charming and attractive.
It's all about choosing the right actions to take and following through with them so you can declutter and only display what you truly love and will enhance the beauty of your home. Apply a few redecorating tips here and there, and you'll be on your way to transforming your home for the better and giving it a much-needed makeover that you and others will appreciate.
Set up A Home Office
These days more and more people are working from home, which may be your situation too. Improve and upgrade your home by setting up a home office where you can work or pay bills. You'll enjoy having a quiet space in the comfort of your house where you can work and complete tasks without interruptions.
Take the time to decorate it and make it a cozy and inspiring space that you look forward to working in when you want. You might also want to consider having your office set up as a guest room as well so people can stay over and you have a private bedroom for them to sleep.
Apply Fresh Paint
Paint is a relatively easy and cost-effective way to improve and upgrade your home. There are so many options you can do when working with paint. For example, you can paint an accent wall, paint wood trim white, and make a small bathroom appear larger with light colors. It's a project you can take on yourself if you have the time and motivation and want to save some money.
Be sure to bring home paint samples and put them on your walls to see what the color looks like before you commit. It may appear different in your home and in the lighting you have versus in the store. Fresh and neutral paint is also a wise idea if you're going to be selling your home in the near future and want to make it more attractive to potential buyers.
Tackle the Bathrooms & Kitchen
A few of the most important rooms in your home are the bathrooms and the kitchen. Therefore, it makes sense to dedicate time, money, and energy to improving and upgrading them. There are many ways to do so, and you don't necessarily have to commit to a full remodel.
You may want to start by painting the cabinets and updating the hardware for a more modern look. However, you'll likely receive a decent return on your investment if you do decide to remodel them entirely and ensure they're on-trend and updated.
Get Organized & Declutter
Your home will look a lot better when you take the time to get organized and declutter room by room. You'll not only be improving your space, but you'll likely feel less stressed out daily too. You'll save time and energy because you'll know where your stuff is and will be able to locate what you need right away.
Go through your belongings and sort through what you want to keep versus donate or toss. Make room for the items you do want in your home and notice how much more space you have when you tackle this project. Your home will feel a lot bigger and spread out when you don't have too many belongings in one room or area of your home.
Rip Out Old Carpet
Your floors are another aspect of your home that is important to the overall look and feel. Old carpeting that's stained and dreary is likely bringing down the potential beauty your home has to offer. If you can't save it by cleaning it, then it may be time to rip out any old carpet.
You can brighten your home and make it more modern by updating your flooring. There are many options today that are both contemporary and will do well if you have kids and pets in your home. For instance, luxury vinyl tile comes in many colors and patterns and will be a suitable option for a busy household.
Finish the Basement
Finishing your basement will provide more square footage of living space in your home and add value to your property. There are many ways you can use a finished basement, depending on your lifestyle and preference. For example, you can add windows and turn it into a bedroom or use it as a playroom or entertainment center to watch movies and host guests.
Another idea is to set up a home gym with equipment so you can exercise anytime you feel like it. Having a finished basement will allow you and your family members more room to maneuver around, and it won't feel like you're living on top of one another.
Spruce up Your Curb Appeal
It's also vital that you consider the outside of your home when making improvements and updates. Spruce up your curb appeal to impress passersby and feel proud of your home inside and out. Take the time to replace or paint an old mailbox, decorate the front porch for the season, and install a garage door if the one you have is outdated and no longer working well.
Take care of your lawn and landscaping, so your home always looks presentable and attractive on the exterior. It's the small touches and details that make a big difference when it comes to curb appeal.
Create an Oasis in Your Backyard
You want to be able to spend time outside in the privacy of your own backyard when the weather is pleasant. Therefore, set aside time to create an oasis that you can enjoy and relax in throughout the warm months. Improve and upgrade your home by installing a new deck or patio, planting a garden, and getting comfortable furniture to sit and enjoy a meal in when you want to host a cookout.
It may also help to get a fire pit for roasting marshmallows in the evening and to hang some string lights to set the right mood. You'll never regret having a soothing and calming space in your backyard that you can retreat to when you want to relax or entertain guests.
Address Your Windows
It would help if you also paid some attention to your windows to improve and upgrade your home. Give them a good cleaning for starters to see if they look better and it brightens up your space. You want them to draw in as much natural light as possible, which will also help boost your mood when the sun is out.
Consider making your windows even more attractive by adding new window treatments that are modern and will bring some color and interest to your rooms. They're also useful for keeping the heat in and the cold air out. You'll also want to have privacy during the evening hours and when it starts getting dark early in the winter.
These are a few practical ways to improve and upgrade your home so you can enjoy it more. It'll require some hard work and effort on your part, but once these projects are complete, you'll be able to sit back and admire all the enhancements. Making these modifications will ensure that your home stays up to date with the latest trends.
It'll also make it that much easier to sell your home one day when you decide you want to move. Before moving forward with these projects, it's wise to do your homework and get a better idea of your style and taste and what you think will look best in and around your home based on your property.