The last thing you want to do after a long day of taking care of your little ones is treating yourself to something. Even just washing your face with your favorite face wash at night is a hassle. However, we HAVE to take care of ourselves or we will have nothing left to give to the ones we love and who need us so much! Self-care is real folks and it is important to take care of yourselves! Pure Skin Care with all-natural organic ingredients is a great place to start!
I was recently introduced to Mother and Moon which is a great company that makes and sells pure skin care with all-natural organic ingredients and you know what? I am kinda hooked! The stuff is amazing!
*Products received.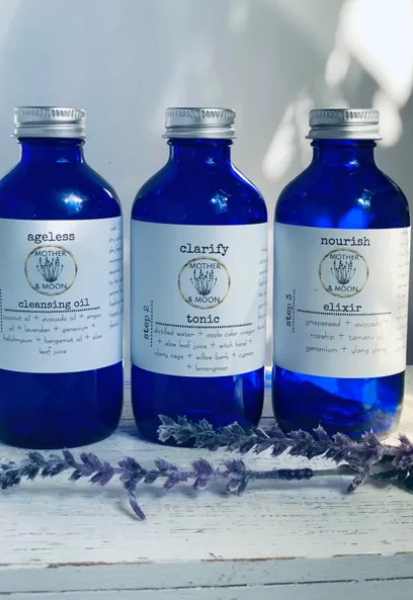 Mother And Moon, Who Are You???
Mother and Moon is a new company and has a lot to offer! They believe you should take care of yourself and make time for YOU, each and EVERY day of the week!
It's about accountability. Eating right and taking vitamins, and resting, and following through on our goals and dreams. It's about an interest in self, prioritizing the trifecta of mind + body + spirit. Making doctor appointments, ending toxic relationships, establishing boundaries, resting, saying no, and standing up for ourselves!
You can also do this by prioritizing your well-being. This includes not just the foods you eat, but also how you take care of your skin, body, and senses.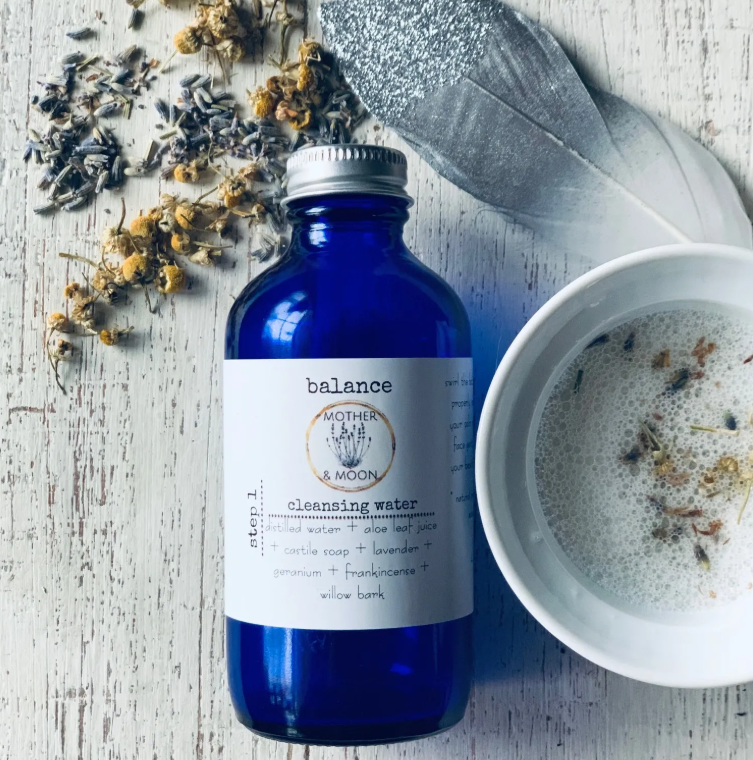 Washing your face every night with products that aren't full of horrible chemicals and toxins- that's self-care. Using aroma sprays that won't give you headaches, tonics that aren't full of drying alcohol, elixirs and cleansing oils and waters that are packed with all-natural, organic ingredients- that's self-care. Am I right???
Pure Skin Care With All-Natural Organic Ingredients
Is there REALLY such a thing as Pure Skin Care With All-Natural Organic Ingredients? Yes, there IS. The wonderful products I received to review are below:
Ageless Skin Care Set – $45
Balance Skin Care Set – $45
No. 1 Sea Salt and Cactus Roller Ball – $15
4 oz Room Spray – $20
I have always used and enjoyed using essential oils and natural products, so receiving and reviewing these natural products was right down my alley. I love using natural products whenever a need arises for them. I am trying to use more natural things for my family and I. You can read my article about how to stay healthy using essential oils. It is really informative and helpful when you are first starting out using oils.
What Do I Think About The Pure Skin Care with All-Natural Organic Ingredients?
Well, I love them. I knew I probably would, but wanted to be certain! The Ageless Skin Care Set is awesome. This luxurious set includes their Mother & Moon Ageless Cleansing Oil, Nourishing Facial Oil, and their soon-to-be cult classic, Clarifying Toner. You can use these products together, or separately. I use them all together!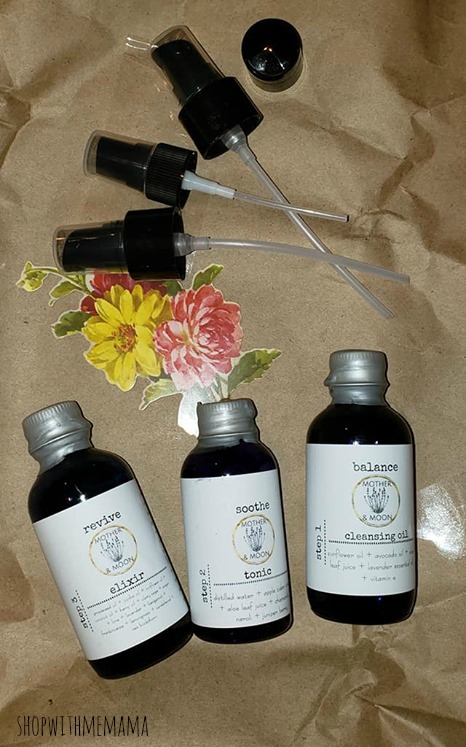 The Ageless Cleansing Oil is loaded with all kinds of yummy magical properties to have your skin glowing and happy. Carrier oils coconut, avocado, and argan hydrate, repair, replenish, and nourish your skin. I use this on my face and neck area. Reverse aging with ingredients like helichrysum, bergamot, juniper berry, geranium, lavender, and aloe leaf juice, that leave your face so soft and supple AND healthy!!! Not only will this luxurious cleanser straight up swan dive into your pores and dissolve the oils that have hardened (you know, the impurities from makeup and sunscreen that have set up camp in your pores!) but it will leave your skin glowing, dewy and fresh.
The Nourishing Facial Oil (Nourish Elixir) is also so amazing for my skin! The Nourish Elixir by Mother & Moon is a face and body must-have that's perfect for everyday use. I use this all over my body after my bath, each night. It absorbs into my skin quickly leaving it soft and smooth feeling.
It is Full of organic natural plant extracts and essential oils that are effective, potent, and divine, this dry oil potion will deliver you the dewy, yummy, nourished glow you've always coveted, without being greasy. Use on face, body, nails, cuticles, pre/post-shaving, scalp- even your most intimate parts will benefit from this wonder elixir! Contains Rosehip Oil, Tamanu Oil, Avocado Oil, Ylang Ylang, Geranium, Vitamin E, and Grapeseed Oil. (see below for what these oils do!).
Directions for the Nourish Elixir:
Face: use a few drops to start, doubling your evening treatment is typical. Rub elixir between hands, and bringing to your nose, breathe in deeply. Massage or gently press into your face well. Include neck, décolleté and eye area. Body: Use more liberally, everywhere, and often.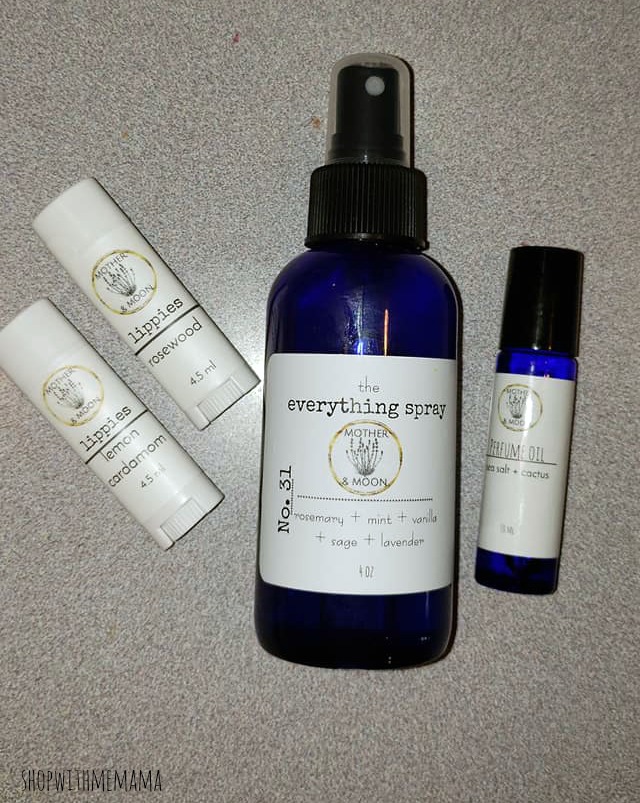 The Clarifying Tonic is wonderful for the skin! It is chock full of magical, healing ingredients that will have your face and your olfactory receptors doing cartwheels! This toner is your jam if you have workaholic skin that overproduces and leaves you on the shinier side, yet it's also formulated for all skin types too.
Their Clarify Tonic aids in improve circulation, strengthening broken capillaries, cell regeneration (ie fighting wrinkles), gently exfoliating, stimulating cell formation, minimizing pores, firming, hydrating, and oil regulating. Additionally, it contains ingredients that are anti-all-the-things: Anti-microbial, anti-bacterial, anti-inflammatory, and antiseptic. This magical potion will whisk away residual dirt & grime, yet won't strip or dry out your face.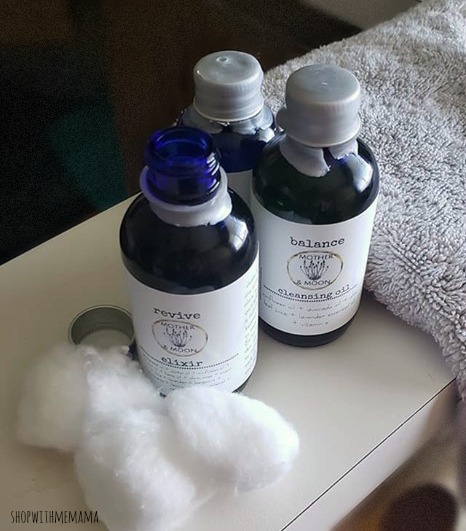 It contains absolutely NO alcohol or artificial preservatives. Just a perfect botanical-infused dream come true that leaves your skin clean, refreshed, prepped and ready for your favorite face oil. Our Clarifying Toner includes unique combinations of magical ingredients such as: Cypress, Willow Bark Extract, Witch Hazel, Lemongrass, Aloe Vera Leaf Juice, Apple Cider Vinegar, and, Clary Sage!
The Balance Skin Care Set is equally as amazing as the Ageless Skin Care Set. The Mother & Moon Balance Skin Care Set is all about pampering your beautiful face and getting the best bang for your buck! This decadent set includes their Mother & Moon Balance Cleansing Oil, Revive Elixir, and their super yummy Soothe Toner. Your skin, soul, and body will love you!
The Sea Salt + Cactus No. 1 Aroma Roller Ball is another Mother and Moon Must-have pure skin care product. I keep this in my bag and will use it whenever and where ever I want to. Directions: Roll all over your body, in your hair, above your face with your eyes closed, or where ever! Use as a perfume, or to cleanse your space- whether your car, room, or cubicle. Use liberally and be transported to a better place.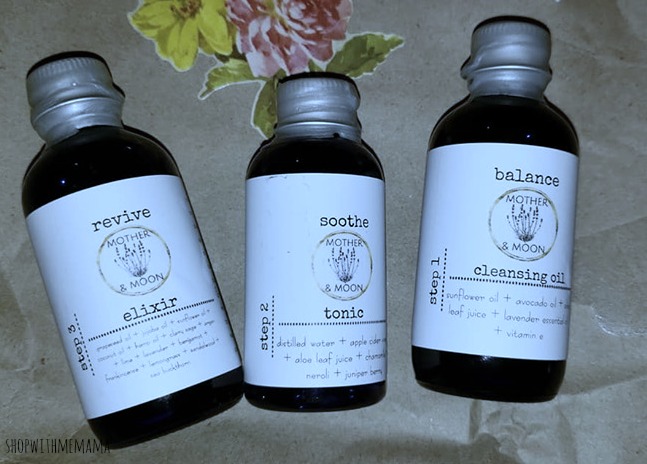 The Rosemary +Vanilla + Sage + Mint + Lavender No. 31 Room Spray is super Light, refreshing, grounding, and soothing. This combination is a perfect aroma for rooms, cubicles, pillows, and a great alternative to smokey sage and incense for space cleansing. Spray liberally and be transported. Also safe for misting on hair and body.
I also received some deliciously natural lip balms called 'Lippies'! I received the Lippies in Lemon Cardamom and Rosewood! Mother & Moon Lippies glide on like butter with a moisturizing, yummy, decadent finish. These nourishing lippies are made with top-notch, magical, moisturizing ingredients like beeswax, coconut, vitamin E.
Are These REALLY Pure Skin Care With All-Natural Ingredients???
All Mother & Moon products are made with yummy, natural, safe ingredients and essential and fragrances oils ONLY. All products are free of parabens, sodium lauryl sulfate, phthalates, formaldehyde, synthetic colors, propylene glycol, or artificial fragrances. Never tested on animals, only on willing humans.
Some Oils That Are Used In Mother and Moon Pure Skin Care Products:
Rosehip Oil strengthens cell membranes, fights free radicals, boosts collagen, improves skins tone and texture, fights acne, and hydrates.
Tamanu Oil is full of yummy omega fatty acids that promote new cell growth and has amazing antimicrobial properties that have been compared to the strength of antibiotics. Its antioxidant properties scare away sun damage and wrinkles and it's great for treating zits, fading stretch marks, healing rashes and soothing desert-dry skin.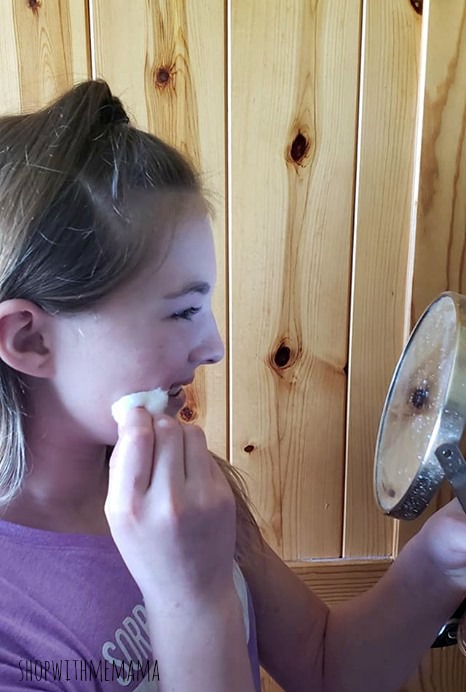 Avocado Oil is not just for smoothies and guac, dear one. It's an OG of oils for good reason-packed with omega-3 fatty acids, and powerhouses potassium and lecithin that hydrate, replenish and repair overworked skin.
Ylang Ylang – The subtle floral fragrance of this flower is a natural aphrodisiac, which has a euphoric and sedating effect on your nervous system. It is also full of healing properties including balancing, correcting, moisturizing, nourishing, and even antiseptic benefits! Look out acne.
Geranium is anti-all-the-things. Anti-inflammatory. Antioxidant. Antimicrobial. Also a natural-astringent, it will tone, tighten, and regulate oil production. Geranium has been known to minimize the visibility of pores and scars, is pH balancing, moisturizing, and eliminates dead cells like an undercover assassin.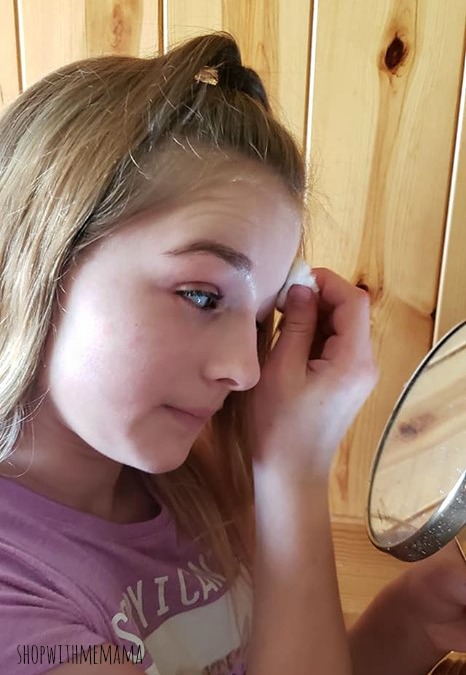 Vitamin E is one of the founding members in skincare: while it is provided to the skin through our own sebum, applying topically can provide specific forms that aren't available from our snacks and meals alone. It's a natural anti-inflammatory and absorbs energy from UV light, playing a critical role in preventing free radical damage.
Grapeseed Oil is 73% linoleic acid – this strengthens the cell membranes of your skin and is a superb moisturizer. Also full of vitamins C and E for toning and brightening, and with its super light texture that penetrates easily into the skin, it's a perfect dry oil for that no-greasy feel.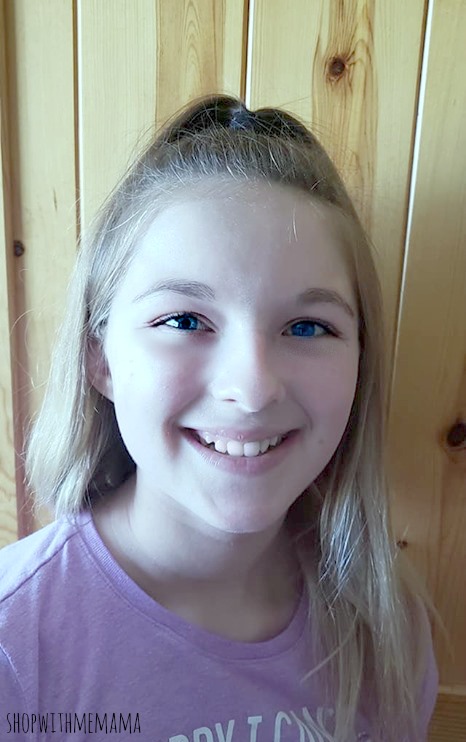 Beauty comes from within, so use only pure skin care products. Drink plenty of water, take your vitamins, exercise and do things for YOU. Once you take care of you, taking care of others comes easier and you will be less stressed out! Promise!
The Packaging!
I have to mention the packaging! I love how these products came to me! They were packaged so nicely and I really appreciated that! The liquid-y products were all sealed with wax. LOVE. Take a peek, below!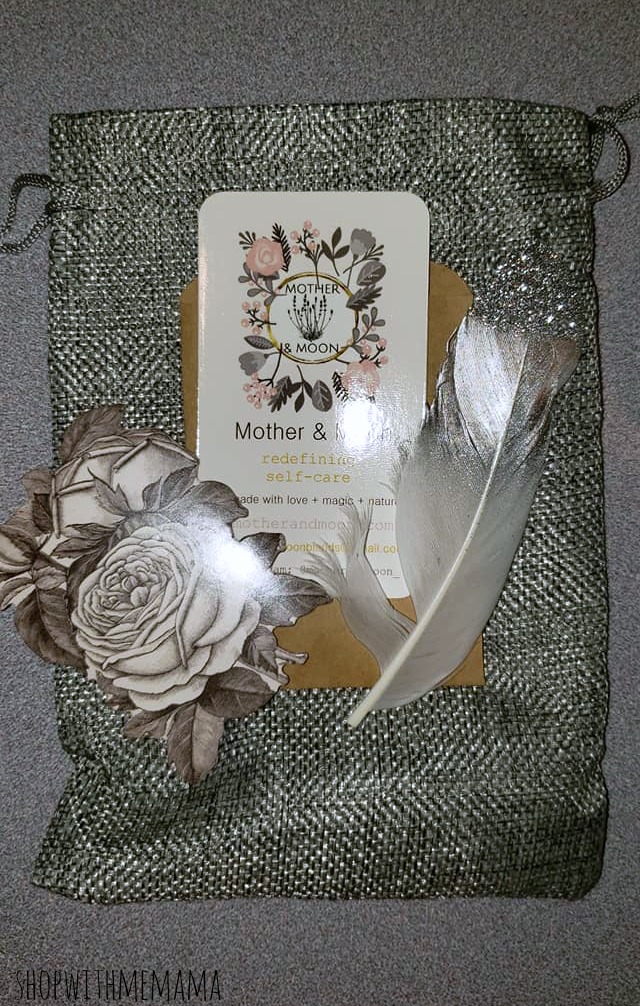 Packaged with such care and detail!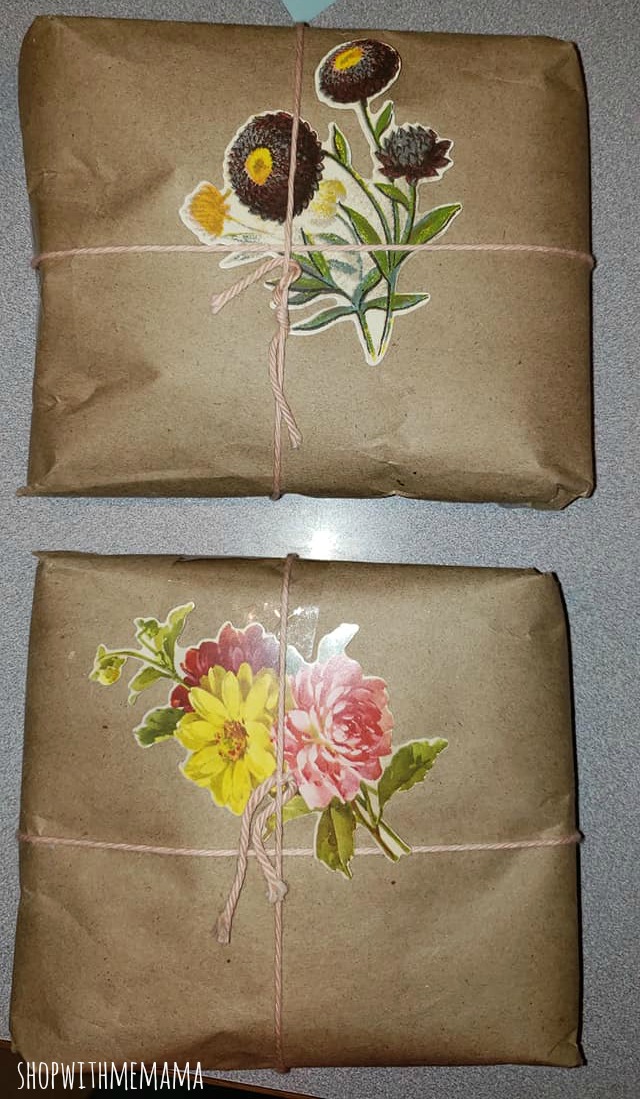 Exclusive Coupon!
Here is an exclusive 10% coupon code for you all! Just use coupon code: "SHOPMAMA" at check out. Oh, and shipping is always free! 😉
Buy
You can check out Mother and Moon Pure Skin Care Products by visiting them online at