Self-care is SO important! I cannot stress it enough! Especially nowadays with everything going on and people at the end of their ropes! I understand! That is why now, more than ever, you NEED to start taking care of yourself. Why not take a self-care weekend for you???
But First! What IS Self Care???
Self-care is a form of self-management that promotes emotional, mental, and physical health. It can be defined as intentional actions taken by individuals to preserve their own personal well-being. Self-care is important because it helps you to take care of yourself. It is about making sure that you are happy and healthy so that you can live your best life. Self-care should not be seen as a luxury but as a necessity for everyone! We ALL need some self-care!
*This post includes my affiliate links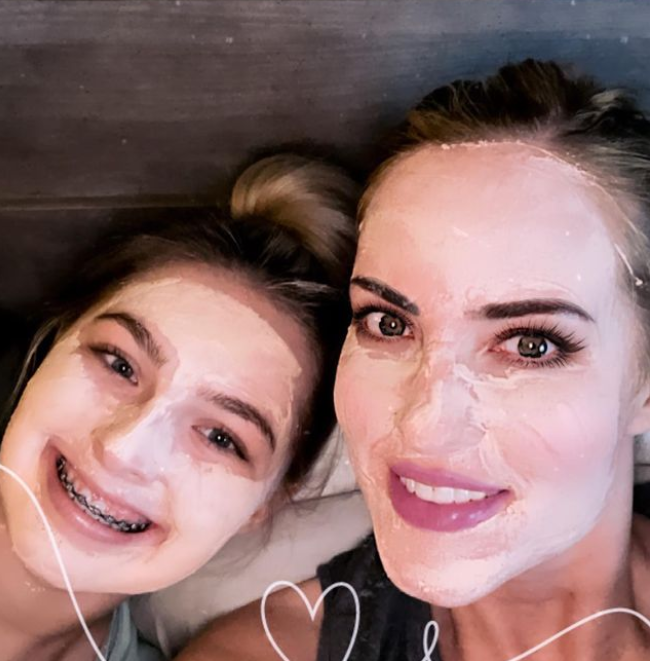 What Is A Self-Care Weekend?
Simple! A Selfcare Weekend is a weekend where people take time off from work or school to focus on themselves and their own needs. Self-care is a broad concept, and it can be hard to pin down what counts as self-care.
It can mean anything from going out with friends to reading fiction novels. Each individual wants to make sure they are taking time for themselves, which means that each individual will define what counts as self-care differently depending on their goals and priorities.
Products To Help You Have The Best Self Care Weekend Ever!
Below, are products and weekend ideas to help you alleviate any stress you are going through and help you have a productive, yet RELAXING, self-care weekend!
I like to be by myself when I take a self-care moment. I like to zone out, and just have the day or weekend be all about me. However, being a mom doesn't really allow me to get away for too long! So, I have to take 'moments' here and there throughout my self-care weekend!
Here are some products that help me to do just that!
Facial Day Friday!
Every Friday I try to give myself a facial. I know I should be doing it more than once a week, but once a week is all I can do right now! My hubby doesn't work and my kids have Fridays off at school every week, so Friday just works for me! I use my Radixir Confidence Serum and Radixir Ice Globes Facial Massagers when I do my facials!
I wash my face, exfoliate my face, and then I treat my face with the Radixir Confidence Serum which is the BEST serum EVER. And, it smells so nice! Kind of like oranges! But a super faint scent. The serum sinks into my skin leaving it SO soft and dewy. I just love the way it makes my skin feel!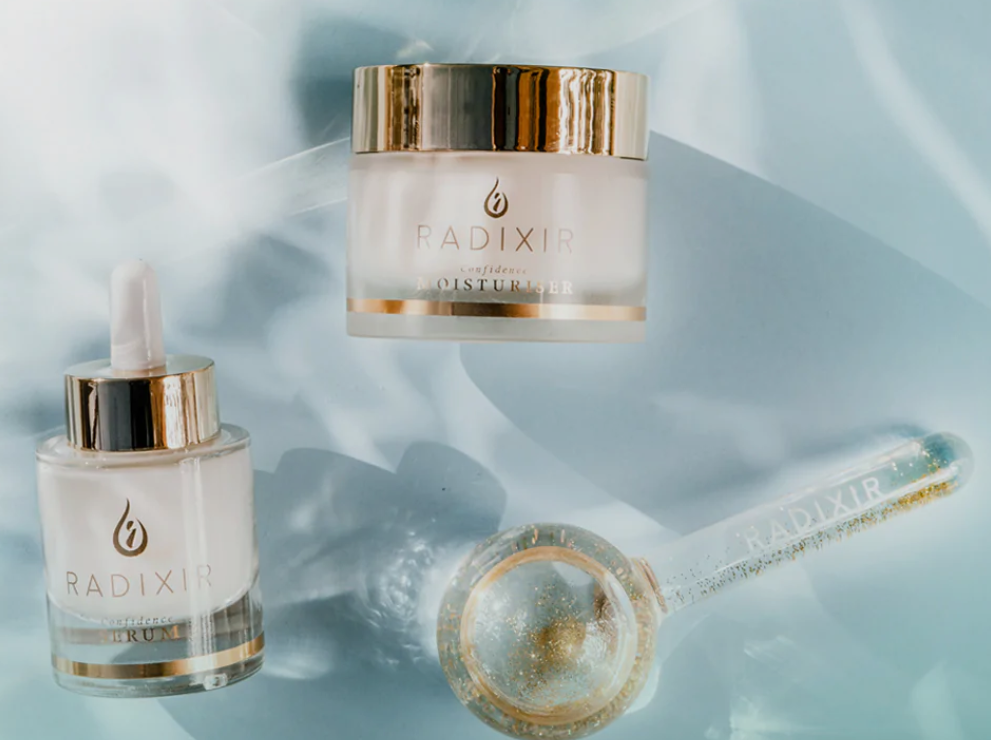 I use the little ice globe facial massagers, after I use the serum, to help depuff my eye area and pat everything in really nicely! I put these little ice globes into the fridge so they are ice cold when I use them. They are such a treat to use on my face! They are cute too with little sparkles on them! Using the ice globes facial massagers allow for faster absorption of beauty serums and moisturizers into the skin!
I really want to try the Radixir Confidence Moisturiser because it would complete my Facial Day Friday! If it is as lovely as the serum then I am in for a real treat! You can find their products on their website and two of their products (the serum and moisturiser) on Amazon.com!
Journaling!
I find that journaling is most helpful. I always love writing down my thoughts and feelings because it just makes me feel better after doing it. I need to make it a habit of doing it daily though. I found a journal that is a Guided 60-Day Wellness Journal and I am hoping it helps me to write each day in it!
This is the perfect journal to track your goals and build positive habits for more happiness, success, and productivity. Each daily spread includes journal prompts to track and record your goals, intentions, gratitude lists, affirmations, stresses, water intake, and activities, and then reflect on the impact those things had on your energy level throughout the day while releasing what no longer serves you.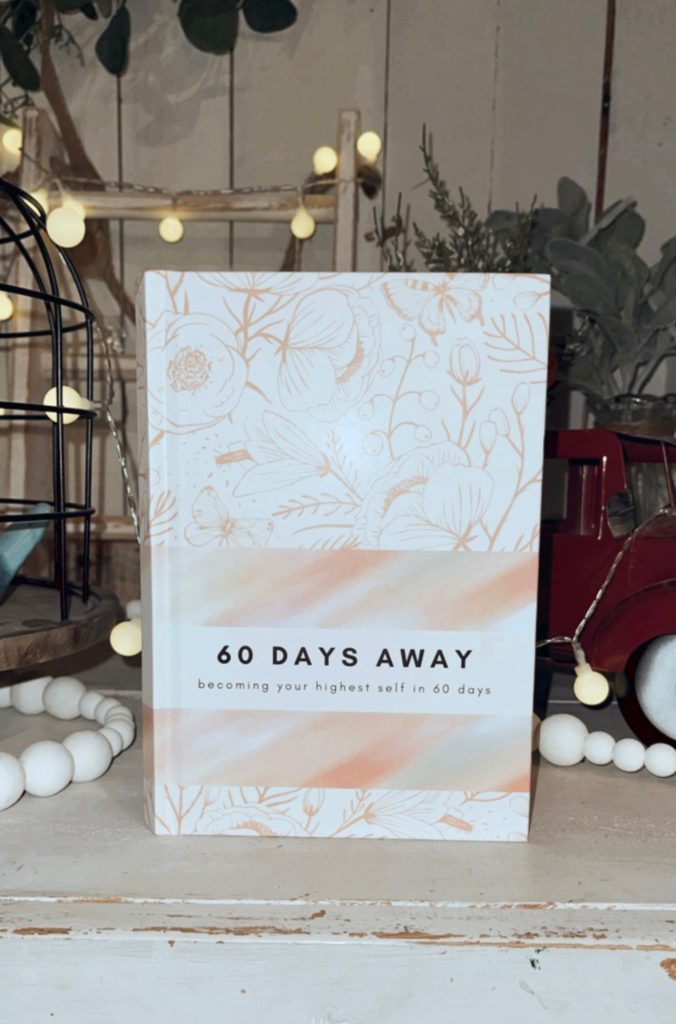 This Guided 60-Day Wellness Journal features delicate illustrations and a contemporary design and is perfect for those wanting to make meaningful changes in their daily life that will lead them to become the highest and best version of themselves.
The guided prompts in 60 Days Away are specifically designed to help you become more confident and positive in life by consistently practicing gratitude and introducing simple yet powerful life-enhancing habits.
There is even a "Space of Infinite Possibility" where you can doodle, sketch, remind yourself of something, jot down random thoughts, or write down your workout circuit! I keep this guided journal by my bedside and try to use it each morning after my kids go to school.
Set The Mood!
You have to set the mood, am I right? I love lighting candles around my room whenever I take a moment to myself. The candle I love right now is from Artistscent. It is their Soul Flame Candle and it is absolutely wonderful smelling! It makes my whole room smell so dang good and really relaxes me with the scents of cranberries, apple cider, and cinnamon bark! Yum!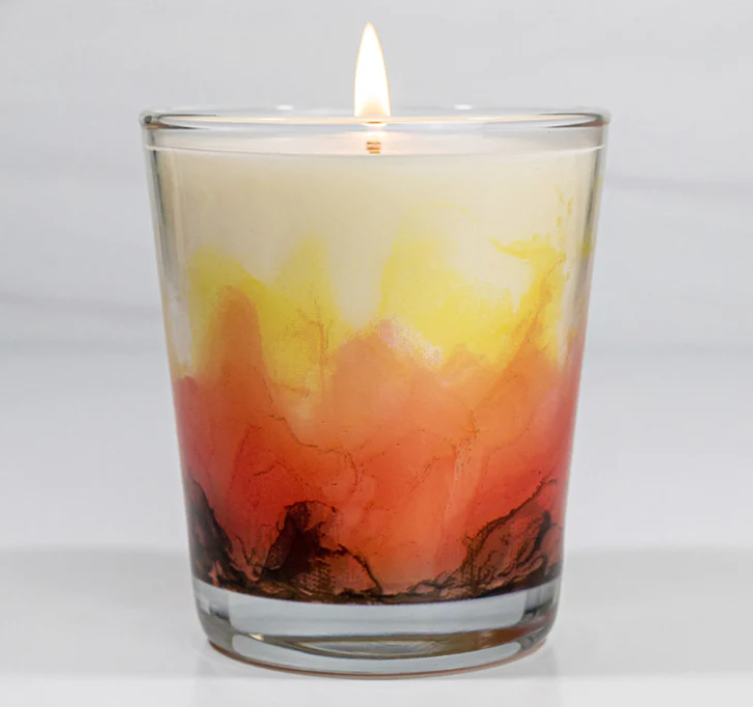 This Soul Flame candle takes you in front of a crackling fire while enjoying a warm mug of cranberry-spiked apple cider with family and friends. A touch of orange zest and cinnamon bark round off this cozy combination! I love lighting this candle in my room and then relaxing! The burn time on this candle is 55+ hours!
Having a lit candle somehow makes me feel SO comfortable and safe! I love candles so much and this one is amazing! It is made in the USA (yay!!), and the artwork on the glass of the jar the candle is in is simply beautiful! When the candle is burned down and gone, I will definitely be cleaning up this glass container and using it for my jewelry! So pretty!
Write It Down
You need love from yourself as much as from others. When you have low self-esteem, low confidence, or even self-hatred, it's impossible to live life to the fullest.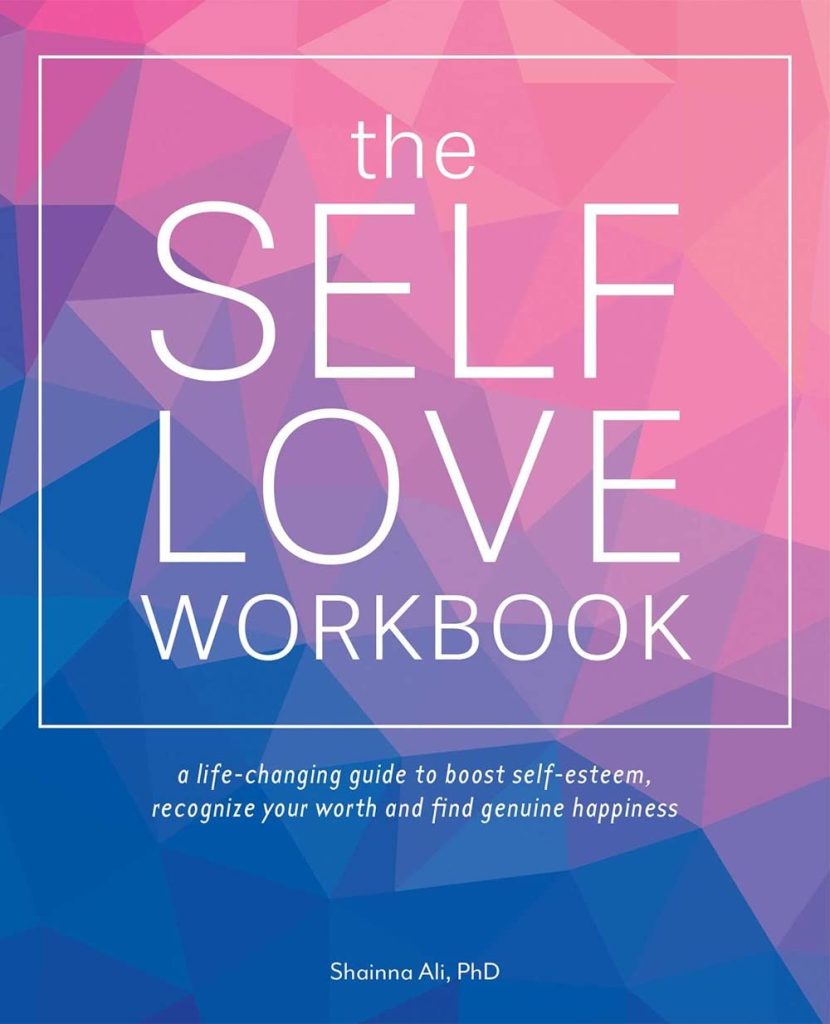 It's time to build your self-love and transform your attitude, emotions, and overall outlook on life! This helpful workbook allows you to become aware of your own unique needs and goals while discovering how to better accept and love your true self. It includes a variety of constructive and actionable tips, tricks, and exercises, including:
• Interactive Activities
explore a variety of fun and creative ways to love yourself
• Reflection Prompts
unpack your experiences and connect them to new lessons
• Helpful Advice
deepen your understanding of self-love and utilize it in the real world
Self-love allows you not only to see your true self but to truly accept who you are wholehearted. With this acceptance comes the freedom and confidence to live your life to its fullest. It's time to conquer self-doubt and self-sabotage. It's time to love yourself! You can purchase the selflove workbook on Amazon.com!
Meditate Or Do Yoga!
Yoga and meditation are not only beneficial for our mental health but also for our physical health and wellness too. It helps us to stay grounded and focused. Meditating or doing yoga for at least fifteen minutes every day can help reduce stress levels, improve sleep quality, and boost your immune system.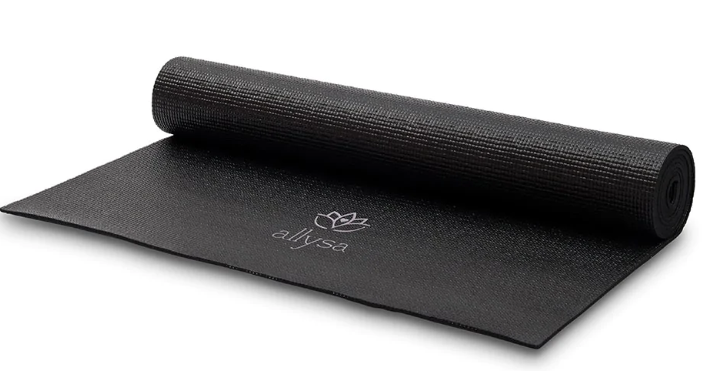 I love doing Yoga on my personalized yoga mat from Groovy Girl Gifts! This classic, black, custom no-slip yoga mat provides amazing traction on top of a breathable, firm surface. It is the perfect extra thick yoga accessory with great grip, essential for a hot yoga class, workout at home, or meditating on! I love mine. Get it personalized to make it ALL yours! I use my yoga mat every day when I do my daily workouts or meditate/do yoga. It is essential for my well-being!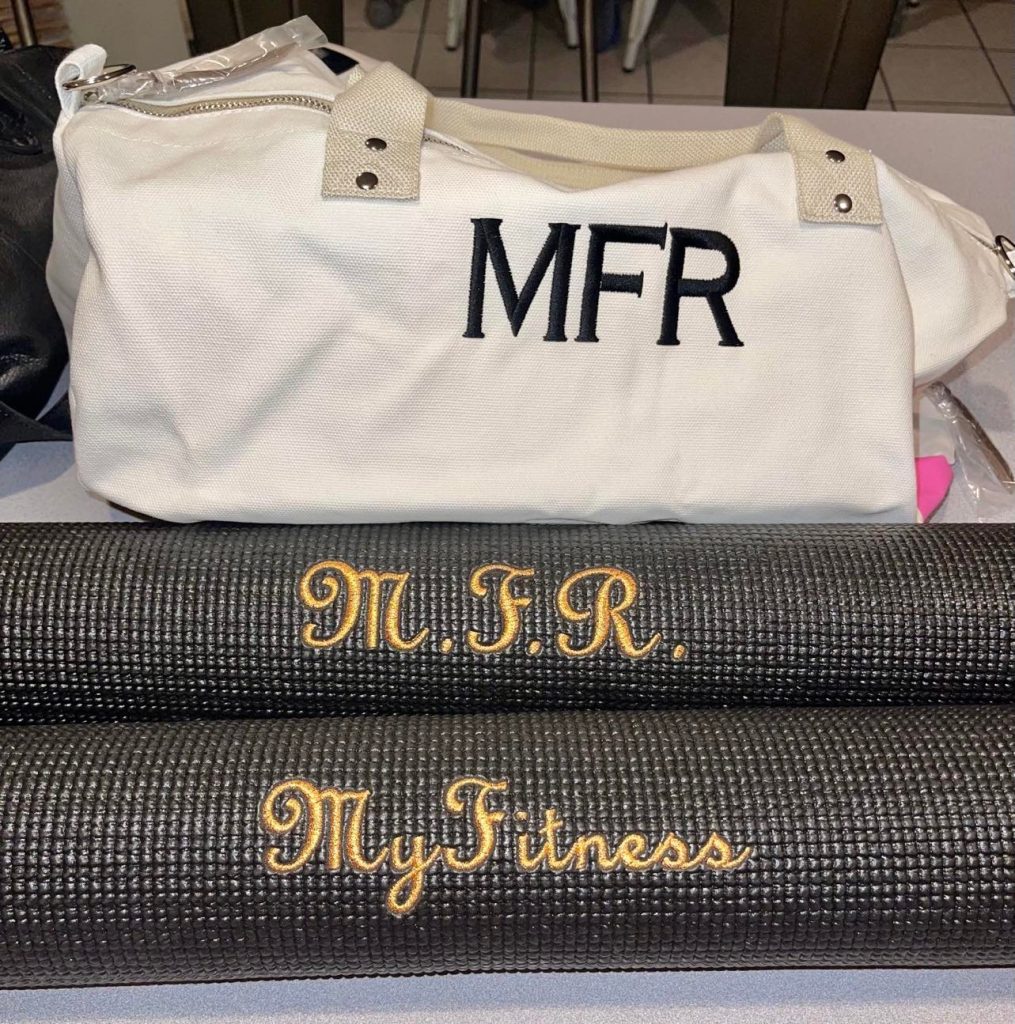 I like to put my yoga mat in my personalized weekender bag when not in use. I also carry all of my self-care items on the road with me in the handy and spacious weekender bag! It holds everything in one place for me so traveling with all of my self-care tools is easy to do!
You can get your own personalized yoga mat! Don't forget to check out all of the cool Groovy Girl Gifts too!
Get A Massage Or Use An At-Home Acupressure Kit!
This is the best thing you can do for yourself is get a massage! I have had a few in my lifetime and each time, I get SO relaxed and it feels so nice! This is definitely something to consider when you are feeling stressed out or unable to function. It really resets not only your body but your mind too. I will even use my essential oils to massage my skin and it helps so much!
If you don't want to go out in the world (who does when they feel stressed out and anxious???), then I recommend buying an at-home acupressure kit to use at home. You can find them on Amazon.com and do it from the comfort of your own home. At-home acupressure kits are a good option for those who don't have the time or money for professional massage therapy sessions.
Get Out In Nature!
Another great way to destress and unwind is to get out into the great outdoors. Just take off your shoes and go barefoot if you can to ground yourself with nature. It is so good for your mind, body, and soul! Just have a present moment in the wilderness! Get off of social media and take a break and do something new! There are so many self care activities you can do in the great outdoors!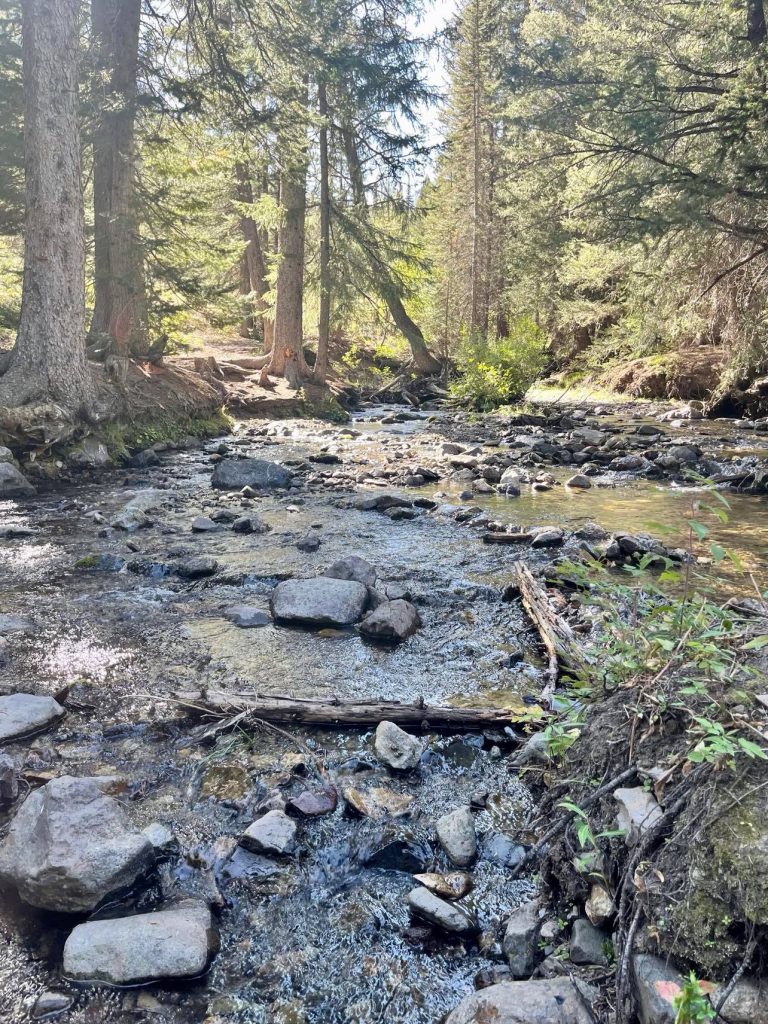 I think that spending time outside is important for mental health. I know that I feel better after I go for a walk outside. Even sitting on my trampoline in our backyard with my kids and looking at the clouds, is a fun and relaxing way to unwind and instantly feel better! My absolute favorite thing to do outside though is to go to a nearby river and just sit on the rocks and listen to the water run by me. I LOVE it!
Hang Out With Yourself!
I love doing this, haha! I rock and I have so much fun hanging out with myself! I am a lot of fun! It is also a good way to get to know yourself better. Being alone and being able to actually THINK is so important!
Whether you sit in your bedroom and 'zone out' or take yourself on a date to the local mall, it all counts towards hanging out with yourself and just having a good, quiet time!
Put Up Notes Around Your Home!
This is one I used to do! I used to write down positive things and put them up around the house! I am going to start doing this again because not only is it good for me to see, but good for my whole family to see positive notes everywhere! It helps us all remember how special and important we all are! You can even create a vision board so that you can look at it each day and be inspired by it!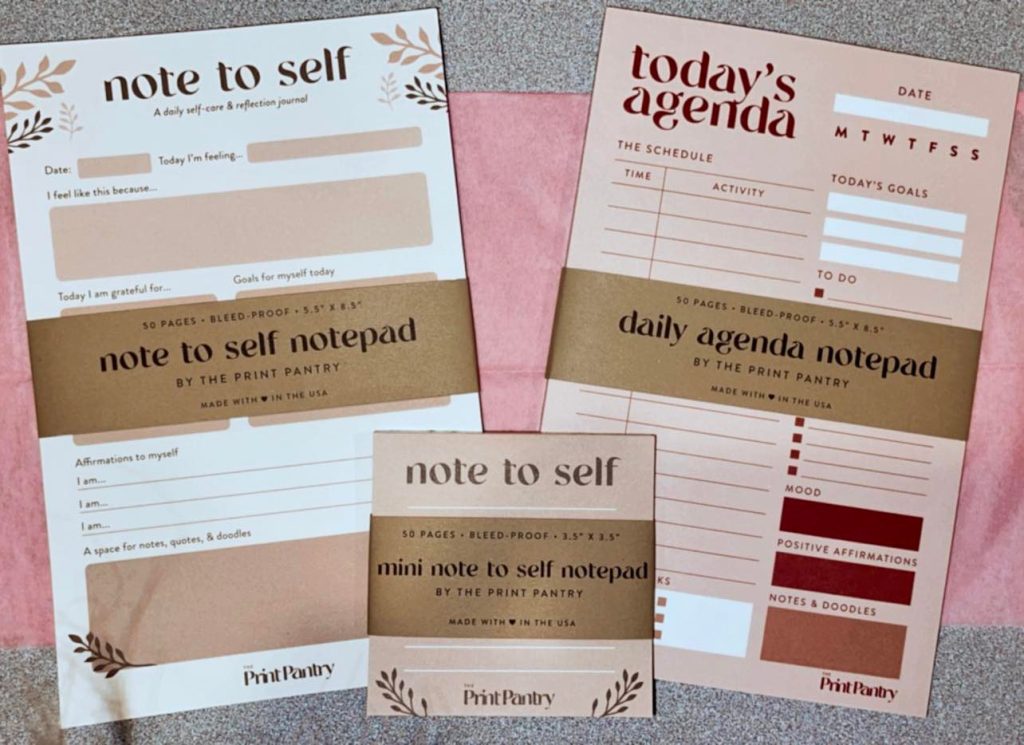 I use the Daily Agenda Notepad to write down things I need to do for the day. This is from The Print Pantry! This large notepad is a guided daily journal that has you reflect on how you are feeling, your goals for the day, what you're thankful for, and positive affirmations to yourself! I love this notepad! It is so good for personal growth!
I also use their self-care "Note To Self" papers to write down positive affirmations and words to hang all over our home! Their new "Note to Self" collection is a daily self-care and reflection journal in the form of a notepad bundle!
Treat Yourself!
There is NOTHING like a spa day at home! I don't know about you, but I know I LOVE buying myself little gifts here and there. I DESERVE them after all! I came across Bestowe Gifting while I was searching for the best gifts for self-care and came across this amazing brand! I was so intrigued by their Blissful Bath Box! I absolutely love taking hot bubble baths in my jetted tub and I knew when I saw that box, I needed it! There is nothing better than receiving a gift just for YOU in the mail, am I right?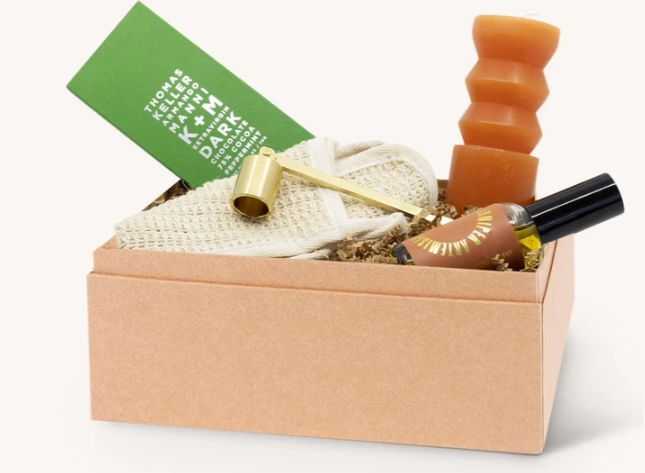 When this arrived, it was so perfectly packaged! The gift comes with a reusable, sustainable, rigid gift box. It was so fun to open up! Nestled inside were the following products to help pamper and spoil me:
*Natural Agave Washcloth is made from the Agave plant and is amazing for gently exfoliating skin.
* K+M Extravirgin Dark Chocolate Peppermint combines the intensely rich flavors of our Ecuadorian single-estate dark chocolate with the refreshing flavor of natural peppermint essential oil.
*Totem Candle is cast in unscented paraffin wax from forms originally created by turning beeswax on a lathe. Each candle is like a small sculpture, elevating it from an everyday pillar candle into a special object.
*Herbal-infused body oil, Juniper Artemisia. The scent is smokey wood, bright herbs and grasses, and grounding forest floor and leather.
*Candle snuffer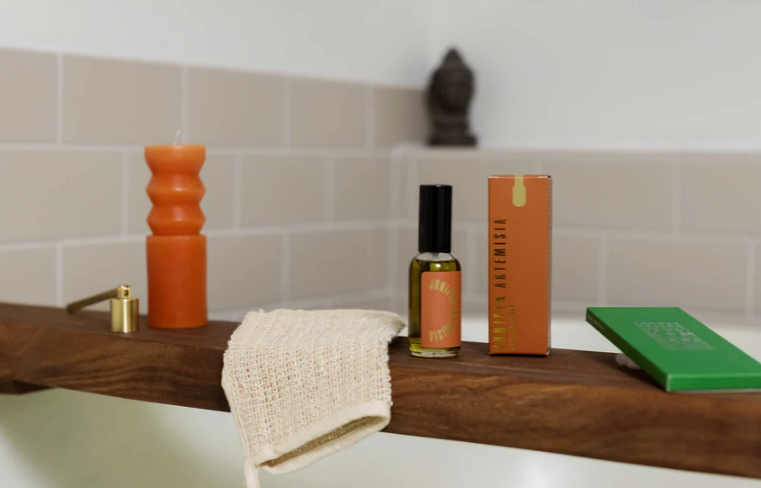 Bestowe Gifting has many other wonderful, self-care and wellness boxes to choose from. I highly recommend taking a look at everything they have to offer and purchasing a self-care and wellness box for you or a loved one! This would make the perfect holiday gift or birthday, anniversary, etc. You can choose a card and have it personalized too! So fun and special! I know I sure felt special opening up my Bestowe Gifting wellness box!
Pamper Your Body!
Nothing is better than putting on body butter after taking a long, hot bath! Every time I get out of my bath, I pat my skin dry and then I slather on body butter for silky smooth skin. Doing this instantly makes me a happier person! I don't know what it is or why, but I LOVE it! When my skin is freshly shaved and I have body butter on my skin, I am a happy mama!
The body butter I am using right now is from Ooh La La Skincare! They have Custom Scented Body Butter and you can choose whichever scent you want your body butter to be! I had fun doing this and their body butter is SO creamy and makes your skin so dang soft!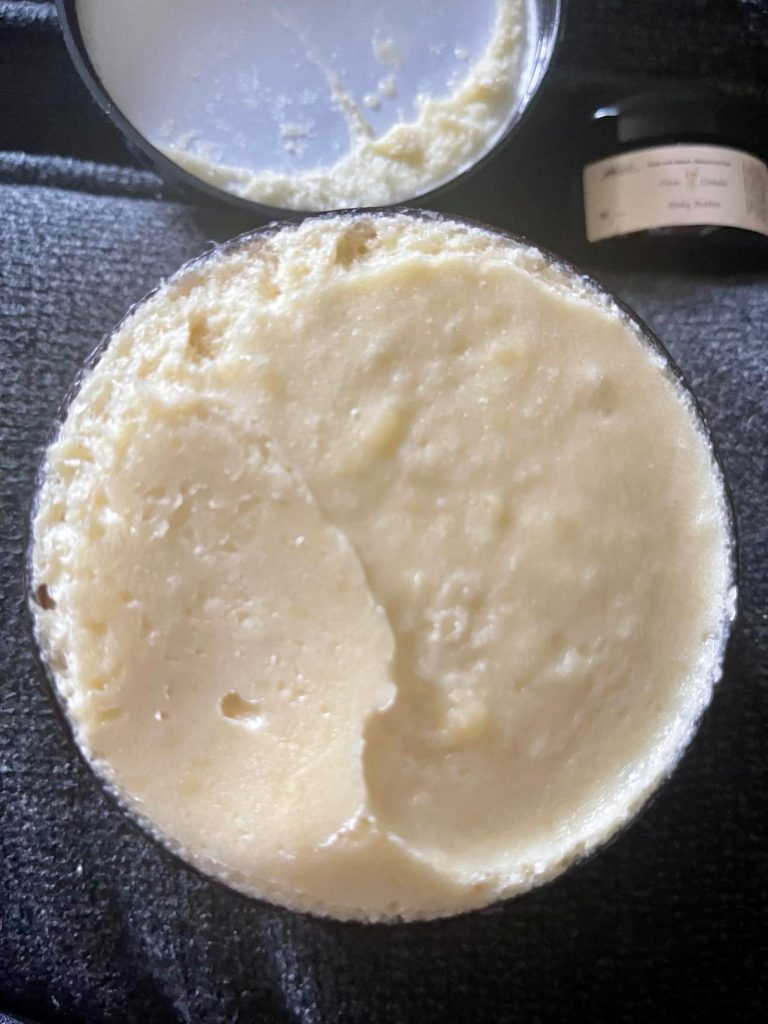 It's skin maintenance that's accessible for all skin types, naturally revitalizing and nourishing skin and hair for gorgeous results. The brand offers a creative mix of products with organic raw shea butter and signature scents! Take a peek at all they have to offer and make sure you grab a body butter while you are at it! You can thank me later!
Be Kind To Yourself!
This is another thing that is so important! No negative talk to yourself! Every time you feel like you are going to be negative about yourself, look in the mirror and tell yourself something you LOVE about yourself. Whether it is the way your hair falls around your face or whether you have a cute smile or nice teeth, compliment yourself!
Trust me, it goes a long way if you are nice to yourself. Your brain is very powerful and when you compliment yourself or say good things about yourself your brain will remember and you will be a happier person because of it! The power of words is AMAZING if used the right way and in a positive way!
Whether you take a self care Sunday, self care Saturday, or whatever, I hope that my self care Saturday ideas have helped you in some way. By switching up your daily routine and making each day count, you will be feeling better in no time!
It's important to take care of ourselves. We need to make sure that we are taking care of our mental health and doing self-care activities. We need to be kind to ourselves and give ourselves the love that we deserve. I hope my care ideas have inspired you to take action and do something for yourself. What did you think of my article about Taking A Self Care Weekend For YOU? Please leave me a comment below on how you take care of yourself!
Win
One lucky person is going to win the Radixir Confidence Moisturizer, Radixir Confidence Serum, and Radixir Ice Globes Facial Massager! Yay!
Rules ('cause we gotta have 'em!)
The contest is open to US 18+. The giveaway will end on December 3, 2022, at 11:59 PM MT. The winner will have 48 hours to confirm their win after I email them, or a new winner will be chosen. I am not responsible for lost or stolen mail. By entering this giveaway you give me permission to share your email address with the brand.