*Backyard Safari Outfitters! This post includes my affiliate links.
My little kids love to explore outdoors. They love to catch bugs (sooo many bugs, ugh!) and they love running around in our fields! So, when they receive goodies in the mail for outdoor exploring, my kids get really excited 🙂
Backyard Safari Outfitters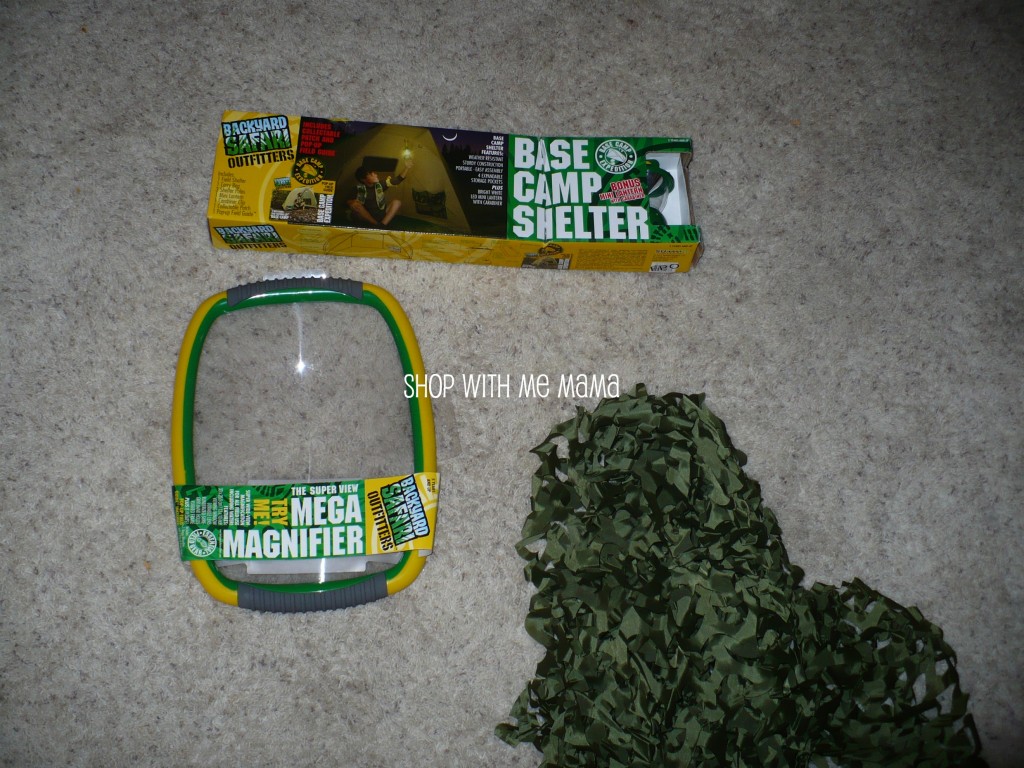 My kids received some really fun stuff from Backyard Safari Outfitters. They got the Base Camp Shelter, Camouflage, Bird Watcher's Field Kit, Mini Lantern, and Hiking Stick! Now my kids can really explore!
The base camp shelter is soo cool! I think this was my sons favorite part of the whole package! It is a little tent, that is VERY easy to put up (you just put the poles in and there ya go!). It is durable and can be moved easily, from spot to spot. It is more of a partial tent, or half tent as my kids call it. The Camouflage reminds me of a guilty suit, LOL. My daughter put this on her body and was walking around saying we could not see her 😉 It is really cool though, and my son eventually threw it over the tent opening to cover it and camouflage its entrance! Smart boy 🙂
The birdwatcher field kit is really neat. The Mega Magnifier is fun. It is large and your child can hold it very easily while skimming the ground for all those glorious bugs! My kids spent about an hour, scoring the ground for anything that would crawl. I pity the insects they found 🙁 My kids are great with insects and animals and everything, but they tend to sometimes "love on" things too much. So, I have to remind them sometimes. Another great thing about this magnifier is that it can float, so if you drop in a puddle, it won't sink down.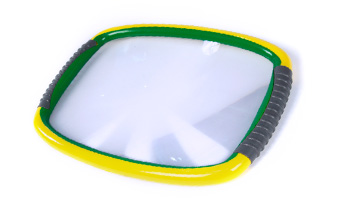 The mini lantern has a little hook so that you can easily attach it to your base camp shelter or whatever. It does need batteries, which it does not come with. It also can clip to your Backyard Safari Vest! The light is actually VERY bright for such a little lantern. I just have to remind my kids to turn it off, when they are done using it.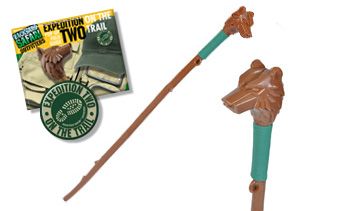 The hiking stick is something my son used when pretending to go up hills 🙂 Or when he is trying to figure out what something is on the ground (pokes at things). It has a unique hand-carved look on a sturdy natural looking walking stick that is a stout 48″ tall. It also comes with a collectible expedition Two iron-on patch and the Expedition Two Pop-Up Field Guide™ which features special missions to complete while you're out on the trail.
 Buy!
You can purchase fun outdoor stuff for your kids, from Backyard Safari Outfitters, online at Amazon.com!