Congrats to Shanna
*Product was received. Opinions are mine.

I love having a clean, fresh mouth. I love even more, a bright, white smile and healthy teeth! Duh, I think everyone wants that, right? No rotting teeth or foul breath in this home! Eww.
My kids also learned at a very young age, to brush their teeth twice a day, once in the morning and once at night. They also know that if their day has a bit more 'sugar' in it, that they need to brush DURING the day, to ensure healthy teeth and gums. I refuse to allow my kids to skimp on their health!
We received the Emmi-dent in the mail to review. I have always wanted to have this toothbrush, without it being taken from me like it was last time by my hubby and kids!!!). So it was time for ME to have it as mine, finally!
At first glance, this looked like a regular electric toothbrush to me. But once you turn it on, it is a SOFT, ultrasound  type movement. It is not harsh, fast or pulsey, it is gentle and soft. That was not a huge surprise to me because I already knew what to expect, but had forgotten. After using it for a week, I slowly noticed a big difference in how clean my teeth felt and how clean they felt for a longer period of time. I also noticed my gums more healthier looking, they have a great color to them. My teeth just feel cleaner and I think I am loving this new toothbrush! And, I don't have to hide this one, because my kids already have one of their own.
If you are used to a harshly electric vibrating toothbrush, you will be confused at first, when using this toothbrush. It is NOT like the others. It is a soft vibration almost like a massage for your teeth a gums. Very gentle yet totally thorough in the cleaning it does.
Emmi-dent is a daily cleansing system which takes care of your entire oral hygiene routine. A healthy, beautiful smile will boost your self-confidence and enhance your overall appearance.
Benefits of using 

Emmi-dent

:
-whiter teeth
-healthy teeth and gums
-gentle, nonabrasive oral hygiene system
Another thing I want to mention is that Emmi-dent has kids size brush heads as well as an Ortho version for people who wear braces! So, this is something for everyone in your family even your PET! Yep, you can even purchase one for Fido! Oh and the Emmi-dent also comes with its own toothpaste!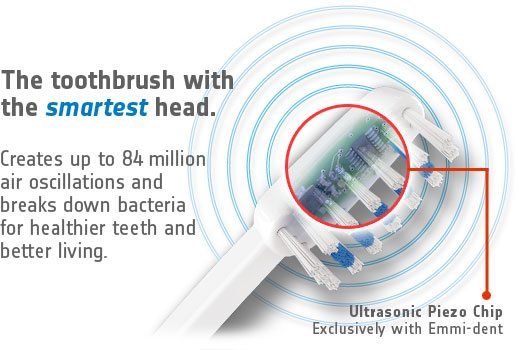 More About Emmi-dent:
100% Ultrasound is what makes Emmi-dent different from other oral hygiene products. The technology of ultrasound gently and effectively removes stains, cleans and whitens teeth without the usual side effects, like sensitivity, irritation and enamel erosion.
Buy
You can purchase the Emmi-dent online at http://www.emmi-dent.com/. The Emmi-dent 6 Ultrasound Toothbrush retails for $189.00.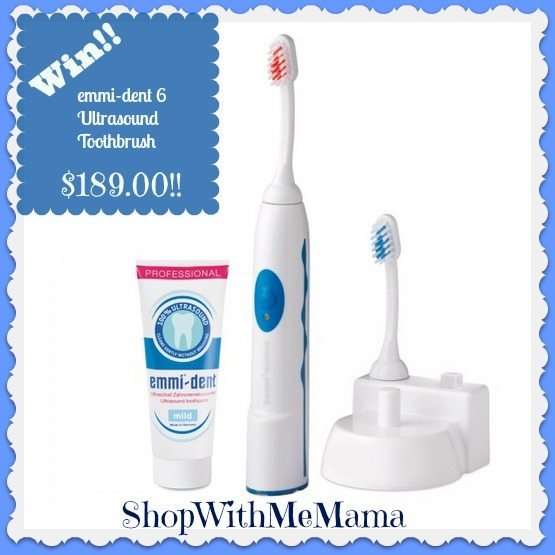 Win!
One person is going to win the Emmi-dent 6 Ultrasound Toothbrush which includes the following:
Ultrasound Toothbrush Emmi-dent Starter Kit (Emmi-dent Handpiece plus 2 Brushheads, Charger 110 volts (50-60 cycles, 1.7 ounces (50 ml Nano-bubble Toothpaste).
How?
Easy! Just use the RC form below! GL!