Get Fit With The YBell Fitness Weights! The YBell is a 4-in-1 fitness solution that combines a kettlebell, dumbbell, dual grip medicine ball, and push-up stand in just one piece of equipment and is a must-have in your home gym! This handy piece of workout equipment makes my workouts more advanced and I don't need a bunch of different equipment to get results. So, if you have a small home gym or not a lot of space, then these weights are necessary!
This is the gift for fitness enthusiasts this year! YBell has earned numerous awards, including Women's Health Magazine's Best Free Weights of 2021. These weights are great for one-on-one training and group exercise, coated in non-slip, non-rust neoprene, and are ideal for training both indoors and out. Save time and money with one piece of equipment that does everything four pieces can.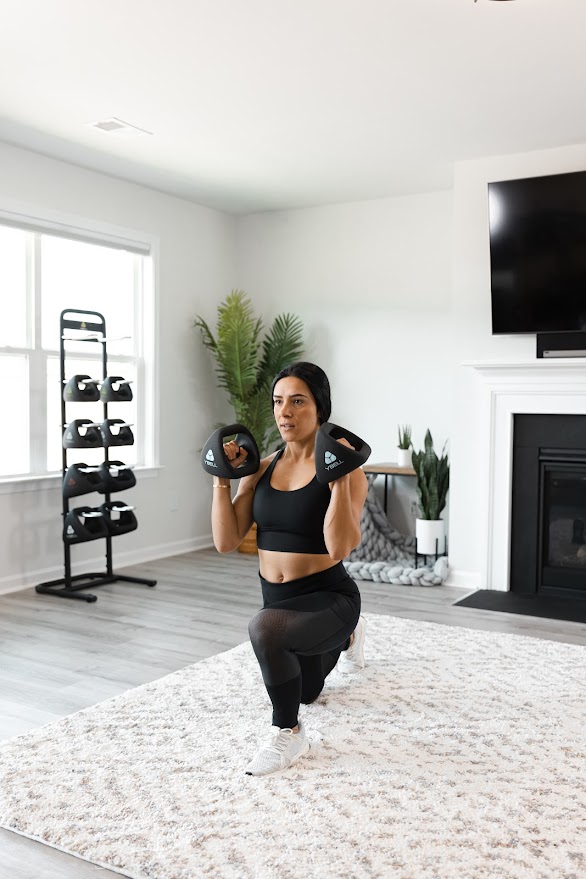 Get Fit With The YBell Fitness Weights
There are several different YBell weights to choose from. I received the YBell NEO which is great for HIIT workouts. The YBell is compact, portable, and designed for everyone, including busy parents! And, these weights are SO comfortable to hold and move around. You get a good grip on them and that enhances my workouts because I am not fumbling around to get a good hold on my weights anymore.
These Weights are Great for:
*HIIT Workouts
*Functional Training
*Yoga
*Strength Training
and SO much more!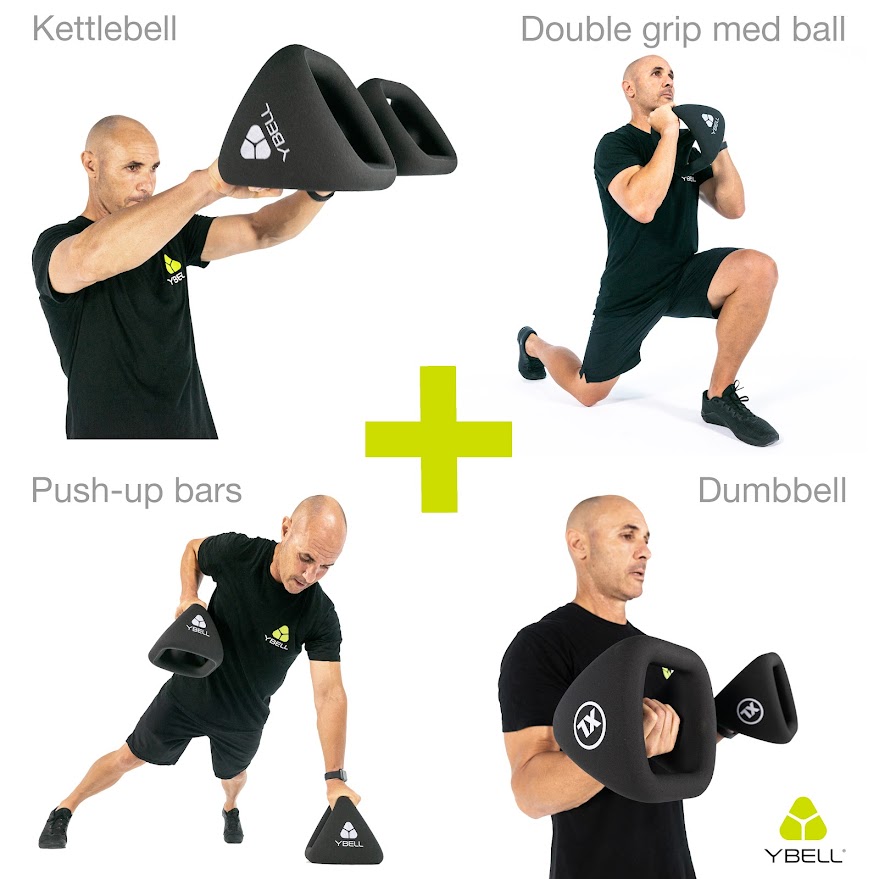 The Most Versatile Weight: A grip change is an equipment change!
Kettlebell — Outer Grip
Grabbing the YBell by the outer grip allows it to emulate a kettlebell. Perform swings, rack presses and squats, snatches, and other various kettlebell exercises.
Dumbbell — Center Grip
When grabbing the YBell by the Center Grip, the weight is evenly distributed allowing it to serve as a dumbbell. Perform standard dumbbell exercises such as bicep curls, overhead presses, and more.
Double Grip Medicine Ball — Under Grip & Double Grip
Utilize the multiple handles of the YBell to perform double grip med ball exercises such as goblet squats, lunge, and twists, or woodchops.
Push-Up Stand — Top Grip
The YBell's design provides for a much wider base leading to more stability when performing any groundwork and allowing for a greater range of motion.
What Weights Do the YBell Come In?
The YBell is a multi-purpose fitness tool, so it's not all about weight. There are 5 sizes ranging from extra small (10lbs / 4.5kg) to extra large (27lbs / 12kg). There is a YBell for everyone.
Check out their Insta Feed for different ways the YBells are used by prominent personal trainers, gyms, outdoor training groups as well as home users.
Watch YBell Fitness Introduction to Learn More!
The App
You can download the YBell App and do their workouts using your YBell's. The YBell App offers free introductory workouts, plus numerous beginner, intermediate, and advanced workouts through a monthly subscription plan.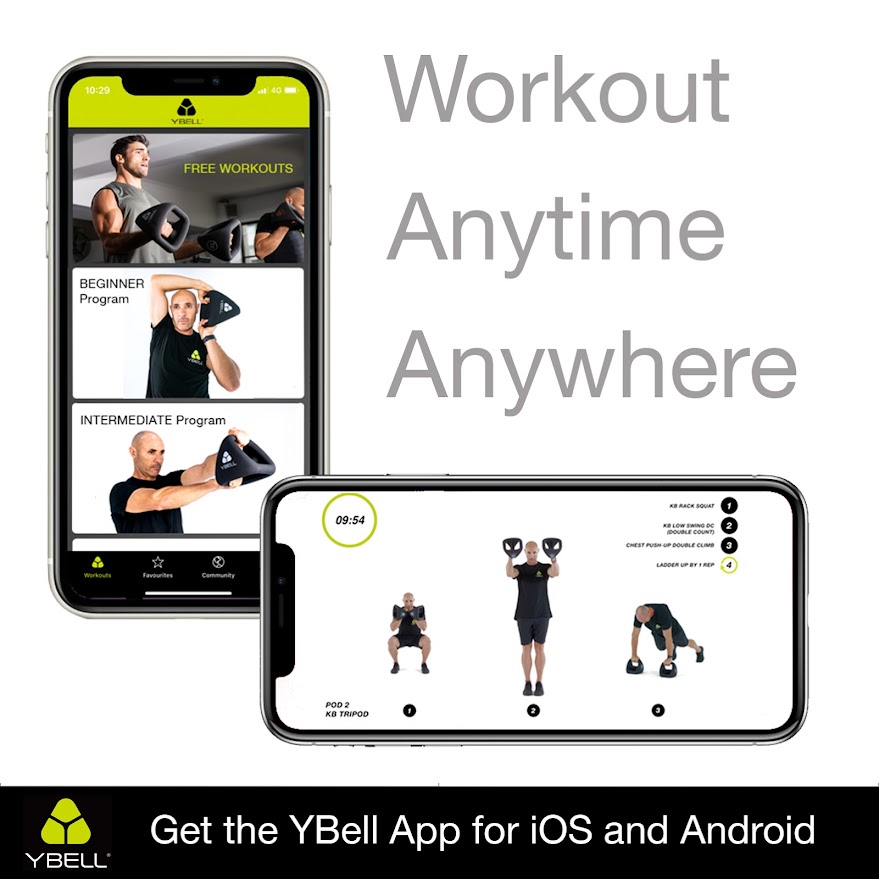 What Are The YBell Workout Programs?
There are three YBell Programs – Beginners, Intermediate, or Advanced and all programs are included for $9.99 per month.
The Beginners Program is a 4-week program that will help you look better, move better, and feel better. It has 2 x YBell conditioning sessions, 1 Mobility, and 1 Agility session every week for 4 weeks. This program builds the foundation of a simple, effective and sustainable training solution.
Committing to the 5-week Intermediate Program of 2 Strength and Conditioning sessions, 1 Mobility, and 1 Agility session every week will take you to the next level in your fitness journey.
The Advanced Program is a challenging 6-week program for people who have tried the YBell introductory workouts, are well conditioned for high-intensity training, have trained with equipment like dumbbells, kettlebells, and med balls, and have decided the Advanced Program is right for you. There is a step up in intensity that comes with using 2 YBells and the addition of some grueling animal ladders in the Mobility and Agility sessions.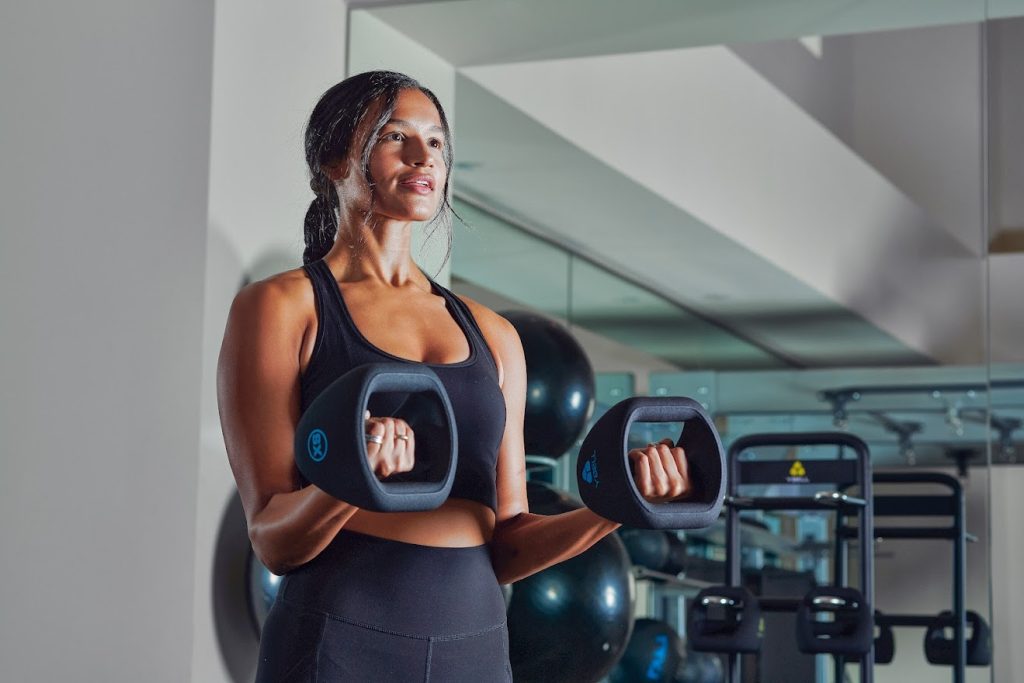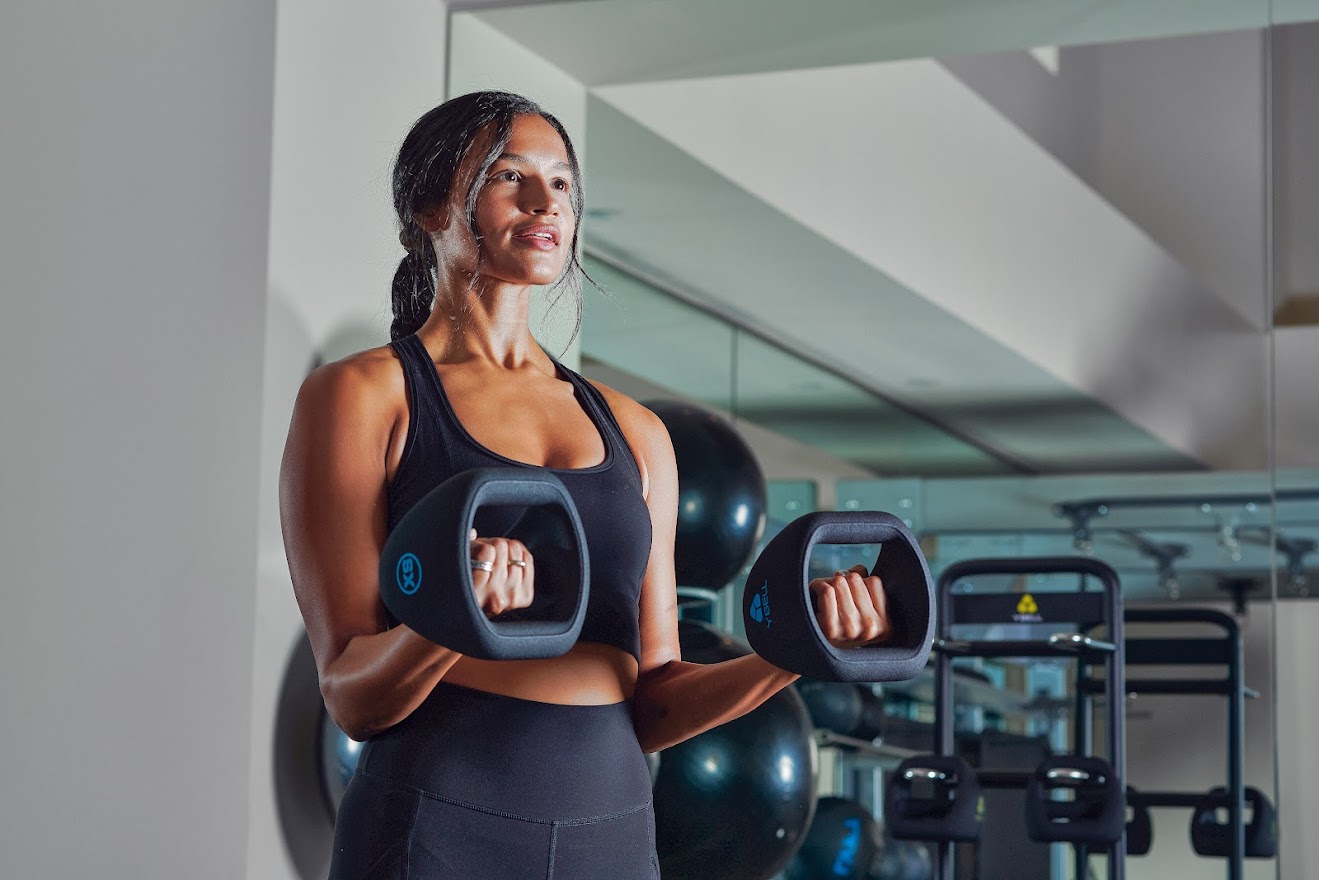 Community Forum: YBell Fitness Weights
YBell has a community forum to ask questions, get workout and fitness inspo, and more! It is free to join after you sign up for the app (but you can do the paid version to have access to more workouts)! The team of YBell experts monitors the forum daily to answer questions, share witty jokes, and tell you how proud they are of your progress! Shared experiences are always better, so why not jump in now?!
Buy
You can check out and purchase these weights by visiting them online at https://ybellfitness.com/.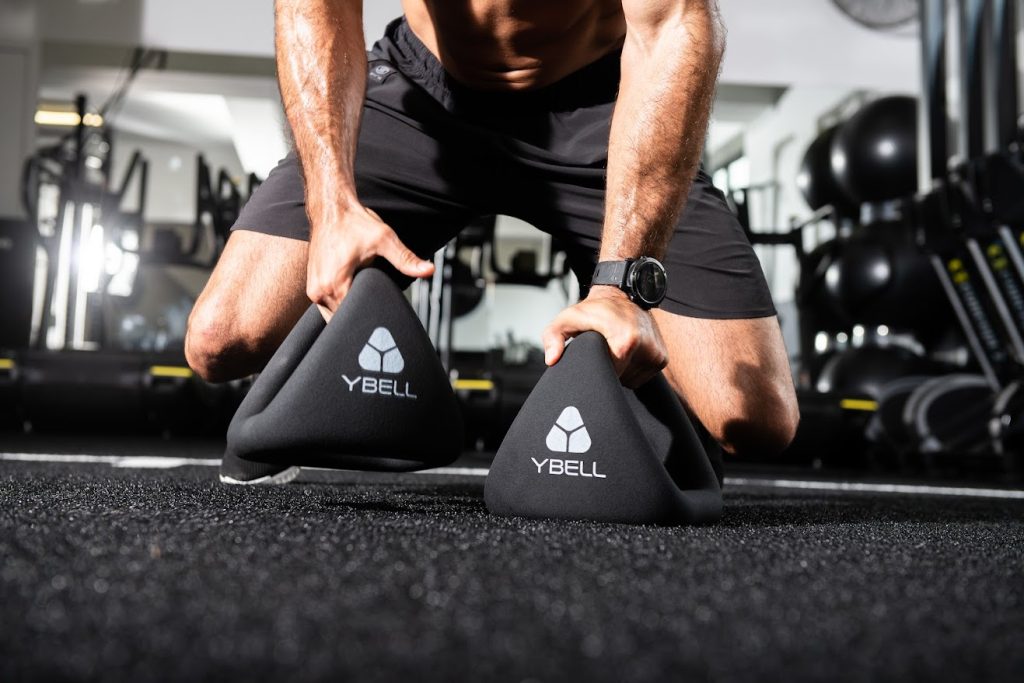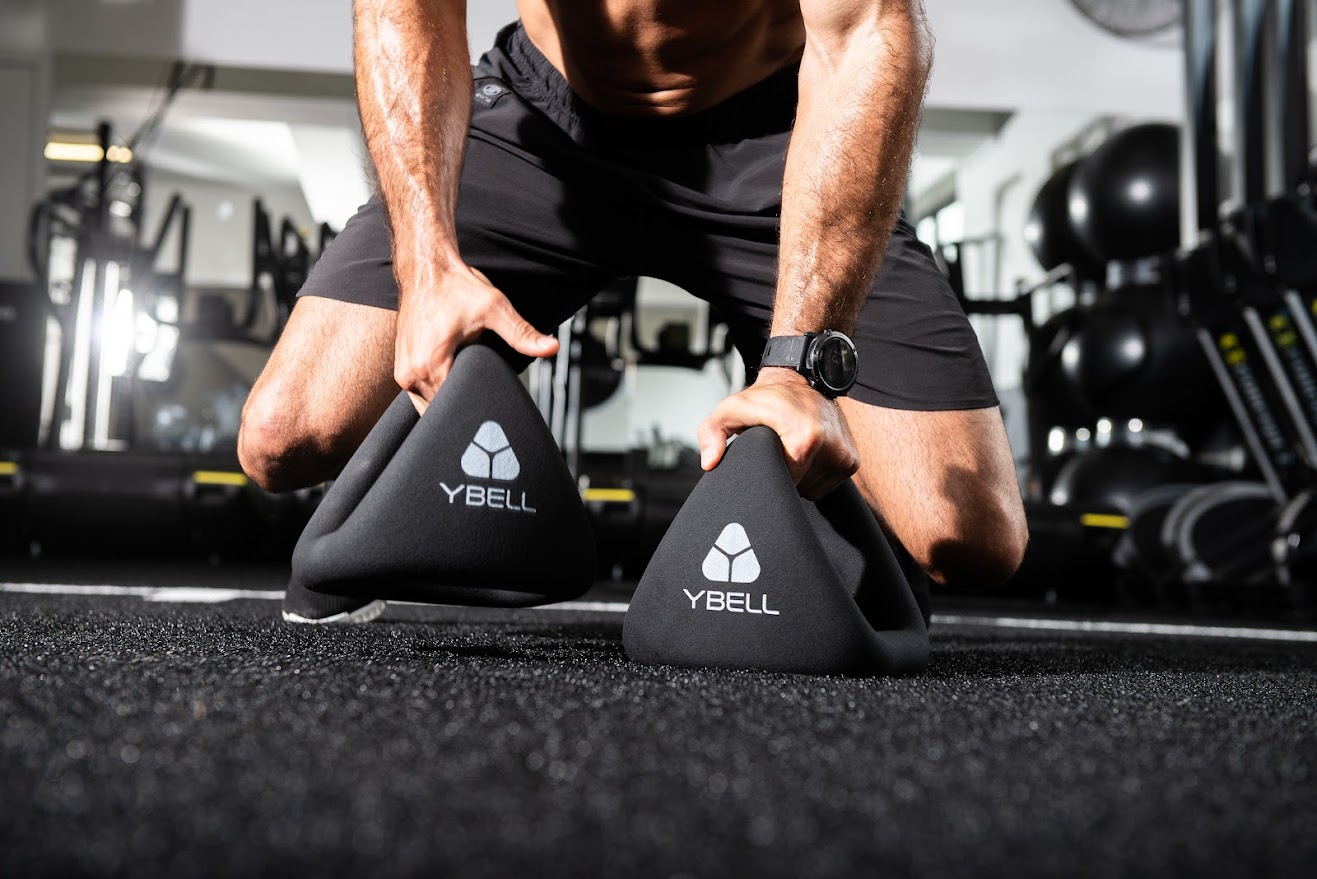 Win!
One person is going to win a set of YBell Fitness Weights in their choice of weight: 10, 14, 18, 22, and 27 lbs! Yay!
Rules
The contest is open to US 18+. The giveaway will end on January 5, 2022, at 11:59 PM MT. The winner will have 48 hours to confirm their win after I email them, or a new winner will be chosen. I am not responsible for lost or stolen mail.