*I received Nasoya Egg Roll Wraps to review. Opinions are my own! This post includes my affiliate link.
I love egg rolls! Whenever I go out and eat Chinese food , I MUST order a side of those egg rolls! So dang good! When I realized I could make my own at home using Nasoya Egg Roll Wraps, I had to give it a try!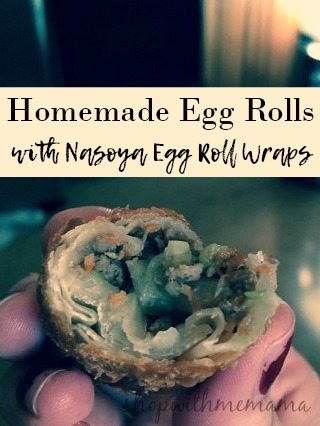 I was approached by a PR rep from Nasoya asking me if I would be interested in trying out the Nasoya Egg Roll Wraps and I eagerly agreed. I had never heard of those wraps before and it got my brain thinking of all the delicious concoctions I could cook up.
So I got started, but soon realized, I did NOT have ground pork on hand that is typically in homemade egg rolls. Since I did have ground beef, I decided to improvise and make some adjustments to the Nasoya Egg Roll Wrap Recipe starting with substituting ground beef for ground pork. I wasn't quite sure how it would taste, but I decided to give it a try!
I was having people over that night and since I was going to be serving them these homemade Egg Rolls, I wanted them to turn out well, of course! Thankfully, I had all the other ingredients on hand, so I got started.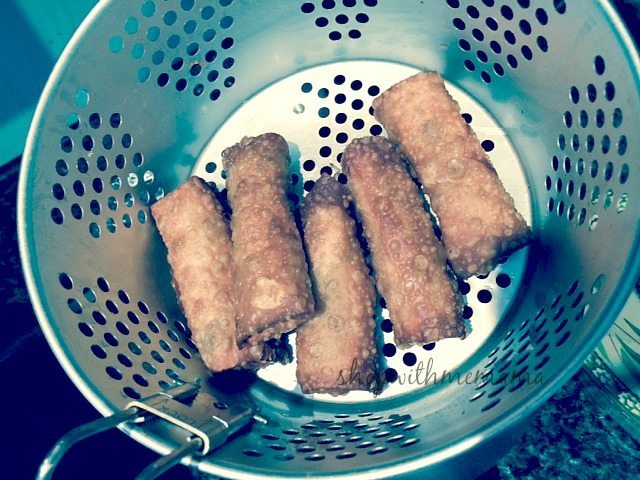 These homemade egg rolls were SO dang easy to make. Really, they were! It didn't take me long at all and they turned out SO well!! The first batch we cooked a bit longer than we should have, but the next ones were amazing! We deep-fried them and they turned out just like at the Chinese Restaurant I visit, but with beef inside instead of pork.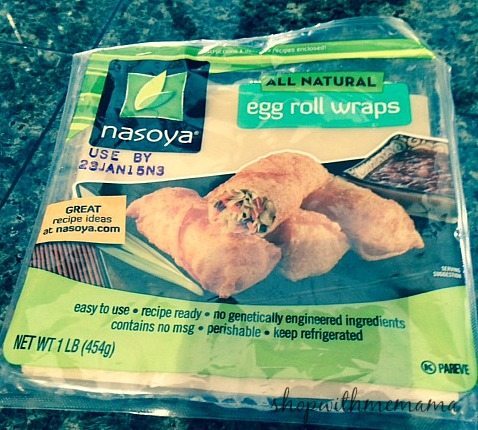 Homemade Egg Rolls with Nasoya Egg Roll Wraps #Appetizer
Nasoya Egg Roll Wraps
Author: Nasoya with adjustments by Kim Delatorre
Recipe type: Appetizers
Serves: 10
Ingredients
1 Package of Nasoya Egg Roll Wraps
1 lb Ground Beef or Pork
1 Tbs of Minced Ginger OR Powdered Ginger (which I used)
2 Cups or so of finely Chopped Cabbage
½ cup or so of Shredded Carrots
2 or 3 Green Onions, chopped
2 or 3 tsp of Oyster Sauce
Salt and Pepper to taste
Steps
Brown meat in skillet and drain.

Add cabbage, onions, shredded carrots, ginger, salt, pepper and oyster sauce to meat and continue cooking in skillet for about 10 minutes or so.

Let meat mixture cool for about 10 minutes,

then carefully spoon 2 Tablespoons of the meat mixture onto one of the Nasoya Egg Roll Wraps.

Place meat mixture diagonally on wrap, then fold bottom corner over filling. Next, fold both sides snugly against filling.

Moisten last flap tip, with a dollop of water and fold over and seal

Heat fryer to 350 degrees and place egg rolls flap down into oil. Fry 3 homemade egg rolls at a time. Cook for 2-3 minutes only, watching closely. Take out and drain on paper towels.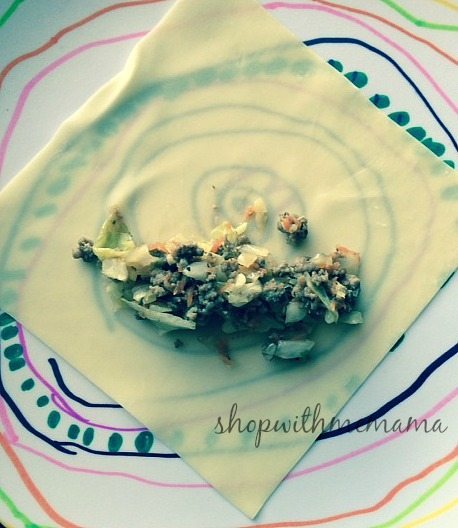 We ended up running out of the bigger wraps and I ended up using some of the Wonton Wraps to finish off the meat! YUM!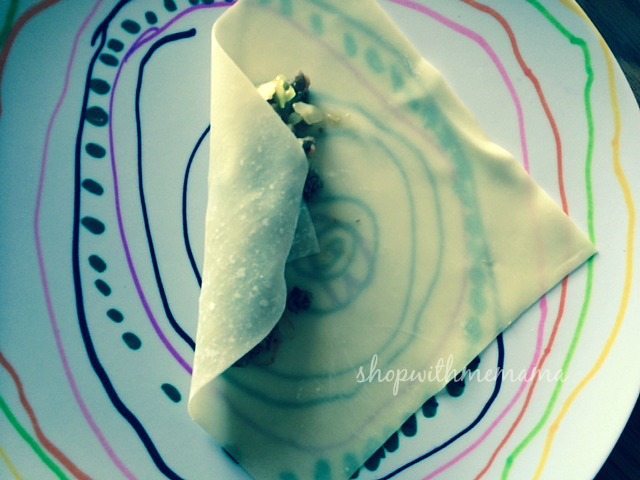 Every good fried homemade Egg Roll needs an equally good homemade sauce for dipping. Thankfully, my Mother-in-law was on hand to make this yummy Gyoza Dipping Sauce. If you don't have time to make your own, you can buy a pretty tasty bottled Sweet and Sour Dipping Sauce too!
If you are like me and you get a kick out of making your own version of restaurant food at home, check out the homemade pizza we made from Auntie Anne's At-Home Baking Kit The kids had a blast and it was so good!
Or are you interested in other easy appetizer recipes? I love all things wrapped and stuffed like these Bacon Wrapped Jalapeno Sweet and Spicy Poppers and these Cream Cheese, Green Onion and Cheddar Cheese stuffed Croissants and these Cream Cheese and Bacon Stuffed Mushrooms
*This post was originally published in 2015 and was republished in March of 2019.