This post is all about the most Comfortable and Trendy Gym Outfits for Women and Men and is updated for 2023! Workout clothing and gym clothes work well for both exercising and casual wear. I swear all the best workout clothes and fashion trends for workout clothes I have seen lately are SO cute.
And, we all know that exercising with good fitness clothes, like super cute workout tops, a crop top, and form-fitting yoga pants, can have a lot of great benefits including increased comfort, a lower risk of injury as well as more motivation to work out.
I know that when I feel cute, I get more stuff done and that includes working out! I swear I get a better workout some days because I am wearing cute workout outfits, especially butt-lifting workout leggings! It may sound dumb, but it is true!
Wearing workout clothes that not only fit your body but also suit the activity you are doing is so important. Whether you are jogging on your favorite trail or working out at home, below you will find my favorite
Comfortable and Trendy Gym Outfits for Women and Men with breathable fabric and tons of stretch for extra comfort! If you are looking for cute and stylish kids activewear, click that link! Kids need some too!
*This post includes my affiliate links
Comfortable and Trendy Gym Outfits for Women And Men
The fitness clothing industry has exploded over the past years and fitness fashion is now a huge industry in itself. There isn't an area of fitness – from weight training to yoga – which isn't covered by workout gear for both men and women. Whether you are working out in your home gym or in a weight room at the gym, there is something for everyone's style and fitness journey!
Whether you are searching for the perfect workout outfit or the most comfiest underwear, I got you covered! This post has all the most comfortable and trendy gym outfits and accessories for women and men!
I had the chance to check out some of the newest gym outfits, like tank tops, seamless leggings, and underwear (for men and women!) and I have listed them for you below, in my ultimate guide for gym outfits!
---
Wollemi Leggings
These leggings definitely are comfortable and trendy! These leggings are SOOOOOO soft! I can't get over how completely soft they are! I love lounging around the house in them in total comfort. I love the freedom of movement I have when I wear these! They are the right fit, everywhere!

These sustainably made leggings have these great features:
* The high V waist makes for a very flattering look and hides any underbelly.
* The fabric is buttery soft eco-friendly recycled nylon.
* The compression fit accentuates curves and holds everything in.
* They are available in four sizes and three classic colors
* In the short time since their launch on Amazon, their leggings have gathered great reviews with an average of 4.8 stars.
* Additionally, unlike many of the fast fashion brands that run upward of $100, their leggings are priced between $27.95-$44.95. They are so affordable!
Their mission is to create great styles with more limited plastic pollution, so they have partnered with Plastic Bank. This organization prevents plastic bottles from entering the oceans in vulnerable coastal communities around the world, by exchanging plastic waste for a secure income and life-improving benefits like health care and social assistance! There is really no better way than sustainability!
You can buy Wollemi leggings on Amazon through this link to their store. And you can find more information about these fabulous leggings on their website at www.wollemi.cc. I LOVE these leggings!
---
DRYWORLD
DRYWORLD is workout gear for both men and women made to turn heads and handle the sweat! My son received DRYWORLD CoreD Pro T and shorts and loves wearing them during his hard workouts. He sweats SO much and these workout shorts and shirt help keep all that sweat at bay. DRYWORLD builds products that keep you dry and comfortable in adverse conditions.
The CoreD Pro T active top is really comfortable my son said. Featuring a raglan sleeve, with 4-panel construction, a curved hem front and back, and an interlocking body, with overlock stitching the company went through every obstacle to bring you a modern twist on a classic athletic silhouette.
The CoreD Pro T comes in two colors; blue and black. He said that this tee keeps him cool because it moves with him and doesn't restrict him in any way. My son got the black one.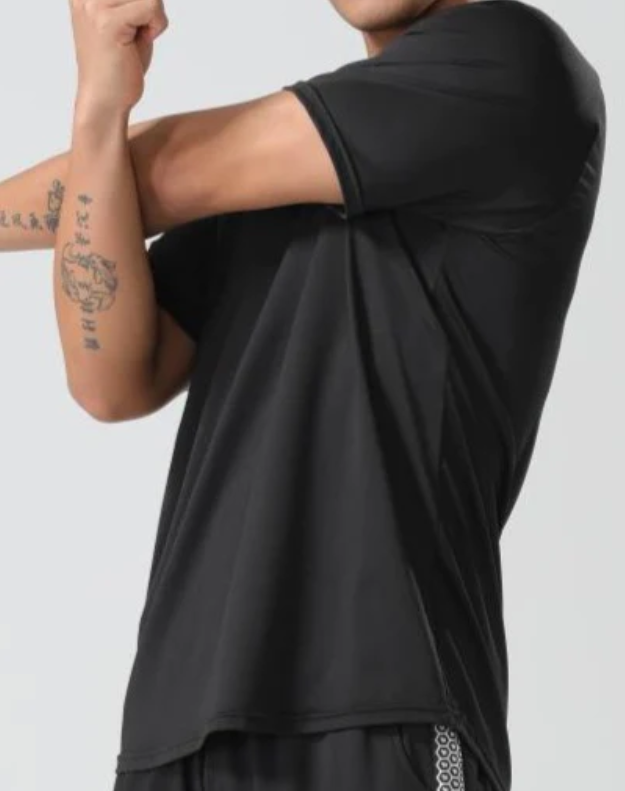 The CoreD Pro Shorts are also super comfy and my son said he can move around easily in them when he is working out. The CoreD Shorts are legit comfy. No other way to put it.
They are made of their 180-gsm interlock featuring rich luxurious colors, a wide waistband for comfort, and side pockets, with a wide hem that lands perfectly just above the knee.
These will become your new go-to training shorts! They are my son's favorite pair to wear when working out. My son said that these keep the sweat from really pouring because they are airy and move with his body. They are not restrictive at all, just like the CoreD Pro T.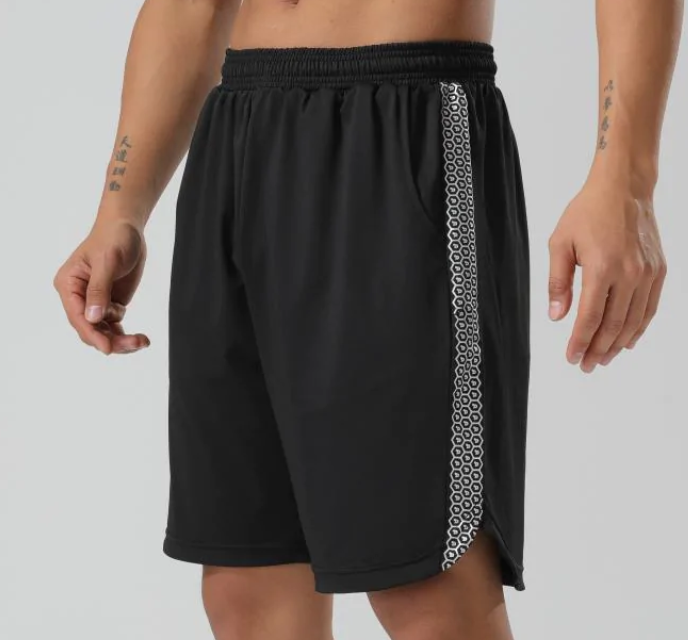 DRYWORLD was founded in Victoria, British Columbia, Canada in 2010. DRYWORLD is a performance athletic brand offering innovative, superior quality apparel and gear for athletes in all of us!
You can check them out on their website here.
---
Drifter Surf
I absolutely LOVE these clothes from Drifter Surf! I received a Drifter Tee, Drifter muscle tank, and Gypsy Shorts! You guys, these are seriously SOOO comfortable! The tee and tank are literally like butter material and I can't stop wearing them every day! I need MORE for my gym outfits.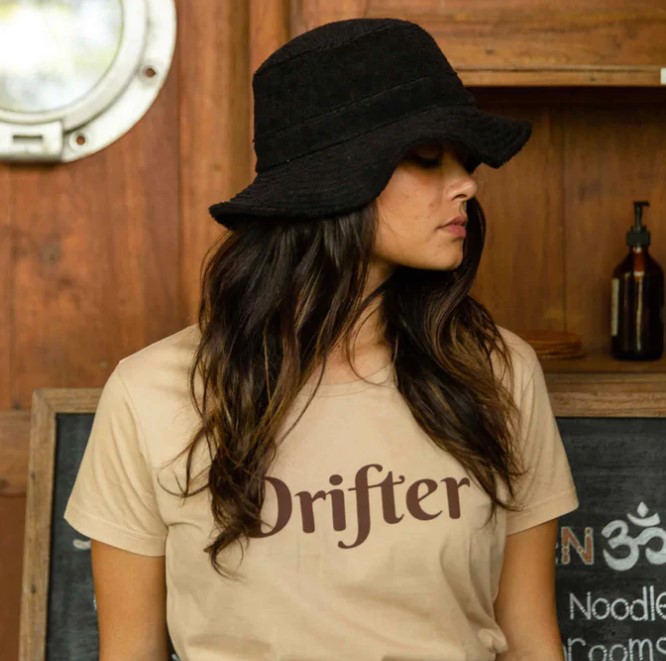 And, the gypsy short shorts are sooo cute and comfy! The bike shorts have an adjustable tie side that offers a perfect fit for all. When I work out in these clothes I feel SOO good!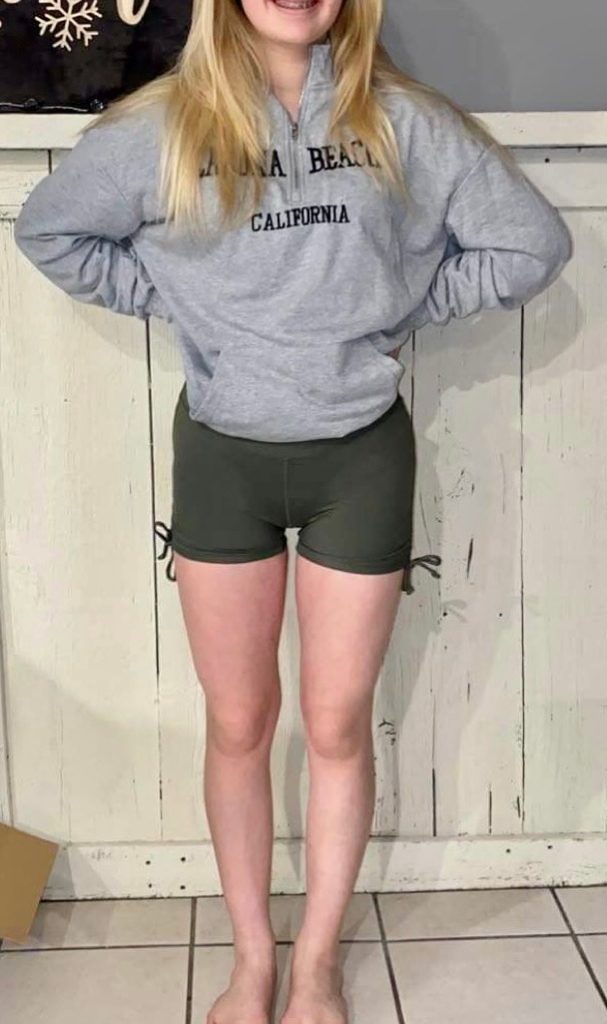 The Rainbow Relaxed Tee is my all-time fave! It is 100% cotton and just so dang comfortable. And, the Rainbow Singlet Muscle Tank is also my favorite tank to wear when I work out.
I need more of these gym outfits in my life and so do YOU. However, since reviewing these comfortable shirts, they have since gone out of stock 🙁 So, I found you some similar shirts from the same company below:
*Drifter Lotus Land Singlet Muscle Tank
They are both pretty much the same and are just as soft and comfy!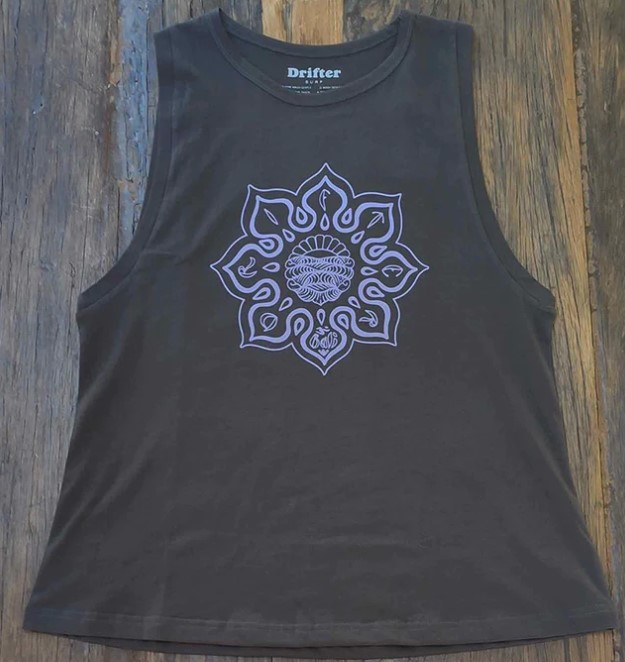 About Drifter Surf
Drifter Surf is the manifestation of passion and inspiration, the embodiment of surfing's counterculture. It defines what it is to be a surfer, for the love of glide and flow, and for environmental immersion. Tracing every step and every character from which surfing was born to the myriad ways we experience the ocean today…
Above and beneath the surface, sliding waves in every form, Drifter encompasses it all, reflected in art and writing, as historical and contemporary culture.
From the spirit of travel and adventure to the freedom of freediving, Drifter is the physical embodiment of a life lived by the tides. This is Drifter – the Art of Surfing.
Drifter Surf has clothes for men, women, and youth. They also have a board room where they sell surfboards and accessories! Go check them out and fill up your shopping cart!
---
RBX Active
I received the CUTEST camo leggings, training shoes, and running tee from RBX Active and love them. They are super comfortable and I not only wear these for my workouts. But the best part? I also wear them out and about because they are so comfy! They have the best casual clothing!

The Stratus Super Soft Bias Running Tee is long-sleeved and has thumb holes which I love! It has stretchy, smooth fabric and a classic crew neckline.
It has a flattering shape to it with seamless details so no itchy parts! It is 95% Polyester and 5% Spandex. It comes in three different colors: blue, pink, and light green. They also have one that is a t-shirt!
The Shine Embossed Camo Leggings are totally cute and comfy too. They have a moisture-wicking four-way stretch fabric and a cute camo pattern.
They have side pockets to hold your phone, keys, earbuds, or that cute guy from the gym phone number 😉 These are squat-proof and have total coverage for you squat-loving gals!
They stretch nicely with your body and make your legs and butt look hot! They have a 26-inch inseam. The fabric is 75% Polyester and 25% Spandex.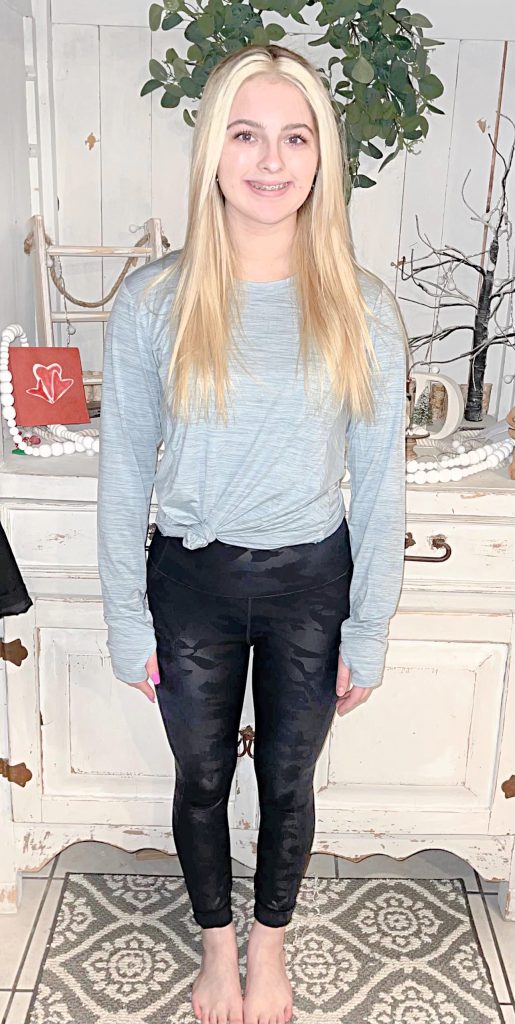 The Women's Maeve Training Shoes are so comfy and very lightweight. They have a great stretch to them and are breathable so no sweaty feet! The upper knit shoe dries quickly and helps you keep cool through your workouts.
The soles have awesome tread, great traction, and grip so no sliding around! These are slip-on shoes with a flexible ankle collar and pull tabs on the tongue for easy on/off. These are great to wear for your workouts or everyday wear! Super cute and affordable!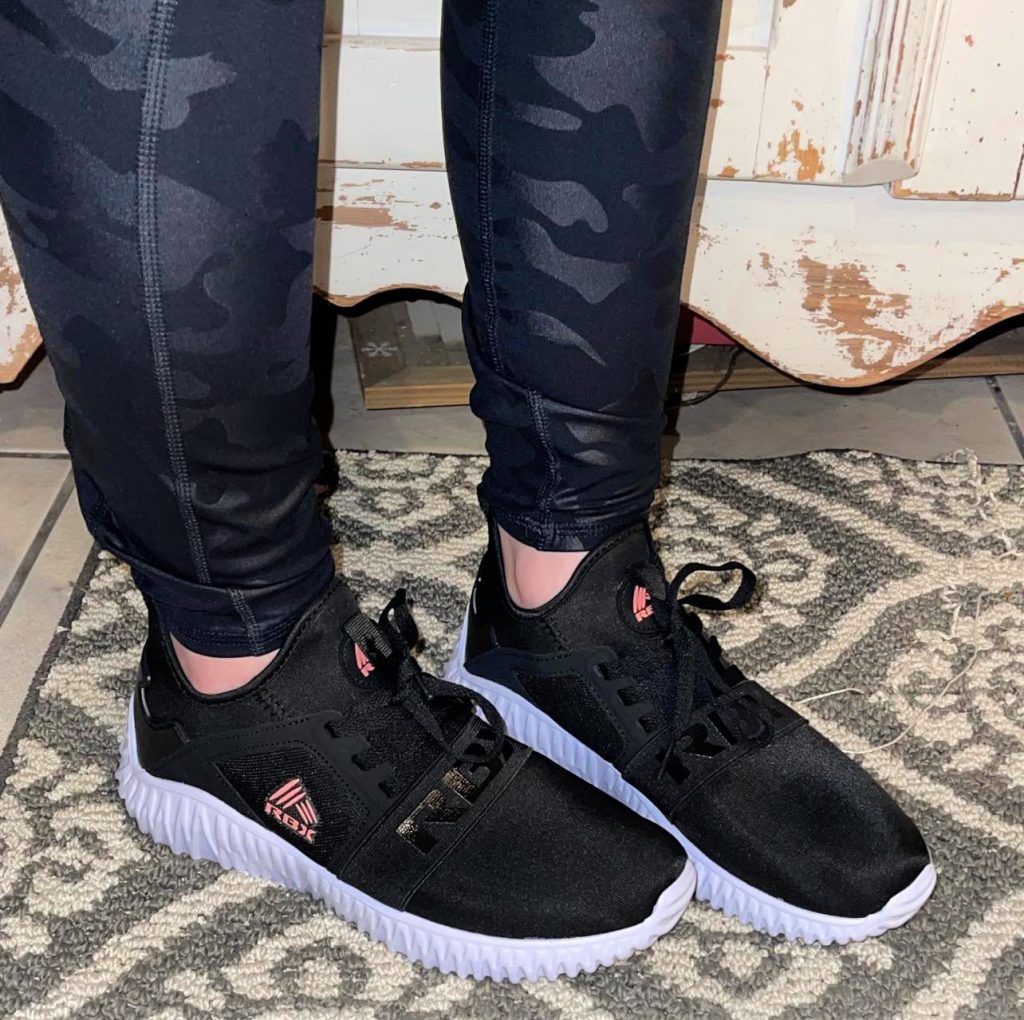 About RBX Active
From our beginnings over a decade ago, Rugged Bear X-Treme™ has evolved into RBX Active. Built on the idea that being healthy and active should not be a luxury, but rather a basic need, RBX Active seeks to bring fashionable fitness apparel and products to everyone at affordable prices.
---
Kosha Fit: Comfortable Must-Have Gym Apparel
Kosha Fit is a female-founded activewear brand inspiring alignment through the five layers of being to promote confidence and authenticity. Its mission is to make every woman feel empowered and motivated through any type of movement.
I received their Ananda Leggings and Ananda Bra and let me say, these are SO cute and such comfy gym outfits! Seriously, SO comfortable!
The leggings are stretchy and move with me and they are breathable too. They are also squat proof which is pretty important to know when lifting at the gym!
They are also the perfect length. I am 5′ 6.5″ and weigh 129 lbs I got a size small in the leggings and medium in the bra and they fit me perfectly.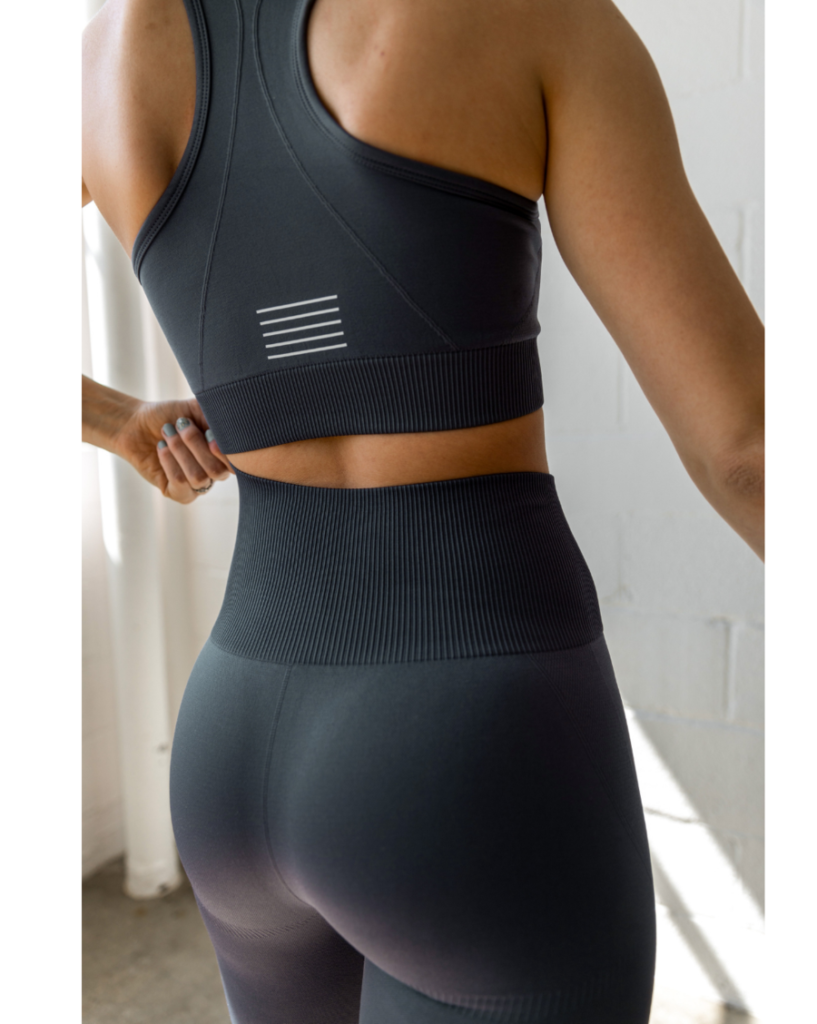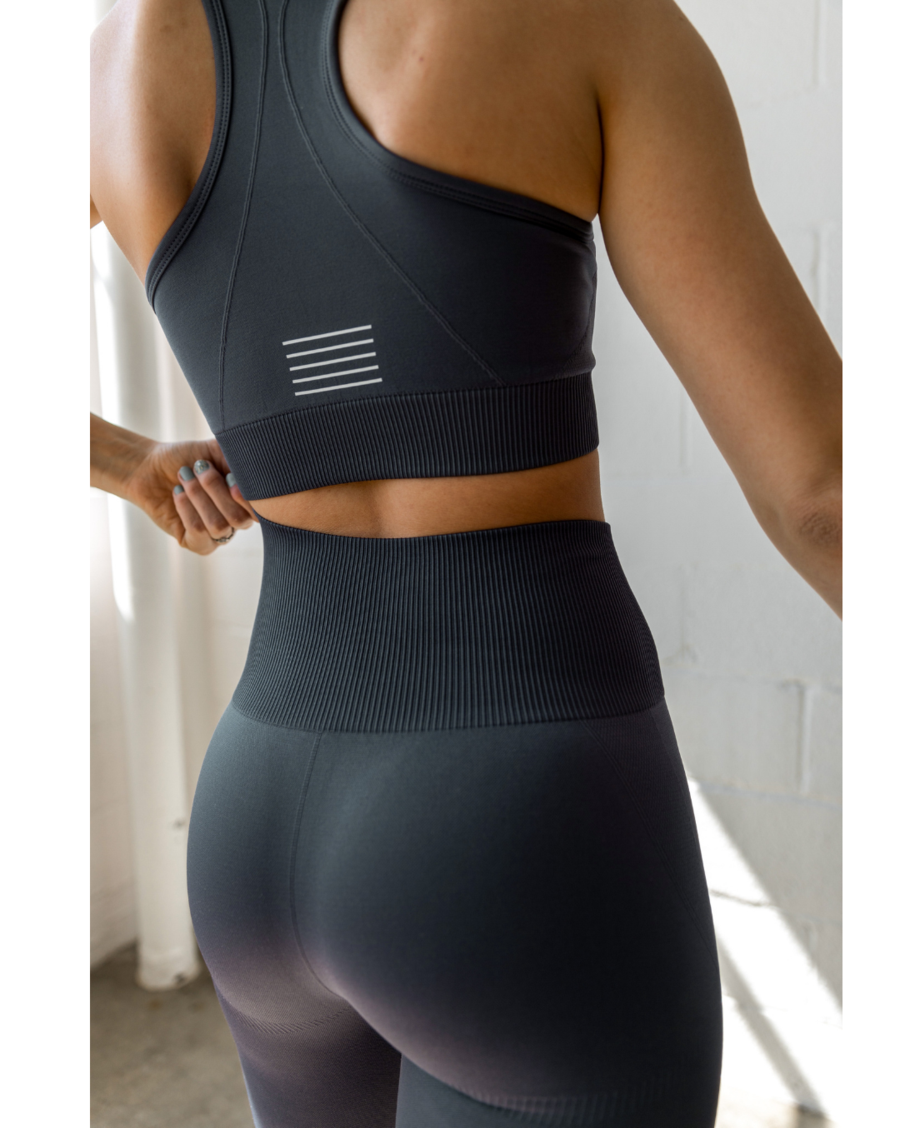 Ananda Leggings
The Ananda Leggings are squat proof as I said above and are perfect for high-intensity workouts. These activewear leggings are breathable and moisture-wicking too, making them great for hot yoga classes and high-intensity workouts. The high-waisted design makes these leggings sculpting and flattering to your body.
The Ananda yoga leggings are composed of a blend of nylon and spandex that provides the perfect amount of stretch, support, and most importantly comfort so that you can look and feel your best. The seamless style makes these leggings form-fitting and easy to slip on for the barely-there feeling.
The Ananda set comes in a variety of colors for every mood to motivate you through your workout. Whether you hike, go for a walk to your local coffee shop, or even lounge at home in these leggings, you won't want to take them off.
Retails for $61.00 (they also accept Afterpay so you can make payments!)
Ananda Bra
This bra is really comfortable too. It is breathable and stretchy. The Ananda Bra provides the support and comfort you need for any type of movement.
Designed and tested to be breathable for hot studios and sweatproof, this seamless sports bra is made for all-day wear. The blend of nylon and spandex material makes for activewear that is form-fitting and has a stretchy design that moves with you. The Ananda set comes in a variety of colors!
Retails for $44.00
---
2one2 Apparel
2one2 Apparel was founded by Entrepreneur and VH1 reality star Young Bae. The name is a reflection of the city where dreams became a reality for Young. 2one2 is a fashion-forward wardrobing solution for women.
Their designs allow anyone to transform from working out to hanging out. I received their BBL Leggings in size small, the Spider Bra, and the yoga top in a medium.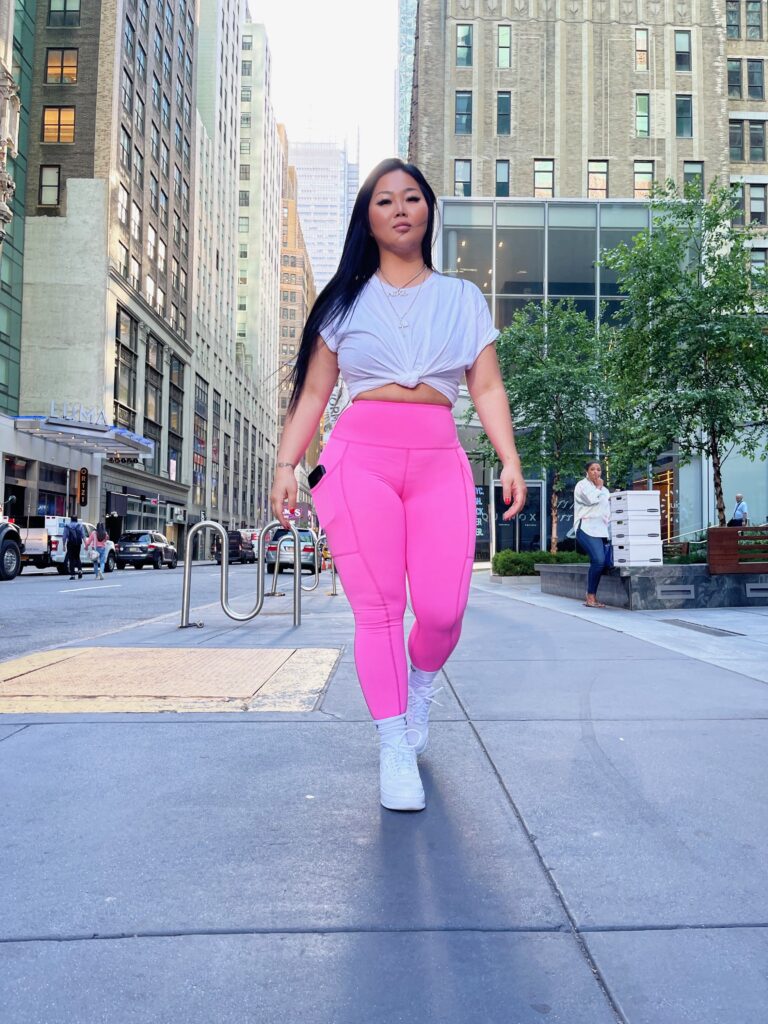 BBL Leggings
Okay, ladies! If you like those famous TikTok leggings, then you will WANT these BBL Leggings! They are much much better though because they do not go up your butt and look really inappropriate!
I can actually wear these outside my home and not feel like they are 'too much' in a certain area! However, they do have that little scrunch butt and it is just a perfect amount of scrunch in that area to make your butt look absolutely amazing! I LOVE these and wear them all the time.
The BBL leggings come in 4 different colors. I received a pair of black leggings. The "V" shape in the waistband creates the illusion of a smaller waist and rounder booty! The unique scrunch on the backside allows your butt to look more defined, tight, and perky 😉
Perfect for the gym (100% squat proof), great for a casual day or night out, or comfy enough for lounging at home! These are definitely my go-to workout leggings.
Retail for $49.99 (they accept After Pay so you can make payments on them) And you get free shipping on all orders over $35! Yay!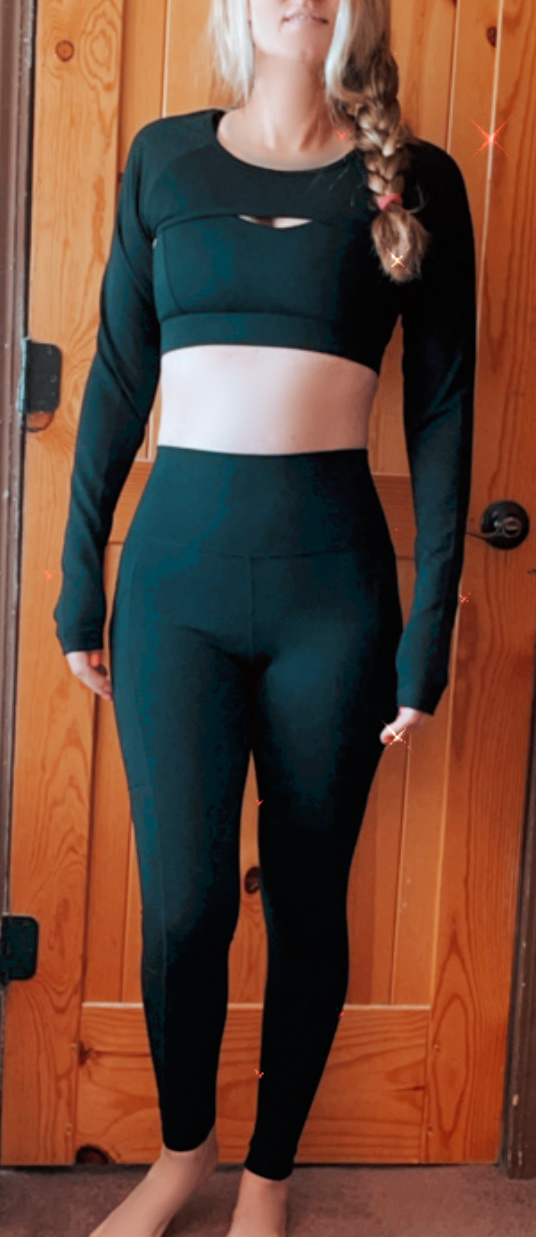 Spider Sports Bra
This spider sports bra is really cute! It is a seamless activewear sports bra that is padded (they are removable) with a spider back. It is made of four-way stretch space dye fabric that feels like a second skin, it gives you room to move—whether you're doing backbends or box jumps.
It has a sweat-wrinkling fabric that is cool to the touch and offers smooth, low-friction wear. The added spandex bends with you and stays in great shape.
Retails for $29.99
---
AGOGIE Resistance Pants: Must Have Gym Apparel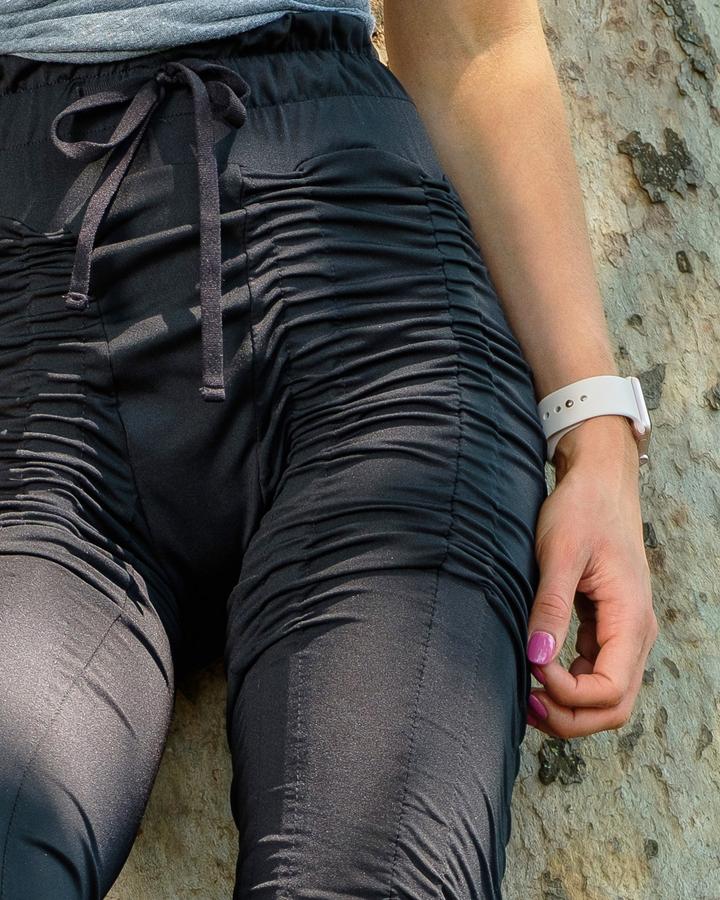 AGOGIE resistance pants have eight actual resistance bands built into them, adding constant tension to every movement. These one-of-a-kind pants offer an easy way to:
*Activate more muscles.
*Increase workout intensity
*Build strength
*Burn more fat.
*Maximize your natural movements.
*Run, jump, and cut with zero restrictions.
*Maximize your workout.
*Dial up the intensity of any exercise routine.
*Maximize your performance.
*Increase your speed, agility, and athletic performance
And best of all – wear them anywhere and get a workout even when walking the dog or grocery shopping!
Retails for $129.99 They also offer discounts for military, first responders, medical staff, teachers, and students!
---
WAMA Underwear
When you work out, you not only want comfortable gym outfits, but you also want comfortable underwear that is breathable! Wama Underwear is the leading sustainable hemp underwear brand providing customers with a unique feel of comfort, breathability, and antibacterial properties.
With perfection stitched into each pair, your experience wearing Wama Underwear will be nothing short of amazing! Just perfect for working out! They carry underwear for men and women.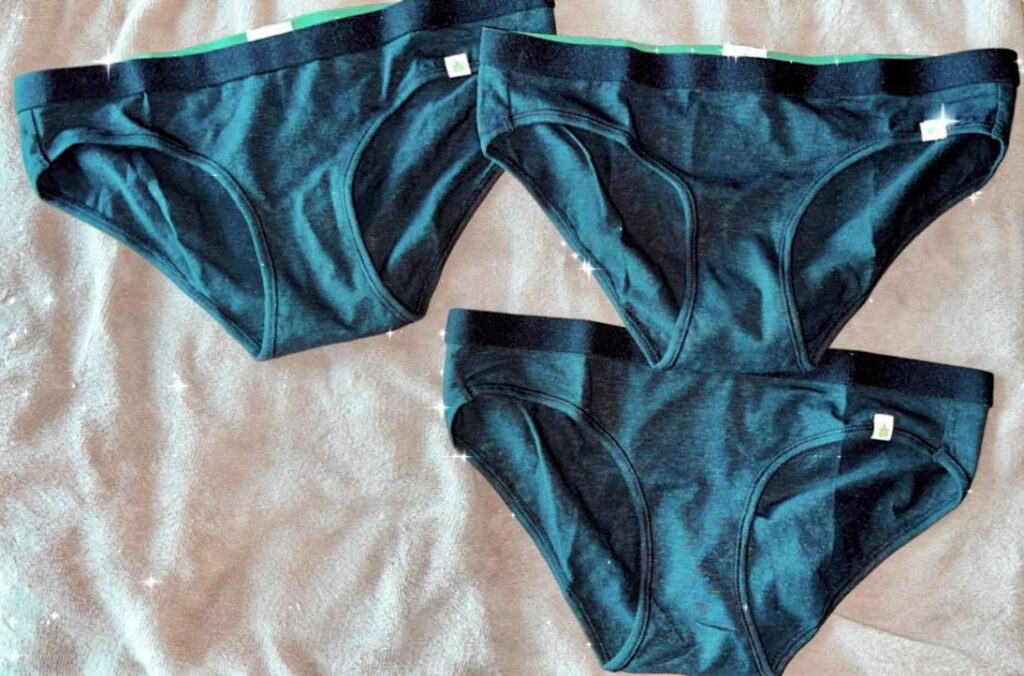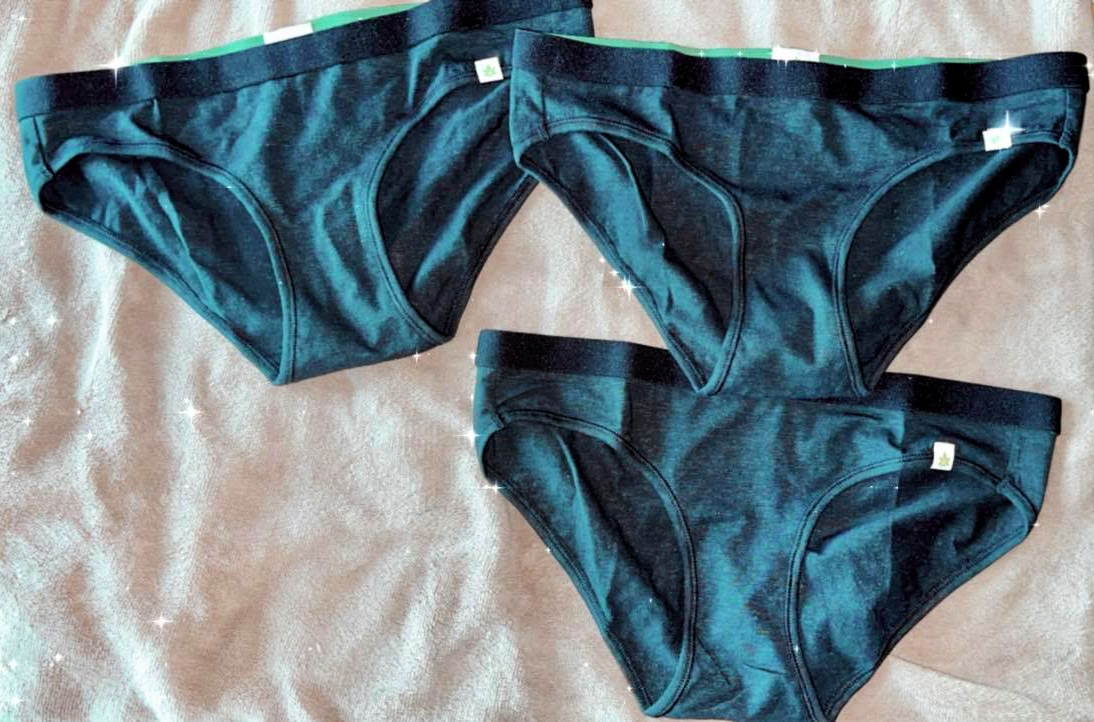 I received the hemp bikini underwear and just love them. They are SO comfortable and fit me perfectly. I wear these all the time and of course, I wear them under my gym apparel when I work out. They are quality made and just feel great on me!
Features
53% hemp / 44% organic cotton / 3% spandex
A soft, flexible waistband sits comfortably at the hip
Protects your privates, naturally
The Bikini hemp underwear is specially designed to flatter any shape. Just enough cheekiness for everyday wear with zero slippage so you'll stay comfortable no matter what your day holds. This soft and durable hemp bikini is so breathable, that you might just forget you're wearing panties! They come in 6 different colors. They retail for $20 each.
They retail for $24 each.
---
Mackenzie & Park Breathable Underwear For Men
These underwear are for men and are SO comfortable. My son absolutely loves the Mackenzie & Park Breathable Underwear! They are great for wearing when working out because they are breathable material.
Their fabric (a blend of cotton and lycra) is superior to what you'll find in most men's brands and their offerings are a game-changer for those with sensitive skin and sensory issues.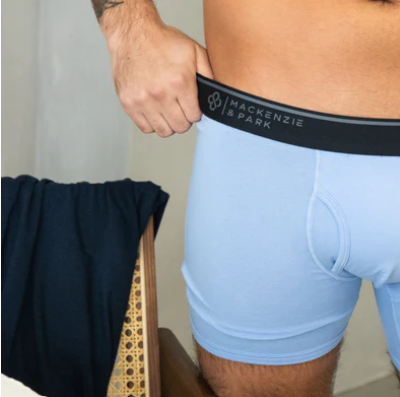 The stand-out features include tagless labels, extra soft waistbands, curved front crotch design, and superior stitching that moves with you so you always feel comfy while wearing these underwear!
They sell briefs, trunks, boxer briefs, and even tops and sweatshirts too! Check them out on their website!
---
Of course, the gym apparel you see above is only the beginning of my list of brands that I buy from and love! To name a few more, take a peek below!
*Shein (they have some really CUTE workout clothes and swimsuits for such great prices!) I love their workout bras with adjustable straps! So comfy with full to medium support!
*Amazon (Amazon has some really cute and affordable workout clothes for men and women)
Now that you have some cute gym outfits to choose from, it is time to grab your water bottle and gym bags and get started on your fitness journey! NO EXCUSES!!!!!