If you are looking for a FREE Printable Christmas List, you have come to the right place! The Christmas season is here, and that means it's time to start thinking about Christmas gifts. Whether you're shopping for your own children, spouse, mom, or dad, or are looking for gift ideas for nieces, nephews, or friends' younger kids, a free Christmas wish list is always a helpful tool.
To make the process even easier, we've rounded up 25 free printable Christmas list templates that kids of all ages (or adults!) will love. These wishlist printables are great for your own personal use or for your family members.
*This post includes my affiliate links
I scoured the internet just for YOU (and I even created some of the adorable wishlists you see below). Don't you feel super special? I sure hope so because I certainly would!
There are SO many free printable Christmas list templates on the internet, like TONS. I picked out my TOP 25 favorite free printable wishlists to share with you all today.
I know busy moms will love these free printable Christmas wish lists! They will give you a head start and plenty of time for your holiday shopping.
Give them to your family, friends, older kids that are hard to shop for, and your young children, so they can all fill them out and give them back to you.
The gift-giving season can be really hectic, I totally understand, and these free printable Christmas lists are a great way to take the headache out of the season.
Now you can just sit back on Christmas morning and put your feet up, turn up that Christmas music, grab a cup of hot cocoa, and relax because everyone will receive the perfect gift from you!
Pat yourself on the back and Let's do this! Pick which free printable Christmas list template you like the best below, click on it, download the PDF file (free download!), and print it off at home from your printer. It is that easy to do! Then, hand them out! Easy peasy!
Now when Santa Claus comes on Christmas Eve, there will be no second-guessing the best gifts he needs to be giving out! A little help for Santa never hurt anyone! Santa needs all the help he can get when he is running around trying to get presents under your Christmas tree!
---
25 Free Printable Christmas List Templates Kids Will Love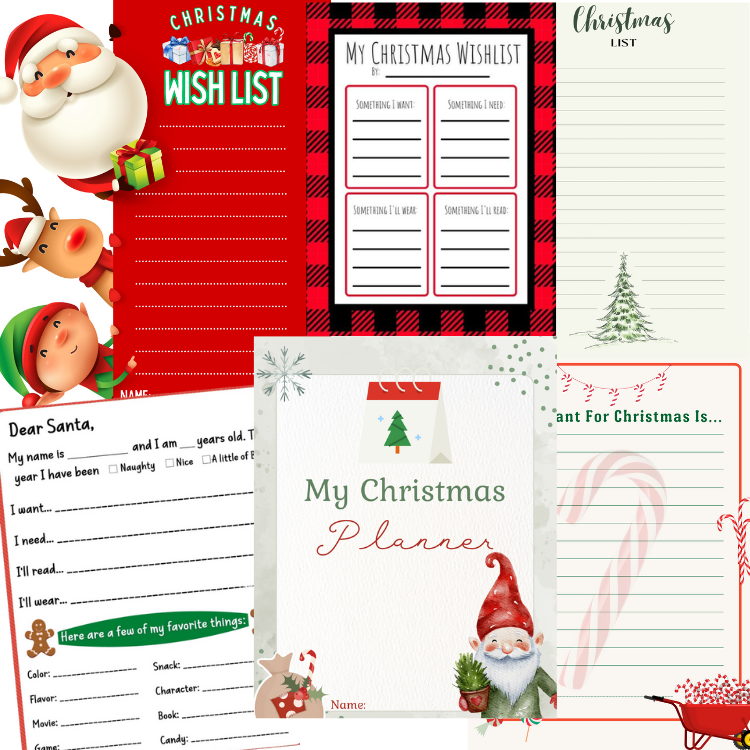 Below are our top 25 Free Christmas List Templates! Just click the images of the free printables below and you will be brought to where you can download these wishlists (press the download button)!
And, at the end of this post, I have a 16-page Christmas planner for you to print out and use this holiday season! Now there is NO reason for you to forget anything! Woot!
1. Wish List Printable:
What do you want for Christmas? Write it down on this Christmas wish list and hand it out to loved ones!
​​
If you like the free printable wishlist above, click the picture! You will be brought to a blog post with tons more free Christmas printables and various lists you can easily download!
---
2. Christmas Wish List For Kids:
This free printable Dear Santa wishlist is such a fun way to get kids excited for Christmas!
​
---
​​3. My Personal Wish List:
This fun list has plenty of space to write down your gift ideas!
​
---
4. Christmas Stocking Stuffers Wish List:
Can't forget about a wish list for stocking stuffers! You can also check out my holiday gift guide for the best stocking stuffers! Yay!
​
---
​5. Free Printable Christmas Wish List Template:
This wishlist is the perfect place to write down different things you have been wanting!
​
​
---
6. Free Printable Santa Letters:
Kids will have so much fun writing a letter to Santa!
​​​
---
7. Free Christmas Gift List Template:
Smart way to keep track of all the things you have wanted but don't yet have!
​
​​
---
8. Dear Santa Printable Christmas List PDF:
Write Santa a letter to ensure you receive the perfect present on Christmas Day!
​
​
​
---
9. Free Printable Wish List For The Holiday Season:
This is a blank Christmas list template to write down a special gift you have had your eyes on! Let Santa know!
​
---
10. Christmas Wishes List:
For best results, fill out this free printable Christmas wish list and give it to Mom or dad!
​​
---
11. Santa Wish List Christmas Letter:
Fill out this Dear Santa letter and send it off to the North Pole ASAP!
---
12. My Christmas Wish List:
Check out this super cute dear Santa Christmas wish list! This list is a great idea!
​
​
---
13. Dear Santa Here Is My Wish List Santa Template:
A dear Santa letter so Santa can get to know your child better!
​
​
---
14. Candy Canes Christmas Printable Christmas List:
Who doesn't just LOVE candy canes??! This free printable candy cane gift list is too cute!
​
​​​
---
15. Gifts Bought And Wrapped List:
A Simple Way To Stay Organized during the gift buying and giving season!
​​
​
---
16. Video Game Wish List For Your Gamer:
A wish list for your gamer? Yes, please! This wish list is great for older children who enjoy spending time playing video games or computer games.
​
​
---
17. The Best Christmas Wish List For Kids:
A cute 'All I Want For Christmas Is' free printable wish list!
​
---
​​​
---
18. Christmas List Printables:
30 free Christmas list printables to choose from!
​
---
19. Printable Christmas Wishlist:
A printable PDF file Christmas Wishlist for free!
​
​
---
20. Printable Christmas Wish List for Kids:
Get your kids excited for Christmas with this free gingerbread man Christmas wish list printable!
​​
​
---
21. Gift List For Christmas:
Keep all the gifts you buy in one spot with this gift list and stay organized this holiday season!
​
---
22. Santa, Reindeer, And Elf:
This cute wish list with Santa, a reindeer, and an elf will get any child excited for Christmas!
​
---
23. Gift List Printable:
An easy way to keep track of gifts you bought for your loved ones with this gift list printable for Christmas!
​​
​​
---
24. Minimalist Christmas Wishlist Printable:
A wishlist without all the colors and pictures (ink-saving wish list!)
​
​
---
25. All I Want For Christmas:
All I want for Christmas candy canes wish list for kids' favorite things! I love this Printable Christmas List! So cute!
​
---
I also wanted to offer a free printable Christmas grocery shopping checklist for all the necessities you will need to buy for your Christmas party and dinner!
I have included that below! Just click it and download it! I hope you enjoy your free printable Christmas shopping list!
​​
---
Last, but not least, here is your FREE printable holiday planner! Yay! Just click on it and you will be brought to a page where you can download all of the pages (there are 16 pages!) and print it off! This planner was created by Irina from Canva. I only changed a tiny bit of things on the front cover. Enjoy!
​
What the planner will look like when printed and bound:
​
Whether you are working on a holiday to-do list or doing some last-minute Black Friday shopping for that extra gift, there are tons of free printable Christmas list available to you in this blog post.
I hope you can find at least one wish list you like! These printable wish lists will save you much time during this busy holiday shopping season! It is a good idea to have these on hand to give out to friends and loved ones!
Feel free to share this printable Christmas list on social media so everyone can access it! Thank you so much for sharing! Leave me a comment below with your favorite printable Christmas list above! Happy holidays!
---