In this blog post, we will go over the best home remedies for neck pain and headaches. Many people suffer from this discomfort, which can be caused by a variety of factors such as poor posture, stress, and muscle strain. While there are over-the-counter medications available to alleviate these symptoms, some people prefer to explore natural remedies that they can try at home. This is what I prefer to do!
*This post includes my affiliate links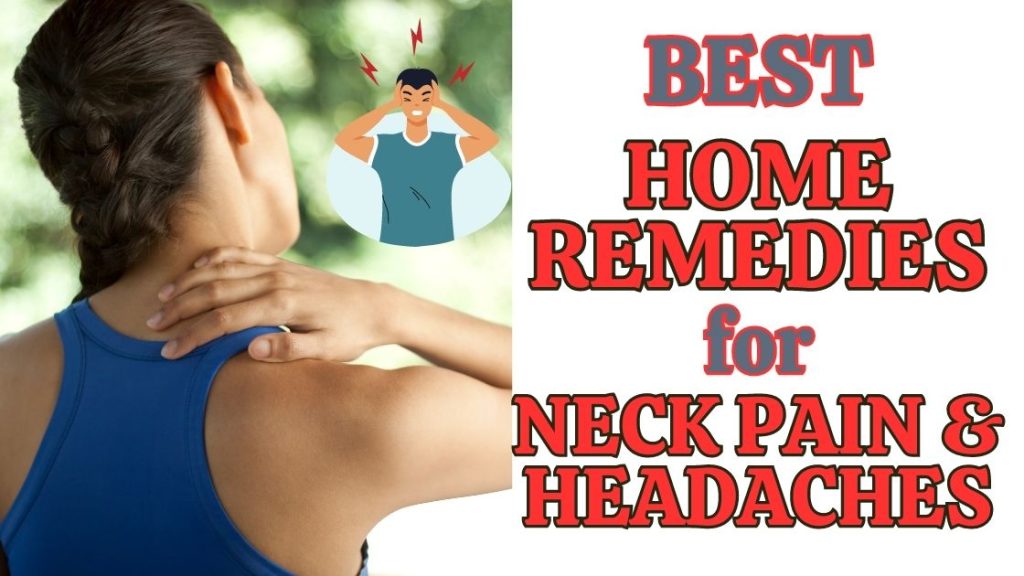 Too many doctors just want to hand out pills as a simple solution to a more complicated problem which in turn creates more issues for you in the long run!
Fortunately, there are several home remedies for neck pain and headaches (and other aches in your body!) that you can try from the comfort of your home.
These remedies are often simple and inexpensive or for a small upfront cost can save you hundreds if not thousands of dollars in the long run. These home remedies and devices can be just as effective as medication for many people.
For example, applying a warm compress to the affected area can help to relax the muscles and reduce pain. Alternatively, you might find that a cold compress is more effective for your symptoms.
Other remedies include stretching exercises, using a TENS unit or heat massage device, and even aromatherapy. We will explore these options in more detail in this article, so you can find the best solution for your needs!
Home Remedies for Neck Pain And Headaches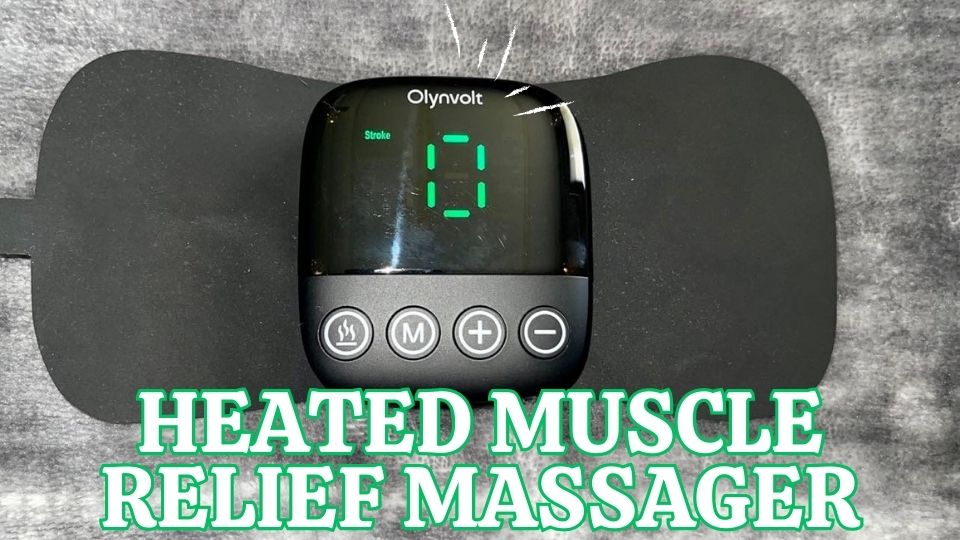 ​
Neck pain and headaches can be real pain in the neck (no pun intended!), but luckily there are quite a few home remedies that can help relieve the discomfort. We've compiled a list of some of the most effective home remedies for neck pain and headaches that you can try at home.
Let's Get Started!!!
Soothing Heat
One of the most effective home remedies for neck pain is to apply heat to the affected area. Heat therapy is an excellent way to reduce muscle tension and promote relaxation. You can use a heated TENs device, heating pad, hot water bottle, or even a warm towel to apply heat.
One of our favorite products for heat therapy (and massage!) is the Olynvolt Pocket SE Heat. This wireless, heatable body relief massager can be used to target specific areas of the body, including the neck, shoulders, and back.
The heat therapy provided by this device helps to increase blood flow to the affected area, which can help to reduce muscle soreness and stiffness and can help to relieve those headaches too! I use this device for both my neck pains and headaches because it helps SO much.
Gentle Muscle Stimulation
Another effective home remedy for neck pain is gentle muscle stimulation. This can be done using a neck massager, or TENS unit (Smart TENS & EMS) device. I have been using the Olynvolt Pocket SE Heat Wearable Body And Muscle Relief Massager and it has worked so well.
These devices use gentle electrical impulses to stimulate the muscles in your neck or muscles, providing almost instant relief and helping to relieve any soreness you may be having in that area (they can also be used for muscle toning and stiffness relief).
The little device called Olynvolt is an electrically heated muscle stimulation device that massages your hard-to-reach muscles giving you a deep, relaxing, and mind-blowing massage from the comfort of your home (or wherever you decide to wear it!). I absolutely LOVE this little muscle-stimulating device and when I love something I need to tell the world about it! So, here we go!
I tend to carry ALL of my stress in my neck and lower part of my skull and it sucks! Stress is a HUGE factor for me and so is my anxiety! It really hurts sometimes and some days it hurts me so bad that I can't do really anything but lay around!
It is especially hard because I have kids I need to care for. On days that it is so bad, I now have something that helps with my stiffness and soreness without having to take a handful of pills! So much better!
What Is The Olynvolt Pocket SE Heat Wearable Body And Muscle Relief Massager?
This is a wireless and heatable body relief muscle stimulator and massager. It is tiny enough to carry with you anywhere you go BUT powerful enough to relieve your aching muscles and tend to your nagging headaches.
I kid you not, this little wearable device is POWERFUL!!!! Dearest me, I use it on only the first setting and this little device sure packs a punch (in a great way!). It works SO well I was literally blown away.
​I first used this on my sore neck muscles. I get sore muscles in my dang neck ALL the time. So, this is the first place I used this device.
See It In Action, Below!
It not only almost instantly gave my neck relief from the stiffness and aches it feels daily by giving my neck an intense, heated massage. It even increased the blood flow to the muscles in my neck because of how penetrating the massage it gives goes. It is a heavenly feeling!
Normally when I feel my neck aches and muscle tension coming on I will use an ice pack or cold packs on it and then some heat for some pain relief. I will also ask my hubby to massage my neck for a bit.
But guess what? Hubby is not always here to massage my neck area or help with my muscle strain so more times than not, I was on my own! Having to deal with a stiff neck and sore muscles, PLUS a headache? It is hard to do! Especially when you can't rest!
Ugh.
I also get horrible migraine headaches which really really suck! Nothing ever really touches the pain of a migraine, until this little device made its way into my life. Getting a migraine headache can last all day long (even two days long!) and I just don't have any time for that to happen! I need relief and I need it NOW.
Using the Olynvolt Pocket SE Heat Wearable Body And Muscle Relief Massager on the back of my neck somehow helps relieve my migraine and headaches. This is the best way I have found to help with any headache or neck stiffness I might be having.
The Olynvolt Pocket Massager acts like a tiny massage therapist that I can use at any time and it doesn't cost an arm and a leg each time I do!
I can wear this device during my daily activities without having to stop and fix it. I have had no known side effects since using this device and only get almost instant relief from wearing it for about 5-10 minutes a day, twice a day.
This has 19 different settings/intensities to choose from and is great for arms, neck, legs, abdomen, waist, and more! Whenever you have any aches!
Benefits Of Using The Olynvolt Pocket Massager:
Relieve chronic pain

Relieve arthritis pain

Reduces muscular tension

Stimulates blood circulation

Speeds up recover

Reduces common injury risks
Features Of The Olynvolt Heated Pocket Massager:
Portable & Wireless

Effective Muscle Recovery

Master Therapy Experience

Battery-life worry-free

Safe & Reliable

Tailored for fitness enthusiasts & athletes
Now this device can be used for any part of your body that is feeling sore and needs a good massage. However, I use it mainly for my neck and my headaches.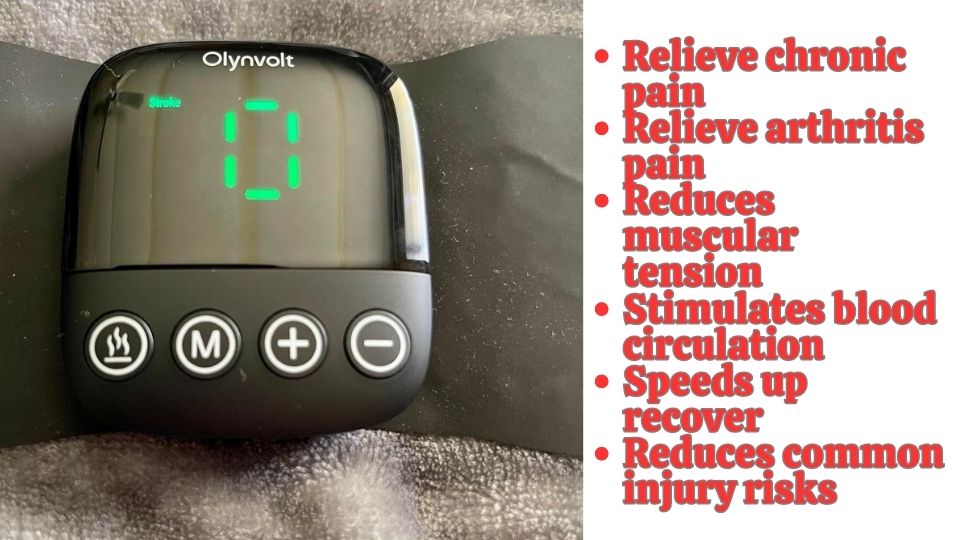 The Olynvolt Pocket SE Heated TENs unit is great for headaches, stiff and sore necks, tight muscles, and more. It is portable and attaches right to your skin with its adhesive patch. Rechargeable and easy to take with you on the go.
It also has a handy remote control if you have it on a spot you cannot see to adjust it (like on the back of the neck!), you can use the remote!
It heats up quickly and even on the lowest setting it will get deep into your aching muscles massaging the pain away quickly. I use this all the time for my migraine headaches and sore neck muscles. The heat really helps penetrate the soreness.
Coupon Code!
For 25% off use coupon code: Shopwithme25
Website: http://bit.ly/41hKylX
Overall, this home remedy for neck pain or sore muscles can be a great way to relieve discomfort and stiffness in the neck and body. Whether you prefer soothing heat or gentle muscle stimulation, there are options to choose from when using this device.
Try incorporating this little device into your daily routine to help keep your neck feeling healthy and your head feeling pain-free.
Note: When using a neck massager or TENS unit, be sure to follow the instructions carefully and start with a low-intensity setting. You can gradually increase the intensity as needed. When using a Smart TENS & EMS device, choose the appropriate setting for your needs and follow the instructions for use.
Causes of Neck Pain and Headaches
​Neck pain, muscle soreness, and headaches are common ailments that can have a significant impact on our daily lives. Understanding the causes of these conditions can help us take steps to prevent them and manage them when they occur.
Most Common Causes Of Neck Pain
​Neck pain can be caused by a variety of factors, including poor posture, injury, and underlying medical conditions. Here are some common causes of neck pain:
Poor posture: Spending long hours hunched over a computer or phone can strain the muscles in our neck and cause pain.

Neck Injury: Whiplash from a car accident or a sports injury can cause neck pain.

Osteoarthritis

: This condition can cause the cartilage in our joints to break down, leading to pain and stiffness in the neck.

Pinched nerve: A pinched nerve in the back of the neck can cause pain that radiates down the arm.

Neck strain

: This can occur from sleeping in an awkward position or lifting heavy objects.
Headache Causes (Different Types Of Headaches):
​Headaches can be caused by a variety of factors, including stress, dehydration, and underlying medical conditions. Here are some common causes of headaches:
Tension headaches

: These are caused by muscle tension in the head and neck and are often triggered by stress.

Migraines

: These are severe headaches that can be accompanied by nausea, vomiting, and sensitivity to light and sound.

Dehydration

: Not drinking enough water can cause headaches.

Sinusitis

: Inflammation of the sinuses can cause headaches.

Eye strain: Spending long hours looking at a computer or phone screen can cause headaches.
When experiencing neck pain or headaches, it is important to seek medical advice to determine the underlying cause of your medical condition or neck problems (especially if you have chronic neck pain or persistent pain). Seek immediate medical attention if you are feeling anything out of the ordinary or if you are having a medical emergency.
For example, using a neck massager or TENS unit like the Olynvolt Pocket SE Heat Wearable Body And Muscle Relief Massager can help relieve neck pain, while muscle stimulation can help alleviate headaches.
More Home Remedies For Type Of Headache
​As someone who has suffered from headaches, we know how debilitating they can be. Luckily, there are several home remedies that can provide relief. In this section, we will discuss two types of headaches: general headache relief and migraine relief.
Headache Relief
​If we are experiencing a general headache, there are several home remedies that we can try to alleviate the pain. Here are some options:
Hydration: Dehydration can often cause headaches, so drinking water or other hydrating fluids can help relieve the pain.

Essential oils

: Peppermint, lavender oil, and eucalyptus essential oils have been shown to help reduce headache pain. Simply massage a few drops onto our temples and forehead.

Cold therapy: Placing a cold compress on our forehead or the back of our neck can help reduce inflammation and relieve pain.

Yoga: Certain yoga poses, such as the child's pose or the eagle pose, can help relieve tension in the neck and shoulders, which can contribute to headaches.

Use the Olynvolt Pocket SE Heat Wearable Body And Muscle Relief Massager

Get in some

physical activity

at least 30 minutes a day to get your body moving
Migraine Relief
​Migraines can be more difficult to treat than general headaches, but there are still several home remedies that we can try. Here are some options:
Magnesium

: Studies have shown that magnesium supplements can help reduce the frequency and severity of migraines. Foods high in magnesium include spinach, almonds, and black beans.

Ginger: Ginger has anti-inflammatory properties that can help reduce migraine pain. We can try drinking ginger tea or taking ginger supplements.

Acupuncture

: Acupuncture has been shown to be an effective treatment for migraines. It involves inserting thin needles into specific points on the body to reduce pain and promote relaxation.

Dark, quiet room: When experiencing a migraine, it can be helpful to rest in a dark, quiet room to reduce stimulation and promote relaxation.

Use the

Olynvolt

Pocket SE Heat Wearable Body And Muscle Relief Massager
Other Helpful Headache And Muscle Aches Prevention Tips
*Stretching: Stretching is another effective way to reduce all-over-body muscle aches and soreness. Gentle stretches can help to improve flexibility and reduce tension in the muscles and can also help with back pain. We recommend doing some simple neck and shoulder stretches, such as rolling your shoulders forward and backward or gently tilting your head from side to side.
*Massages: Massage is another great way to ease muscle tension and reduce all-over-body muscle pain and soreness. You can use your hands to massage the affected area, or you can use a massage tool like the Olynvolt Pocket SE Heat.
*Epsom Salt Bath: Soaking in an Epsom salt bath can also help to reduce all-over body muscle aches and soreness. Epsom salt contains magnesium, which can help to relax the muscles and reduce tension. Simply add two cups of Epsom salt to a warm bath and soak for 20-30 minutes.
*Hot Shower: Standing in a warm shower for long periods and letting the warm water hit on the painful area you are trying to relieve. I have done this several times and it seems to work for as long as I am in the shower…
*Good Night's Sleep: It is important to try and get 8 hours of sleep each night that is uninterrupted. (However, if you are a mom, that is highly unlikely…sigh.) Just try your best…
*Practice good posture: Make sure you sit and stand up straight, with your shoulders back and your head aligned with your spine. Avoid slouching or hunching over your computer or phone for extended periods.
*Take breaks: If you spend a lot of time sitting at a desk or using a computer, take frequent breaks to stretch your neck and shoulders. Stand up and walk around every hour or so to avoid stiffness.
*Exercise regularly: Regular exercise can help strengthen your neck and shoulder muscles, as well as improve your overall posture. Consider activities like yoga, Pilates, or swimming.
*Stay hydrated: Dehydration can cause headaches, so make sure you drink plenty of water throughout the day.
*Use ergonomic equipment: If you spend a lot of time using a computer, make sure your workstation is set up ergonomically. Use a comfortable chair, position your monitor at eye level, and use a keyboard and mouse that are comfortable for you.
The prevalence of neck pain and headaches is a common issue faced by so many people. The discomfort associated with these ailments can stem from various factors, including poor posture, stress, and muscle strain.
An increasing number of people are seeking natural remedies to address these symptoms and I love that! Exploring home-based alternatives allows people to take a proactive approach toward their well-being and health.
By taking charge of your own health and making informed choices, you can strive for a better quality of life and freedom from persistent discomfort, because let's all just say it… IT SUCKS!
Do you get neck pains or headaches? How do you help alleviate it all? Let me know in the comments below!
---
PIN IT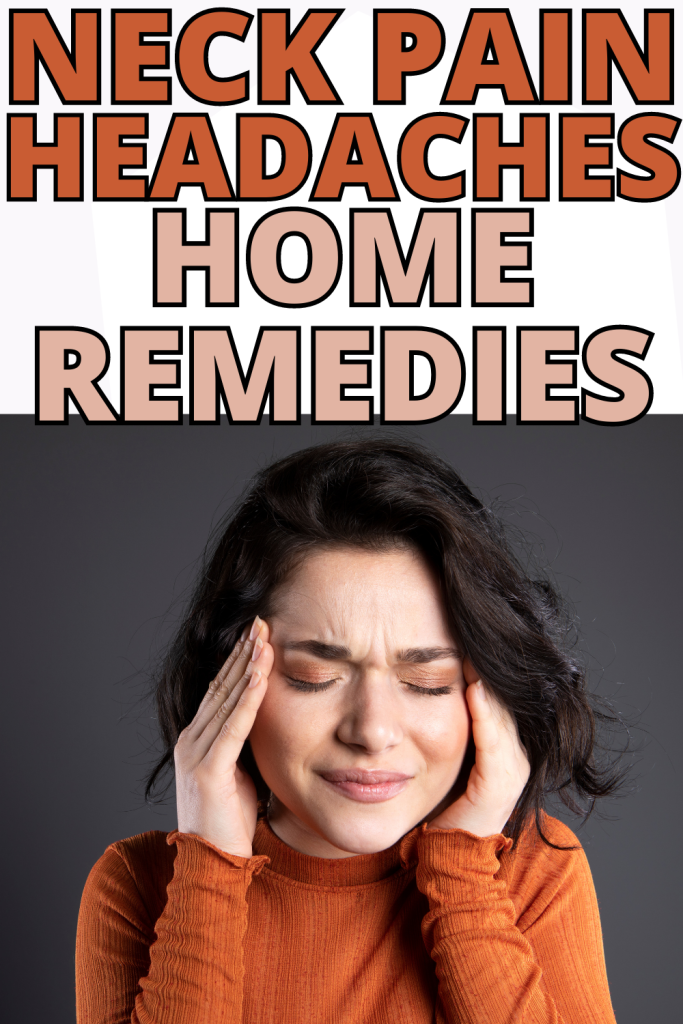 Disclaimer: Please note that this blog post, The Best Home Remedies For Neck Pain And Headaches, is not a substitute for medical advice. The information provided above should not be used as a basis for diagnosing, treating, or preventing any medical condition or disease. Before making any modifications to your diet, sleep regimen, daily routine, or exercise program, consult your physician. Shop with Me Mama is not liable for any physical harm or injury that may result from the suggestions, opinions, or recommendations provided in this article.