This post is brought to you by Shell Fuel Rewards, Opinions are my own. This post has my referral links in it.

We all like to save a penny or 8 at the pump, right? Seeing the gas prices rise, scares me a bit and makes me want to not travel anywhere if I don't have to. Lately the gas prices have been OKAY, but my goodness, the days of getting gas for only $5 and actually GETTING some gas in the tank, is  LONG gone.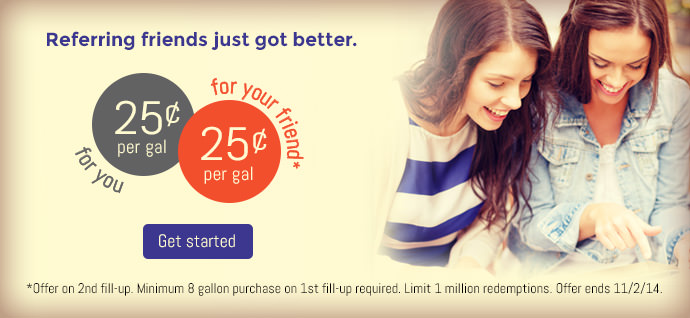 I can give you some advice on how to save more at the pump with the Fuel Rewards Program by the special 'Refer A Friend Program'!
Now through November 2, you can earn 25¢ off per gallon by referring a friend! All you do is create an account (if you already have one, great!) at Fuel Rewards Network. Then, you find your unique referral link on the Account Profile Page under "Account information & Refer-a-friend".
Next, copy your 
Refer-a-friend link
and email it to as many friends and family members as you like or share it using Facebook or Twitter and Remind your friends to join the Fuel Rewards Network™ program so they never have to pay full price at the pump again!
What happens next?
Friends use your Refer-a-friend link to join the Fuel Rewards Network™ program
You earn a 25¢/gal bonus after your friend uses the program the first time*
Your friends earn a 25¢/gal bonus after their first fill-up at a participating Shell station**
To find out more about the Refer-a-Friend rewards system, please visit them online at https://www.fuelrewards.com/fuelrewards/refer-a-friend.
 Have you signed up for the Fuel Rewards yet? How much have you saved so far?