Dogs are completely reliant on their owners, so it's important to be a responsible pet parent. A pet isn't a household decoration; rather, your new fluffy friend is a valued member of the family. When owning a pet, you must be ready for the responsibilities it entails, including regular meals, plenty of water, regular baths, a full set of vaccines, daily walks, and unlimited love.
Along with the proper nurture and care you provide for your pet, you should also be aware if they're showing symptoms of illnesses or diseases that need to be looked at immediately. One of the things that your pet can experience is dandruff.
6 Tips To Keep Your Pet Dandruff Free
What is Dandruff?
Dandruff isn't limited to humans. Your pets can experience it, too. Dandruff is a condition in which dead skin cells float on your pet's coat or fur. Depending on the color of your pet, it may be obvious from a quick visual check. However, if your pet has a light fur color, you may see dandruff trails when they leave the couch, or when you inspect their skin.
As a responsible pet owner, your main goal is to keep your pet healthy and happy all the time. You can do that by preventing any issues to their bodies, most especially with their skin.
What Causes Dandruff?
No one likes dandruff, least of all when it's present on your pets. Having flakes all over their body can be uncomfortable, and associated scratching may cause small wounds. Listed below are some of the usual causes of dandruff in dogs:
Allergies

– Your pet could be allergic to a particular ingredient in their food or shampoo. When this happens, you should switch to hypoallergenic and natural ingredients that could aid in eliminating their

allergies

.
Environment

– If you're living in an area that has dry air, your pet's skin can lose some of its natural moisture. Dry skin is a leading cause of dandruff.
Skin Infections

– When your pet develops skin infections from bacteria or fungi, they're more likely to progress to dandruff. Ensure those skin infections are addressed promptly.
Insufficient Rinsing

– When you bathe your pet, make sure they're properly rinsed off. Otherwise, remaining soap residue can make their skin itchy, which may lead to dandruff.
If you're unsure what's the cause of dandruff for your pets, you should never hesitate to consult with your veterinarian, just to be sure. The vet will give your pet a proper and should be able to provide appropriate treatment and post-care for your pet to prevent it from coming back.
Listed below are the tips on how you can keep your pet dandruff-free:
1. Use the Right Shampoo
Just because a specific shampoo brand works well for other people's pets, it's not guaranteed that your dog will have the same result. Each pet is unique, after all!
Picking the right shampoo is a trial-and-error process. Current research from pet experts shows that it's a good idea to choose a product that's right for your dog's breed; for example, hybrid dogs like Goldendoodles benefit from hypoallergenic shampoo as their skin tends to be sensitive.
You should take special care when switching to a different shampoo as, in some cases, it may cause an allergic reaction. Check the ingredients list and conduct some research to find out if it's been helpful for similar dogs.
2. Daily Brushing
Aside from keeping your pet's coat healthy and shiny, daily brushing is also essential to prevent dandruff. With regular grooming, you'll be able to help distribute your pet's body natural oils, nourishing skin and so limiting the development of dandruff.
Also, when you brush your pet's coat regularly, you're helping to stimulate blood supply to their skin, promoting the production of their natural moisturizing oil.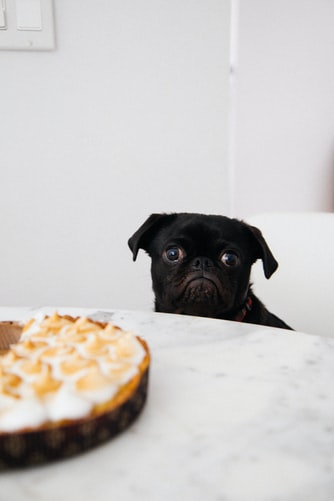 3. Provide a Healthy Diet
The food that your pet eats affects how their health and skin condition would look. To keep your pet's coat healthy, strong, shiny, and dandruff-free, it's recommended that you look for pet food that contains omega-3 and omega-6 fatty acids as these are extremely helpful in improving the condition of your pet's skin condition.
Along with this, you should be aware of the do's and don'ts when it comes to feeding your pet to prevent any issues from arising.
4. Treat Conditions Immediately
If you notice that your pet is experiencing any concerning symptoms, you should have them checked immediately by your veterinarian to diagnose any illness that needs to be taken care of right away.
When it comes to pet care, you should treat any conditions promptly to avoid the unnecessary severity of symptoms. Treating common skin conditions will help to prevent the development of dandruff, as well as other more serious diseases.
5. Provide Humidity in the Room
If your pet usually stays indoors, it's ideal that you invest in an air humidifier for your home. A humidifier works by adding moisture to the air of the room. As well as your pets, the humans in your home will likely enjoy a properly-humidified environment, too!
If one family member has dry skin or lips or is experiencing any sinus congestion, an air humidifier can help to relieve any symptoms. With multiple benefits, it's an excellent investment.
6. Regular Grooming
As a responsible pet owner, you must have your pet groomed regularly; for some dogs, this will be at least every month. Professional groomers will tend to your pet's hair, keeping it in pristine condition. They can also spot abnormalities on your pet's skin. In that case, they will inform you immediately and advise you whether you can treat the condition at home, or if it's best to contact your vet.
Conclusion
As a responsible dog owner, you must make your pet comfortable, healthy, and happy. You can prevent any future illnesses and diseases by taking good care of them and knowing that if a skin condition cannot be treated at home, it's the right time to visit the veterinarian. By following the steps above, you'll be able to prevent your furry friend from developing dandruff.