Mountain biking with your kid can be fun and challenging at the same time. After all, you need to go through the painful process of buying mountains bikes for the kids. It's a time-consuming process, and we won't lie to you about this. But the challenge of buying a high-quality bike is worth it when you see your child riding with you on the mountain. With that said, let's dive into 7 things you should know before you buy a mountain bike for your kid.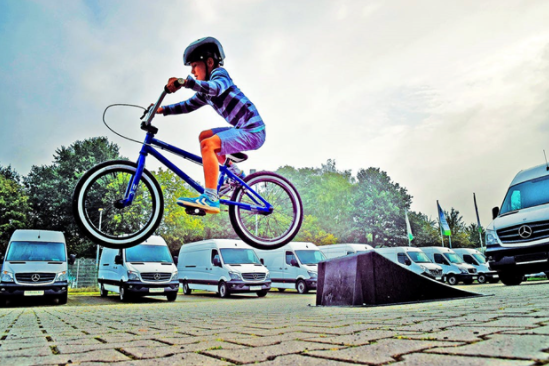 7 Things to Know Before you Buy a Mountain Bike for Your Kid
Due to COVID-19, mountain bikes have become popular. Most sellers can't keep inventory, and it's your best chance to buy a bike at cheap rates. Here is our list of things to consider before buying a mountain bike.
1.
Quality Bikes Are Expensive
If you are looking for a quality mountain bike for your kid, you have to deepen your pocket. Well-made kid's bikes are expensive because they use high-quality material. It's a significant investment, but you can use the same bike for your other children. Mountain bikes for kids are very durable, but if you try to save money by buying a cheaper alternative, you will buy a new bike every 6 months. So buy once and buy a good mountain bike.
2.
Compare Cost of Other Entertainments
Okay, so you have a choice between buying a new PlayStation or a bike for your kids. A new Playstation 5 will cost you more than $750 without games. Each new game costs between $50 – $100. Add all the costs, and you are paying around $1000. Wouldn't you rather have your kids enjoy time outdoors than become couch potatoes all day? A mountain bike will cost you between $300 to $450. That's half the price of what you'll pay to make your kids stay locked up in their rooms.
As a parent, you might be inclined to buy the most expensive gift for your kid's birthday. But you have to think long-term. A $1000 PS5 with games or a $450 mountain bike so your kids can go out and make real friends?
3.
Fit is First
There are many choices when it comes to buying a bike. Most parents will buy a large bike for their children, hoping they'll grow into it. But mountain bikes aren't like a new pair of jeans or a T-shirt. Your child will ride this bike in the mountains and on the road. So make sure you buy a mountain bike that fits your child. Tell the sales rep your kid's age, weight, and height, and the representative will find the best mountain bike that fits your kid. If you buy a large bike, your child might fall off during high-speed turns. So keep your kid's safety first and cost later.
4.
Know Your Child's Physical Abilities
As a parent, you know your child better than a sales rep. Generally speaking, age has nothing to do with a mountain bike. Some children might comfortably ride a bike meant for teenagers, and others might not fit on a bike for their age. If your child is sharp, eager to learn, and excited, take your child with you to buy the mountain bike. Ideally, your child should be able to put his feet on the ground while sitting on the saddle.
5.
Weight of the Bike
The first bike our children rode was heavier than their weight. The bike's weight interfered with their experience, and we were constantly worried. Weight has a lot to do with how your child rides his mountain bike. Most mountain bikes are nearly half your child's weight which makes it challenging to make sharp turns. Buy the lightest bike you can. Luckily many bike manufacturers are making lightweight mountain bikes for kids.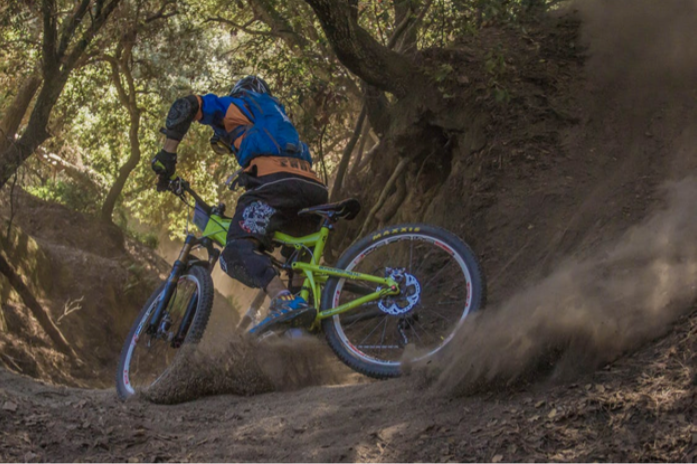 6.
A Rigid Bike is A Good Start
If your child is riding his first mountain bike, make sure the suspension is rigid and not soft. Rigid suspension requires less maintenance, and your child can easily maneuver the bike. Moreover, a rigid suspension is strong against terrains. Your child might feel a few bumps but will quickly understand bike fundamentals.
7.
How Many Gears?
For first-timers or kids who ride their bikes in the neighborhood, a single-speed bike is great. After your kids learn how to handle a bike, gears will help them ascend and descend with minimum effort. However, too many gears can be confusing, so we'd recommend buying a mountain bike with 1x 7-9 gears.
Your child can climb uphill with the least amount of effort and descend with decent speed. Single-speed bikes aren't ideal for mountain climbing because your child will have to paddle a lot to ascend, and the bike will automatically gain speed while descending, increasing the chances of losing control.
Put your kid's safety first before your budget. If you can't afford a bike with gears, wait till you have enough finances, and then bike a true mountain bike for your kids.
Finally, New or Used Bike?
This question comes to every parent's mind before buying a mountain bike. While a used bike might be in your budget, ask yourself, why would someone sell their bike if it's working fine? Get it? A used bike is a used bike, period. You might save a few hundred dollars, but you'll spend more on its maintenance. This should be the number one question when you Buy a Mountain Bike for Your Kid.
The frequent repairs will disturb your monthly budget and interfere with your child's playtime. Spend once and buy a durable mountain bike for your kids. If you still want to buy a used bike, get it checked by a local repair shop before deciding.
Moreover, you'll find plenty of information on the internet about buying a used mountain bike. However, we had a terrible experience with used products, so we don't recommend saving a few hundred dollars only to keep paying every week.