*This is a partnered post. Opinions are my own.
My husband just started really getting into fishing this year summer, with the kids. I was so happy about that because I used to fish ALL the time with my dad and those were some pretty fun times! I made great memories with my dad that I will remember forever!
So, I am hoping my kids will make some great memories with their daddy, fishing and being outdoors! Lots were definitely made this summer!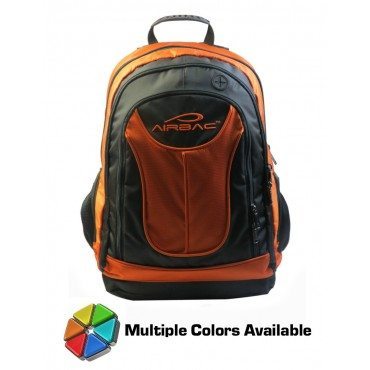 Since my hubby is more outdoorsy lately, he needed a really good, lightweight backpack to carry his fishing stuff in. We thought the AIRBAC Layer Backpack would be a good choice for this. Yes, this is great for school too. I don't even really think this was made for the way my hubby is using it, but, he loves it for fishing and it works for him this way.
This backpack is spacious and large, perfect for fishing gear or your school supplies. The Layer Backpack is equipped with two handles and has a mesh backing for durable storage and protection of your techy things or, in hubs case, fishing gear 🙂
There is a pocket that will nicely fit a 17″ laptop and has large pockets to stash lures or iPads/tablets 😉 There is also a secure, inner key ring to attach your keys and side zip pockets which my hubby uses for snacks for him and the kids as they are easy to access.
The backpack is easily wiped down and clean and is definitely rugged enough for the outdoors, as my hubby has certainly put it to the test this summer.
So, if you are looking for a durable, strong and spacious backpack that is light weight and comfy, I highly recommend the Layer Backpack from AIRBAC.
Buy
You can purchase the AIRBAC Layer Backpack online at http://airbac.com/. It retails for $89.99
Check out my post for Traveling Outsite of Iowa, for more some great tips on traveling with your AirBac backpack!