*Baby Einstein Musical Motions Activity Jumper. This review was made possible by Double Duty Divas and Kids II. This post includes my affiliate links.
My little baby is not so dang little anymore! He loves crawling everywhere, standing up to look at things and I am eagerly (or not?) waiting for him to take those first precious steps!!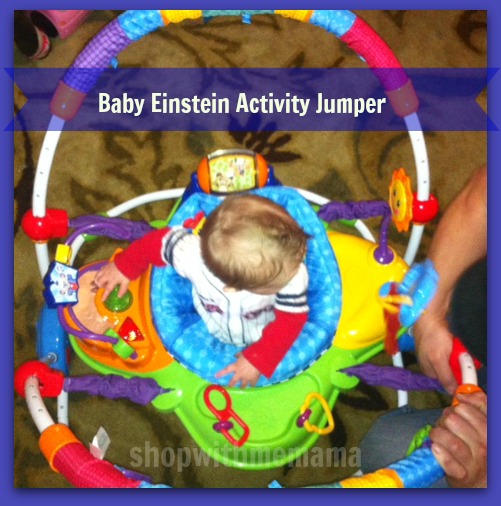 Why do they have to grow so fast? Can't they stay little, for a bit longer? Ugh. In the meantime, I must keep my little active boy busy! Babies need so many things! For times that I do not want him crawling around, I like to put him in his Baby Einstein Musical Motions Activity Jumper!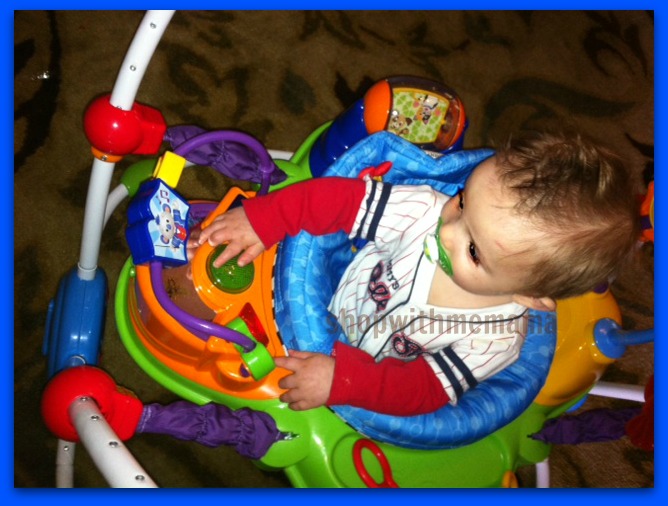 When he goes into his activity jumper, he has lots to look at and listen too! This activity jumper is interactive fun for my little one!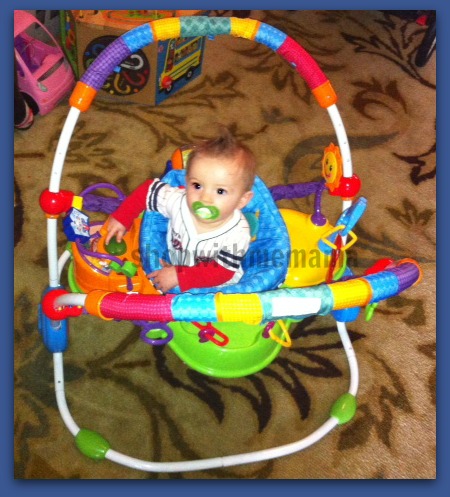 It did require a bit of assembly, which my hubby took the job of doing. The hard part was pulling and hooking on the jumper parts of this activity jumper. And it does require 3 AA batteries (not included). Other than that, my hubby said it was smooth sailing.
I was quite surprised at how big this is! My goodness! Lots for baby to do. This really is more than a jumper, it's an entertainer too. It keeps my baby preoccupied so that I can get things done around the house! The activity jumper allows my baby to discover and explore while having a ton of fun. It is also pretty safe and sturdy. Just make sure you have the height adjustment done properly (not too low so baby can reach down and maybe topple head first out! Yes, that almost happened to my baby).  It has five height adjustments, so just find the one that is right for your baby!
My baby can jump, play, listen to fun melodies, language discovery and 12 really fun activities! The soft comfy seat is machine washable and the seat pad rotates a full 360° to give your baby access to all toy stations! Beads, melodies, and light-up piano keep baby entertained.
The activity jumper also has four non-skid feet that keep the jumper firmly in place. This activity jumper is designed for babies at least 4 months of age.
Fun Features Worth Mentioning:
·         12+ activities include light up piano with volume control and 3 play modes: melodies, piano notes, and language learning in English, French, and Spanish
·         Rollerball with real-life imagery and fun, colorful beads
·         Padded high back seat provides additional comfort and support for baby
·         Seat rotates 360° to give baby full access to all toys
·         Seat pad removes for easy cleaning
·         5 height positions adjust to grow with baby
·         Additional links for adding some of the baby's favorite toys (I really like this part and so does my baby!)
This activity jumper is seriously the Mercedes Benz of the activity jumpers! It has it all and then some keeps my baby happy for longer than 10 minutes and grow with my baby.
The only thing I would mention is that if you live in a small home or apartment, keep in mind that this is bulky ( 30.0 " H x 9.5 " W x 22.5 " D). It does take up some room and is awkward to carry from room to room. It DOES fold up though, so keep that in mind too!!
Buy
You can purchase the Baby Einstein Musical Motions Activity Jumper online at Amazon.com.
What do you think of this Baby Einstein Musical Motions Activity Jumper?