*Bath Products That Nourish Your Skin. Products received. 
Taking a bath is what I do every night. I enjoy my baths so much! I like relaxing in a hot bath after a long day. However, when I run out of my favorite bath products though, my baths seem incomplete. Nothing is worse than getting into your bath and finding out your favorite bath products are gone! Thanks, kids!
However, I got smart and started hiding my favorites! I love bath products that nourish your skin because where we live, it is SO dry. My skin is always dry, especially on my legs. I hate it! So, I have to apply lotion a few times a day to keep my skin from feeling like sandpaper. My kids are the same way.
One of my favorite brands is Vitabath. I have been using Vitabath for years and love how their products make my skin feel SO pampered and yummy scented! Some bath products that nourish your skin, that I am in love with, are listed below.
Bath Products That Nourish Your Skin
Pomegranate Bellini Blush Body Wash. These come in their new packaging and these are not on the Vitabath site YET but are available at ULTA Beauty, now! This yummily scented body wash is so moisturizing. I love slathering this on my skin and using it to shave my legs because it gives me such a nice shave! I feel so soft all over just after using this body wash. This retails for $7.99.
Pomegranate Bellini Blush Body Cream. All of Vitabath's lotions are changing into Body Creams and the texture is incredible! Smoothes your skin and your skin literally drinks it up and leaves your skin lightly scented with the yummy Pomegranate scent and leaves your skin SO soft! This is clinically proven to increase skin's moisture by 82% with 3 types of conditioners: Cocoa Butter, Coconut Oil, and Shea Butter! This is also available at ULTA Beauty! This retails for $7.99 (buy two and get one free special going on!).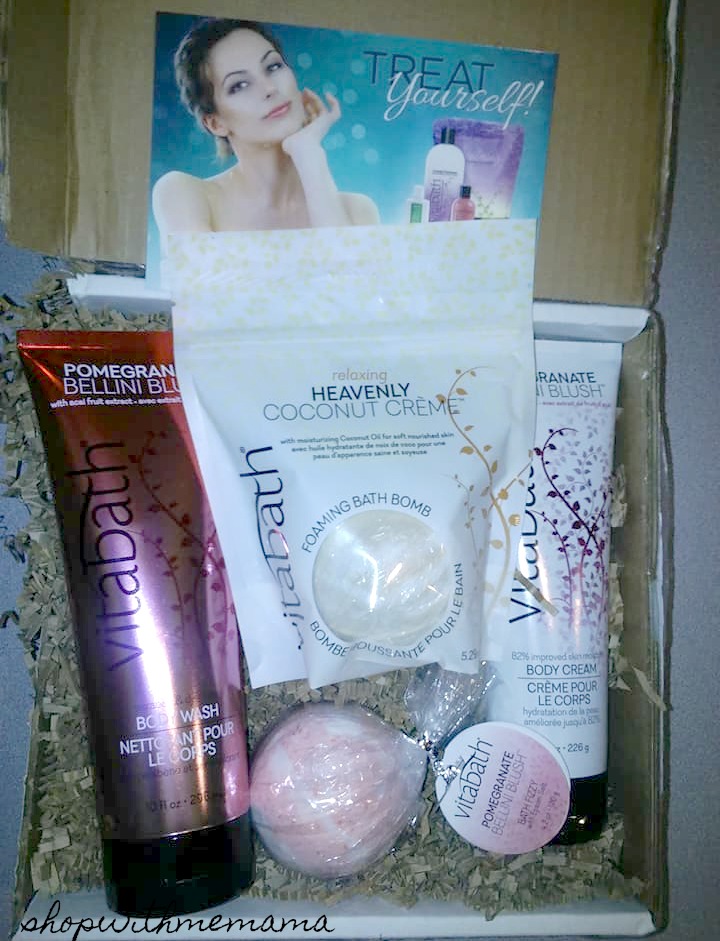 Bath Fizzy in Pomegranate Bellini Blush. I have tried their bath bombs, but never their bath fizzies! These are incredible! They fizz SO much and reminded me of the homemade volcano that my son and I made a while back. The way it fizzed underwater was so neat to watch! After a little bit, my bath water was calm once again and the water was colored a light rose color and smelled SO good! My body never felt so good! The new Bath Fizzy is brand new. They are a large size and sold individually. They are available at the Cracker Barrel Restaurant Boutique shops!
Heavenly Coconut Crème Foaming Bath Bomb. These are big! I tried these before and love them so much. They create such a nice and inviting bathtub to soak in! The heavenly coconut creme is my favorite scent of all time from Vitabath. This foaming bath bomb leaves my skin soft and moisturized. These retail for $7.95 each and are huge!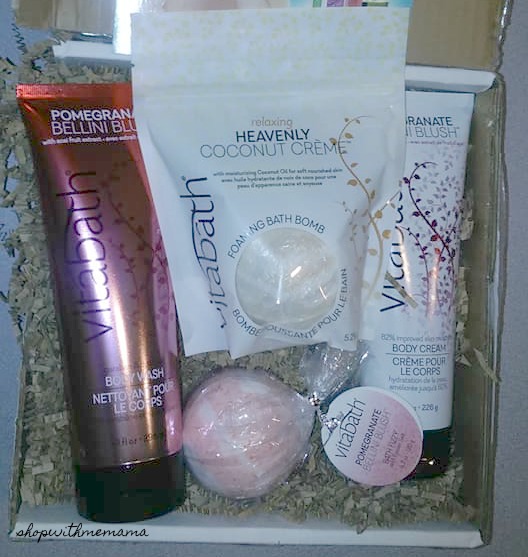 Skincare Tip!
Whenever my elbows are getting the sandpaper-ish feeling, I take my Vitabath Pomegranate Bellini Blush Body Cream and slather it on my elbows right before bedtime. Then, I get some plastic wrap and wrap just right above my elbows to a tiny bit below them (I bend my arm as I wrap so I am not stiff and unable to use my arms). Then, I go to sleep! The next day, take off that plastic wrap and your elbows will be SO soft!!
Win
One person is going to win a Pomegranate Bellini Blush body wash, Pomegranate Bellini Blush cream and a bath bomb in either Lavender OR Heavenly Coconut Creme! Yay!
Rules
The contest is open to US 18+. Giveaway will end on May 8, 2018, at 11:59 PM MT. Winner will have 48 hours to confirm their win after I email them, or a new winner will be chosen. I am not responsible for lost or stolen mail.