*My sister received this to review. Opinions are her's. This post includes my affiliate links.
My sister was complaining about her back and how her mattress was so old that it did not even support her body anymore. She woke up stiff and sore every morning and when you have 6 kids and a household to run, you need to get good sleep and wake up refreshed. Something she was not getting from her old mattress. Sometimes the Best Memory Foam Mattress's are hard to find. To help you out, you can read some reviews from this website who only do reviews of mattresses, to help you choose which mattress is right for you.
When eve Mattress
contacted me to do a mattress review, I immediately thought of my sister. I offered her to review this mattress and she was so excited! Maybe the Eve mattress would be her solution to a better night's sleep!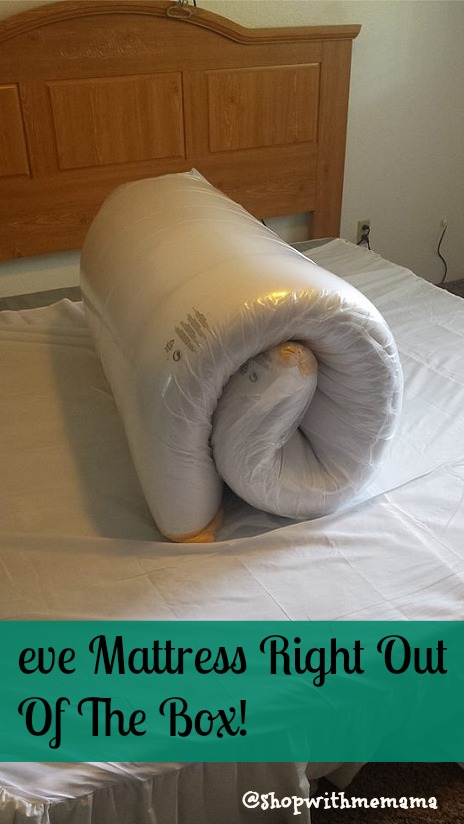 The eve Mattress
arrived at my sister's doorstep about 5 days later. It comes in a box and ready to rock-n-roll, just out of the box! You pull it out and it and the memory foam mattress will decompress, and in 1-2 hours it will reach its full size! When it is fully expanded it is a regular mattress. SO cool! She really liked watching it unfold! So did her kids!
When it was completely unfolded and expanded, it did have an odor to it. This is normal and you have to let it 'air out' for about 24 hours before using it. You don't have to, but it is recommended. My sister did not and so the first night on this mattress wasn't the best, because she did not let it 'air out'. Not the mattresses fault, but my sisters 🙂 So, she does recommend you let the mattress air out.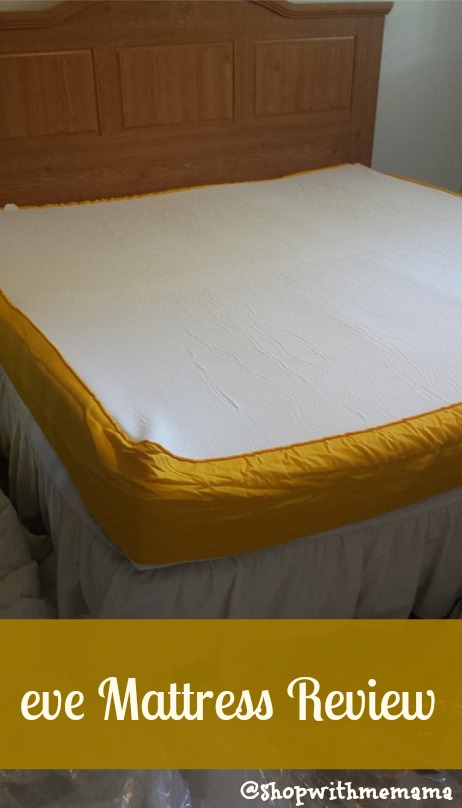 The second night she said, was SO much better. It takes a little bit for your body to adjust to a new mattress. Just like with anything new, your body just has to get used to it! So, by the second night, she was sleeping MUCH better. However, her husband slept on the eve Mattress
soundly, since the first night. So each person is different.
Deciding which memory foam mattress is right for you can be difficult. That's why at eve, they have made choosing simple for you. In addition to the high resilience comfort layer of the mattress, they use a layer of new generation memory foam. This is set on top of the high density reflex foam base that foams the basis of a good night's sleep. eve has the perfect blend of materials, to give you a good night's sleep.
What is even better is that this mattress is breathable, so it helps you to maintain a healthy body temperature while you are sleeping. Then they added a super soft two-way stretch knitted fabric that also protects the interior of the mattress.
eve Mattress
is a completely springless mattress—there's nothing but soft, supple foam and natural latex inside. That is how it can arrive at your doorstep in a box! Easy to for shipping to you!
Try eve Mattress
For 100 Days And Free Delivery!
Can't pass that up! In addition to
, when you by an eve mattress you can try Try Eve Mattress 100 Nights at home
. All they ask is that you wait for 30 days—to give you, and eve, time to adjust. if after this period you're sure it's not for you, all you have to do is call or send them an email. No questions asked; they will come pick it up free of charge, and offer you a full refund. So, you have nothing to lose!
Buy
Twin $499
Twin XL $599
Full $749
Queen $849
King $949
Cali King $949
Get Social!
Connect with eve Mattress on Twitter, Instagram, Pinterest, and Facebook!
What Do You Think Of the eve Mattress? Would You Like To Win One?