Though my baby girl, is not a baby anymore, keeping her in one place and getting her to eat is a CHORE. She is a very busy little love and does not take the time out to eat like she should, and it really worries me at times. Don't get me wrong, the girl does eat, just not much and it bugs me.

So, I thought putting her back into a highchair, might help things. I received the white/tangerine Boon Flair Pedestal Highchair to review. This came in a big old box, and came in a few pieces for me to put together. It was WELL packaged, so everything was in its place, but easy for me to take out of the box…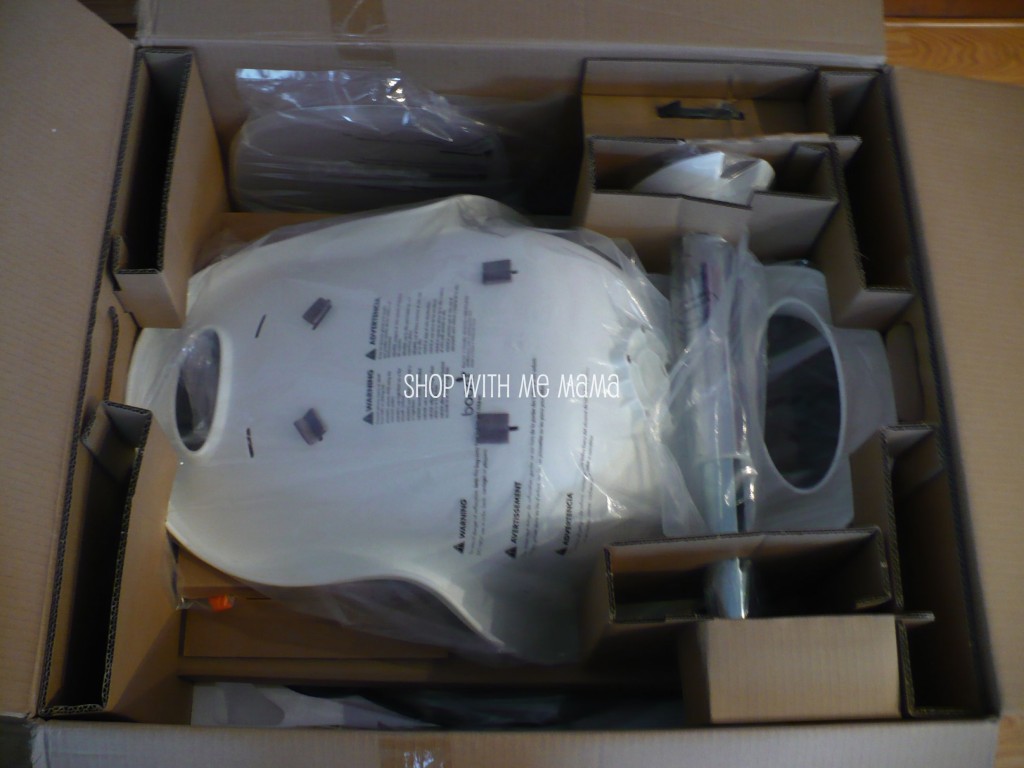 Pieces out of the box… see, not so bad!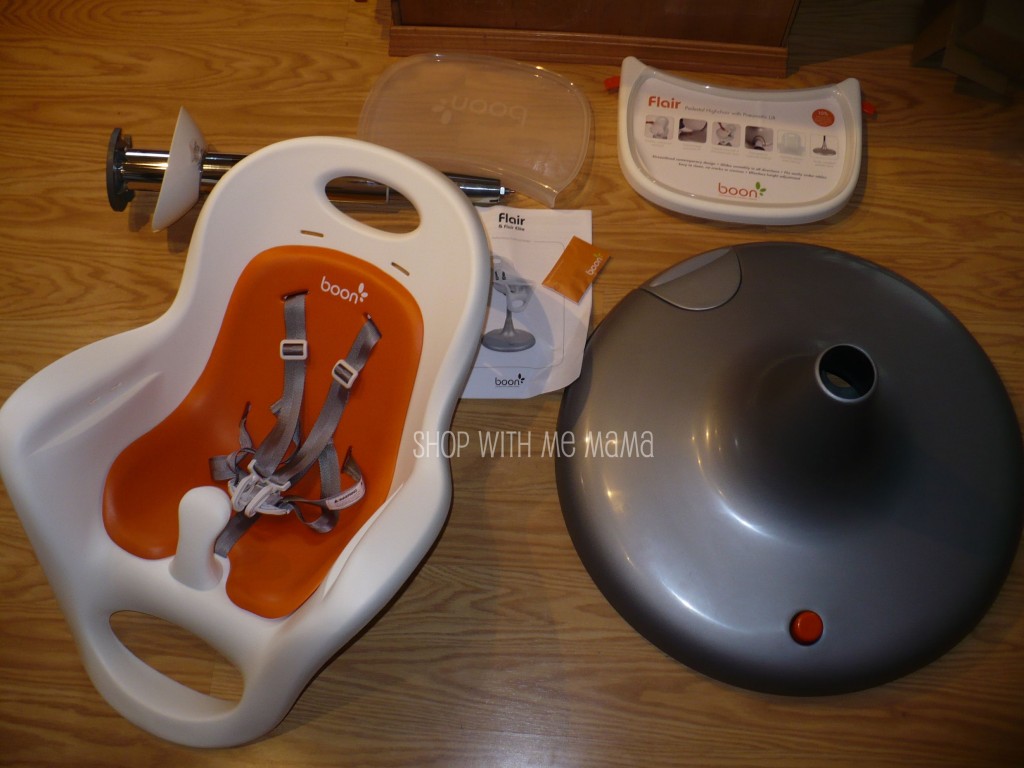 And putting this together, was not bad at all. All you need is a Phillips screw driver and you are good to go. Comes with everything you need, screws, to get it together in about 15-20 minutes, depending on who is helping you 😉 (my kids helped me!)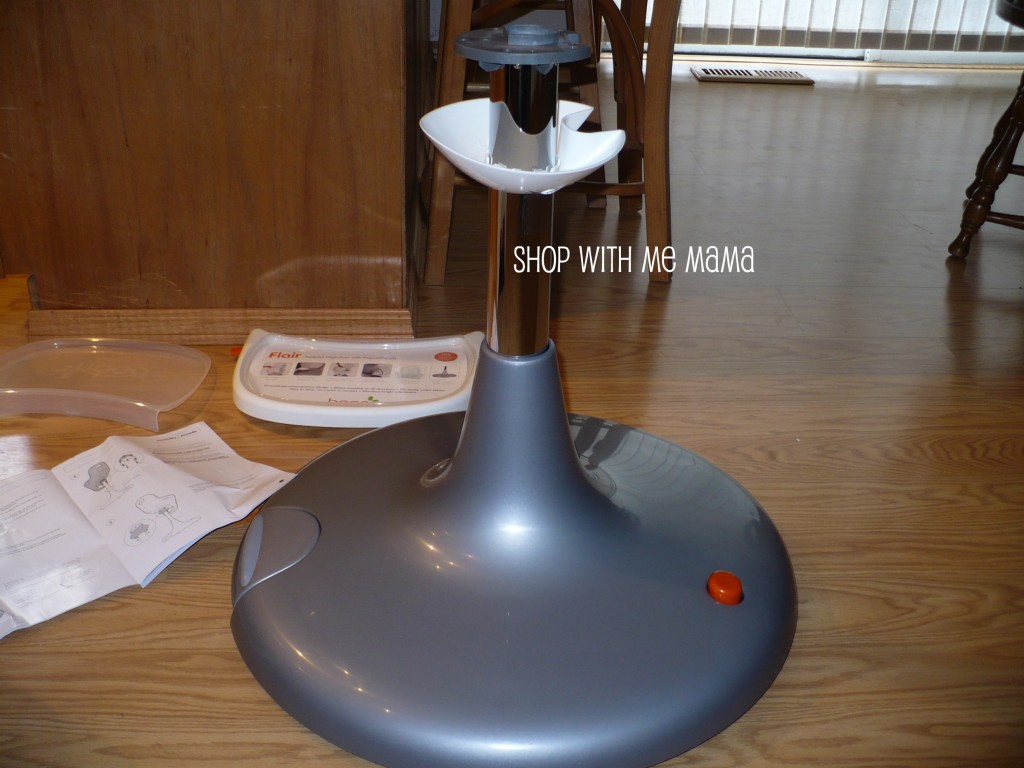 What I love about this highchair? I love that it has a break, so that once you get it to where you want it, simply tap the break pedal on the back, and it won't go anywhere. And the continuous height positioning with pneumatic lift is just a fancy way of saying you can pick the exact height you want to fit your table. Obviously, don't adjust the highchair with your child in it, but you knew that already, right?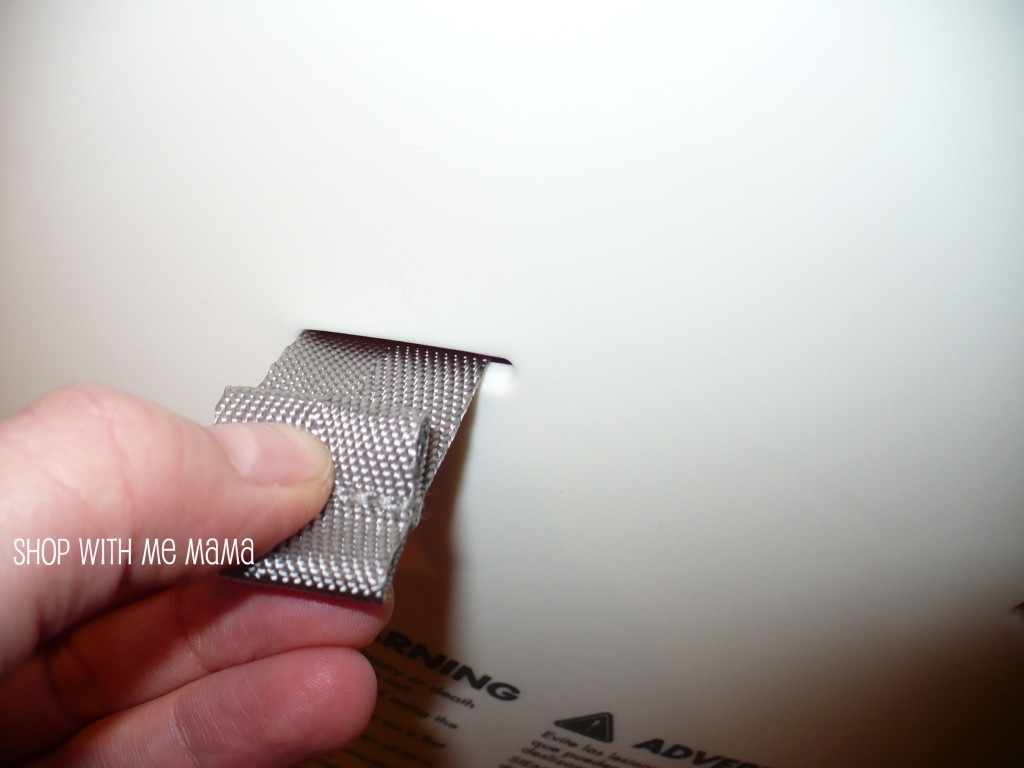 I also like that it comes with two tray covers and they are dishwasher safe! Yes, they fit into your dishwasher!! Time saver for mom! While one is washing, use the extra one 🙂 The harness straps are also so easy to adjust! You just fold down the strap and pull it through the chair and adjust the shoulder height to your childs height. Easy! Some highchairs, it is ridiculously hard to adjust, but not with the Boon Flair highchair.
The removable waterproof chair pad is also really great. Easy to remove wash up and put back in.
This highchair is so sleek and nice looking! Definitely a conversation piece when people come over!
Not to mention, it kinda looks GOOD in my kitchen….(and NO, it is not located in front of a door, it was just for the picture…)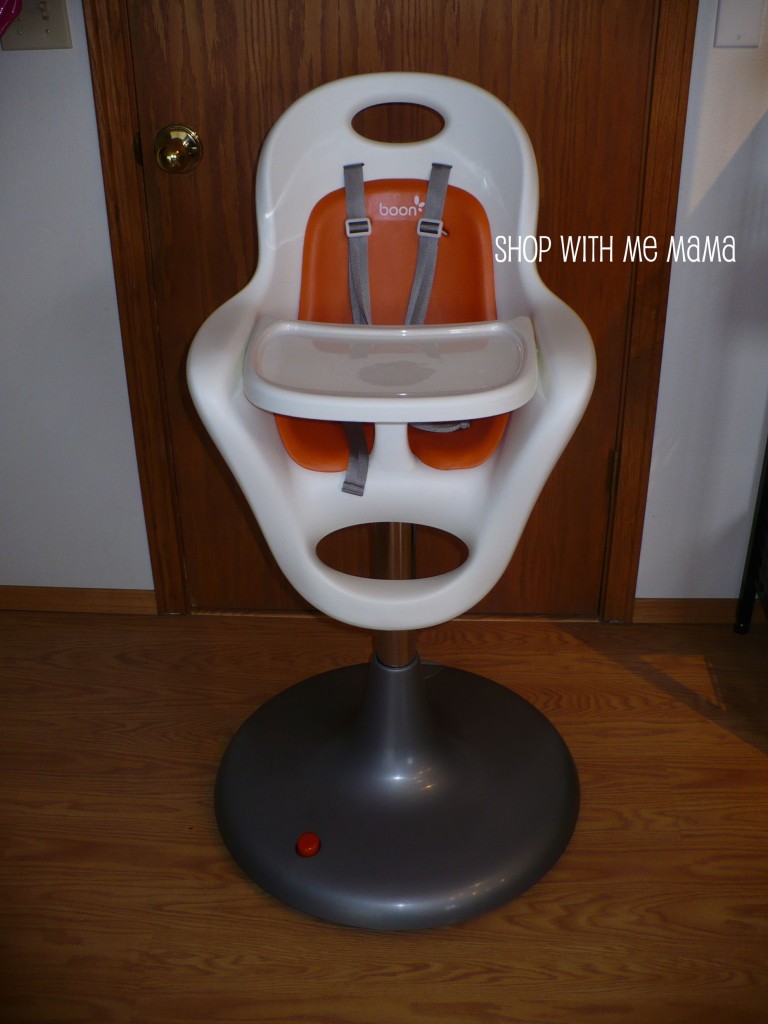 My daughter kind of feels special in it too..
Does my daughter eat more now that she is in a highchair? Nope, but she is more interested in her food, and that is a start 🙂
Stuff To Know About the Boon Flair Pedestal Highchair (taken from their site):
ATTENTION
These features describe the model of the Flair highchair that is available in the United States, Canada and Australia. For information about Flair highchair models available outside the United States, Canada and Australia please contact the Boon distributor in your country.
Two tray covers included
Removable waterproof pad
Five-point harness and safety post
Single-step braking system
Six urethane casters to protect floors
Glides smoothly in all directions
Effortless continuous height positioning
Fits easily under tables with pedestal base
Child's recommended weight limit: 50 lbs.
Maximum ages: 4 years
Seat height range: 21″ – 26.25″
Tray height range: 26.25″ – 31.5″
Base diameter: 23.5″
Chair weight: 28 lbs.

Buy!
You can purchase the Boon Flair Pedestal Highchair by visiting Boon online at http://www.booninc.com/index.php
Win One!
One lucky person is going to win the Boon Flair Highchair valued at $279.99!! Woot!
How?
Just enter using Rafflecopter below!
Disclosure:
I received product to review. These are my own honest opinions, thanks!